Most of us humans shower once a day, the same isn't true for dogs. There's no one easy answer to how often you should bathe your dog, as there are so many different breeds, health considerations, and lifestyles. We will look at all of these elements to provide you with some guidelines on how often to bathe your dog. We'll also see how to do it so that it's enjoyable and stress-free for both of you.
How often to bathe your dog
Usually, if you have a dog with a short and smooth coat and no skin problems or allergies, he won't need a bath as much as other dogs. Regardless of the sort of dog you have, it's a good idea to bathe your dog once every two or three months. During his bath, you can check his skin for any problems or lumps that could be signs of a more serious health problem.
Some dogs, though, will benefit from having more regular baths. Here's what you need to consider when deciding how often to bathe your pup.
Reading Suggestion: Dog Breeding 101 – Answers To Your Questions
How active is your dog?
If your dog spends lots of time running around outside, chances are he'll need more regular baths. He'll have plenty of opportunities to pick up dirt, ticks, or simply unpleasant odors (unpleasant for us, that is!). If your dog is a regular swimmer, he'll definitely need more regular baths, along with frequent ear checks.
What type of coat does he have?
If your dog is healthy and has a short coat (like a Pug or a Beagle), he'll probably not need as many baths as long-haired or curly-haired dogs. Dog breeds with long or curly hair, such as Poodles or Afghan Hounds, will need regular bathing and hair grooming to prevent matting. The American Kennel Club recommends baths every four to six weeks for these types of dogs, along with regular brushing of their coats in-between.
Hairless breeds, contrary to what you might think, need weekly baths. A coat of fur doesn't protect their skin, so dirt and pollutants can penetrate the skin more quickly and potentially cause problems. Some dogs such as Cocker Spaniels and Basset Hounds have oily skin, so these breeds need more frequent baths to prevent the buildup of oils on their skin. You may not know what your dog needs, so if in doubt, check with your vet.
Does your dog have skin problems or allergies?
If your friend has any allergies or skin problems, he'll need more frequent baths, perhaps with a specially medicated shampoo (only use vet-approved shampoo for dogs). Your vet or groomer will guide you on what is best for your pet.
If your dog has itchy skin, regular oatmeal baths may provide relief. Other dogs who have flea or tick problems and can't use topical or oral parasite treatments may need regular baths to keep parasites at bay. It's essential to remove any ticks as soon as possible from your dog. Regular bathing is another way to keep on top of any problems. Should you need to remove ticks while your dog is in the bath, there are special tools available to make this job easier (check with your vet).
Do you have allergies?
As a pet parent, you might benefit from more regular dog baths too. If you are allergic to anything like pet dander, or if your pet brings other allergens into the house (like pollen), regular baths for your dog can be helpful to you, too. And if your dog runs up his Chasing Tails bed ramp to snuggle with you at bedtime, all the more reason to keep allergens at bay. Regular baths have the added benefit of keeping unpleasant smells at bay, too (distasteful to us, anyway!)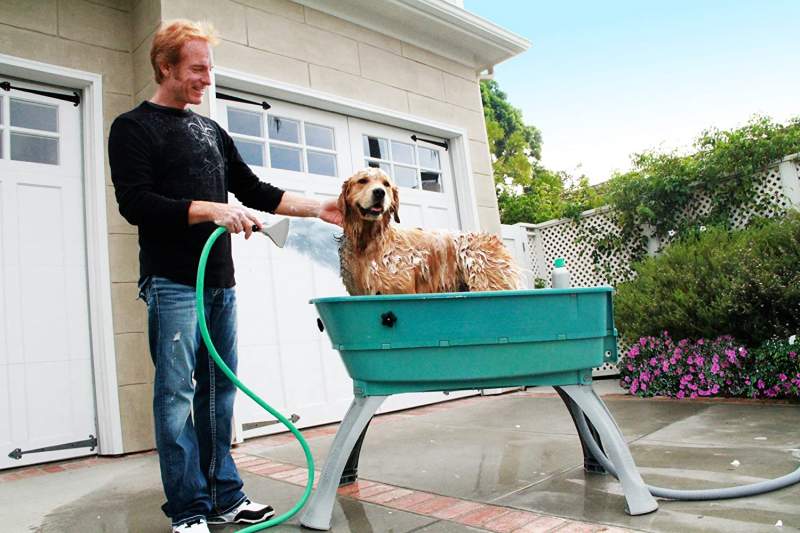 Dog bathing tips
Here are some practical tips to make bath time easier for you and your pup:
Brush your dog beforehand
Brushing before bath time will make detangling more manageable and help eliminate some of the dirt and debris before your dog gets in the bath. You can also brush your dog afterward to make sure the shampooing process hasn't tangled his fur.
Reading Suggestions: Spanish Mastiff – Great Guard Dog
Use a dog-formulated shampoo and conditioner
Don't use human shampoos, as these are too acidic for your dog's skin and can dry out his coat and cause irritation. Check with your vet to see which shampoo is best for your dog.
You don't have to use conditioner, but it can help detangle any knots and make your dog's fur extra soft. If you bathe your dog more frequently, conditioner can help keep both their skin and coat moisturized. If your dog happens to be a long-haired breed, you can use a leave-in spray to help with post-bath brushing.
Use an attachment hose and sprayer if you can
If possible, use an attachment hose and sprayer, which are designed to get to hard-to-reach places. You won't have to keep dumping buckets of water over your dog, and you can easily avoid getting water into his eyes, ears, or nose.
Dry your dog thoroughly after the bath
For short-haired breeds, a towel is sufficient to dry your dog's skin and coat. Ensure you dry your dog thoroughly, as any remaining moisture can lead to skin infections or itching. Damp fur also tends to tangle more easily than dry fur. If your dog has either a double coat or a longer coat, you'll want to use a blow dryer to make sure he's fully dry.
Either way, use a towel first to dry your dog's face and head, as this is more pleasant for him than the blow dryer. If you need to, then use a blow dryer for your dog's body; you can shield their ears and eyes from the blowing air with your hand. You could also use a dog dryer, or a hoodie: hoodies help muffle the sound of the blow dryer and protect your dog's hearing.