Here comes a happy, extremely lovable powerhouse. The "Spanish Mastiff" has been helping its people with herds of animals since the 12th century and is also a very good watchdog at home. Unfortunately, due to his stature, the child-loving four-legged friend has a certain reputation for which he can do nothing at all.
For many years, malicious people have been training dogs of this kind to become so-called fighting dogs, which are supposed to tear each other apart for "amusement".
Characteristics
| | |
| --- | --- |
|   |   |
| Breed name: | Spanish mastiff |
| Origin: | Spain |
| Size: | Males 77 to 88 cm, bitches 72 to 88 cm |
| Weight: | 55 – 70 kg |
| Life expectancy: | 10-12 years |
| Body length: | medium length |
| Coat color: | Black, red, light brown, blue, gray, golden, multi-colored |
| Tasks: | The Spanish Mastiff has long served as a guard dog. |
History of the Breed
It is uncertain which specific breeds belong to the ancestors of the Spanish mastiff. It is clear, however, that those races already had a lot of stamina, strength, and a joy of movement. Most likely its predecessors were larger dog breeds, which were imported to Spain by the Greeks and Phenicia around 2000 years ago.
As early as the 12th century, the Spanish mastiff served its people to herd animals and as a competent guard dog. The good-natured powerhouse partially fulfills these tasks to this day. In this way, he protects the herds from wolves and cattle thieves. Occasionally he even takes on a bear.
The intelligent dogs made a name for themselves, especially with wandering shepherds. But even as a pure family dog, he feels extremely comfortable and children are among his best friends. The breed of the Spanish mastiff is on the list of "potentially dangerous dog breeds".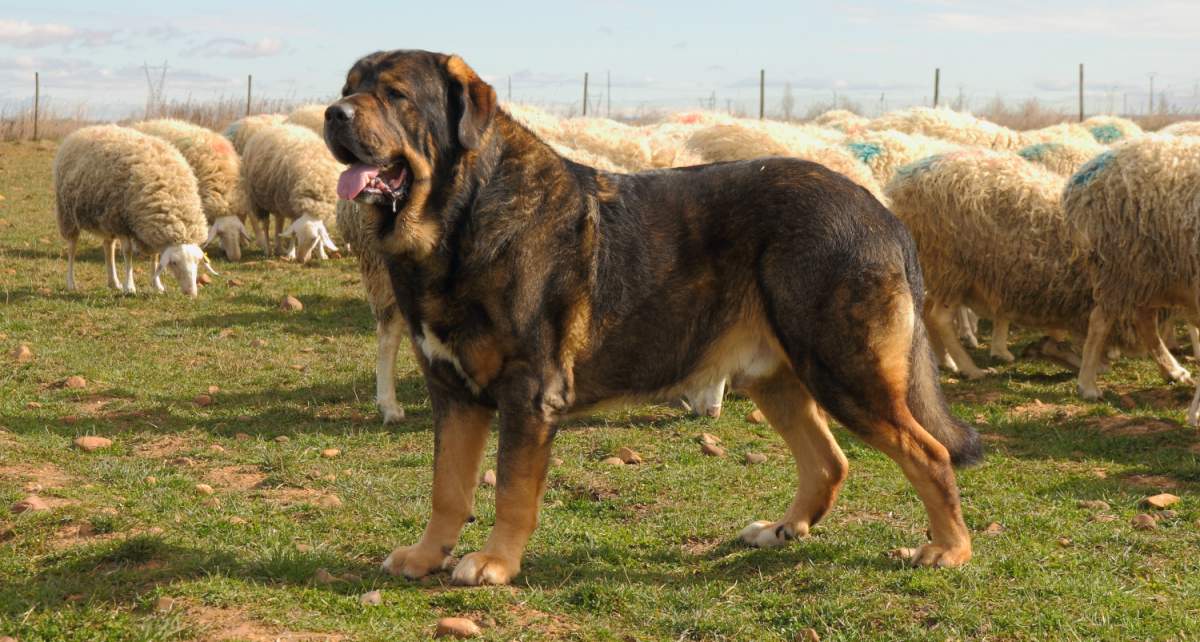 It is also performed there in Austria and Switzerland. To blame is his strong physique, his size and his strong jaw, which has already caused some people to abuse him as a fighting dog.
Unfortunately, it is still widely used in illegal dog fights. The Spanish mastiff is anything but a dangerous and vicious attack dog. In fact, quite the opposite. On November 13th, 1954, the FCI added him to their list and declared him the official dog breed without a working trial.
Character Traits
The Spanish four-legged friend is well aware of his slightly intimidating manner. However, he does not use this for malice, but at most makes it clear through a solid character. He doesn't even need to act or prove himself. Unless there is actually danger insight, for example, a wolf that wants to attack his flock of sheep.
In this case, the Spanish mastiff mutates into a true protector and shows the attacker what to do. He is still used as a guard dog by his humans. However, he would never attack an intruder for no reason, but only defend his territory by barking deeply. He can assess very well when his commitment is required.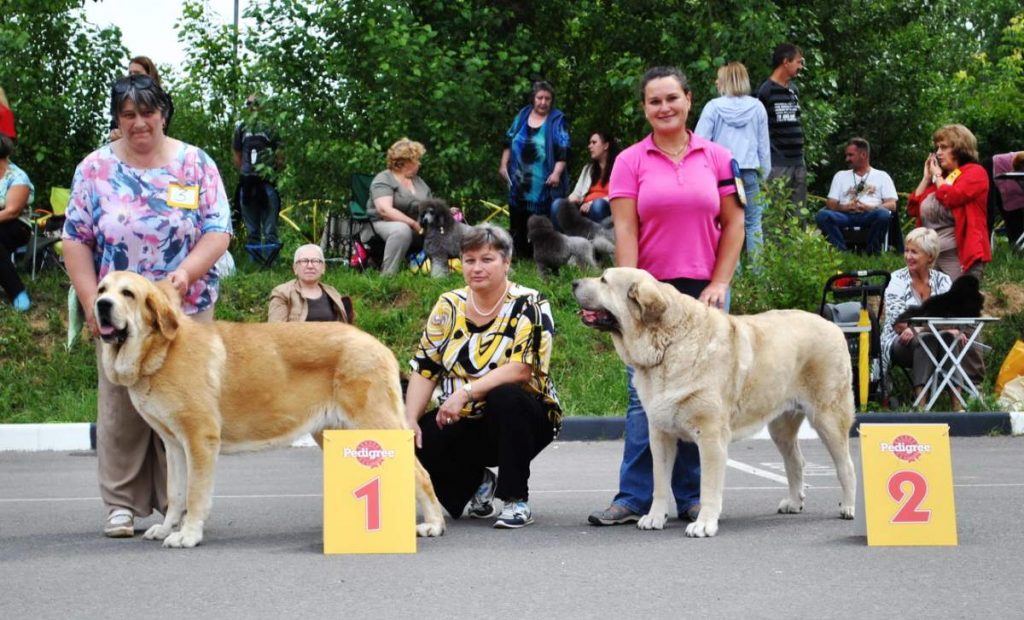 He is kind, affectionate, balanced and rather calm towards his family. There is nothing better for the Spanish mastiff than to lie peacefully on its blanket and take its well-deserved nap. He loves playing with children and, if socialized appropriately, can get along with very young children. Nevertheless, one should never leave him alone with smaller children, as they often underestimate the physical conditions of the strong dog. Even a good-natured giant has certain limits.
In his upbringing he must never be overwhelmed, otherwise, he will become stubborn very quickly. If this is done by an experienced hand, the Spanish Mastiff is considered extremely willing to learn and makes rapid progress. Since his upbringing is very demanding and important for his later life, he is not really suitable for beginners.
Appearance
The strong Spanish mastiff belongs to the category of "large breeds of dogs". Males reach a shoulder height of up to 88 cm, which even bitches can occasionally do. However, these are usually a bit smaller and lighter. There are even exceptions, which can be up to 100 cm tall. The weight of the four-legged friends is between 55 and 70 kg.
The power pack looks like a slightly corpulent teddy bear. His skin is thick and drooping in places, such as under his head. Its snout is ample, its floppy ears are relatively small. The strong tail reaches almost to the ground. Mind you, the Spaniard puts his strong body in the limelight. He doesn't know the word shyness and appears very self-confident. He knows exactly what he has to offer.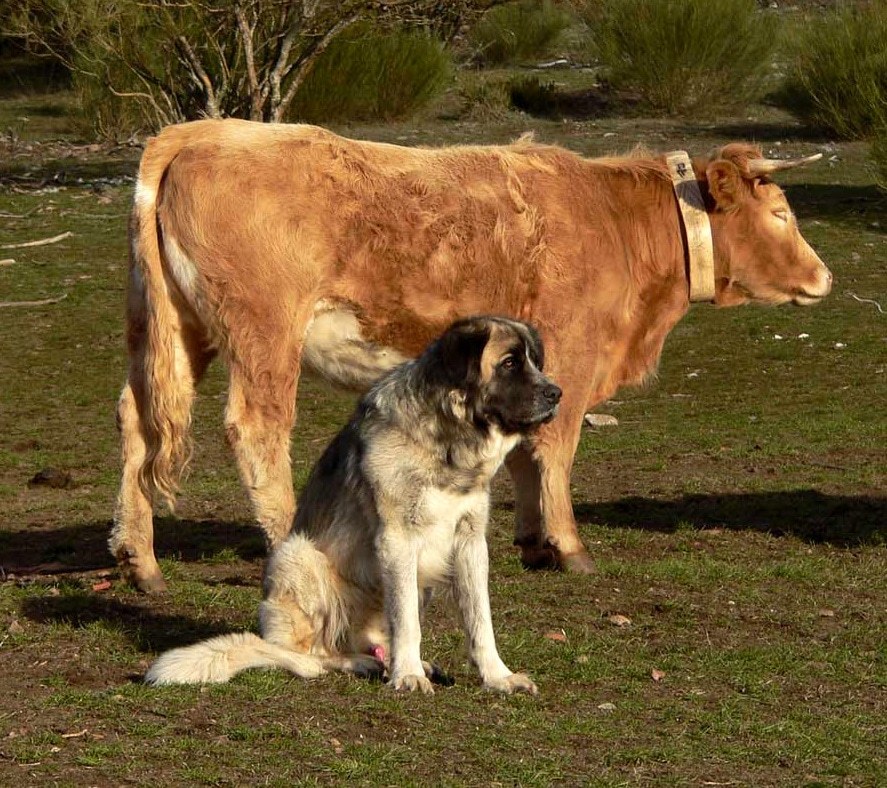 However, he is gentle in character and, if raised properly, is never aggressive. Occasionally the passionate idler even makes a clumsy impression. His dreamy and loyal look underlines this appearance. The coat is short and has a thick undercoat. During the change of coat, he regularly loses a lot of hair. The fur comes in a wide variety of colors and mixtures.
Attitude and Care
This huge four-legged friend is not well suited for keeping in a small city apartment. People who, on the other hand, have a house with a large garden, could consider adopting their four-legged friend. Of course only if you already have experience with dogs and have time for him regularly.
In no case should he stay alone for several hours a day. And of course, his daily walks should not be missing. His upbringing is an enormous challenge even for people with dog experience. If you expect a dog that always listens to commands, you shouldn't buy a Spanish mastiff. No matter how well he was brought up, he will always keep his own head.
As far as his diet is concerned, it must be carefully monitored. Dogs of the Spanish mastiff genus tend to gain weight quite quickly. Care is uncomplicated and an occasional brushing is sufficient. And as with all dogs, the right vet should of course not be missing here.
Spanish Mastiff Photos