In the ever-evolving landscape of pet care, business professionals, veterinary institutions, and dedicated pet business owners alike are seeking innovative solutions to ensure optimal health for their furry companions. Imagine a cutting-edge method, reminiscent of treatments top athletes receive, but tailored for pets. 
Initially celebrated in human medicine, HBOT is gaining momentum among veterinary clinics, pet wellness centers, and influential pet health bloggers. As pet insurance companies evaluate the merits of this treatment and pet care brands explore collaborations, there's a clear indication of HBOT's potential to redefine pet wellness.

For those keen on staying ahead in the pet care industry, read on!
The Science Behind HBOT
Hyperbaric Oxygen Therapy (HBOT) revolves around a simple yet revolutionary concept. By allowing patients to breathe pure oxygen in a pressurized environment, their bloodstream is saturated with more oxygen than in normal conditions. This enhances the body's natural healing processes and offers a plethora of benefits. 
An interesting note on this is the contribution of manufacturers who make this possible. Take, for instance, OxygenArk, a trusted hyperbaric chamber manufacturer based in China. Their commitment to science has helped in making HBOT more accessible to clinics around the world.
Reading Suggestion: Micro Bully Dog
Benefits of HBOT for Pets
As businesses explore the diverse advantages of integrating Hyperbaric Oxygen Therapy into their services, understanding its direct benefits to pets becomes paramount. Here are five standout benefits of HBOT for our four-legged companions:
Accelerated Wound Healing:

HBOT promotes collagen production, ensuring wounds heal faster and more efficiently.

Reduced Inflammation:

It aids in lessening inflammation, bringing comfort to pets suffering from painful conditions.

Enhanced Neural Functions:

Pets with brain or nerve damage can experience improved neural functions after undergoing HBOT.

Faster Recovery from Trauma:

Traumatic injuries or surgeries often see quicker recovery timelines with the aid of HBOT.

Boosted Immune Responses:

By increasing oxygen saturation, the body's natural defenses are supercharged, helping to ward off infections.



Reading Suggestion: Pitbull Dachshund Mix
Common Conditions Treated
For business operators considering HBOT, understanding its applications can be insightful. Here's a look at some of the common conditions treated:
Snake Bites:

The increased oxygen helps neutralize toxins and repair damaged tissue.

Post-Surgical Recovery:

HBOT can significantly reduce recovery times after surgeries.

Pancreatitis:

The therapy aids in reducing inflammation associated with pancreatitis.

Brain Injuries:

HBOT can decrease brain swelling and improve neurological functions.

Traumatic Injuries:

Broken bones, torn ligaments, or other physical traumas benefit from accelerated healing.

Burns:

The treatment promotes skin repair and reduces the risk of infections in burn injuries.

Skin Infections:

HBOT can help in healing severe skin infections by boosting oxygen delivery to affected areas.
Incorporating HBOT into a veterinary business can expand the range of conditions effectively treated, adding value to the services offered.
Read More: Doberman Poodle Cross
HBOT Session: What to Expect
For businesses setting up HBOT sessions, the process is straightforward. Pets are placed comfortably inside a chamber, where they breathe pure oxygen under increased pressure, typically for about an hour. 
This session can be likened to a rejuvenating spa treatment but with tangible health benefits. Companies like OxygenArk have been pivotal, in manufacturing reliable hyperbaric chambers that ensure safety and effectiveness during these sessions.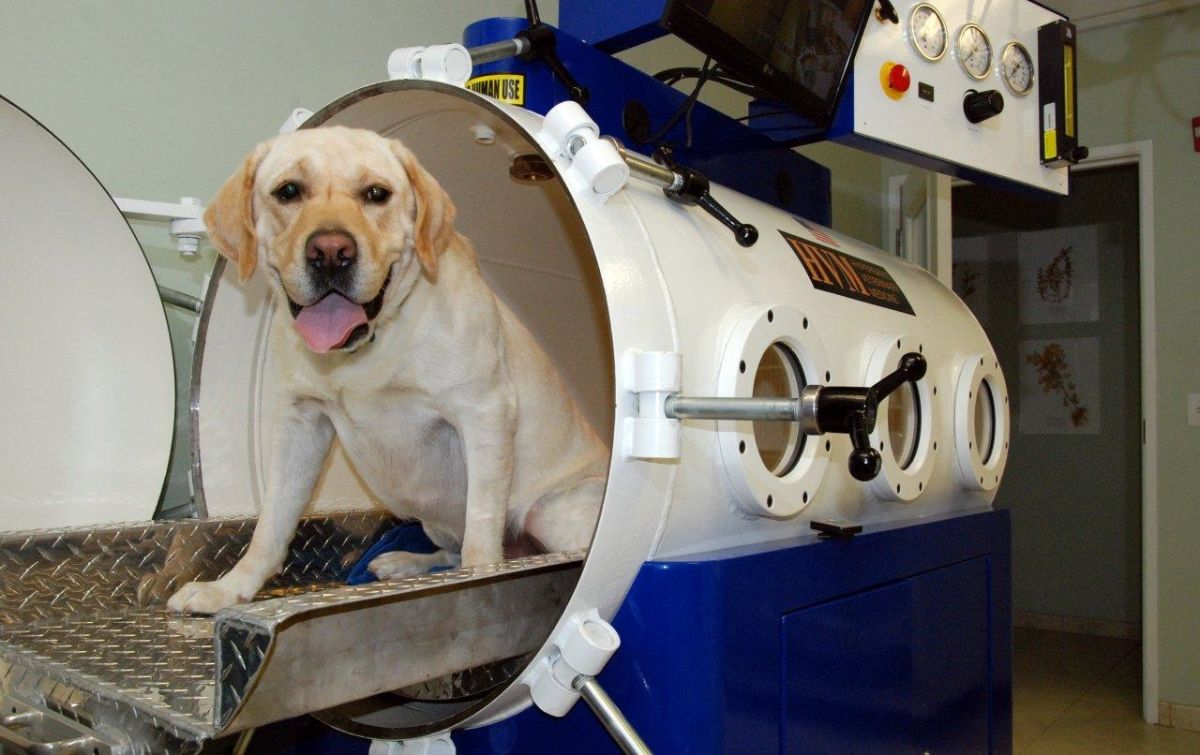 Safety Measures and Precautions
When considering the integration of HBOT into a pet care business, understanding and implementing safety measures is paramount. Here are some key precautions to ensure the therapy is conducted safely and effectively:

Monitor Session Duration:

It's essential to adhere to recommended session durations to prevent any potential oxygen toxicity.

Regular Chamber Maintenance:

Ensuring the chamber, especially if sourced from reputable manufacturers like OxygenArk, is in top condition is crucial for safety.

Trained Operators:

Only trained personnel should operate the hyperbaric chambers, ensuring the session is conducted without hitches.

Pre-session Health Checks:

Before any HBOT session, a thorough health check of the pet should be conducted to identify any contraindications.

Proper Pressurization and Decompression:

Ensure that the chamber is pressurized and decompressed at the correct rates to avoid complications.

Emergency Protocols:

Establish and practice emergency protocols regularly, ensuring that staff knows how to respond swiftly in case of any unforeseen incidents.



Reading Suggestion: Pitbull Chihuahua Mix
Taking the Leap: Is HBOT Right for Your Pet?
With the increasing recognition of HBOT's benefits, it's an opportune time for businesses in the pet care industry to integrate this therapy. Offering HBOT can provide a competitive edge, attracting pet business owners seeking advanced treatments and ensuring pets receive top-tier care, enhancing overall business value and reputation.
Conclusion
We've journeyed through the science and multiple advantages of HBOT for our furry companions. As the pet care industry progresses, being at the forefront of such advancements is key. 
Have queries or pondering over the potential of HBOT for your venture? Don't hesitate to contact us. Dive deeper into the specifics by engaging with our team and consider a partnership. Together, we can redefine pet wellness.