The Finnish Lapphund, or lapinkoïra, is famous for its soft eyes that exude an impression of serenity and kindness. A dog used to guard reindeer herds, the Finnish Lapphund Shepherd is always acclaimed for his talents as a guard dog and sometimes helps in civil protection.
Very attached to his owners, the Finnish Lapphund needs to be in contact with them and can develop major disorders (a refusal to feed) if separated from them.
If Lapland Finnish is educated correctly, it is gentle, obedient, and the perfect pet for an active and present family.
Profile
Size: 41 to 52 cm (it depends on the breeds and if it is a male or a female.)
Weight: 15 to 24 kg (it depends on the breeds and if it is a male or a female.)
Character: tender, patient, attached to his master, calm indoors, energetic outdoors
Training: Originally acclaimed for herding, the Finnish Lapphund and its affable character have become the ideal pet. He understands the instructions very well and follows them perfectly. He barks a lot, but if trained correctly, he grasps quickly when he needs to be quiet.
Common diseases of Finnish Lapphund: cataracts, retinal atrophy, obesity
Life expectancy: 12 to 14 years
Physical Characteristics of This Breed?
The Finnish Lapphund is a medium-sized spitz-type dog with a longer than tall body. His rectangular body is strong and muscular. Its neck is covered with dense and silky hair, this frill effect is characteristic of this breed and gives this dog its fluffy appearance.
Its head is well defined and its forehead is broad and rounded. He has triangular ears (which are also found in all species of spitz), as for his eyes always dark, their oval gives the dog a friendly and gentle air. His coat is dense and long. Its underlay is soft and thick and the exterior is more solid and rougher. There are many colors of Finnish from Lapland. The rule is simply that there is one dominant color.
Brown Finnish Lapphund
Character Traits Of This Breed
The Finnish Lapphund is very intelligent, which makes it easy to train. Sociable and cheerful, he is the perfect companion of an active family ready to take him everywhere with them.
Energetic
Cheerful
Awake
Lively
Loyal
Loyal
Soft
Patient
Protective
Affectionate
Player
Calm
Clever
Mistrustful
Despite primitive instincts that make it a little more independent than the average, the lapinkoïra is the ideal pet: playful, intelligent, affectionate, it dedicates limitless love and loyalty to its owners. Be careful therefore to be present for him since, in the absence of his master, this dog can go so far as to let himself die of hunger.
Highly alert, this happy barker has the mental skills necessary to understand complex instructions and channel his ardor. He knows how to be calm inside the house and does not let off steam until he is outside. While this dog is gentle and patient, he is also very protective and makes an excellent guard dog. This means that he can be suspicious of strangers and show his fangs if he senses a dangerous situation.
He is also likely to fight with other dogs, and to stop this tendency, he will need to be confronted with other animals from an early age. At least if you wish, because there are more and more Finns from Lapland in civil protection, a task that requires the dog to be wary and ready to defend humans.
Reading Suggestion: Happy Dog Food Review and Recommendations for 2022
How to Train your Finnish Lapphund Puppy?
First of all, make sure to adopt a weaned Finnish Lapphund puppy. The little puppy needs this time to adapt to his mother in order to be ready to face the outside world. Little lapinkoïra puppies are adorable but resist the urge to go too fast, you will regret it for a long time.
This dog is perfect for a family living in the countryside or in a lodge with a garden. If you live in a city or in an apartment, look to another breed of dog, the Finnish Lapphund needs a lot of time outdoors to exercise.
If you have to be away a lot, once again skip your turn, this affectionate dog can not stand loneliness at all. If you have to move regularly, but you can bring your companion with you: no problem, all this dog needs is to be near its owners.
As with all puppies, the Finnish Lapphund puppy should be trained gradually, with firmness, but kindness. It is imperative that the dog respect his master, but sometimes we forget that this respect must be mutual.
Stay constant and don't ask too much of him, the Finnish Lapphund puppy is not able to fix his attention for very long, that's how it is. Three times ten minutes of training per day, in the beginning, is enough and if you feel that you "lose your shepherd" do not insist too much, at the risk of pointing him and making him lose his motivation.
One of the rules to teach her early on, besides where to go to her business and watch out for things around the house, will be not to bark. No miracles here, the Finnish Lapphund Shepherd breed is a barking breed, but you can easily limit the damage if you teach it from the start to calm down on command.
Do not hesitate to put him in contact with other animals to sharpen his sociability, as a good guard dog, he is suspicious by nature and sometimes fights with other dogs.
If you intend your dog for a specific activity (herding, defense, etc.) we advise you to contact a professional trainer who will be able to teach your dog the basics of his future profession. If you are just looking for a pet, the Finnish Lapphund Shepherd is easy to train and is perfect for a family that is adopting their first dog and is not yet fully trained in dog training.
Reading Suggestion: Long Haired Akita Dogs a Rare Breed
Finnish food from Lapland
Like all active dogs intended for outdoor work, the lapinkoïra expends a lot of energy during the day and therefore needs a diet adapted to its morphology. It is therefore important to adapt his diet according to whether he actually performs a task that requires a lot of effort or if he takes simple walks with his master.
Warning! Nowadays all Finnish dogs in Lapland no longer run behind reindeer or work for law enforcement.
These recommendations are all the more important as Finnish from Lapland is very greedy and therefore tends to be overweight if the food swallowed is not quickly burned. So avoid sharing your plate with him and give him only high-quality kibble, dosed according to his activity.
These dry foods have the advantage of being designed to perfectly match the needs of the animal and keep perfectly. This is ideal when you move around a lot with your dog.
Caring for your Finnish Lapphund
Despite his long and silky coat appearance, this dog does not require special maintenance other than brushing once a week. This will allow her dress to keep its plume and avoid knots that could eventually irritate the fragile skin of your Finnish Lapphund.
A good bath is still necessary from time to time, especially when your lapinkoïra spends a lot of time outdoors and is likely to get dirty. This dog is not particularly fond of grooming, do not hesitate to reward him with a dog treat so that he associates the toilet with a pleasant moment.
As with all dogs, it is important to check his ears and brush his teeth with a soft toothbrush to prevent the appearance of the pie which in the long term can cause very painful loosening of the teeth for the animal.
Reading Suggestion: What is a Parti Yorkie? and What is Parti Yorkie lifespan?
Diseases of the Finnish Lapphund
The Finnish Lapphund dog is susceptible to diseases such as retinal atrophy, X-allopathy or cataracts. Retinal atrophy and X allopathy are congenital diseases that can be limited if Finnish Lapphund herds are tested and only healthy individuals are allowed to breed. The same is true for conditions such as cataracts, which unfortunately is an age-related condition, and can affect any dog.
This dog is prone to obesity, it is, therefore, necessary to monitor his diet and ensure the living environment characteristic of his breed (outings in the open air, exercise, etc.).
Also, be sure to strictly adhere to the vaccination schedule, this outdoor dog is doubly exposed to animal bites and diseases, so it is essential to preserve it.
Some anecdotes about the Finnish Lapphund
For the Finns, the Finnish from Lapland symbolizes canine loyalty and if this dog is more and more popular, it is in Norway that it is the most widespread, so much the Norwegians are faithful to this shepherd dog which formerly guarded the herds of reindeer.
If this breed is ancient, so old, moreover, that we cannot date it, it was not until 1970 that we agreed on its "standards."
Finnish Lapphund Prices
The price of a Finnish Lapphund can depending on a number of factors, such as the breeder, location, age, and pedigree of the dog. Generally speaking, a Finnish Lapphund can cost anywhere from 1000 to 3000 euros.
Finnish Lapphund For Sale
The first and most obvious option is to search online classifieds or pet adoption websites. Many breeders and rescue organizations advertise their available Finnish Lapphunds on these platforms. Another option is to attend dog shows or events where breeders may be present.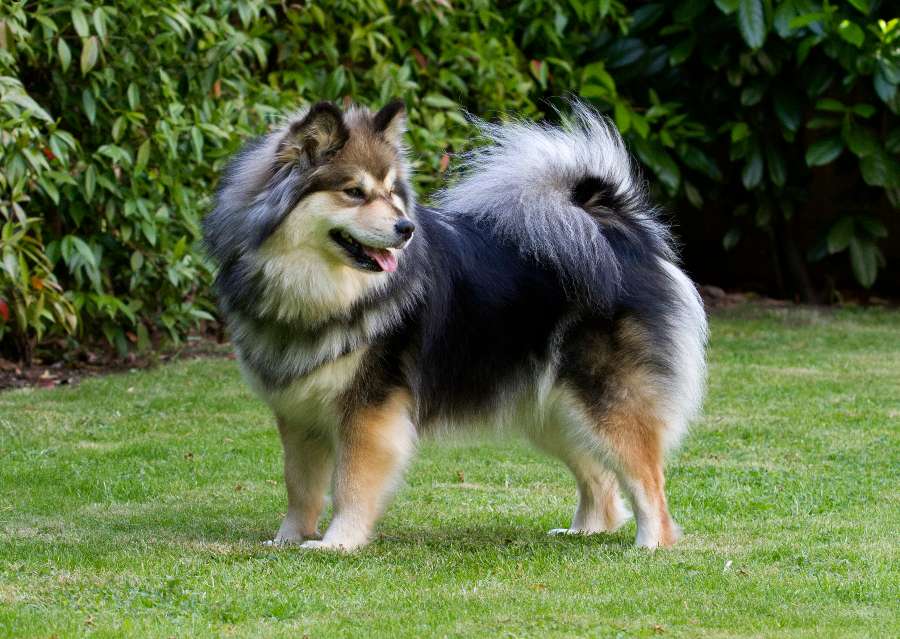 In conclusion
This medium-sized Shepherd really has it all: a soft demeanor, a long, bushy coat that makes him look like a big, adorable plush (which he sort of is), and a playful and loyal character. He is the one we think of when we talk about canine devotion and intelligence. Like many shepherds, he left the herds most of the time to join civil protection or to live alongside you as a pet. And that's already very good!
Warning! Due to his primitive instincts, this dog is suspicious and barks a lot, but his quick wit allows him to quickly understand your instructions when you ask him to calm down.