Is your dog lying on the ground without energy and showing signs of depression? Maybe he has a fever! Forget the heat or humidity of his nose, to know if he has a fever – or is hypothermic – the only valid solution is to take his temperature.
Yes, but how do you take your temperature? Can we take it without a thermometer? And what is the normal temperature in dogs? Otherwise, it is impossible to know if he has a fever! And finally, what to do in case of fever?
We will answer all these questions in the rest of this article.
The body temperature of a dog
To know if your dear doggie has a fever, you first need to know the range considered "normal" for the dog. A distinction is made between temperature in adult dogs and that in puppies, because the normal values ​​for these two age groups are not identical.
The normal temperature of the adult dog
Usually, the temperature is considered "normal" in an adult dog when it is between 38 degrees and 39 degrees Celsius.
If you had to remember just one number, the easiest way is to remember the number 38.5 degrees as the normal temperature for the dog.
Variations during the day
However, as for humans, the latter varies during the day, and it is not at all surprising to note a temperature of 38.2 degrees for breakfast and 38.9 degrees for dinner … You should not s 'worry because it varies: depending on whether he has had an intense physical activity or on the contrary whether he comes out of a nap, depending on the outside or ground temperature, different factors impact its value at the time.
The puppy's normal temperature
A newborn puppy has a body temperature of around 35.5 degrees Celsius. But baby dogs are not able to retain their warmth without outside help.
To keep their temperature level and keep them warm, they need to snuggle up to their mothers and siblings as much as possible – if they have any – and receive frequent breastfeeding and breast milk. In addition, the external environment must not fall below 26 degrees Celsius, otherwise, their survival could be endangered.
At a body temperature below 35 degrees Celsius, the puppy's vital prognosis can quickly worsen, and he must then be taken care of to stay alive …
Moreover, it is common to use halogen lamps to heat the location of the puppies.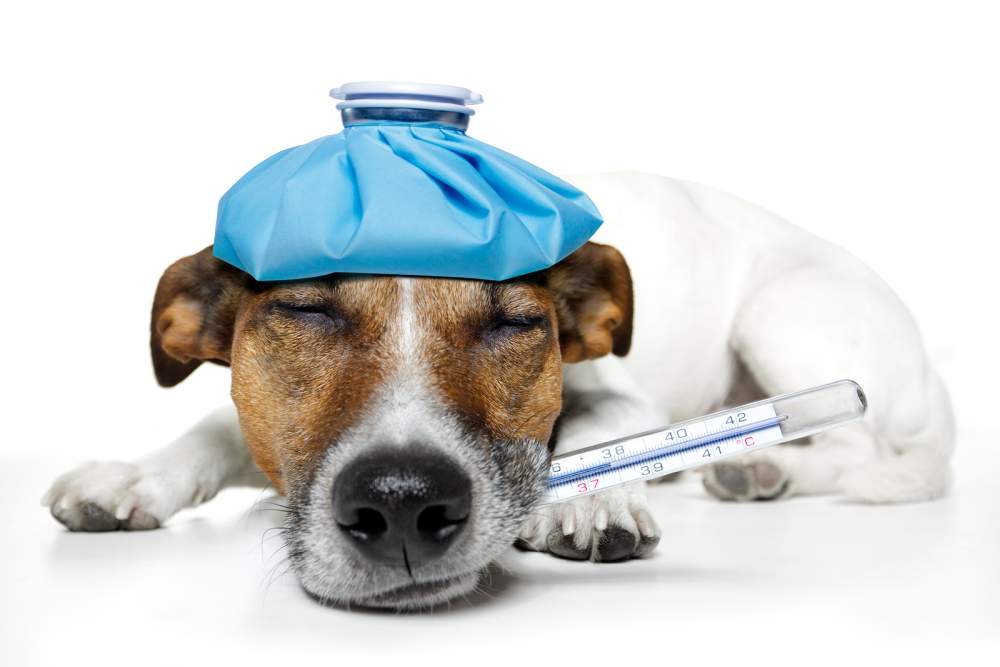 The abnormal temperature in dogs
Fever in dogs: from how much?
In general, a dog is said to have a fever as soon as its body temperature exceeds 39 degrees. He is then in hyperthermia (ie his temperature is higher than "normal").
Dog hypothermia
Likewise, it is agreed that a dog is hypothermic when its measured temperature is below 38 degrees.
Beware of limit pocket values
Be careful though, because it may happen that a dog with a temperature of 39.2 degrees does not have a fever. Indeed, in certain cases, in particular, in stressful situations, the temperature of your animal can exceed 39 degrees in reaction to its nervousness, without this worrying about the health of your animal. A dog that you take to the vet for consultation can easily find itself in this configuration.
Likewise, if your chihuahua comes out of several hours of napping on the cold tiled veranda, it is possible that his body temperature is 37.6 degrees, without actually being in a state of hypothermia.
Keep in mind that these limit values ​​must be considered with caution… The environment and the context must be taken into account to adjust the diagnosis, and not be limited to only the figures displayed on the thermometer.
Fever in dogs: how do you know?
Can we estimate it by touching the dog's nose?
Contrary to popular belief, don't be fooled by the perceived heat or coldness of your dog's nose! This is by no means a safe method to know if your dog has a fever, far from it … the Same with fresh or wet truffles.
The electronic thermometer: the only reliable method
The only reliable way to tell if your dog has a fever is to take his temperature with an electronic thermometer and see if it is within the normal temperature range – between 38 and 39 degrees – or outside.
We recommend the electronic thermometer because the classic mercury thermometer can break if the dog is agitated, and therefore be dangerous for him, especially since the latter is introduced into his anus.
Symptoms of fever as indicators
Certainly, the general condition of your dog gives you indications of his condition.
If your dog is lying on the ground in a state of depression, his ears are burning, his nose is dry and hot, and his body temperature seems high when you feel him, these are signs that point you towards a condition. hyperthermia (ie fever).
But nothing is confirmed until you take its temperature, because it is, as we told you above, the only reliable method.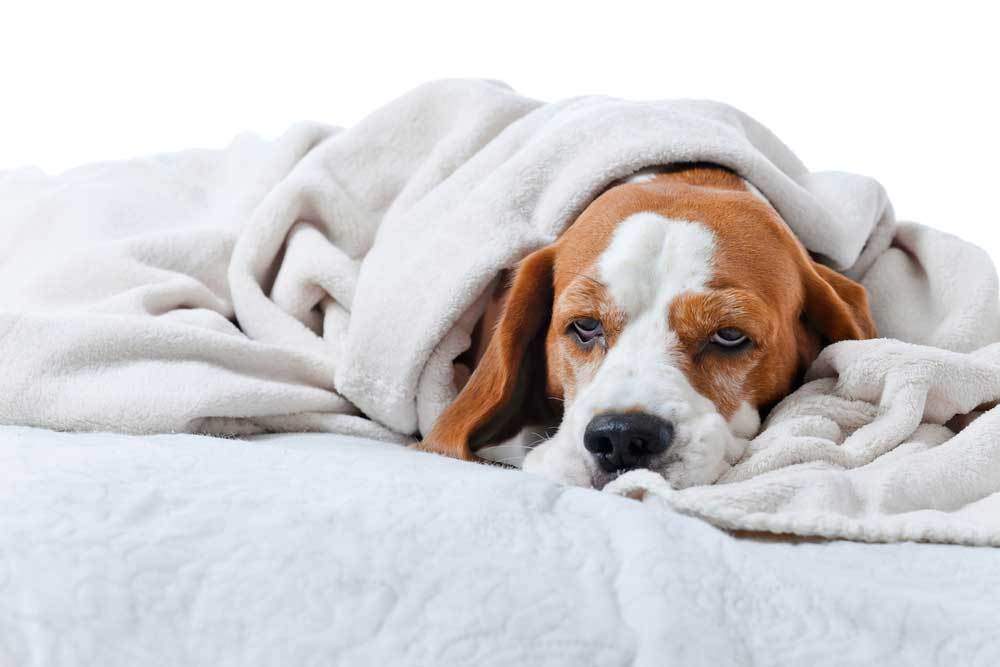 How to take a dog's temperature?
With the electronic thermometer, two
It is recommended that two people take the dog's temperature: one person who stabilizes the dog and tries to hold it in place, and another person who will take the temperature. If you are worried about being bitten, put a muzzle on him, because any dog, no matter how nice, can bite when he feels threatened or in a situation of intense discomfort.
After this unpleasant intervention, reward him by stroking him to show him that you are grateful to him for allowing himself to be done.
Finally, if your animal is too agitated: do not force it, do not traumatize it, rather make an appointment with your veterinarian who will take care of it and show you how to proceed.
Reading Suggest; Black Dog Names – 400+ Names for Black Dogs
How to do it?
The person in charge of taking the temperature takes the electronic thermometer – ideally flexible for convenience – and will have petroleum jelly, or a water-based lubricant, on its tip so as to facilitate an anal introduction. Then, she will gently lift the dog's tail and introduce the metal tip of the thermometer to a depth of one centimeter (no more), orienting it towards the sidewall of the anus. The end of the thermometer should be flush with the anal wall.
Then you have to wait for the electronic thermometer to ring: the temperature is stabilized and ready to be read. During this time the person who takes care of the dog's mission is to calm him down and reassure him to prevent him from getting too agitated.
Is this possible without a thermometer?
Let us remember once again: without a thermometer, there is no reliable method.
It would then be advisable to palpate the body of the animal, to feel its ears and its legs which should be very hot, to examine its gums which should be redder than usual, to touch its armpits and its butt which should be swollen if infected. In short, to observe the general condition of your dog in search of other symptoms: depression, diarrhea, vomiting, lack of appetite or lack of energy, behavior less social than usual …
But this information does not give any guarantee: the only real advice would be to buy or borrow a digital thermometer!
My dog ​​has a fever: what to do?
When to call the vet?
If your dog has a body temperature over 39 degrees, looks downhearted, has diarrhea, vomiting, or trouble breathing, you should see your vet promptly. All the more quickly as the general condition of your dog seems worrying to you.
As for hypothermia, below 37.5 degrees with a dog that does not appear in good shape or has other symptoms, the concern is legitimate and you will have to call your veterinarian.
And the younger the dog, the more worrying a low temperature is. Which means you'll have to react quickly to save your puppy's life.
Reading Suggestions; Happy Dog Food Review and Recommendations for 2021
Practical advice for your dog with a fever
Note: a dog does not sweat. This means that it does not evacuate its body heat like us humans. The only areas of the body through which dogs can evacuate their heat are in the pads (thanks to the presence of internal glands).
So, if your dog has a little fever, you can help cool him down by wetting his head, paws and pads with cold water.
In addition, a dog with a fever will tend to pant to increase heat exchange and regulate its temperature. It, therefore, makes perfect sense to place it in a cool, slightly humid room.
If your adult dog is hypothermic, you will apply a hot water bottle surrounded by a towel to accompany him to the vet.
The final word
Without a thermometer, no salvation! This is the only reliable method, based on accurate measurement, to tell if your dog has a fever. Make sure you have a digital thermometer at home, ideally flexible, to be able to take your dog's temperature. It is also necessary to create a calm environment so that your dog feels confident and does not get agitated too much. Then do not forget to comfort him after taking the temperature, by caressing him for example, especially if he is sick.
And don't forget to take into account the external conditions and the context: an adult dog slightly above 39 degrees does not necessarily have a fever; just as an animal a little below 38 degrees is not systematically hypothermic. Your best ally, in this case, is your veterinarian: do not hesitate to contact him!