When it comes to our furry friends, we want nothing more than to keep them safe and comfortable. And during scorching summers, the blazing hot pavement can pose a serious threat to their delicate paws. But here's where the debate begins: do dogs need shoes or booties to protect their precious paws from the scorching heat? It's a question that sparks passionate arguments on both sides.
Some pet owners swear by dog paw protectors, while others argue that they are unnecessary and even unnatural for our canine companions. So, what's the truth? Let's dive into the pros and cons of dog paw protectors so you can make an informed decision for your beloved pup.
Pros and Cons of Dog Paw Protectors
Protecting our furry friends' paws is a topic that sparks debate among dog owners. While some swear by the benefits of dog paw protectors, others are skeptical about their necessity. Let's take a closer look at the pros and cons to help you make an informed decision for your beloved pup.
Reading Suggestion: Why Shih Tzu Are The Worst Dog
Pros
Protection Against Extreme Weather
One of the major advantages of dog paw protectors is protection against extreme weather conditions. During scorching summers, hot pavement can cause discomfort and even burn your pet's sensitive paws. By wearing shoes or booties, you can shield your feet from high temperatures and prevent potential injuries.
Add Traction and Stability
Another benefit is added traction and stability. Some dogs may struggle with slippery surfaces or uneven terrains, especially older pets or those with mobility issues. Paw protectors provide them with a better grip, reducing the risk of slipping or falling while walking or running.
Furthermore, these accessories act as a barrier against harmful substances on the ground such as chemicals used in landscaping or road salt during winter months. This protection helps to avoid irritation and potential infections caused by coming into contact with these substances.
Cons
Comfortability for Our Four-legged Companions
However, there are also downsides to consider when it comes to using dog paw protectors. One common concern is comfortability for our four-legged companions. Not all dogs feel comfortable wearing shoes or booties initially; it may take time for them to adjust to this new sensation on their paws.
Naturally Tough Foot Pads That Don't Require Additional Protection
Additionally, some breeds have naturally tough foot pads that don't require additional protection under normal circumstances. If your dog falls into this category and spends most of its time indoors or in safe outdoor environments without extreme conditions, then paw protectors may not be necessary.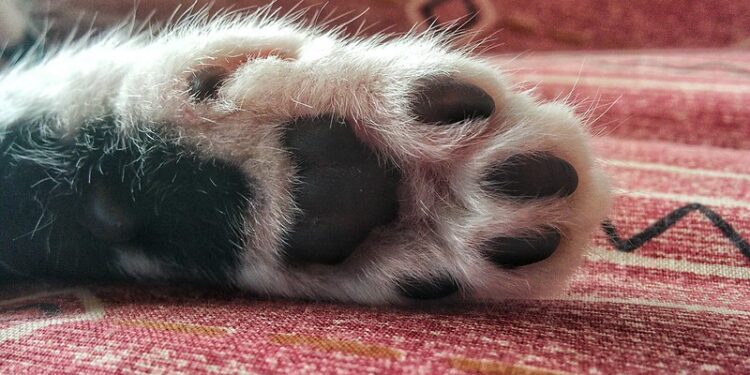 Types of Dog Paw Protectors
When it comes to protecting your dog's paws, you have a variety of options to choose from. Each type of paw protector offers its unique benefits and considerations. Let's explore some popular choices:
Reading Suggestion: Doberdoodle
Boots
Dog boots are the most commonly used paw protectors. They provide comprehensive coverage and protection against hot pavements, sharp objects, typical dog wounds and extreme temperatures. Look for boots with sturdy soles and adjustable straps for a snug fit.
Socks
Dog socks are another option that provides comfort and protection indoors or on less abrasive surfaces. These lightweight options can help prevent slipping on slippery floors while also offering minimal protection against heat or cold.
Balms/Waxes
Paw balms or waxes offer a protective layer between your dog's paws and the ground. They moisturize dry paw pads, soothe cracked skin, and provide temporary heat/cold insulation.
Disposable Booties
If you're looking for a quick solution when going outdoors temporarily, disposable booties might be an option worth considering! These single-use coverings slip over your pup's paws easily but may not offer as much durability as other types.
What to Consider Before Buying Dog Shoes or Booties
When it comes to protecting your furry friend's paws during scorching summers, investing in dog shoes or booties can be a great option. However, before making that decision, there are several important factors you should consider.
Reading Suggestion: Micro Exotic Bully
Think About the Climate and Terrain
First and foremost, think about the climate and terrain in which your dog will be wearing the paw protectors. If you live in an area with hot pavement or sandy beaches, shoes or booties can prevent burns and abrasions. On the other hand, if you have a grassy backyard and take your pup on hikes through softer terrains, paw protectors may not be necessary.
Your Dog's Comfort Level
Another aspect to consider is your dog's comfort level. Some dogs may feel uncomfortable or restricted when wearing shoes or booties for the first time. It's important to introduce them gradually and allow your pet time to adjust. Additionally, make sure to choose breathable materials that won't cause excessive sweating or discomfort.
Assess your budget and durability
Assess your budget and durability needs. There are various types of dog shoes and booties available at different price points. Consider how often you'll use them and whether you need more rugged options for outdoor adventures or just occasional protection from hot surfaces.
Conclusion
After exploring the pros and cons of using dog paw protectors and understanding the different types available, it is clear that there isn't a one-size-fits-all answer to whether dogs need shoes or booties during scorching summers. While some dogs may benefit from wearing paw protectors, others may find them uncomfortable or unnecessary.
Always prioritize what is best for your furry companion by weighing both the benefits and potential drawbacks before investing in any type of paw protection gear. Your diligence in caring for their precious paws will undoubtedly go a long way in ensuring their well-being throughout those scorching summer months.