Don't underestimate the power of good, tasty dog training snacks for teaching your pups! They are more than just delicious snacks to spoil your dog. As tiny as a piece of kibble is, it's potent enough to motivate your dog to follow a command or behave a certain way.
Successful, positive training relies on knowing what motivates your dog. While every dog is motivated differently, food is often the primary motivating force for encouraging new behaviours. This positive reinforcement also helps anxious and aggressive dogs overcome their fears.
Food has been an age-old, trusted tool to enhance a dog's learning ability positively. By raising your pup's dopamine levels in the brain and stimulating the desire to seek food rewards, you can teach them a habit without using fear. This is because dopamine is a neurotransmitter that plays a significant role in reward-driven learning and helps regulate movement and emotional responses.
What Are the Benefits of Training Dogs With Food?
Less Stress for Anxious Dogs
When using dog training snacks to train your dog, you focus heavily on teaching the correct behaviours instead of rectifying unwanted ones. The goal of using treats to train your dog is to set them up to do the right thing, so you can reward them with a treat afterwards.
This treat represents what you call "Positive Reinforcement." Positive reinforcement encourages your dog to repeat certain behaviours more frequently, training your dog to acquire positive habits.
Build Confidence
Dog training snacks are powerful enough to encourage your pup to tackle any task. They will easily work for a treat! So, it's an effortless way to build their confidence. Repeating positive reinforcement in situations that initially made your dog anxious will make it less of an ordeal for them. The dog may even intentionally do a task without you giving any command to get a treat.
You can try this with their agility training. Any equipment may seem intimidating and challenging for your dog at first. But if you keep introducing each piece of equipment in small increments and pairing it with lots of treats, your anxious dog will eventually find courage, face their fears, and overcome the obstacle.
In time, your once-nervous dog will fly through a course of equipment with ease and excitement, as if they were never intimidated by it.
Reading Suggestion: Platinum Dog Food Reviews and Recommendations [Updated 2022]
Improves Focus
Training your pet in a quiet, controlled setting, such as your home, can easily keep your dog's attention on you. Do your training in a park or anywhere in public and you'll likely end up with a distracted dog. The stimuli of the unfamiliar surroundings can be too overwhelming, and your usual tactics may not work.
However, you may need to train your dog in these environments to rectify unwanted behaviour. So, offering them high-value dog treats will motivate them for the task at hand though. Feeding various tastier treats will help keep your dog interested in maintaining good behaviour and following through with challenges.
Increase IQ
It's hard for dogs to follow your commands when they're lacking in the brain department. But, no worries! Treats can help you train your dogs to increase their IQ. You can start by hiding treats in various places or things. You can then encourage your dog to find their treats and figure out how to get them. You can even find interactive toys designed for this game with varying difficulty levels.
These are excellent mental workouts for your dog. A 10-minute mental workout is equivalent to 30 minutes of physical activity.
Improvement in Obedience
The best thing about training your dog with treats is that they will willingly do what you ask without cruelty, fear, or force. At the right time, you won't even have to reward your dog with treats nearly as much as with repetition and consistency.
But, of course, you'll still have to keep rewarding your dog to maintain good behaviour in other ways. This can be with a kind word, pats, or even just quality time with you.
Reading Suggestion: Happy Dog Food Review and Recommendations for 2022
What Are the Benefits of Giving Dogs Treats?
Dog Treats Are Invaluable Training Tools
Most dogs are motivated by food. That's why treats are one of the sure ways to reward your doggos when they've behaved well or learned a new skill. When you reward your dog well for a particular behaviour, they are much more likely to do it again.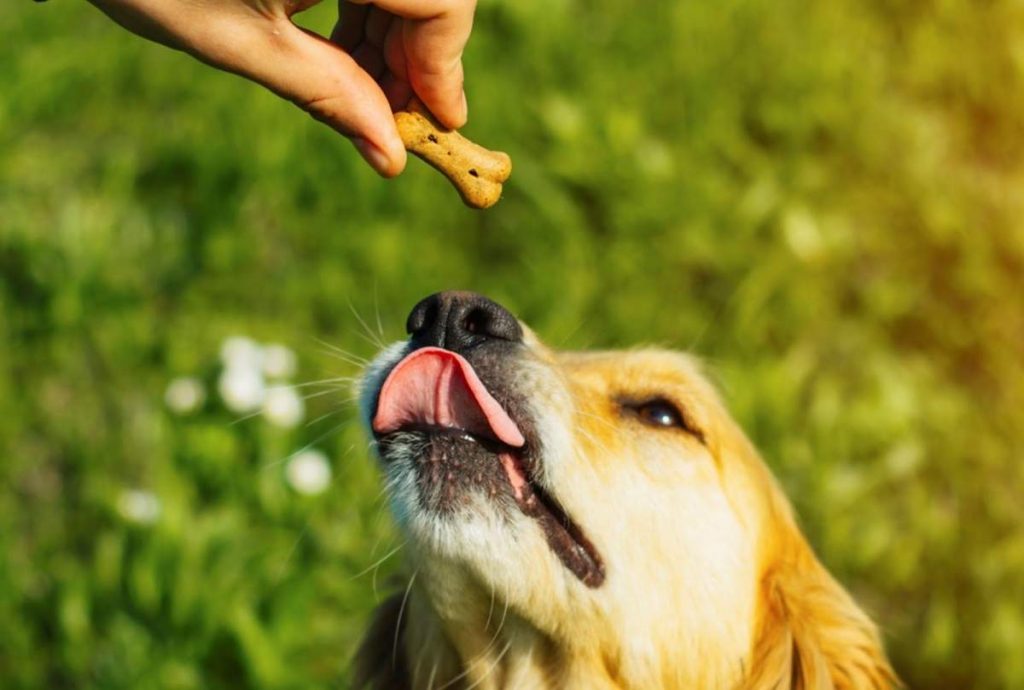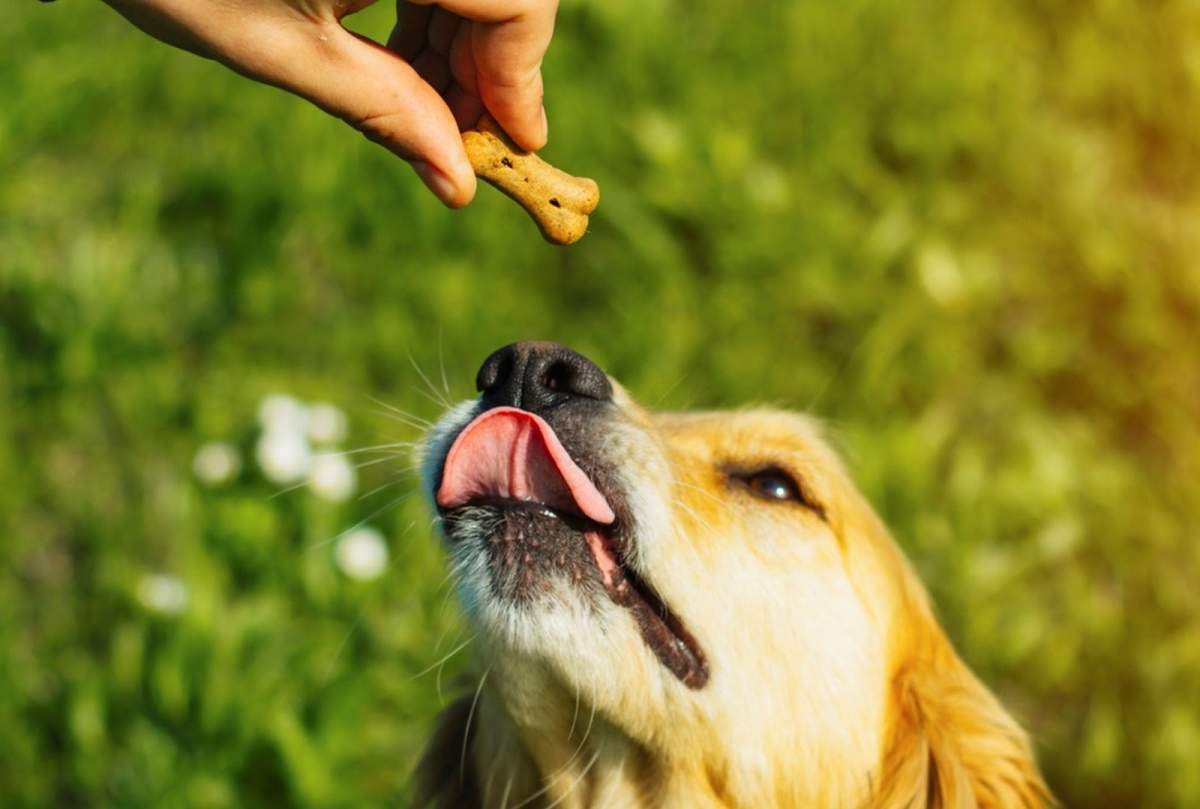 Dog Treats Strengthen the Bond With Your Pet
They say the way to a man's heart is through his stomach. Apparently, the same goes with canines. So, if you want to create a bond with a dog, you must do it with feeding. In fact, hand-feeding your dog with treats allows you to provide them with a relaxed sense of safety and comfort. This is especially helpful in gaining your dog's trust and encouraging them to respond to your "gentle" commands.
Dog Treats Help Comfort Your Dog
Treats are also an excellent distraction for your dog if you must leave them on their own. These snacks keep them happy and busy, so they won't get bored by themselves. Leaving your dog with treats when you go is also a short-term remedy for separation anxiety. It also creates a more positive association with you leaving the house, so they don't have to feel anxious about being alone.
You can also make them productive by hiding treats in various places around your home for them to discover. Not only will it help you keep your dog preoccupied, but it's also a fun scavenger hunt that will train your dog's sense of smell and IQ! Plus, giving them something to chew on while you're out will help them alleviate boredom. It may just save your new shoes and sofa from getting gnawed!
Natural Dog Treats Are Packed With Extra Health Benefits
Natural dog treats are becoming increasingly popular among conscientious dog owners who understand how important it is to provide healthy and delicious snacks. Like us, dogs have dietary needs to keep them healthy and happy. So, feed your dogs with high-quality, natural dog treats to get optimum health benefits, including healthier coats, skin, joints, digestive system, and oral health!
A Wide Range of Dog Treats Available
Feast your eyes on a wide range of mouth-watering, highly nutritious dog treats to choose from.
Crunchy Treats
Crunchy dog treats come in many sizes, flavours and shapes. They typically include cookies, biscuits, and health bars. Just make sure the size of the treats is appropriate for the dog.
Crunchy treats often consist of familiar ingredients such as peanuts and honey, bananas and yoghurt, whitefish, sweet potatoes, chicken and more. To ensure optimum health, choose dog treats that do not contain artificial colours, flavours, preservatives, wheat, or corn.
Reading Suggestion: Best Dog Food For Allergies 2022
Soft Treats
Soft treats are dog treats with chewy textures, typically available in various flavours, sizes, and shapes. These are excellent in training sessions because they have a pleasant taste and texture. They also often come in tiny sizes, so they are easy to carry around.
Reward your dogs in small quantities during training. Look for wheat-free soft dog treats that contain enough protein and even some with healthy glycerin, such as vegetable glycerin.
Freeze-Dried & Jerky Treats
Freeze-dried and jerky treats are also delicious and quite like human food. They regularly come in poultry, liver, seafood flavours and beef. Many dog-parents use them when training because of their unique and desirable flavours.
Dental Chews and Bone-Like Treats
These treats are hard-yet-digestible materials such as corn starch, sweet potato, and glycerin. They can even be bone-like treats that contain zero animal bone or hide. These treats promote good dental health because of the degree of chewing required to consume them, helping to remove plaque from your dog's teeth.
Although they are safer than real bones, dogs must be supervised when given these treats because they can cause a gastrointestinal blockage if they are too small and are swallowed.
Special Diet Treats
Treats for dogs on special diets are heaven-sent as dog allergies and disorders are being diagnosed and recognised more often. Look for specially developed dog training snacks or pay close attention to the ingredients of others.
Get the Best & Tastiest Training Treats
Give your dog a fitting and exciting reward for a job well done! High-quality and healthy dog training snacks are the best motivation to get your dog's moving or keep them at their best behaviour. Shop online to turn a rascal pup into a good and obedient dog.