As a dog owner, sometimes you get busy with household chores or running errands. It is hard to leave your dog unattended when you are busy because they can cause messes. That is where the right dog playpen comes in.
Playpens offer your best friend plenty of space to play and move compared to crates. Choosing the right dog playpen can be challenging because they come in different sizes and features. In this guide, we will give you some essential tips on how to choose the right dog playpen.
Selecting the Right Dog Playpen
Dog Size and Available Space
The first thing you need to consider is your dog's size. Double-check your dog's weight and height so that you can get a well-fitting playpen that is neither too big nor too small.
Location
Where do you intend to use the playpen? Is it indoors or outdoors? If you intend to use the playpen indoors, then look for one with a mat. This will prevent your floor from nail scratches or wearing out your carpet. Additionally, it will prevent the damages that result from water and food spills.
If you intend to use the playpen outdoors, consider one with a cover to protect your dog from the sun.
Product Suggestions: Happy Dog Food Review and Recommendations for 2021
Dog's Temperament
You should take into account the temperament of your dog. Some dogs roam more than others and this depends on training, dog breed, and how often the dog uses the playpen. If your dog loves jumping a lot, then choose a covered playpen.
The Best Dog Playpen – Yaheetech Dog Playpen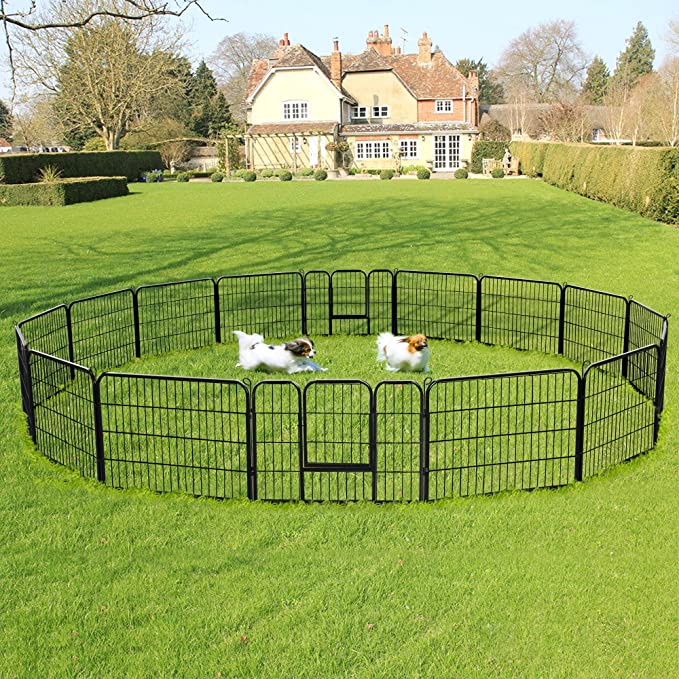 The best way to contain your dog without limiting its movement is to get a playpen. The Yaheetech store has a wide range of pet supplies and other products available at pocket-friendly prices.
One of the best playpens you can consider buying for your dog is the Yaheetech Dog Playpen. We have a full of this dog playpen to help you determine if it is the right one for your dog.
Quality Material
This playpen is made of quality iron material that makes it durable and sturdy. Therefore, you can enjoy safe use for an extended period.
Safety
The door has latches that ensure your pet is safe in the playpen. The edges of the unit are also rounded to prevent your pet from injuries.
Reading Suggestion: 500 Horse Names For Male and Female Horse Names
Great Size
This playpen is of decent size to suit different animals like guinea pigs, bunnies, puppies, rabbits, and ducks. You can use it both outdoor and indoor depending on your preference. You can find it in different panels which include, 8, 16, and 32 panels.
Easy Setup
You can install this fence in just a few minutes if you follow the instructions given without any tools. Simply connect the panels to the metal bars to give you the flexibility of getting different shapes like square, rectangle, or octagon.
Storage
For convenient storage, disassemble this playpen into a compact size. This gives you easy storage when it is not in use.
Reading Suggestion: 900+ Best Bird Names for Budgies, Parrots, Cockatoos and More
Final Words
If you don't want to crate your dog during the day, buy the Yaheetech Dog Playpen. This is the best alternative and it gives your dog ample room to play. The playpen is safe and features strong and durable materials for long-lasting use.