All of us need our dogs to be secured around the house, so it's undeniable that we all could use a dog crate. But let's face it, we want a dog crate that is custom according to our needs. Not to mention that it also must be modern for it to be eye-pleasing. But what features can it possibly have? And where can you buy it?
I know all of you guys are excited to know the answers to these questions. Still, let's first discuss the evolution of dog crates then and now.
What Changed From Traditional to Modern Dog Crates? 
Much has changed in the world of dog crates since the days of plastic pens and metal cages. There are a lot of crates on the market, ranging from sophisticated, high-tech kennels to traditional wooden boxes that look like furniture.
Modern crates are often constructed from lightweight, but durable, materials that are easy to clean, collapse, and ship. Companies may use premium materials like oak or laminate to make modern crates that go well with any design. As a result, the lines are often more aesthetically pleasing on the exterior but more curved and pleasant for your pet on the inside.
Plexiglass dog kennels are one of the best too. It is a clear dog crate that can go well with the aesthetic you're trying to maintain around the house. Not just that, this dog crate has no metal or plastic bars to frighten your pet, and it provides a beautiful view of the outside world for it to relax.
The majority of translucent dog kennels are made of acrylic or plexiglass dog crate materials, which are both lightweight and durable. Plexiglass is a kind of transparent acrylic sheet that is mainly used as a generic word to refer to a few distinct goods made under several names, including Plexiglas, which was the original trademarked name for the material.
Reading Suggestion: Platinum Dog Food Reviews and Recommendations [Updated 2022]
When a puppy is house-trained, many pet owners begin looking for crates. Crates might be a better alternative for older dogs than a dog bed since they provide more solitude and comfort. As a result, modern crates are functional and visually appealing.
As opposed to a puppy gate, they are a permanent solution. If you choose wisely, this crate may become an integral part of your home and pet's life.
What to Look for in a Modern Custom Dog Crate
It is essential to consider your and your dog's needs in choosing a dog crate. When it comes to dogs' needs, according to Wag Walking, they require a den or a secluded area to themselves to feel safe, secure and loved. Dogs require a shelter or a private place.
Now when it comes to the dog owner's needs, according to Centinela Feed and Pet Supplies, a dog's bad habits such as destructive chewing, digging, and excessive howling may be curbed by crate training him. This training may alleviate separation anxiety. Using a dog crate will make it easier to control the dog's behavior, which will lead to a better connection between the pet and its owner.
As mentioned earlier, modern crates are valuable and pleasing to look at. But what more if you can get those two advantages simultaneously at an affordable price? 
When it comes to modern custom dog crates, it is not a rule but rather a suggestion to have a clear dog crate. The design of this type of crate will fit everything, as it dissolves in the space – adding to the modern look and charm. Usually, transparent pieces of furniture suit interiors that lack space. Furniture construction of see-through materials does not generate a cluttered impression since it doesn't take up the area.
Also, modern custom dog crates must be multipurpose as the 'one-function-feature' of furniture is now an old age marketing. You may head over to dog crates by shop hidden for a perfect example of a multipurpose dog crate. It's a 3-in-1 product that serves as a crate, table, and gate. How can you say it's not shaped to your liking, right?
Hiddin's dog crate can also be a clear playpen for dogs. This crate has transparent walls composed of hinged wall panels. This dog crates' transparent walls are removable and can be utilized as a freestanding pet gate. This pet gate is zig-zag in design that can cover openings up to 9 feet.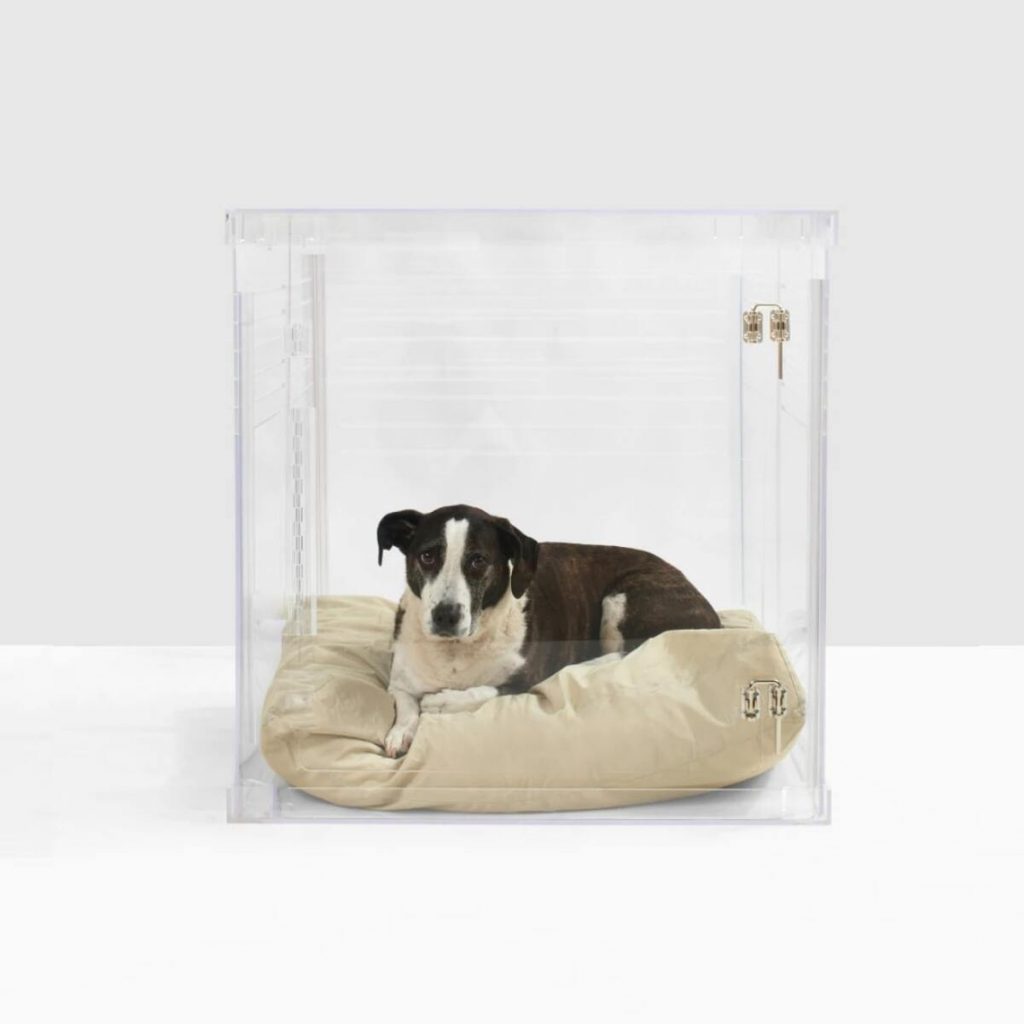 Hiddin's dog crates are also Lucite dog pens. I know you are questioning what this Lucite is in your mind right now. According to First Impressions International, Lucite is an acrylic plastic resin in the design of windows and stylish interior and furniture resistant to UV radiation, wind, and water. It also has crystal-clear transparency and flexibility. Lucite is also called Plexiglass.
Reading Suggestion: 500 Horse Names For Male and Female Horse Names
Why Modern Custom Dog Crate?
You may customize a modern custom dog crate according to your needs and preferences. A transparent design of a dog crate will be a canvas to a limitless design idea of your choice. Who says that there are rules? None! So, design your dog crate according to what fits your aesthetic and your home's decors.
Also, the Hiddin's clear dog crate has an adjustable and customizable size depending on the space of your house. The size can vary when you assemble the dog crate into a dog gate – it can go up to nine feet. What a great deal, right?
Conclusion
In modern custom dog crates, it's essential to choose what dog crate will be perfect for you and your dog's liking and needs. After all, that's the sole purpose of getting one. Be practical and choose the dog crate that caters to many of you and your dog's needs in one.
After all, a happy pet is a cuddly one. We all want a pet we can snuggle and play with, right? So, ensure that the products you would pick for them are of excellent quality. 
Get more tips and valuable information on modern custom dog crates as you browse through our site!