When it comes to car rides with our furry friends, ensuring their comfort and safety is paramount. Dogs, just like us, deserve a cozy space during car journeys.
Not only does it make the ride more enjoyable for them, but it also promotes their well-being.
In this article, we'll explore how to choose the right dog car seat cover and create a comfortable environment that will make your dog feel secure and content on the road.
Choosing the Right Dog Car Accessories
To start, let's consider the various dog car accessories available in the market that will help you plan a dog-friendly road trip.
For small dogs, a dog car seat or booster seat is a great option, providing them with an elevated view and secure restraint. Medium and large dogs can benefit from a safety harness or seat belt attachment that keeps them in place during the ride.
If your pet feels more secure in enclosed spaces, consider using a dog carrier or crate that provides a cozy den-like environment.
It's also crucial to invest in a car seat cover. This cover protects your car seats while creating a comfortable spot for your dog. Choose the right dog car seat cover, which must be durable, easy to clean, and fits your car's interior. Look for one that is made of waterproof or machine-washable materials to handle any accidents or muddy paws.
Creating a Cozy Bedding Area
Select a dog bed or blanket that provides both comfort and support. Memory foam or orthopedic beds are excellent options for dogs with joint issues. Consider the climate conditions during your travels and choose bedding materials accordingly. For colder weather, include a warm blanket, and for hotter days, opt for breathable fabrics.
Ensuring Proper Ventilation and Temperature Control
Ventilation and temperature control are crucial to keeping your dog comfortable during the ride.
Crack the windows or use window shades to maintain airflow without exposing your dog to strong drafts. Avoid direct sunlight by using sunshades or parking in shaded areas.
Extreme temperatures can be dangerous, so it's essential to keep the car at a comfortable level. If needed, use a fan or the car's ventilation system to regulate the temperature.
Safety Measures for a Smooth Ride
Creating a cozy space is not only about comfort but also about safety.
Secure your dog's accessories properly to prevent accidents or injury. Use harnesses, seat belts, or carriers that are appropriate for your dog's size and behavior. Loose objects in the car can become hazards during sudden stops or turns, so make sure to secure them as well.
Introduce your dog to the car gradually, using positive reinforcement techniques, and plan rest stops for bathroom breaks and stretching.
Calming Techniques for Anxious Dogs
If your dog tends to get anxious during car rides, there are several calming techniques you can try.
Calming aids such as pheromone sprays or natural remedies can help reduce anxiety. Playing soothing music or white noise can create a relaxing environment. Additionally, consult your veterinarian for anxiety-reducing supplements or medications if needed.
Remember, a calm and relaxed dog makes for a smoother and more enjoyable journey.
Entertaining and Engaging Your Dog
Keeping your dog entertained and engaged during the trip can make a significant difference in their overall experience.
Provide interactive toys or puzzles that stimulate their minds and keep them occupied. Treat-dispensing toys offer rewards and distract from anxiety or boredom. During rest stops, engage in verbal or physical interactions to provide comfort and reassurance.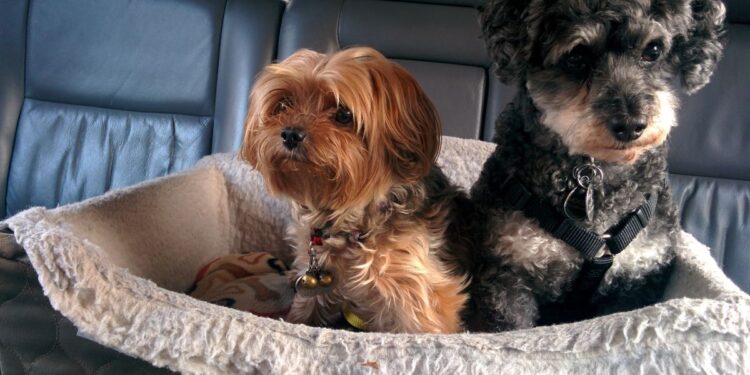 Conclusion
By creating a cozy space for your dog in the car, you enhance their travel experience and strengthen your bond. So, buckle up, hit the road, and enjoy cruising in comfort with your canine companion!