Opinions On The Best Dog Carriers
To facilitate your search for dog carriers, we have taken into account the most relevant information and the details that may influence whether you take advantage of your investment or not and thus have been able to select some models that may be of interest to you.
Large Dog Carrier
Dog It 76638
If we try to find what could be the best dog carrier, we may come across the Dog it model. This large dog carrier has dimensions of 69.3 x 47 x 27.9 centimeters and its weight is 2.86 kilograms.
Its side panels and the bottom provide good ventilation for the animal, and at the same time, that waste is dropped to prevent the pet from getting dirty.
The door is made of metal and its locking system can be deactivated with one hand.
On the other hand, if you appreciate practicality, you should know that it has a handle so you can carry the carrier or you can also hang it from your back using a strap.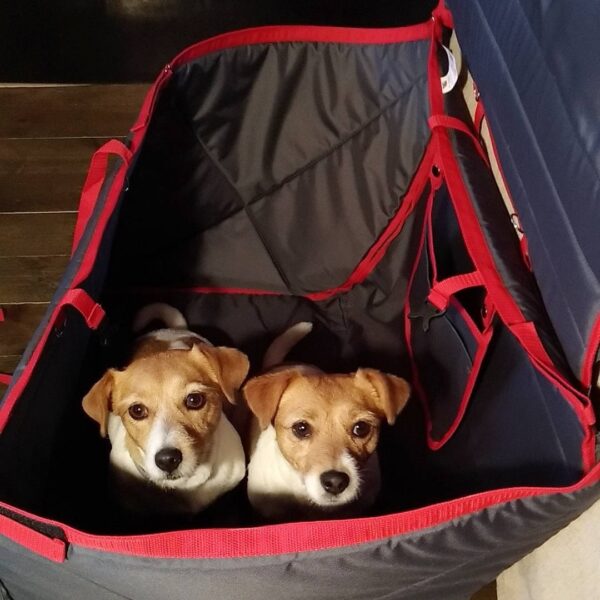 The 76638 model could be the best dog carrier of the moment and here you can have access to its most important pros and cons:
Design: It is XL in size, and its dimensions are wide so that your pet can feel comfortable.
Colors: Depending on the manufacturer's availability, you could choose this carrier in two different colors: white or black.
Ventilation: It has lateral, rear and lowers ventilation systems as well as a window in the upper part.
Transportation: You can use its handle to carry it or also hang it from your back with straps secured to its rings.
Breeds: Although it is a large carrier, one of the buyers indicated that it is small for use with dogs of the size of an adult Golden Retriever.
Foldable Dog Carriers
[pro. tec] has for you what could perhaps be one of the best dog carriers of 2022. This is a large dog carrier that measures 91.4 x 63.5 x 63.5 centimeters.
It has lightweight, thanks to the fact that it is made of extra strong polyester combined with polyethylene to increase resistance and durability. It has vents to ensure that the pet receives the necessary oxygen and does not get overheated inside.
Depending on its availability, you can choose it in red, pink, gray, blue, and navy blue, as well as vary its size in sizes.
As for security, it has two entrances and both are closed with a zipper so that the animal cannot easily escape.
If your dog is a large dog and you don't know which dog carrier to buy, consider this option, since it is light but spacious:
Design: This carrier has a folding structure to take up little space. It has straps to carry it and even side pockets.
Ventilation: All five sides feature a mesh grille that allows air to circulate for both safety and comfort.
Materials: The carrier is made of polyester and polyethylene, making it resistant, durable and washable.
Base: Please note that the base is rigid, so it cannot be folded.
Anchorage: One of the buyers complained that the product does not have rings to secure it to the car seat.
Medium dog carrier
AmazonBasics AMZSC-002
In order to determine which is the best dog carrier, you must make sure that it is resistant, durable, and safe for your pet. In this case, we find a medium dog carrier from the AmazonBasics brand. It can carry a maximum of 7.3 kilograms in its medium size, which measures 25 x 42 x 24 centimeters and weighs 1.07 kilograms.
Reading Suggestions: Pro Star Dog Food Review
It is a carrier with flexible sides and meshes panels in several areas to ensure good ventilation for the pet. It has two entrances, one at the top and one at the front. They are locked using the zipper, which is resistant, reliable, and safe.
The purchase includes a small stretcher with fleece fabric that will provide both comfort and absorption in case your pet decides to relieve himself inside the carrier.
AmazonBasics might be the best dog carrier brand, as this model is practical, affordable, and has attractive qualities:
Design: It has a very practical design and is foldable so you can take it wherever you need it and store it without wasting space.
Capacity: In its medium version, this carrier can support loads of up to 7.3 kilograms.
Stretcher: With the purchase, you will get a polar fabric stretcher.
Security: It is not a rigid carrier, so you must be careful that no object falls on top of it.
Size: Others consider that its medium size is limiting even for domestic cats.
Kaka Mall 3943842
The product is a medium dog carrier with dimensions of 48 x 25 x 33 centimeters, it is size L according to its manufacturer. There are those who consider the Kaka Mall model as possibly the best value for money dog ​​carrier because it is approved for air travel.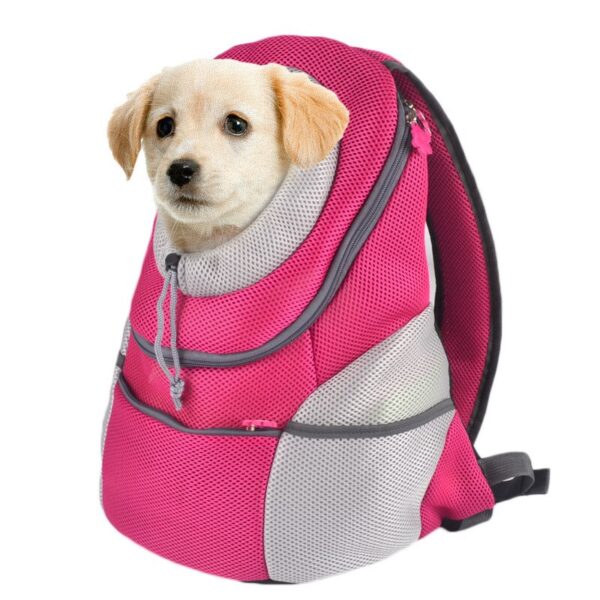 Its manufacturing materials are flexible, making the carrier foldable. In addition, it has padding on its sides and the fabric is waterproof to prevent it from being affected if the animal urinates inside. Also, taking into account this type of accident, the product includes a soft wool cushion that you can remove and wash at home.
To carry it, it has a short handle and also a shoulder strap.
If you want to provide your pet with comfort and safety during the transfer, evaluate what model 3943842 has to offer you:
Design: It has an attractive design and size L. It can carry a maximum weight of 6.5 kilograms.
Waterproof: The fabric is waterproof and also padded, which provides both comfort and resistance.
Cushion: With the purchase, a wool cushion is included that will serve for your pet to lie down.
Size: Apparently, the most common problem is not considering the size of your pet before purchasing this carrier, so you should measure it to choose the right size.
Zippers: It was also known that the zippers are made of plastic, being less resistant than those of other models.
Frequently Asked Questions
Q1: Can I Carry A Dog Carrier In The Front Seat?
The answer is no: both for security and for Spanish legislation. According to article 18.1 of the General Traffic Regulations, this is totally prohibited, since it is considered that the animal, even when inside a carrier and secured to the seat, can become a visual distraction for the driver, endangering both its integrity and the rest of the passengers.
Therefore, if you need to move or travel with your pet somewhere, it should always go in its carrier in the back seat of the vehicle.
Q2: What Is Better, Carrier Or Dog Cage?
It all depends on what you are going to need the product for. For example, if you want a tool with which you can move your pet more safely and easily, the answer would be a carrier, either rigid or soft.
In case you want to keep your pet locked up in case, he is too active, aggressive, or gets too excited with visits, you might want to consider a cage for him. However, in both cases, you should try to choose the right model according to its size, especially if you are going to buy a cage. Make sure the animal is comfortable and has the necessary space and ventilation for its comfort and safety.
Q3: When Should I Use A Wheeled Dog Carrier?
If your pet is large and is too heavy to carry with the carrier, it may be worth considering a model with wheels. These carriers offer comfort, ventilation, and a smooth motion that may be more pleasing to the dog than the continual wobbling as you carry him.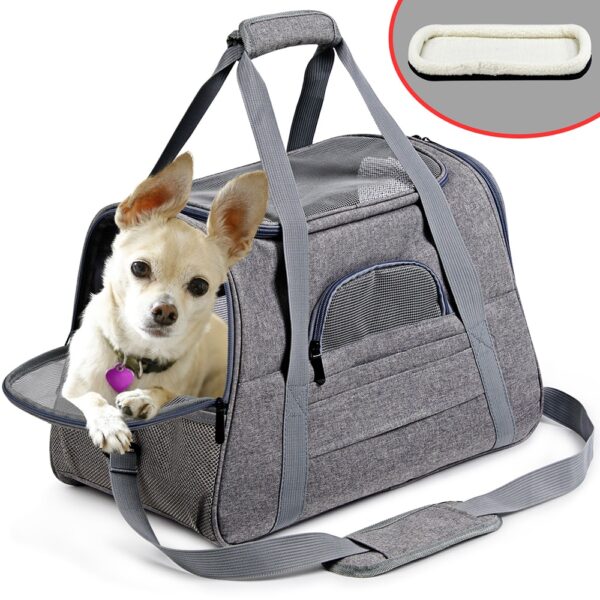 We advise you to use this type of carrier when you need to take your pet somewhere away from home, be it to the vet, on a trip, or for a walk. This will prevent you from straining your arms and back when trying to carry the carrier.
Q4: How To Make Dog Carrier?
If you don't want to spend any money and prefer to make a crate yourself, you can do it easily, but you will need some tools and materials, such as rivets, wood panels, aluminum profiles, hinges, and a latch.
The first thing you should do is measure your pet in order to determine what size the carrier should be, remember that the animal must have space to move and turn comfortably.
Then, based on their size, cut out the aluminum and wood pieces to obtain an outline. Subsequently, join each piece using the necessary rivets, screws, or washers. For the door, cut the U-shaped piece and integrate it with the hinges. To increase comfort, we advise you to add a cushion or a thick sheet.
Q5: Can I Take A Dog Carrier On The Plane And In The Cabin?
Taking into consideration the internal regulations of many airlines, it could be said that if your pet, together with the carrier, does not weigh more than 6 kilograms, you can take it in the cabin with you. Of course, before this, you must check on the airline's website what size the carrier should have, since, for security measures, the animal must travel under the seat that you will have in front of you, that is, at your feet.
Q6: How To Clean A Second-Hand Dog Carrier?
It is recommended to clean the carrier regularly whether it is second-hand or not. To perform this task, disassemble the carrier. Plastic or metal models usually allow this, which greatly facilitates the task of cleaning it.
You can use cleaning products such as disinfectant sprays, stain removers, and odor removers, neutral soaps, among others. This must be done both for hygiene and so that your pet feels comfortable because dogs secrete a hormone that can impregnate the carrier with its smell and this could affect your pet.
Q7: Is A Wooden Dog Carrier Worth It?
With the alternatives available on the market, the truth is that a wooden dog carrier can be impractical. They are usually much heavier than plastic or fabric ones and this will complicate their transport, which is the basic purpose of a carrier.