The popularity of CBD products is rapidly growing as people begin to discover their numerous health benefits for humans and pets. Cannabidiol has been beneficial in treating certain conditions in dogs and cats. Now, pet owners are beginning to wonder if they can use it in place of medications.
Although, the use of CBD for pets have shown promising result. It is advisable to consult a veterinarian familiar with these herbs if you aim to try them.
This article will discuss CBD products as it looks into different aspects, including safety, dosage, etc. In addition, you will also know the effects of these products on pets; that is, some conditions in pets that it can alleviate.
What is CBD for Pets?
Cannabidiol (CBD) is one of the active components of the Cannabis plant. The other active ingredient in the marijuana plant is Tetrahydrocannabinol (THC). THC has a psychoactive property; hence, it is responsible for the "high" effect experienced by marijuana users. On the other hand, CDB does not cause this effect; it has several mental and health benefits.
CBD products can exert a remarkable balancing and healing effect on pets. It interacts with the endocannabinoid system (ECS) as it helps the animals to regain their balance mentally and health-wise. Pet owners can use these products to treat a broad range of health and behavioral issues, including seizures, digestive disorders, cancer pain, social withdrawal, obsessions, irritable mood, etc.
Furthermore, you can use this herb to stimulate your dogs' appetite and speed up their recovery process after a surgery or an illness.  Apart from that, you can use it to ease anxiety and pains they might be experiencing towards the end of their lives.
CBD for Pets; Is It Safe?
Keep in mind that many of these products may not have been tested for effectiveness and safety before they hit the market. Before you buy CBD for pets, you should take your time to check its compositions because some of them may contain contaminants like pesticides and THC. Therefore, endeavor to determine how the product is made before buying it for your dogs or cats.
If you are in doubt, check the brand's contact address, and ask for the company's COA – certificate of Analysis. It is a valid document that shows that the product contains the ingredients listed on its label. If the company can't provide an accurate and updated COA, you should go for other products from trusted brands.
Reading Suggestion: Pitbull Corgi Mix – An American Pitbull Terrier and Welsh Corgi Breed
What are the Best CBD products for your Cats and Dogs?
CBD for pets comes in diverse forms that your dogs and cats can quickly ingest. A common type that is easy to administer is CBD oil. You can give your dogs treats, add them to their food, or put it directly in their mouth via a dropper bottle. Furthermore, you can also allow them to lick it on their paws. All you need to do is drop the oil on their feet.
Other CBD products that you can introduce to your dogs and cats include topical CBD balms, CBD capsules, and CBD biscuits.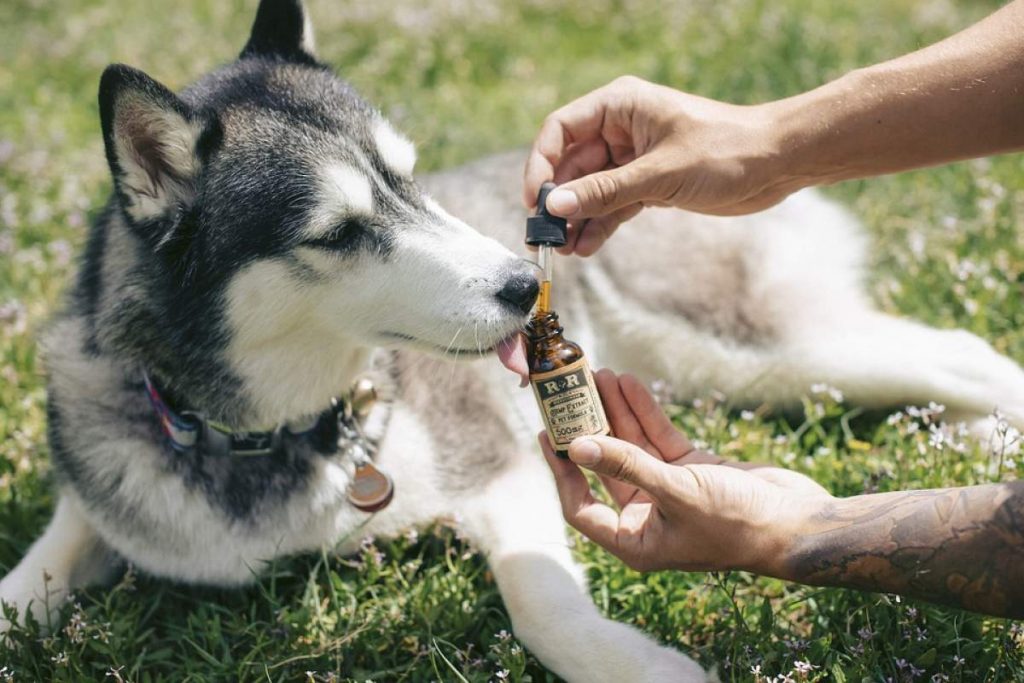 What is the Right CBD Dosage for Pets?
The appropriate dosage for your pets is dependent on some factors; hence, the dosage varies from one animal to the other. Therefore, you might want to experiment to determine the appropriate quantity and the number of times to give them this product.
Typically, the quantity of CBD suggested for every 10 pounds of body weight range from 1 to 5 mg. An essential factor to consider when determining the proper dosage for your pet is the CBD content. The actual amount of the product to be administered might vary based on the Cannabidiol component.
Do not start with a high dosage; begin with an average dose and graduate steadily until you notice visible results. If the pain is severe, administer the product every eight hours. Once or twice a day will suffice for other applications.
CBD for Pets: What Does It Do?
Cannabidiol effectively treats certain conditions in animals; they include different levels of pain, inflammatory problems, anxiety, seizures, etc. CBD interacts with the endocannabinoid system to balance all processes in the body. As a result, it has several potential health benefits for animals. CBD products can help pets with these health issues:
Anxiety
Many pets experience anxiety in a way similar to humans. Pet battling this condition will be restless and may exhibit troublesome behaviors. Cannabidiol may help to ease nervousness in animals and induce calms. According to researchers, it relieves nervous feelings because it acts like serotonin, stimulating the same areas as the hormone. Serotonin helps the body to feel relaxed and happy.
Reading Suggestion: 6 Questions You Need to Ask About CBD for Pets
Seizures
CBD can be used to treat epilepsy in pets. Also, it has proved effective in reducing the frequency of seizures in dogs when used with the common antiseizure drugs. Experts believe it prevents this condition by lowering the number of seizure-inducing electrolytes.
Pain
CBD plays a significant role in alleviating pain and reducing inflammation. It interacts with the ECS and other pain-inducing nerves. Studies have shown that pains and osteoarthritis aches in pets can be minimized by dealing with joint inflammation.
Conclusion
CBD products have proved effective in treating several conditions in pets, including pain, inflammation, and seizures.