Weaning is a key period for the development of the puppy. It is first of all the moment when he will pass from a diet based on breast milk, and therefore liquid, to a solid diet and without the intervention of his mother. It is also the period when he will learn to detach himself from his mother, physically and emotionally. This phase is in this case particularly important for his behavioral learning and socialization. When to wean a puppy, and how long does it last? How to wean a puppy and what are the stages of weaning? These are all questions that we will answer in detail in this article.
What is weaning?
Weaning covers several concepts, but above all, it designates the passage for the puppy from a milk diet (breast milk if the puppy feeds directly by suckling its mother, or bottles of formula milk in the opposite case) to solid food.
More generally (moving away from the canine context), the term "weaning" designates a period of transition in which the consumption of a substance is stopped: smoking cessation or even weaning from the use of a drug …
In the puppy, it will be a food transition phase in which he will gradually suck less and less from the lactating bitch, and move more and more towards solid food (croquettes, meat, mash…). This period is also consistent with the stage of discovery of the environment.
Weaning ends with the separation of the mother and her litter.
When to wean a puppy?
The bitch's breast milk production capacity is limited
The lactating bitch's milk production increases during the first weeks of lactation in order to be able to cover all the puppies' needs. It reaches its peak 3 to 4 weeks after birth, then the puppies will need an additional source of food to continue their growth. The larger the litter, the more difficult it will be for the bitch to satisfy her puppies, whose needs may then exceed her milk production even before the third or fourth week.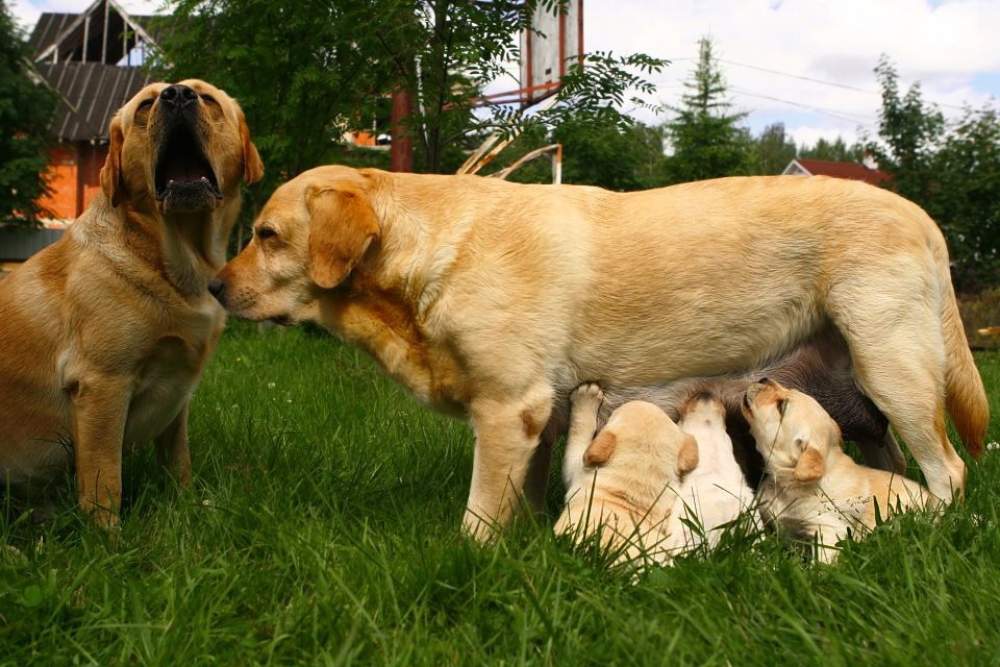 Puppies' incisors pierce around the 4th week
In addition, the puppies' incisors, which pierce around the 4th week, often make breastfeeding a painful affair for the mother, who will be less and less inclined to let herself be suckled by her young.
Impact of breed on breast milk requirements
Depending on the size of the dog, weaning takes place during a more or less delicate phase of development. In puppies of large breeds and giant breeds, weaning coincides with the puppy's strongest phase of physical growth. For puppies of medium and small breeds, this intensive growth phase takes place during the lactation period and is therefore particularly demanding for these bitches.
Reading suggestions: Black Dog Names – 400+ Names for Black Dogs
At what age?
The weaning period, therefore, begins when the puppy reaches the age of 3 or 4 weeks; but it depends, as we have seen, on several factors: the number of puppies in the litter, their breed, their size, or the suckling capacity of the bitch… For example, weaning should start a little later in small breeds because the puppies are less voracious and the litters are generally smaller … But puppies more curious to go and taste what is in mother's bowl will also contribute to earlier weaning!
In any case, by the fifth week, weaning should have started, the baby teeth annoying the nursing mother who will then push back more and more her young.
Puppy weaning: how long?
Duration of weaning in the puppy
The duration of weaning is usually 3 to 4 weeks. Classically, it is estimated that a puppy is weaned when it reaches the age of 7 or 8 weeks.
We strongly advise against adopting a puppy before 8 weeks, as this would mean that he is not weaned and therefore has not completed this phase of food and behavioral transition with his mother, and his litter brothers and sisters.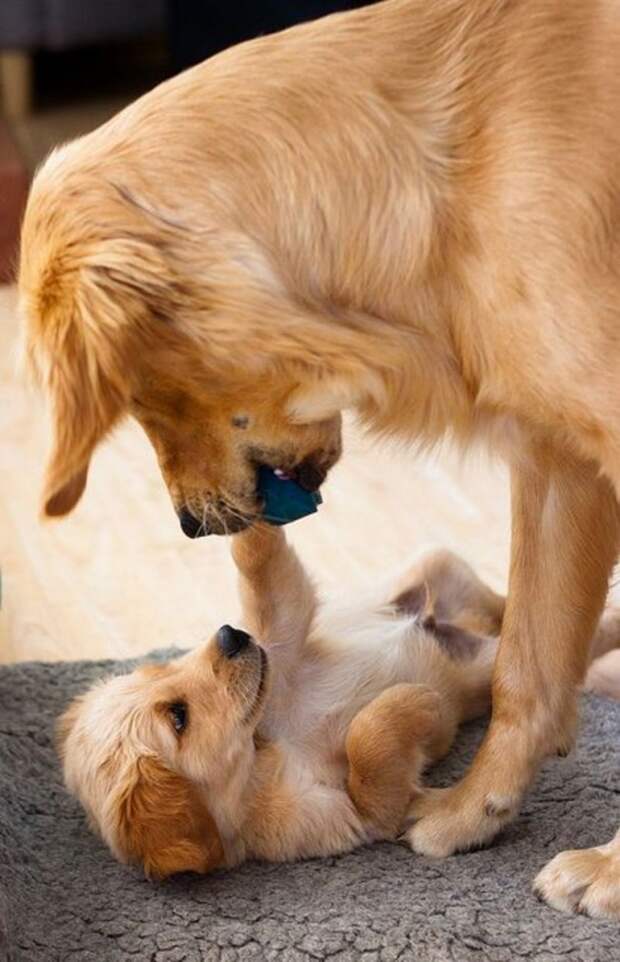 A natural transition period to respect
Weaning the puppy is a natural process that takes place over several weeks, and must be respected as such without trying to speed it up. This is because the puppy's digestive tract has to get used to new solid food. Dog food or dog food is not digested the same way as breast milk: other bacteria and other enzymes work in the digestive mechanism, and the digestive system must have time to recover. adapt to it.
How to wean a puppy?
Offer the same food to the mother and her puppies
In nature, it is the mother who takes care of the weaning on her own by bringing them prey or food that she has previously chewed. The feeding behavior of puppies at the age of 4 weeks is very strongly linked to the feeding behavior of their mother. So offer the nursing bitch the same food as that offered to the puppies of the litter: it will be much easier to start weaning. Indeed, the puppy imitates the behavior of its mother and will therefore accept food without problem.
Be careful, because an unsuitable food could later cause non-reversible disorders, such as poor mineralization of his bones.
Soak the puppy's kibble to soften them
Since the puppy's teeth are still very little developed around the fourth week, it is recommended to first soak the kibbles in formula (which has the same composition as breast milk) or in water to soften them, then gradually reduce the amount of liquid added, so as to offer them less and less soft food. This involves gradually getting the puppies used to dry food so that they can eventually eat it on their own from the age of 6 weeks.
Quantity to serve and meal rate
At around 5 weeks, increase the amount served to the puppy, then when he reaches 7 weeks of age, offer him 3 to 4 meals a day of "growth food". Pay attention to the quantity served (especially in small breeds), because a suitable food, but served in too large a quantity, can lead to obesity problems in adulthood. Or, if your puppy is growing and developing too fast, a dog that is limping during the growing season.
A tip for your puppy's 4 daily meals: leave his bowl available only for a limited period of time (20 minutes for example). You will avoid making a dog with a too capricious appetite; you will thus prevent overeating and therefore the risk of overweight and its adverse effects on health …
Avoid meat and food made at home
It would be a mistake to feed it with meat: it contains too little calcium for the puppy's needs.
As for homemade food, its major drawback is that its composition can vary considerably from day to day, which can lead to diarrhea and gas.
Prefer dry foods dedicated to weaning puppies
Now, there are many dry foods whose composition is specially adapted to the weaning phase. With these products, you will make your life easier by avoiding a long and complicated preparation. Especially since the mother and the puppies can be fed the same food! Be careful, some industrial foods have too low a mineral content, so puppies should be given a mineral food supplement.
Special weaning products provide stability in the diet of puppies (and spare you the risk of diarrhea due to a sudden change in diet): they provide them with a nutritional balance which makes it unnecessary to purchase any food supplements.
Dog food brands now have advanced production technologies: you will easily find small-sized kibble, optimally adapted to your puppy's jawbone. In addition, the latter is very easy to soak, which makes it possible to prepare both quickly and easily a food porridge suitable for its weaning.
How does weaning take place?
The first month: a permanent availability of the lactating bitch
During the first month of life, puppies feed exclusively on breast milk.
The bitch lives day and night with her litter: she lies on her side so that her udders are available so that they can suckle at any time. After a while, she will occasionally leave the basket, leaving her offspring alone for a short time. This will be the first step towards separation from her young.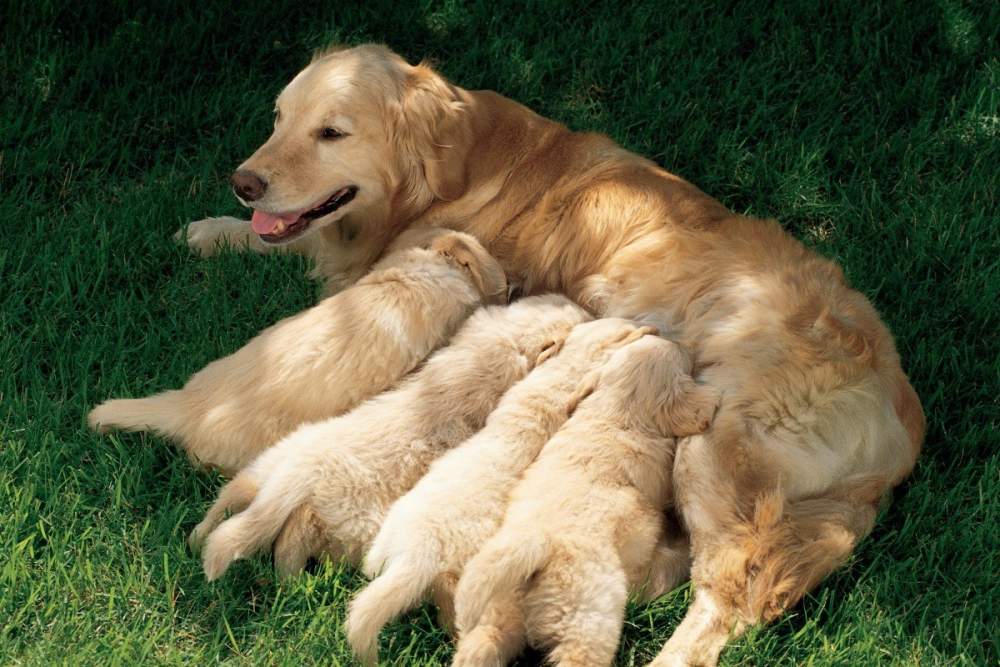 Beginning of weaning: a necessity for the lactating bitch
At the age of 4 or 5 weeks, puppies become more independent and more active. They walk around, explore their surroundings, and play. They must learn to feed themselves, that is to say, eat solid foods that will gradually replace breast milk!
This essential process is initiated by the mother. She will also sometimes have to show a little "severity" so that her puppies go from milk to bowl …
The lactating bitch also needs this change of diet, otherwise, she would lose too much strength and thus put her life in danger. For her, it is the pain felt during the feeding that will trigger this weaning process: it is no longer a pleasure for her to be suckled by a horde of 7 or 8 hungry puppies!
Reading suggestions: 3 Easy Things to Teach your NEW PUPPY!
The mother is more and more apart
From this moment, the bitch stays longer and longer away from her young. She will get up and leave when her puppies try to suckle her uninvitedly: they often fall, and sometimes roughly, on the ground trying to reach one of her udders. But this is not enough to discourage them: they will try again to reach the source of breast milk!
Gradual rejection of her puppies
The first warning is a stern look, sometimes followed by a growl. For more stubborn puppies, the lactating bitch will shock the little gourmand's nose to get the message across. The bitch can also grab the puppy with its mouth without hurting it to push it away.
The sensitive puppy will quickly learn the meaning of these gestures and will give up the feeding at the next firm glance of his mother. But the more confident puppies, on the other hand, can push the mother to her limits: she will have to stand firm in her rejection.
From a certain point, the puppy understands that he must lick his mother's lips (and no longer her stomach or her udders) in order to get her attention and get food.
Does weaning have a behavioral function?
Weaning plays a role in the puppy's contact with humans
In nature, the bitch gives her puppies meat that she chews and spits out as "weaning porridge". In the modern world, it is the breeder who provides solid food to the puppies, and the mouth of the bitch is replaced by the human hand in the bowl. This is also one of the reasons why the puppy will develop a good relationship with the man, and happens when the breeder calls him.
Weaning helps the puppy to socialize with its congeners
Weaning not only impacts the puppy's behavior but also their ability to understand the body language of other dogs. Indeed, puppies must learn to correctly interpret the signals of their congeners, whether it is appeasement, criticism, or encouragement.
Only then will the puppy not go too far with other adult dogs, and in turn will be able to send appropriate signals. Weaning not only has an impact on the body, but it also affects feelings and behavior.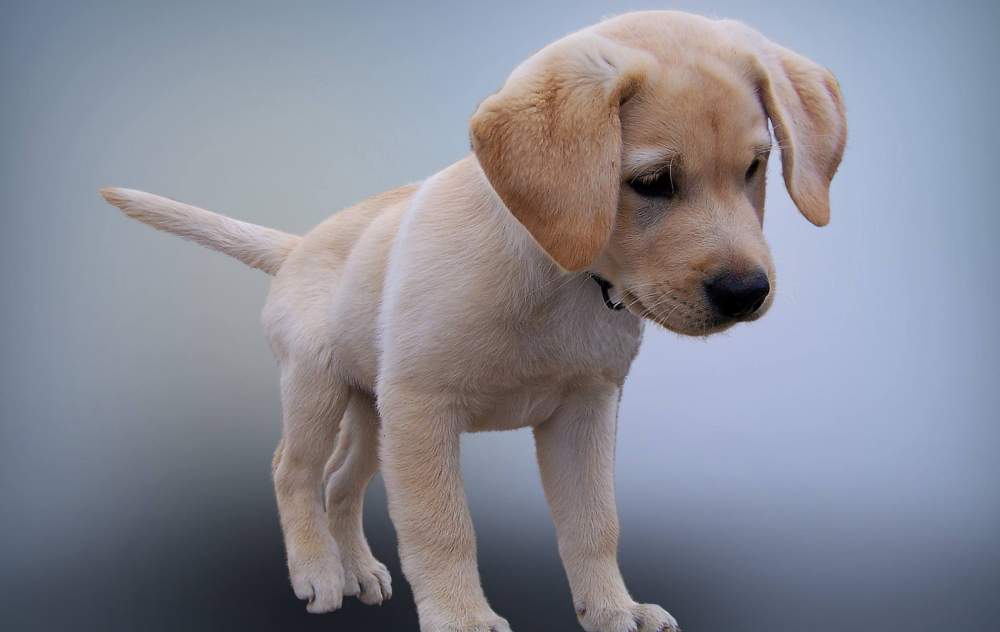 Don't separate the puppy from its mother too soon
Generally speaking, a puppy should never be taken away from its mother before it is 8 weeks old. Puppies that were taken from their mothers too early often have behavioral problems later on. They will react badly if they are denied (or withdrawn) a reward: they will react by being overexcited, or aggressive. These same puppies will often have difficulty with other dogs. Experienced canine behaviorists will be able to teach them how to cope with frustration and how to deal with their emotions better, but without professional help, there is very little chance that your puppy will grow into a balanced adult dog.
Conclusion
From a legal point of view, French law provides that a puppy must stay a minimum of 8 weeks with its mother: it is a question of bringing to term and not interrupting its weaning period, even if her mother does not breastfeed her anymore!
The ideal way to separate a puppy from its mother is even to wait 3 months for her to provide him with all the learning of socialization that the man will not be able to provide him. The weaning of the puppy must be carried out gently, without haste, respecting the different stages. Finally, after 7 to 8 weeks, the puppy should be able to eat and drink on its own and completely dispense with breast milk or formula.