CBD is growing increasingly popular in the pharmaceutical world. Research regarding the usage of CBD is still going on. There are still undiscovered realms of knowledge regarding CBD that are waiting to be discovered. There has been a spike in funding for the study of CBD owing to its unique characteristics. These characteristics have been proven beneficial in terms of their medicinal values. Besides being a perfectly safe option for human consumption, CBD is also an excellent option for your pets.
According to a recent report, hemp-based CBD products will account for 3 to 5% of all hemp CBD sales within the U.S. by the year 2025. There has been an increasing trend among veterinarians of recommending CBD doses to target specific body parts of the pets. Since CBD for pets is a relatively new practice, it is only plausible that switching to CBD can be intimidating. To put a rest to all those hesitations, here are six questions you need to ask before switching to CBD for your pets.
Is CBD safe for your pets?
We are not veterinarians. We do not know your pet, so we cannot recommend you give your pet CBD. Although CBD may seem like an ideal treatment choice for many conditions, it is vital to discuss this with your vet to decide if this is an appropriate course of action for your pet – especially in cases of hormone disorders, tumors, or organ dysfunction. Before subjecting your pet to any CBD medication, the first and foremost thing you should do is consult your veterinarian.
They are aware of your pet's medical history, needs, and reactions. Although pets can process cannabinoids just like humans, a word with the vet is a wise decision. Veterinary approval is a must. However, if you are still very much interested in using it as a preventative measure, CBD makes for a great addition to your pet's first aid kit.
When is CBD advisable?
The medical capabilities of cannabinoids are not up for debate. They have already shown promising results in the field of medicines. Studies have shown cannabinoids are an excellent choice for treating cancer, separation anxiety, diabetes, epilepsy, and inflammation in dogs and cats. It has also shown positive results while treating obesity. They can also assist in achieving a positive state of mind.
However, the clinical studies to examine the effects of cannabinoids on pets lack extensive research, results remain disputed. It is best to seek advice from a professional vet who has some prior experience with cannabinoids. 
Are there any chances of side effects?
As mentioned earlier, there has not been a thorough study focusing on the effects of CBD treatments upon pets, undesired effects somewhat remain largely unknown. Although according to the American Kennel Club, the pet may experience lowered blood pressure, dry mouth, or drowsiness. However, these effects may not be visible on all animals.
The side effects will vary based on the pet's breed, size, sex, age, and activity level. The best person to answer the queries about the undesired effects is your vet. They will also suggest adequate dosage for your pet which might bring down the odds of undesired effects.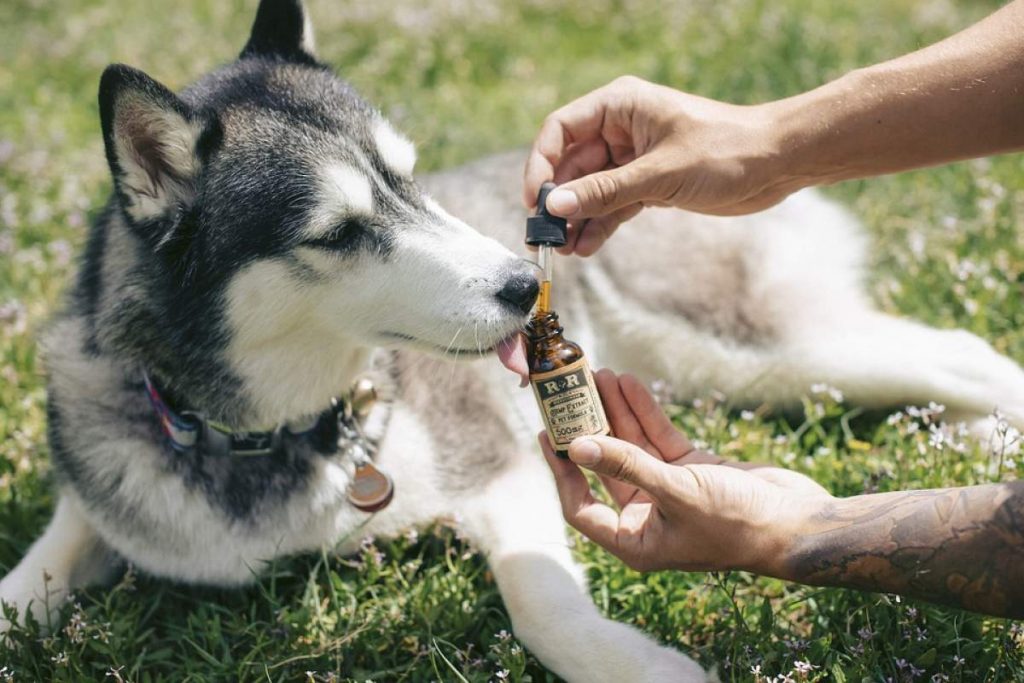 Which is the Right Administration method for them?
Just like there are numerous options available when it comes to CBD for dogs and cats, there is no single correct way to administer CBD to your dogs and cats. There are a few ways available when it comes to administering CBD to your pets. Administration methods include hemp-infused treats, tropical sprays, and ointments, and CBD oils. Pets can consume CBD oils by mixing with their foods or on their oral tinctures. Each administration functions differently from the others. Many pet owners share the belief that CBD oils have better absorption rates. However, the right way is the way that your pet prefers.
What are signs to look out for in your pet?
Pets can absorb CBD because all mammals have an endocannabinoid system in their body that helps the pets in the proper absorption of CBD. However, this does not rule out the chances that your pet may not respond to CBD products as desired. There exists a low risk of a pet not responding well to CBD. It goes without saying that one must monitor the pet closely after initial doses of CBD. Your vet knows your pet inside. Enquire your vet for any potential alarming signs to look out for after introducing your pet to CBD.  
Is a prescription required for CBD?
One of the primary reasons for the massive popularity of CBD among canine owners is because it does not require any prescription from a doctor. However, it is advisable to consult your vet before introducing them to CBD. As mentioned earlier, there is always a chance of your pet not responding well to CBD. Albeit the possibility is a slim one.  
CBD is taking the pharmaceutical industry by storm and the credit lies in their properties. CBD can prove to be a viable option for your furry friends. Since it is relatively new to the industry, extensive research is needed to determine its true potential. The CBD is a non-psychotic substance that means it doesn't create any "high" effect unlike THC and by observing the answers above, CBD can be listed as one of the best medicines to treat anxiety, seizures, and even cancer in pets. With the numerous benefits that canine CBD products offer, caution is the call of the hour.
Using human CBD on furry and canine members of your family is a big no-no. It is probably one of the worst things you can do to your pets. The best thing you can do is communicate with your vet before subjecting your pet to CBD. They will guide you through the process of curating a unique routine, keeping in mind your friend's personal and specific needs. While discussing CBD with your vet, make sure to ask the above-mentioned questions. These questions will make sure you have as much information as possible before getting started. CBD can prove to be a viable option for your furry friends.