It's summers and the best birds of the season are back in our yards adding to the whole vibe of the garden. These fascinating creatures are a treat for an eye, so why not keep them coming to your backyard?
Hummingbirds don't love birdseed as much as they love nectar. If you're wondering how to make it, then don't worry because it can be prepared at home. Nectar is prepared from granulated sugar, which is easily available in any kitchen.
Now that you have the nectar, all you need is the right feeder to hang in the backyard from where the hummingbirds can get their food. There are a lot of options for hummingbird feeders on the internet, but you will become broke if you start investing in all of them.
From glass hummingbird feeders to plastic hummingbird feeders, you can find anything in the market at an affordable price. However, we have summed down a few options for your ease. It won't take a lot of time to go over them and choose the best one for your backyard!
First Nature Hummingbird Feeder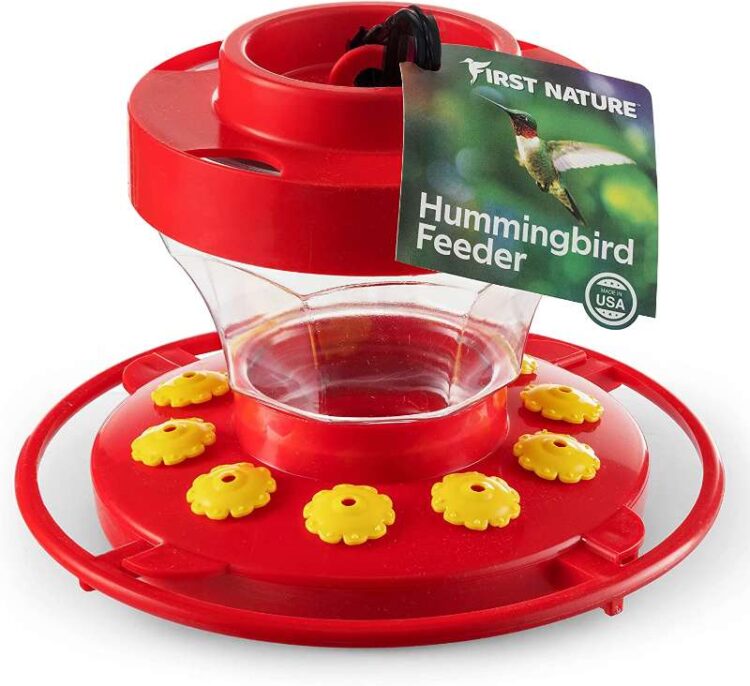 When it comes to attracting hummingbirds to your backyard, what can work best than the red color? Its color can attract enough hummingbirds to keep your backyard flooded. It's an easy-to-fill jar in perfect size and shape. This jar can keep a lot of hummingbirds fed at the same time, so buying it won't be a waste for you.
Apart from it, this jar allows you to mix the correct proportions of nectar in the feeder jar to relieve the burden on you. What else do you need? It's the perfect option to purchase!
For first nature hummingbird feeder instructions, read our blog here.
Pros
Bright red color
Easy-to-fill wide-mouth jar
Accommodates several birds at a time

A Hummingbird feeder made in USA
Cons
Leaks in the slight breeze
Difficult to check if it's empty or full
Mason Jar Hummingbird Feeder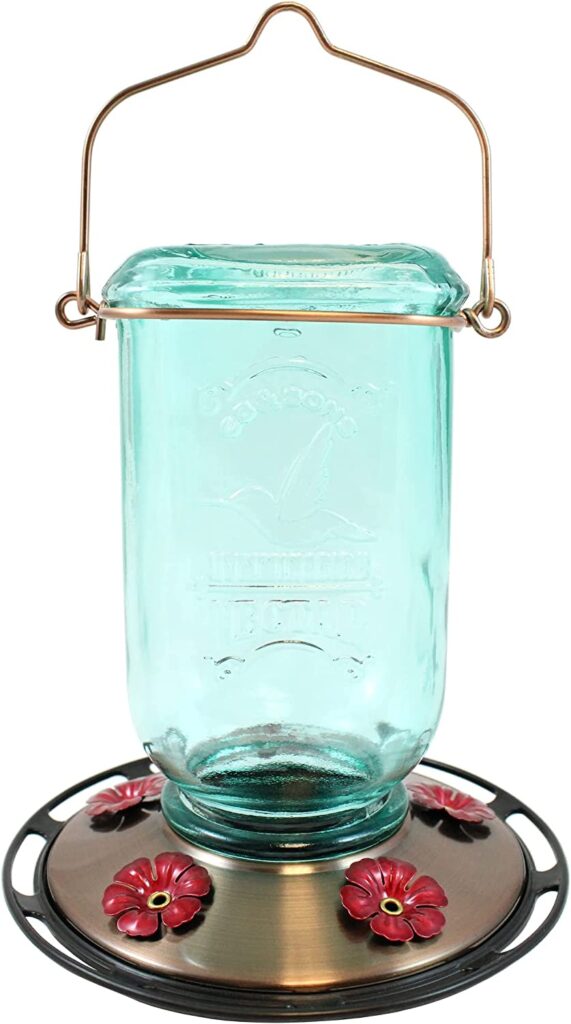 This antique blue glass mason jar is all you need to add to the beauty of your backyard. How often do you come across products that look amazing, work the best, and come at a low price as well? Rarely, right?
Well, if you have been looking for a hummingbird feeder with all these qualities, then you have landed on the right one.
The embossed details on the jar will instantly catch your attention and would definitely want to purchase it. The flower feeding pots are an addition to its overall beauty. Don't miss out on purchasing it!
Pros
Amazing design
Metal flower feeding ports
Can hold up to 32oz of nectar
Galvanized metal base
BOLITE Hummingbird Feeder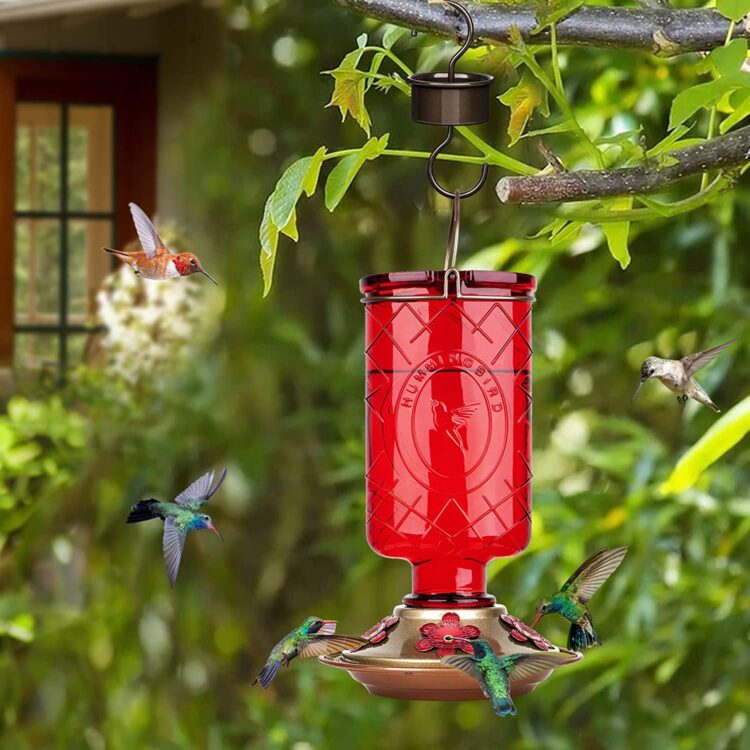 If you love vintage-themed products, then this will serve you right. This hummingbird feeder comes in an amazing vintage round glass bottle with flower-shaped feeding ports that adds to the beauty of your garden. Not only does it look amazing, but comes with enough capacity to keep a lot of birds fed at one time.
It's a transparent bottle, so it won't be a problem for you to check if the jar is filled or empty. Apart from it, you can clean and fill the jar pretty easily and without a problem. If you're planning on giving a gift to someone, then it can also work as one.
Pros
Excellent design
Transparent jar
Easy to clean and fill
Large capacity
Perky-Pet Hummingbird Nectar
How much do you love seeing birds? If you do that a lot, then this hummingbird feeder is made just for you. It attaches directly to the window, so it will be a treat for you when the hummingbirds start to visit your house.
It comes with yellow flower nests, so the birds can have a great time drinking nectar from it. If you're scared that the bees will make their way into the feeder, then it's totally safe as the feeding ports are tapered. It's up to you if you want to hang the jar or if you want to use the suction cup. Using this amazing hummingbird in your garden is perfect for your house!
Pros
Can mount in two ways
Easy cleaning
Can be attached to the window
Cons
Need attention during handling or assembly
Aspects Hummzinger Highview 12 Oz Hanging Hummingbird Feeder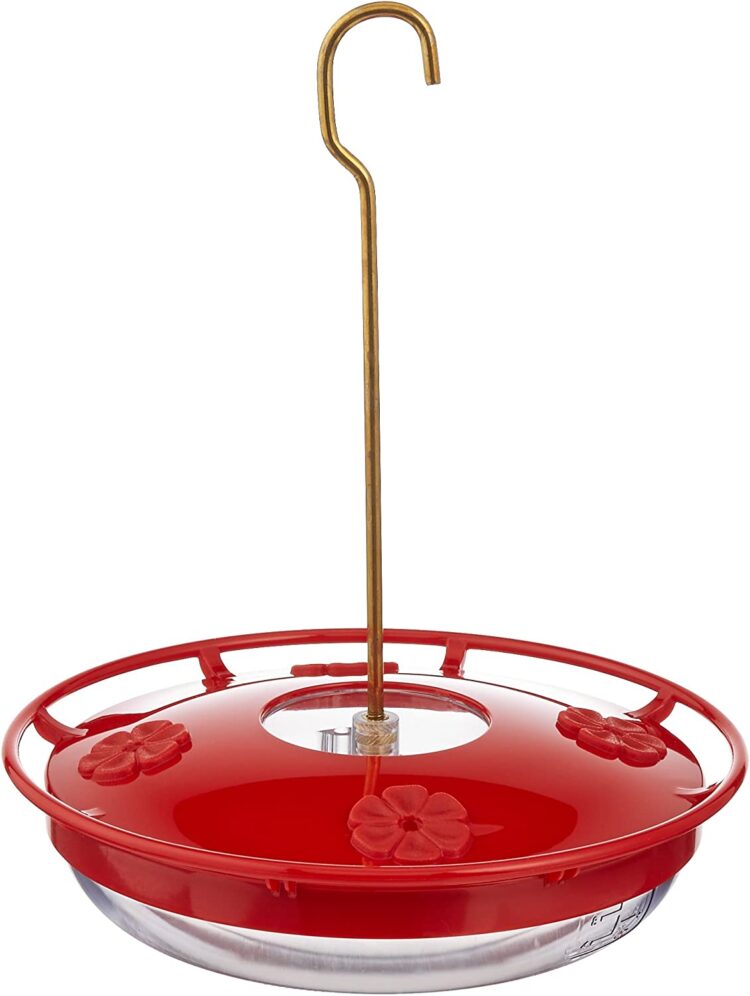 Another on the list is the Aspects HummZinger HighView Hanging Hummingbird Feeder, which comes in bright red color. The hummingbirds can comfortably rest on this feeder and enjoy their nectar with no worries. If you like watching the birds from a distance, then this feeder will give you an unobstructed view of them.
Cleaning and filling the feeder is also pretty simple and easy. It's made up of unbreakable polycarbonate, so you don't have to purchase them again and again. Invest your money in the right place, which is this hummingbird feeder!
Pros
Bright color to attract hummingbirds
Hummingbird ring feeder
Made up of unbreakable polycarbonate
Birds Choice Hummerfest Hummingbird Feeder
Coming with 8 nectar ports, this is the best equipment to keep the hummingbirds coming to your garden. Since it comes in wonderful red color, so it will look amazing hanging near flowers. In addition to this, it's a transparent jar so you can keep a track of residual in it.
One of the best things about this hummingbird feeder is that it is durable and comes with a sturdy brass hanger. It's easy to use and does not cost a lot as well. You can clean it pretty easily and whenever you want. Getting this hummingbird feeder will be the best option for you!
Pros
Looks attractive
8 feeding ports
Sturdy construction
Easy to clean hummingbird feeder
Transparent jar
Cons
Might get difficult for a hummingbird to drink from it
The body is made up of plastic
Muse Garden Hummingbird Feeder
Talk about having a fancy hummingbird feeder!
It's one of the best hummingbird feeders that you can find in the market at an amazing cost. It's made up of some wonderful colors and is a handmade item, so it's a unique option for anyone. This feeder is convenient to use and does not cause any leaks. If you're all over saving the environment, then this one is the right option for you as it is made up of recycled materials.
Pros
Colorful design
Durable construction
Handmade item
Convenient to use
Made up of recycled materials
Final Thoughts
If you're planning on buying a hummingbird feeder for your birds, then this list will help you land the right one. All these unique hummingbird feeders will add to the beauty of your home garden. It's not easy to invest in one item when there are so many in the market, but all of these mentioned in the list are selected after thorough investigation. No matter which one you decide to buy, you will be more than happy with your purchase!
FAQs
Are glass hummingbird feeders okay?
Yes, glass hummingbird feeders are generally fine. However, they should be placed in a shady area out of direct sunlight, as the sun can make the nectar spoil more quickly. Additionally, glass feeders should be frequently cleaned with hot water and soap to prevent mold and bacteria buildup.
Do hummingbirds like red glass feeders?
Hummingbirds often seem to be attracted to red feeders, but they will also visit other colors if the feeder is properly maintained.
Which hummingbird feeders work best?
The best hummingbird feeders are those that are easy to fill, are made of a material that doesn't rust or tarnish, have wide openings for easy access, and have plenty of perches for the birds to rest on.
How to Keep ants Out of Hummingbird Feeders?
The best way to keep the ants out of your hummingbird feeder is to use guard, trap, or ant moat. Some of the feeders come with a built-in moat, so you can look for those as well.
Where to Hang Hummingbird Feeder?
You can hang the feeder 10-15 ft. from the tree, a hiding place, or shrub. It is the best place for a hummingbird to comfortably enjoy their food and stay out of the sun to rest.
Reading Suggestions: