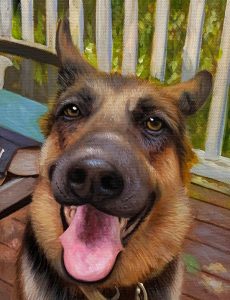 A dog lover is a special kind of person. It takes a loving and firm hand to care for a pet with tenderness and affection. For those like this whose bonds are closest even with pets, you can always gain their gratitude and pull on their heartstrings through a gift that features their beloved creatures. 
You May Like:- Easiest Dog Breads to take Care
One of the best ways to celebrate friendship is an occasional and thoughtful gift. Even better, make this gift 100% original and personal. And while you're at it, when you give yourself the chance to explore your more creative side, you will enjoy the artistic opportunity it gives back. 
This is a unique event that you are producing. There's not always such an occasion. Perhaps its a birthday, wedding, or simply a housewarming gift. No matter what, your recipient will feel touched by a creative, one-of-a-kind dog portrait painting. 
When it comes to custom dog portraits that impress, we help create items like this that are hand-painted dog portraits. Through personalized dog paintings, we help you win friends and influence connections with people with a passion for pets.  
Turn Pictures into Artworks for Your Dog-Loving Friend
Gifts are one of those rare opportunities to make an impression and difference in someone's life. It often takes considerable effort and some resources to pull together an item that represents the connection and bond you share with your friend. While it's often the thought behind the gift that determines whether the outcome is positive or negative, there is also the demand to make your personalized dog portrait stimulating. So, do some thinking. 
Start Thinking
Creating the portrait you order from a company like Portraits on Demand will demand you to plop down and take an inventory of your goals and wishes for your gift. 
Consider all the things you desire when it comes to presenting your gift to your friend and the meaning you hope it communicates. What imagery would you like to be symbolic? What deeper emotions are you trying to trigger? And, what concrete specifications do you want to see that will ultimately determine your painting's look?
Consider the Occasion
While you may be planning to offer a gift to a friend without any special occasion attached to it, you probably have a reason to give the present of a personalized dog portrait. If it is a large event with many people in attendance, you may have to consider how your gift will fit into the context of the celebration and among other gifts.
You May Like:- Dog Nail Trimming 
The gift should be appropriate for the occasion and significantly unique to ensure its noticed. With these considerations in mind, you're free to move on to selecting the image on which your custom dog portraits will be based. 
Choose your picture
For a moment, reflect on the way that your friend and their dog interact with each other. Next, think about the light they would like to see themselves and their favorite pooch painted in. There are many different images you might select for dog paintings from photos, but the best are found with a little work.
Choose an image that sends the message that you understand your friend's priceless connection to their dog. Show them you see their commitment to making that dog a happy part of the family. 
Commission your friend's painting. 
Once you have the photo, you'll want to entertain your options when it comes to companies who can actually achieve the aesthetic and look you wish to see. Selecting the company for making dog portraits on canvas can challenge some because it involves evaluating a large body of images from their portfolios. It also means reviewing prices and recognizing professionalism as well as talent. 
Portraits on Demand is one of the most trusted options. Through our services, you can choose one of many orientations and representations of your friend and their dog:
The Friend and Dog Together
The way your friend and their dog look together can warm even the hardest of hearts when characterized in all its love and affection. If you discover a picture of your friend and their dog at the park or relaxing at home, you can turn this find into a cherished painting to hang prominently in their home. It will show that the connection between person and pup is important, tender, and always remembered. 
The Friend and Dog Separately
Perhaps framing your friend and their dog in distinct and unique ways is the best course of action to tastefully present these gifts. This can be a more regal and impressive form of representation that creates a unique feeling that the dog really is a special individual and family member. 
You May Like:- Top 10 Strongest Dog Bread in the World 
We at Portraits on Demand hope that you use this guide to purchase a one-of-a-kind portrait for your friend. We can help you enjoy the process of ordering a painting by giving you many options, styles, and customizations.