Cat beds are accessories that will help our pets to be more comfortable when resting, so if you are looking for one and don't know which one to choose, we have prepared some models that might interest you.
The first option is the Ikea Asia Ludvig, which is made from fabric and has padded padding that provides comfort so that your cat can rest quietly. On the other hand, the PetPal Cueva model has a closed structure, a padded cushion on the inside, and is spacious, which will allow the feline to settle down to sleep without being bothered by sunlight.
Cat Cave Bed
1. PetPal Animal Cave for Cats and Small Dogs
Being one of the best cat beds of 2023, this PetPal model is characterized by an attractive and comfortable design, so it could be a good investment.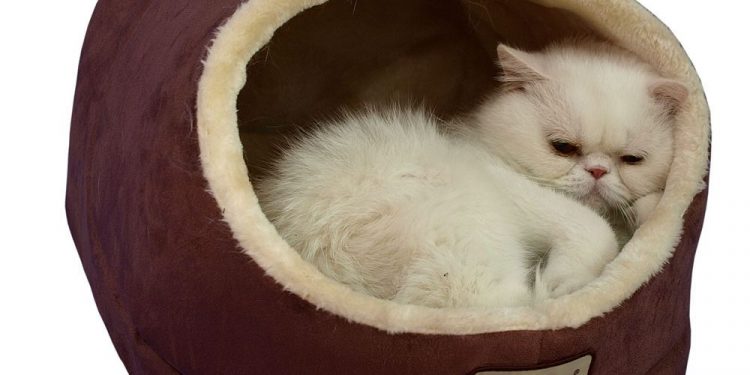 This is a cat cave bed that provides a more intimate privacy environment so that the feline can sleep comfortably without any disturbance. In addition, the bed is made of mixed polyester and cotton fabrics, which provides it with a longer useful life, as well as being padded on the inside to provide good levels of comfort.
Additionally, it measures 27 x 37 x 33 centimeters and has a simple design in gray tones with the edge decorated with fluff to provide maximum comfort for your pet.
In addition to this, given that it is easy to clean and its structure is breathable, you will be able to wash it without any problem so that you can maintain good levels of hygiene.
If you are looking for a cat bed that provides a more private environment for your pet to rest without interruption, we invite you to evaluate the pros and cons of this PetPäl model.
Design: The closed design of this model will give the cat more privacy.
Size: It is spacious for small and medium cats to use.
Anti-slip: It has an anti-slip system that will prevent the bed from moving.
Entrance: The size of the hole is too high for small cats, which could make it difficult to enter.
Structure: It comes folded, so it can lose its shape a little when expanded.
Window Cat Bed
2. Jzk Window Mounted Cat Hammock Blanket 
If you are looking for a practical, quality window cat bed with good levels of comfort, we invite you to consider this option from Jzk. It is specially designed for those pets that like to spectate or sleep on heights.
Related: Cat Hammock: Let Your Cat Completely Relax At Home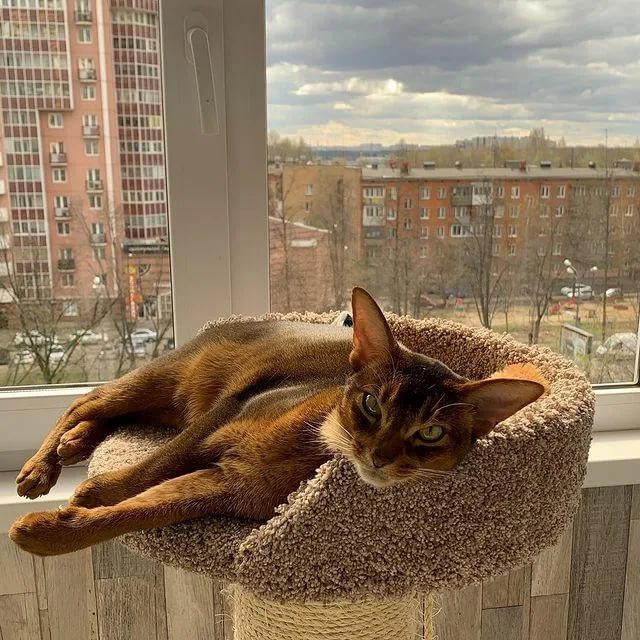 The dimensions of this model offered by Jkz are 55 x 32 centimeters, so your cat can rest comfortably.
In addition, it is easy to install and includes everything you need so you can place it on any window or tile in your home. For its part, the suction cups have good suction levels and support up to 15 kilograms, which positions it as a resistant product.
Additionally, it has an affordable price, so it could be the best price-quality cat bed on this list.
If your cat likes to sleep high up, a window bed would be the ideal choice. Therefore, here we present the pros and cons of this Jzk product.
Installation: Being easy to install, you will not need to read complicated manuals.
Size: It is spacious so that your pet can rest quietly.
Price: It has an affordable price, so you can enjoy quality at a low cost.
Delicate: Care must be taken when washing it, as it can be damaged if rubbed vigorously.
Capacity: Supports up to 15 kilograms, so it is designed for a single cat since additional weight could detach the bed from the suction cups.
Cat Bed For Radiator
3. Rosewood Radiator Cat Bed
If among so many options on the market you still do not know which is the best cat bed, we invite you to consider the characteristics of this model.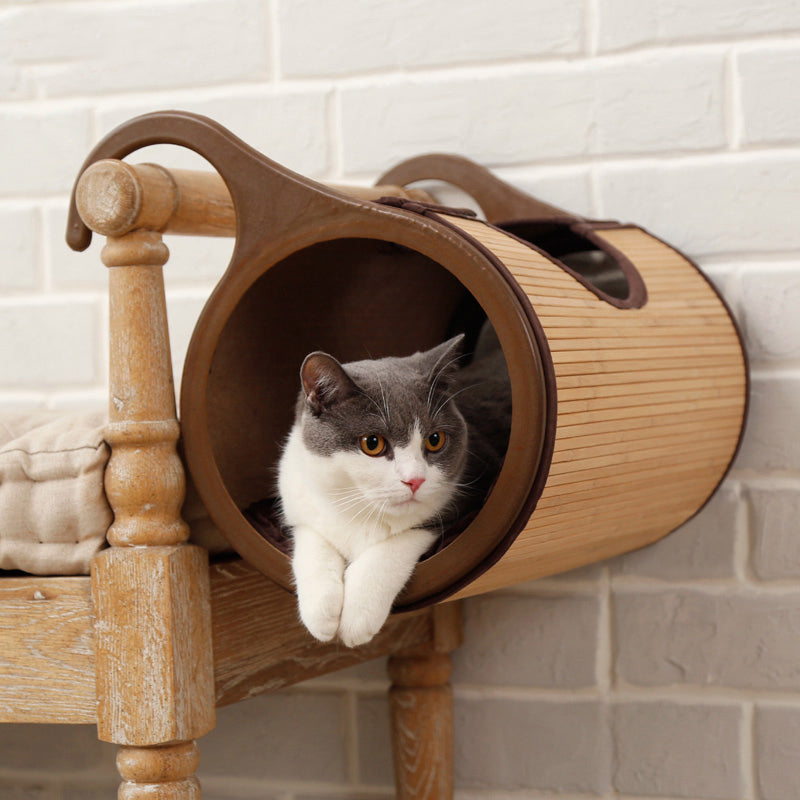 Low temperatures can cause cats not to want to sleep in their beds but under our blankets, so a good alternative is to opt for a radiator cat bed. For this reason, Rosewood presents us with one of its star models that has a cylindrical design with a surface made of bamboo so that the bed adapts to almost any type of wall decoration and ornaments.
In addition, being made with ecological fiber, its weight is not a risk for the radiator, since it only weighs 1.14 kilograms. Likewise, it has dimensions of 40 x 33 x 48 centimeters and has a grip system so that you can easily install it and your pet can rest comfortably.
Radiator cat beds are a good option so that your pet does not get cold at night or in winter weather. Therefore, here we mention the highlights of this product.
Design: It has an attractive and very practical design so that you can hang it on the radiator and your pet does not get cold.
Comfortable: Includes a soft cushion to provide good levels of comfort.
Installation: It is easy to assemble and install without you having to read complicated instructions
Materials: Although the materials are resistant, you should avoid washing the bamboo exterior to avoid damage.
Capacity: It is not possible to introduce two cats at the same time since the weight could give.
Nest Sharon Crib
4. Kerbl Sleeping Nest Sharon Crib
There are endless models of cat beds on the market where, surely, it will be difficult for you to decide on a model that has good levels of quality and comfort. For this reason, this time Kerbl presents us with its Nest Sharon model, which is a cradle-type bed so that your pet can rest and sleep pleasantly.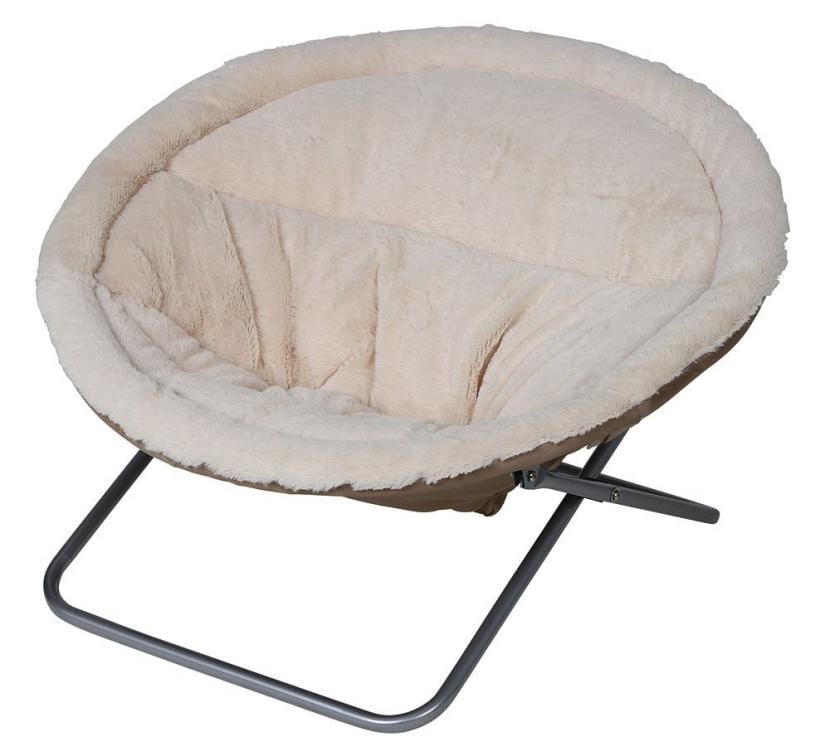 In addition to this, this cribbed has a metal base that opens in an X shape to give it more stability. In addition, the bowl has a support cover and a soft plush fabric cover so that your cat is able to enjoy enough comfort when sleeping.
For its part, it measures approximately 50 centimeters, so its size is not so large and almost similar to the size of baby seats, which will help save space while your cat rests.
Kerbl is a company dedicated to making good and cheap pet care products, so it might be the best cat bed brand in this comparison.
Comfort: The bowl cover is soft and comfortable for the cat to rest comfortably.
Size: It measures 50 centimeters in diameter, so it does not take up much space.
Balanced: The legs of the bed are sturdy, providing good levels of stability.
Color: The color of the fabric is white, so it can get dirty very easily.
Folding: It is not possible to fold it to save space when not in use.
5. Dewel House Cat Tent Dog Washable 
Cat beds, in addition to being useful products for our pets, can also give certain decorative touches to our home, so if you are looking for a model that provides good levels of comfort and beauty, we recommend you consider this product.
This is a bed that has a design similar to a camping tent and comes in dimensions of 60.96 x 50.8 centimeters, so it has enough space for cats under 40 centimeters and 7 kilograms to rest properly. . In addition to this, its pastel tones will help the bed combine with almost any decoration of the room in which you decide to install it.
For its part, it is made of cotton fabric, which is anti-scratch and non-slip, as well as comes with resistant pinewood rods and instructions so you can easily assemble it in a few minutes.
To know which cat bed to buy, you should know its most important aspects. Here we detail those of the Dewel product.
Size: It is designed for small cats, but a larger version is also available.
Durable: Cotton fabric is highly scratch-resistant, giving it a longer lifespan.
Anti-slip: It has anti-slip properties to prevent the bed from moving involuntarily.
Mattress: It does not include a mattress, so you will have to purchase it separately.
Price: The price is one of the highest compared to other products mentioned in this list, which is equivalent to higher investment.
Banana Cat Bed
Banane cat bed is a banana-shaped pet bed that is not just a bed for your cat but he/she will love to sleep in that yellow bed.
Frequently Asked Questions
Q1: How To Use A Cat Bed?
What you should do is place the bed in a corner of your house, at the opposite end of the litter box and away from food and water containers. This will help your pet to move from one place to another to avoid a sedentary lifestyle and being overweight.
Now, for the first use, you must make the cat adhere to its scent and feel comfortable and safe. Place the cat on the surface of the bed several times and, at the time of sleep, if it is lying on your bed or any other surface, gently pick up the cat and carry it to the bed.
Q2: How Does A Heated Cat Bed Work?
These products work with an electrical system and resistances located inside that have the purpose of heating the structure of the bed so that the cat does not get cold at night or in cold climates. In addition, they are very practical and easy to use, so you only have to connect the cable to a socket and disconnect it when it reaches the right temperature.
Q3: How To Clean My Cat'S Bed?
The vast majority of cat bed models on the market are made with fabric structures, so they get dirty mostly and very easily from feline hairs. In addition, cat beds also tend to get dirty if the floor of the home is not kept clean. For this reason, you can choose to use a lint roller to remove excess hair from the bed and then throw it in the washing machine for a much more thorough cleaning.
Q4: How To Make The Cat Sleep On Its Bed?
For a cat to sleep in its bed, you must get used to it as a puppy, since the process is more complicated when they are adults, but it is not an impossible task.
Now, the first thing you must have is patience, since felines are pets that are very susceptible to any sudden gestures or loud sounds, so you have to help them feel safe, avoiding yelling at them or forcing them if they don't want to. He tries to place it on the bed so that he can smell her and it rubs his scent on her in the process. Do it 3 times a week until it goes on its own.
Q5: How To Make A Cat Bed?
To do this, you will need 1 long-sleeved shirt that you do not use, a gun with silicone bars or a needle with thread, approximately 2 meters of microfiber or cotton wadding (depending on the size of the shirt), and scissors.
First, lay the shirt out on a flat surface and cut the collar of the shirt from shoulder to shoulder, but do your best not to remove excess fabric. Then, use the silicone or the needle to adhere both parts of the shirt and wait for it to dry. The next step, make a cut at the level of the armpits, but only in the upper part of the fabric to make the base of the bed and glue it so that it forms a kind of division in the shirt.
In the next step, adhere both sleeves to the torso and use the batting to fill and, when finished, join the entire structure and finish gluing when you feel that it is padded enough.
Q6: Where To Put A Cat Bed?
Normally, cat beds are usually located in a space away from common and busy areas to give the feline privacy and tranquility when they want to rest. In addition, if the pet is very attached to the owner, it should be placed in the same room, but at the other end of the litter box and away from the space where you place the food and water containers since this will prevent it from staying in a sedentary state and you will also encourage him to exercise by walking from one place to another.
Q7: Which Is Better, A Cave Or An Open Cat Bed?
In order for you to know what type of cat bed is best for your feline, it is necessary to make a small comparison. First, you'll need to consider the weather, as most cats tend to seek out hot spaces to sleep in, and when it's hot, they tend to lie down in any cool, drafty space.
Second, assess how shy the cat is since some do not adapt easily to changes in homes, so if you tend to move frequently or often receive visits from family and friends, consider a cave-type bed to provide more privacy.