Despite how important they are to your family; your furry friends can't always be watched over at home. Because their security is crucial, pet parents are increasingly likely to monitor their animals.
A dog or cat camera allows you to monitor activities even if you're not at home. Using the WOpet D01 Dog Camera, you can view live HD video of what is happening at your home.
To keep an eye on your animals when you're away from home, WOpet dog security cameras also function as pet cameras.  There are a few different ways listed below that will help you monitor your best friend using a dog's camera.
Remote Pet Feed Monitoring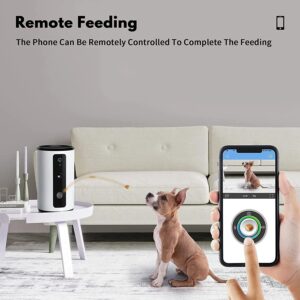 If you have a pet, you might be curious about what they do while you are at work or shopping. By using the remote monitoring function of the WOpet Dog Treat Camera, you can keep an eye on your cat or dog from any location.
The clever system will film your pet moving in HD sharp video clips. The WOpet phone app also allows you to view live streams from your phone to see exactly what's happening at home. The camera's night vision capabilities allow you to record entertaining movies of your dog or cat getting into trouble even when it is completely dark outside the place
A pet cam, however, can be used to keep tabs on your pet's actions when you are away from your home and record the cute things your pet does. While you are gone, your pet might develop amusing habits, but you might also become aware of health problems you weren't previously aware of.
To carefully monitor behavior, pet owners can install cameras throughout the house. We advise placing them in places where your pet frequently congregates. Put them where your pet regularly causes trouble in your house.
Communicate with Your Pet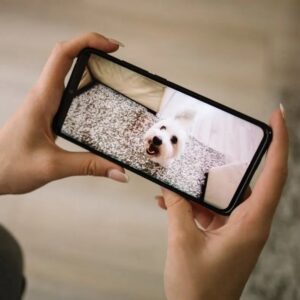 When you leave the house, you likely miss your pet, but you might not be aware of how difficult it is for him as well. Actually, 85% of dogs experience separation anxiety when their humans are away.
You might not have known if your pet has separation anxiety if you hadn't used a pet camera. But how do you make your furry friends feel better when obligations prevent you from seeing them?
You can talk to your dog or cat directly using the built-in two-way audio system to soothe them. They won't feel uncomfortable at home, so there's no need to worry. You can console your dog or cat using our app at precisely the right time.
Reading Suggestion: Happy Dog Food Review and Recommendations
Remote Training
Whether you're home or not, you can strategically place cameras around your home to make sure your pets are acting properly. Live and recorded footage will show you exactly what your dog has been up to, eliminating any need for you to wonder if he's attempting to steal treats from the pantry.
Additionally, you will not have to watch helplessly as your cat damages your nice leather couch. With the two-way audio feature, you can correct undesirable behavior before it becomes out of control. With the help of these capabilities, you are no longer restricted to your home and may train your dog anywhere.
Permit Access Conveniently
With its wide-angle capabilities, the D01 dog camera can be used to get a front view of your house. With the help of these capabilities, you are no longer restricted to your home and may train your dog anywhere. Additionally, you can connect it to Alexa to grant them access to your smart home.
Fun Treat Tossing
The Treat Tossing is the best feature of this camera. With the help of the WOpet Android app, you can toss a treat to your pets and play with them. Simply pack it with your pet's favorite treats and take pleasure in it.
Reading Suggestion: Platinum Dog Food Reviews and Recommendations [Updated 2022]
Using Pet Cameras to Protect Your Animals
Regardless of where you are, you can keep an eye on what's happening at home and be confident that your animal companion is secure and content. You can communicate with your pet and train him even when you're not home thanks to the two-way audio and HD video pet cameras. With all the functions at your disposal, your pet will feel secure and comfortable.
FAQ's
Does the use of pet cameras reduce separation anxiety?
While a pet camera won't directly reduce separation anxiety, it can give you a better understanding of your pet's routines and actions while you are away from home. Being able to observe and hear your dog or cat will give you more information to determine whether it is displaying any symptoms.
After that, you can create a training program to assist in helping your dog get over it. Even when your pet is being trained for the condition, the camera can help you keep an eye on them.
Should you communicate with your pet via camera?
A dog may occasionally get tenser when using two-way audio. If your dog becomes more agitated when they hear your voice but can't find you, avoid speaking to them through the camera's speakers.
Is your pet's camera vulnerable to hacking?
Believe it or not, because they provide a secret perspective of your home and have the ability to broadcast private information, pet cams are a hot spot for hackers. Once obtained, this information can be used for identity fraud, blackmail, or even to aid burglars in breaking into your house while you are away.
Final Verdict
By simply implementing a pet camera, you can take advantage of all the aforementioned aspects to get even closer to your pet. The owners are put at ease and may find it easier to concentrate on the task at hand when the pet is kept amused and happy throughout the day.
Hopefully, by now, you have a clearer idea of the advantages a pet camera will bring to your life.  Remember that the WOpet D01 Dog Camera can be used as a security camera, allowing you to keep an eye on your home from any part of the world while staying close to your pets.