Want to get a dog but you've got allergies? No worries! There are hypoallergenic dog breeds out there that are suitable for people who suffer from allergies. Whether you want a small or large dog, an energetic or laid back one, a low-maintenance dog or a mixed breed, there's a perfect dog just for you. We've put together 10 hypoallergenic dog breeds to help you find the right one, but first, let's look at what a hypoallergenic dog is.
What's a hypoallergenic dog?
A hypoallergenic dog isn't 100% allergen-free, but it's less likely to trigger allergies in people than a dog that isn't hypoallergenic. You may still get an allergic reaction depending on the individual dog and how bad your allergy is. Therefore, it's best to shop around and spend time with different hypoallergenic dogs to help you choose the right one.
Additionally, a hypoallergenic dog has one or more of the following characteristics:
Doesn't shed so it produces less dander.
Doesn't have hair so less dander clings to it.
Doesn't drool so it produces less saliva.
Has a short, single-layered coat so dander comes off it.
As you can see, the less dander and saliva a dog has, the more hypoallergenic it is. To further reduce your chances of getting an allergic reaction, make sure to groom your dog regularly.
10 Best Hypoallergenic Dog Breeds
Now that you know what kinds of dogs are hypoallergenic, let's take a look at some of the best breeds for allergy sufferers. From companion dogs to sporting dogs, you're bound to find your new furry (or not) best friend among these hypoallergenic dog breeds. And when you welcome your dog home, be sure to attach a GPS tracker to its collar so you don't lose your four-legged companion.
1. Coton De Tulear
The Coton de Tulear is friendly, laid back, and will happily follow you around the house. It only sheds occasionally and needs minimal grooming if its coat is trimmed regularly. Regular brushing can also help prevent mats.
Group: Companion
Height and size: 10-11 inches (male), 9-10 inches (female); small
Coat: Dense, long, and soft like cotton
Color: White
2. Portuguese Water Dog
The Portuguese Water Dog is smart, affectionate, playful, and laid back. It also loves water and can be easily trained. Its thick coat sheds seasonally so it requires regular grooming. Keeping its coat short can make the grooming process easier.
Group: Working
Height and size: 20-23 inches (male), 17-21 inches (female); medium
Coat: Thick, soft, and curly or wavy single coat
Color: Black, black and white, or brown
3. Goldendoodle
The Goldendoodle is a cross between a Golden Retriever and a Poodle. It's intelligent, friendly, energetic, and trainable. It comes in three different sizes depending on its Poodle parent, and it may or may not have an undercoat that sheds significantly. You can also look for FAQs about Goldendoodle Insurance
Group: Hybrid
Height and size: 13-26 inches; small-medium
Coat: Shaggy and often curly
Color: Gold, cream, brown, white, black, gray, red, or a combination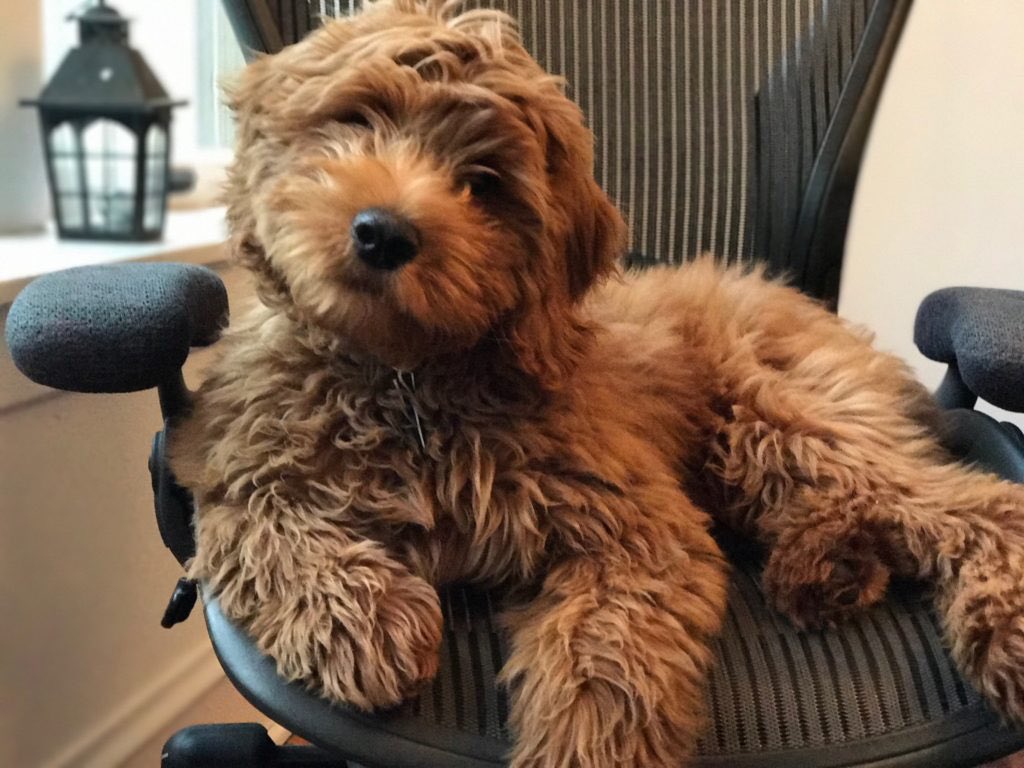 4. Rat Terrier & Chihuahua Mix
The Rat Terrier & Chihuahua Mix has many traits of both breeds. It's smart, loyal, friendly, and affectionate. It's also active and easy to train. Its coat doesn't shed a lot and must be groomed on a regular basis to keep it neat and healthy.
Group: Mixed
Height and size: 10-16 inches; small
Coat: Short
Color: White with tan markings on face, chest, feet, and tail
5. Peruvian Inca Orchid
The Peruvian Inca Orchid is a sighthound that's lively, intelligent, affectionate, alert, and protective. It comes in three different sizes and doesn't have a lot of hair or fur, but it requires skincare when it's out in the sun.
Group: Miscellaneous
Height and size: 9.75-25.75 inches; small-large
Coat: Hairless or coated
Color: Pink or black
6. Afghan Hound
The Afghan Hound is smart, independent, sweet, goofy, and loyal with a regal appearance. Due to its size and fast speed, it requires a large yard and daily exercise. It also sheds very infrequently or not at all, but its long coat needs regular brushing to avoid tangles.
Group: Hound
Height and size: 25-27 inches at the shoulder; large
Coat: Long and silky
Color: Domino, brindle, or a combination
7. Bichon Frise
The Bichon Frise is charming, energetic, bright, and affectionate. It's a great companion and lap dog that excels in small and large spaces. It sheds infrequently but when it does, the hair gets caught up in its undercoat. It also requires regular brushing and grooming.
Group: Non-Sporting
Height and size: 9-12 inches; small
Coat: Curly double coat that produces little dander
Color: White or white with traces of cream, buff, or apricot
Reading Suggestion: Parti Yorkie Hypoallergenic
8. Chinese Crested
The Chinese Crested is fun, playful, and a great lap dog with little dander and drool. The hairless variety doesn't shed and requires skincare, whereas the coated variety sheds very little and needs to be brushed often.
Group: Toy
Height and size: 11-13 inches; small
Coat: Coated or hairless with soft, silky hair on the head, feet, and tail only
Color: White, black, or tan hair with pinkish-gray skin and white spots on the chest and belly
9. Bedlington Terrier
The Bedlington Terrier is gentle, loyal, alert, and protective. It's also curious, intelligent, spirited, and seeks attention. It looks like a sheep, but it doesn't shed much. Its coat is also low-dander, but it grows fast so it needs regular brushing and trimming.
Group: Terrier
Height and size: 15.5-17.5 inches; medium
Coat: Mix of hard and soft hair that's crisp and curly but not wiry
Color: Blue, tan, sandy, liver, or a combination
10. Irish Water Spaniel
The Irish Water Spaniel is an active and hardworking dog that's used to hunt birds. It also loves water and even has a coat that repels it, as well as a flat rat tail to help it swim. It sheds seasonally and its coat needs to be brushed and trimmed regularly.
Group: Sporting
Height and size: 21-24 inches; medium-large
Coat: Dense and tightly curled
Color: White, liver, or a combination
Choosing the right hypoallergenic dog for you
So there you have it, there are many hypoallergenic dog breeds you can choose from. This means you can become a dog owner even if you have allergies and enjoy play dates and cuddles with your four-legged friend. You also don't have to deal with a lot of dander or constantly clean up dog hair around the house.
Ultimately, the right hypoallergenic dog for you depends on the potential for an allergic reaction and what you want when it comes to size, appearance, personality, coat, and grooming needs.