Having a puppy or a dog adds an extra dose of fun, thrill, and excitement to every home. Aside from being cute and funny, dogs are also incredible companions and provide unconditional love and affection regardless of how you feel. Therefore, if you want them to understand your feelings, you might want to consider training them.
Training is one of the most important needs of a puppy or a dog. This is why it's also crucial to start the training as early as possible, so they can learn how to stay, sit, come, potty outside, and go to their crate. However, this task isn't something you can easily accomplish as a novice dog owner.
On the surface, puppy and dog training may seem quite daunting and overwhelming, especially for first-time dog owners. Unfortunately, it's true—dog training is a challenging task. But if you do it one step at a time, you'll find the process far less intimidating.
In this article, you'll learn everything you need to know to train your puppy and dog effectively. Or, you may check out this recommended site to help and guide you through the canine training process.
The Training Guidelines By Age
Many pet owners often wonder about when to start training their pups and dogs. According to the American Kennel Club (AKC), dog training should start as soon as pups and dogs set foot in your home—usually at least eight weeks old. Also, the training may vary depending on their age as their knowledge expands and develops.
Eight To Ten Weeks Old
At this age, young pups should start learning the basics. These include name recognition, early socialization, command introduction, good manners, etc.
Give Them A Daily Schedule
As soon as they enter your home, start giving them a daily schedule and make sure they get used to it. It includes their naptime, playing times, potty breaks, and feeding times.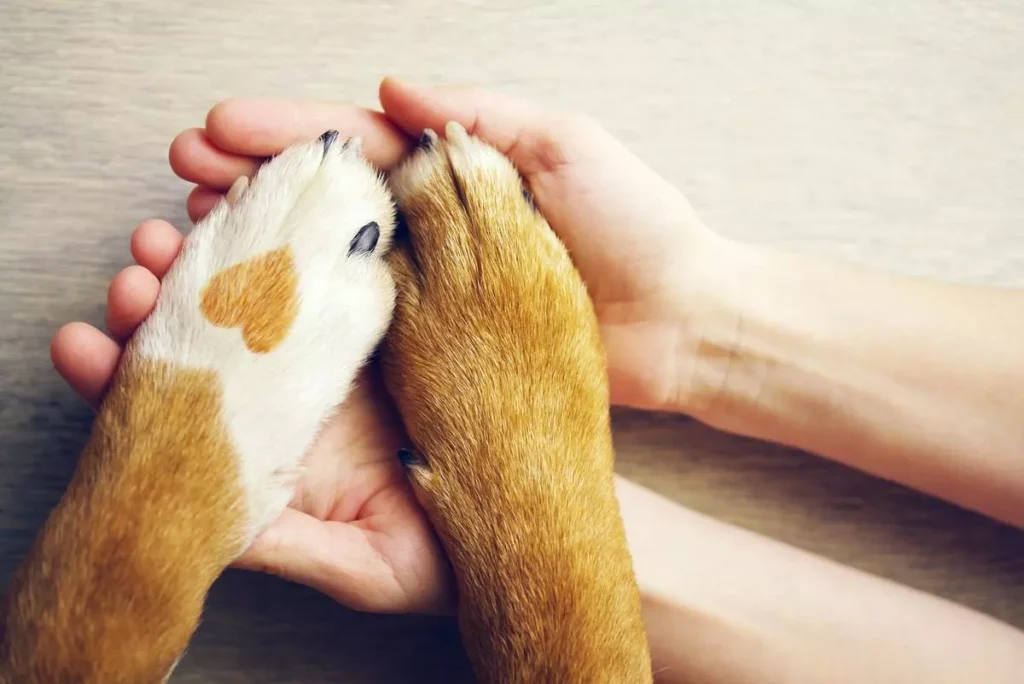 Potty Training
This should begin the moment your pups arrive home. Start the training with a potty schedule, then teach them where they should go and how to hold it.
Crate Training
This training allows puppies to be independent and reduces their separation anxiety when you leave them home for work.
Basic Command Training
At this age, commands like sitting and coming are being taught to puppies, which you'll most likely use daily. It's recommended to start teaching these two commands during their feeding time.
Basic Socialization Training
Encourage your puppy to communicate with your family and friends and let them get used to it as much as possible. This allows them to interact with other people positively. You may also consider enrolling them in a class to improve their social skills.
Name Recognition
When you interact with your puppy, mention their name while getting their attention. Giving them food as a reward may help train them.
Training Regarding Chewing Behavior
This is when you need to give them a chew toy. Also, you'll want to teach them the difference between your slippers, shoes, and other objects at home from their chew toys. In this way, you'll prevent them from biting anything they want.
Ten To Twelve Weeks Old
When your pup reaches this age, you'll need to expand some of the skills you taught them, such as commands and socialization skills. Here are things involved in training a puppy 10-12 weeks old:
Include Other Basic Commands
At this age, you'll need to introduce other basic commands aside from Sit and Come. These include Heel, Place, and Down.
Start Using a Leash and Harness
If you haven't introduced these yet, then it's time to do so. These two will be one of the most useful tools throughout your dog's life, particularly when going out with them. Also, you'll want to make sure that they get used to their leash and harness as early as possible.
Improve Their Social Skills
Introduce your puppy to new people and let them meet other dogs, but make sure that they all have been vaccinated beforehand. You may do this in a playpen that would allow them to interact with other pups and dogs safely.
Introduce New Sounds
Let your puppy learn the sounds they'll probably hear every day to create a sense of familiarization and avoid unwanted violent reactions. These sounds include honking cars and buses, construction noise, and many more, which can be played through video streaming platforms.
Practice Impulse Control
This can be achieved by letting your puppy wait before they eat and drink. Make them sit before giving them their bowls. Then, allow them to eat or drink by saying, 'Okay!'
Begin Threshold Training
This training involves telling your pup to sit near the door, around the crosswalks, etc., and walking around them peacefully. With this training, your pup will be calmer when walking outside, and they won't be super excited whenever they see an open door leading to another field.
'Say Please' Training
This trains your puppy to say please when they need or want something. Start by asking them to sit before giving them what they want, such as their chew toys or going outside. Your pup will then learn to ask permission first by saying please before getting what they need or want.
Three To Four Months Old
At this age, you'll notice that your pup is growing quickly. You should start training them with more complex lessons in addition to those they've learned. These include:
Introduce New Commands
At this age, you can teach them new commands, such as 'Leave it' and 'Stay.'
Begin Combining Different Commands
Try to combine some commands to prolong the duration of their work. Here's a combination of different commands you can try: Sit, Down, Come, and Stay. Command combinations may help improve your dog's comprehension level.
Heel Training
This trains your dog to behave or stay by your side when you ask them to do so. You may do this around your block or driveway to introduce your puppy to outside distractions. If simple treats aren't working, you might need to provide a higher-value treat, such as hotdogs and peanut butter, to maintain your pup's focus and attention.
Introduce New Pups
As mentioned earlier, it's important to ensure that your puppy and other pups are fully vaccinated before introducing them to each other. Also, focus on the quality of interactions your pup makes, not quantity. That said, make sure to introduce your puppy to other puppies with similar personalities.
Introduce Playful Commands
This age is the best time to let them play 'fetch' and 'tug.' Introducing play commands may also help you improve their Stay and Come commands as they play with you.
Four To Six Months Old
At this age, your pup needs to start working on other commands often used in public places. Here are the things you need to do:
Improve Their Commands
Practice the commands you've taught before with your pup outside your home. You may also try taking them to new places, such as public parks and malls, and continue practicing some commands and a combination of commands.
Prolong the Duration of Your Walks
Encourage your pup to walk with you down the street for a longer period. Doing this can also be the best time to improve their Heel command and work on their leash.
Start To Wean Treat Rewards
Instead of giving food for every command they accomplish, wean treat rewards by praising them with a clap or affection to show how you appreciate their efforts.
Six To Twelve Months Old
At this age, your pup should have a strong foundation of basic commands and other essential skills, such as potty and crate training and social skills. From this moment forward, your main job is to reinforce all the lessons they've learned. Here is the training you need to do when your pup reaches this age:
Reinforce the Commands
Continue the learning by reinforcing all the commands your puppy has learned before. You may introduce them to new locations, try a new command combination, and hold the commands longer. Also, you may consider taking them to populated places to challenge your pup and improve their skills.
Maintain the Learnings at Home
At this age, a puppy is considered to be in the adolescent stage. They might act up if you leave them alone, biting and chewing anything they want, especially when the training structure you establish eases up. Therefore, it's important to continue training them regularly to prevent such cases.
How To Crate Train Your Puppy And Dog?
One of the most important lessons your puppy or dog needs to learn as early as possible is teaching them to appreciate their crate. This allows them to improve their denning instincts as well as speed up their potty training. Here are the steps to crate train your puppy or dog effectively:
Set Up the Crate
Before setting up the crate, you want to make sure its size suits the size of your pup or dog. It should be large enough to allow them to stand up, lie down, and roll around properly. Set the crate around your home, not in your garage or basement, so your dog won't see the crate as a form of punishment.
Use Treats
To start the training, allow your puppy to discover the crate by leaving its doors open and placing some treats inside. Once they enter the crate, don't close the door and allow them to examine the crate. Give them more treats whenever necessary. Do this until your dog no longer hesitates to go inside the crate.
Feed Your Dog Inside the Crate
Once your dog enjoys being inside the crate, start feeding them inside it. You may close the door while they're eating and open it once they're done. Also, make sure to let them out for a potty break.
Avoid Over-Crating: Over-Crating may not only cause your dogs and pups to dirty their crate but also makes them suffer from complications, such as depression and anxiety. Adult dogs may stay about half a day, considering they receive enough exercise. Puppies may stay around two to four hours or longer at night.
How To Potty Train Your Puppy And Dog?
One of the first things you want your puppy or dog to learn is where to go during potty breaks. A dog crate may be essential in potty training, but there's certainly more to it. That said, here are some easy steps to potty train your pup and dog:
Reading Suggestion: Potty Training: How To Deal With It?
Create A Daily Routine
Potty breaks should be scheduled at different times throughout your dog's daily routine. These include potty breaks 10-15 minutes after eating, after playtimes (during playtimes for young pups), after socializing with other dogs, before crating, after a nap, and after crating.
Understand Their Body Signals
Learning their body signals will help determine when they need a potty break. These often include sniffing, circling, trying to open a door, or being distracted. Understand your pet's body language so you can prevent any potty-related accidents in the future.
Use Treats
When you walk your dog outside, make sure to take them to a place familiar to them and let them find the right spot where they can have a potty break comfortably. When they're done, offer them a treat as soon as possible and praise them for doing a good job.
Don't Punish Your Dog
Keep in mind that accidents do happen. So, never punish your dog or puppy for taking a potty break inside your house. Why? Because it doesn't teach them what they need to do and makes them pessimistic. Instead, try to stop them and take them outside immediately.
Final Words
Training is essential for puppies and dogs. It teaches them better manners and allows them to understand your feelings and actions. It can also help them behave properly wherever they are. However, dog training is no easy task. That said, you may use this guide to train your pups effectively and appropriately as early as possible.