Having a pet dog comes with many responsibilities, one of the most important of which is providing for their welfare. It can be difficult for them to jump onto furniture or higher surfaces due to their physical limitations, especially for dogs with arthritis or knee issues and that's where dog stairs come in.
Dog stairs are an essential tool for any pet parent looking to make life easier for their beloved four-legged friend. Whether it be for a car, a high bed, or outdoor playground activities, dog stair companies have something kind to offer you.
Well, keep reading with us as we explore the top 5 reasons why dog stairs are a must-have for every dog parent, along with how to choose the best dog stairs in town!
Top 5 Reasons You Must Have a Dog Stair-Don't You Love Your Dog?
Convenience
Pet stairs make life much easier – not only for you but also for your furry friend! Dog stairs provide a safe way for your pup to access high beds, couches/sofas, window sills, and even cars with ease. You won't have to worry about them making a leap or stretching too much; the stairs offer just the right amount of staircase steps for their little legs.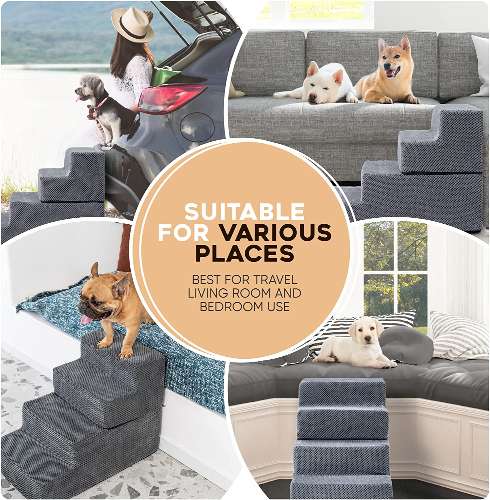 Additionally, with dog stairs, you can rest assured that your pup will easily be able to get up without hurting themselves or straining any muscles in the process.
Recommendation: Best Horse Grooming Kit
Comfortably Support Senior Dogs
As our canine friends' age, they slowly lose their ability to jump onto high objects due to weak joints and muscles.
Dog stairs solve this problem by providing senior dogs access to areas like sofas and beds which may otherwise be difficult for them to reach on their own while being comfortable enough that they don't strain themselves further in the process.
With dog stairs, you can also help encourage older dogs' active movement or more appropriately, regular exercise!
Provides Sturdiness For Bigger Breeds
Large breed pups come with their own set of challenges when it comes time for them to get up onto higher places such as couches or bed frames; traditional ramps fail at providing sturdiness despite varying sizes due to the lack of support beams found in many designs these days but most dog stair designs are made using solid wood frames that ensure ample support for bigger breeds.
Thus, eliminating worries associated with tipping over during extended use over time makes it one of the great life savers when looking out for bigger breeds' safety.
Easy To Use
Many people think that teaching an older pet how to use dog stairs would be difficult but this is usually not true!
Most dogs will instinctively understand how they work fairly quickly with just a few days (or even hours) of practice! In addition, many sets are designed with rubber grips on each step so there is extra traction available when climbing up/down them which adds further stability and safety against slipping off the steps accidentally during use!
Reading Suggestions: Dog Breeders In Italy
Cost-Effective & Portable Solution
Many types of dog stairs are affordable solutions that do not need professional installation nor require any special maintenance over time.
Moreover, they come in various sizes so you can find one suitable for wherever space you have available at your house; furthermore, some models are foldable making them even easier to store when not needed!
Factors to Consider When Shopping for Quality Dog Stairs
Dog stairs come in various sizes and materials, so here are a few factors to consider when shopping for quality dog stairs:
Type of material
Different staircases are made from different materials, including wood, plastic, and foam covered with fabric for more comfort for your pet's paws. Choose a material that fits his needs best, such as a softer material for an older dog who may be prone to slipping on hard surfaces.
Step dimensions
Make sure that there's enough distance between each step so that he does not strain himself climbing up or down them. Also, look at how wide each step is; it should be wide enough for him to feel comfortable standing on one and yet narrow enough so he doesn't have too much flexibility, which could lead him off balance while traversing them safely!
Surface
Look out for textures like non-slip rubber grips along with any other features like carpeted treads, as these types of features greatly help reduce stress levels during the usage of these structures!
Weight capacity
Ensure you know what weight limit (if any) can handle by referring to the manufacturer's recommendations before buying any particular item!
Measuring Your Dog for Dog Stairs
If you plan on purchasing a set of dog stairs, it is important to take some measurements to ensure proper fit and placement.
Measure the height from the floor to where your pup will be using the stairs. This will help determine what size stairs you need.
Measure your pup's shoulder height to make sure that they have enough clearance when going up or down the stairs.
Measure the width between each step and make sure that your pup can comfortably maneuver up or down without having their feet overlap when walking up or coming down the steps. This will help prevent them from getting tangled in between steps if they slip while using them.
What is the difference between dog stairs, dog steps, and dog ramps?
Dog stairs and dog ramps are two common types of pet accessories that are used to help pets reach higher places.
To start with, there is no difference between dog stairs and dog steps. These two terms are used interchangeably. Dog stairs provide dogs with steps or treads to walk up, while a dog ramp is a gentler option that has an incline for the pet to walk up.
A ramp takes less space, but some pets may feel uncomfortable walking on one due to its size and slipperiness. Stairs tend to be slower for the dog, but each step offers more stability so it may be preferable when access is needed frequently in smaller amounts of time.
Well, Amazon can be your best friend for getting the best, portable dog stairs globally!
Which One to Choose: Dog Stairs or Dog Ramps?
Are you still confused between whether the dog stairs or the dog ramps suit your dog? That's why we have gathered down 'Why you should choose dog stairs over dog ramps!'
Safety
Dog stairs provide a more stable footing for pets of all sizes, helping to prevent slips and falls that may occur when climbing onto furniture or getting into hard-to-reach spaces via the ramps. This is especially important for older dogs who may have mobility issues.
Affordable
Compared to buying a ramp, which can be costly depending on the size and materials used, dog stairs offer an affordable option while providing many of the same benefits as a ramp.
Portability
In comparison with heavy ramps that are difficult to move around the house, stairs are lightweight and easy to transport from room to room or even take with you on trips if need be!
Variety of Styles and Sizes
There is a wide range of styles available when it comes to pet steps – from collapsible models made with plastic material to carpeted ones that match your home décor!
Traditional set pieces work well indoors, while plastic ones can fit marine environments along coastal areas; telescoping designs make packing them away effortless, while stackable varieties allow users to accommodate less for more!
Additionally, there are different sizes available, so you can find something suitable for your specific pet's needs no matter their size or weight!
No Charging!
Unlike automatic ramps, which require batteries or charging prior to use and may not work in areas where power outlets aren't accessible, dog stairs are simple tools that can be used anywhere at any time, providing easy access when it's needed most!
Wrapping it Up
Having a set of dog stairs around the house can make both indoor and outdoor activities simpler while reducing the risk of injury or health complications caused by lifting your pup or jumping excessively over long periods of time, helping save both you and your baby dog a lot of pain in the long run!
When shopping for dog steps, ensure you choose one suitable for your type of breed. Small breeds will have different needs than large ones, so double-check the dimensions before making a purchase. Just look carefully at images online and read customer ratings if possible before deciding what's best!