Called "devil's weed", "madness weed", "poison apple" or even "death trumpet", Datura, which has fascinated for millennia, is a highly toxic plant for horses. A small amount inadvertently ingested may be sufficient to cause death. It belongs to the Solanaceae family, and there are many varieties.
Its exotic aspect makes it all the more fascinating. So how do you recognize Datura? What are its origins? What is its toxicity? How do you spot the signs of poisoning, and how his diagnosis and treatment carried out? How to prevent poisoning? These are all questions that we answer in this article.
How to recognize Datura?
Datura is an annual herbaceous plant, meaning that it survives the winter only in the form of seeds. Its root is white and thick, and its ovoid, serrated leaves reach 30 to 160 cm in height. The flowering period is from July to October. All parts of the plant are downy, but this characteristic disappears over time. The white, trumpet-shaped flowers are about 5-10cm long, with a calyx 3-5cm in diameter.
They do not open during the day: only in the dark, to attract moths. When they develop, its fruits are 2 to 3 inches long, are green and tangy, and look like a chestnut overall. When the latter ripen, the capsule becomes dark: it then divides into four parts,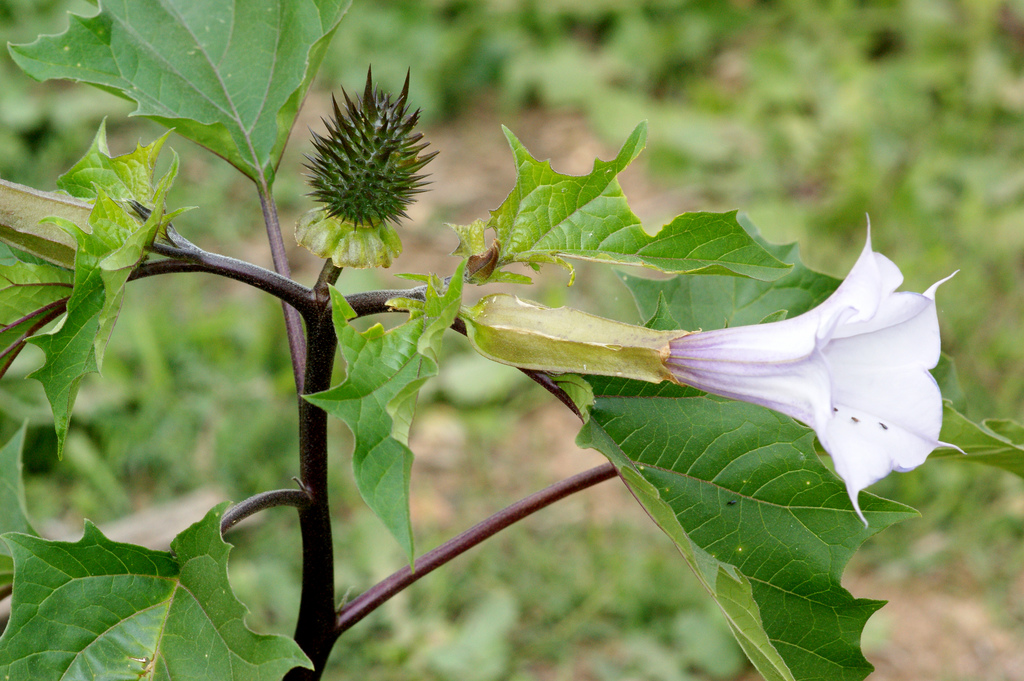 There are also ornamental varieties that come in the form of trees or shrubs 2-3 meters high, with large flowers (drooping or directed upwards) in the shape of a trumpet, and hairy and soft leaves: their color can be red, purple, yellow or white.
Origins of Datura
A sacred plant considered magical
Datura was one of the first plants used in medicine, for its medicinal properties and its anesthetic effect. The name datura comes from Sanskrit and means "divine euphoria". It was also used for ritual acts: shamans used the plant to enter a trance. For these reasons, datura was considered a sacred plant in China.
Where does Datura come from?
The "Datura metal" is native to Africa and Asia, all other varieties on the other hand from America. From there, shortly after the discovery of the mainland, the Datura Officinal or Stramoine (Datura stramonium), also known as "madness grass", "mole grass" or "prickly apple" arrived and quickly spread to Europe. Soon after, Datura Stramoine gained a reputation, along with belladonna and henbane, to be a magical plant related to witchcraft and black magic. It is very common in France, and we find this wild variety today in vacant lots, landfills or at the edge of roads.
Toxicity of Datura
What are the toxic principles of the plant?
Toxic agents are alkaloids. The 3 main ones present in the Datura are:
Scopolamine (also called L-hyoscine), especially present when the plant is young, and only of the three alkaloids to be found in the root
Atropine
Hyoscyamine found mostly in mature plants.
There are others, in the minority, which we will not discuss here. The plant additionally contains nitrites as well as tannins.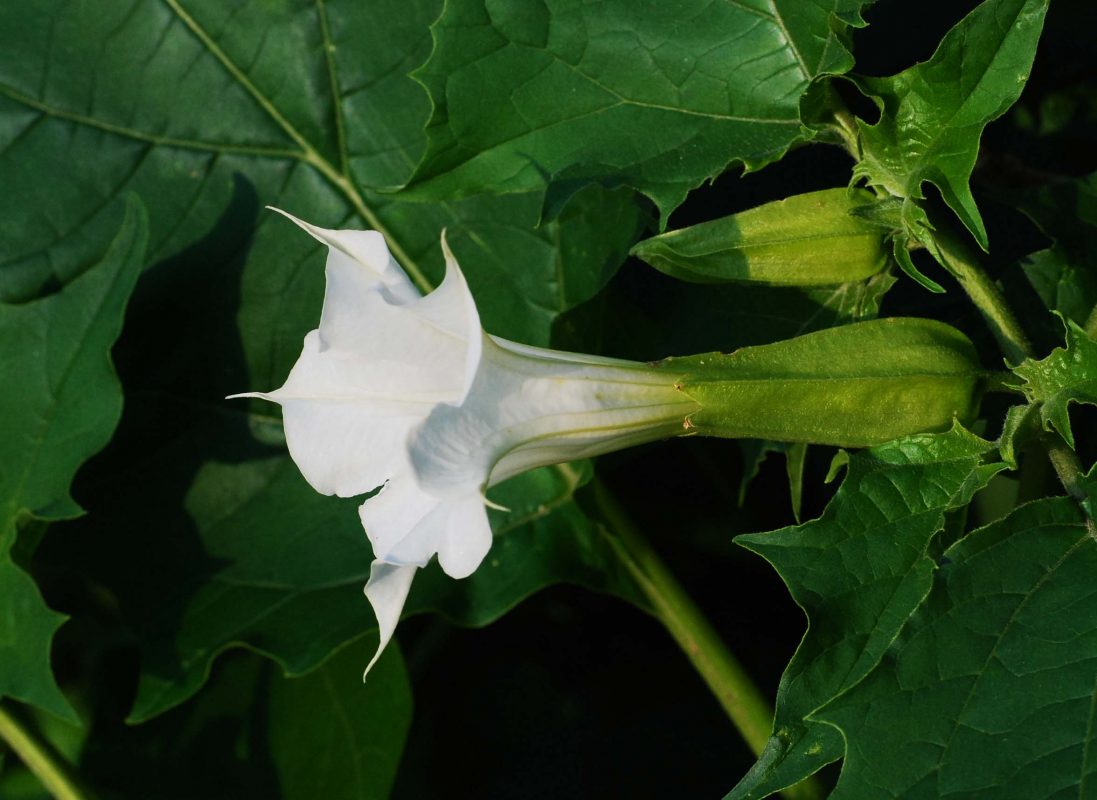 What are the poisonous parts of the plant?
The whole plant is unfortunately poisonous, especially the leaves, flowers, and seeds. Another important point to know: the plant remains toxic when dried. Regarding the toxicity of different parts of the plant, the actual alkaloid concentration depends of course on the species concerned, but also on the age of the plant.
Reading suggestions: 500 Horse and Racehorse Names
On average, the leaves of Datura Stramoine are estimated to contain an alkaloid concentration of 0.2-0.6% of the total dry matter weight; from 0.1 to 0.5% for the stem or flowers, from 0.2 to 0.5% for the seeds, and not more than 0.06 to 0.1% for the roots. The seeds are particularly toxic to horses. The poisoning effects take place on average 30 to 60 minutes after consumption.
Watch out for dried hay
Be particularly careful with your horses' fodder: dried hay may contain young Datura plants (such as Datura stramonium and Datura Ferox for example). Indeed, Datura is often a weed, ie present as a weed, in cereal or market garden crops. This, therefore, means that it can easily contaminate silage and fodder. So don't forget to check for any unwanted leaves or seeds when filling your hay nets. Unfortunately, this is the most common mode of poisoning. 120 to 180 grams of dry matter is enough to kill a horse.
How do you spot the signs of ingesting Datura?
Has my horse consumed Datura?
Its strong odor and unpleasant taste are a deterrent for horses who do not generally consume Datura, except perhaps when they have nothing else to eat.
It will be difficult for you to know if your horse has consumed it… The only sign that can put you in the ear would be the sudden appearance of young plants on your manure pile.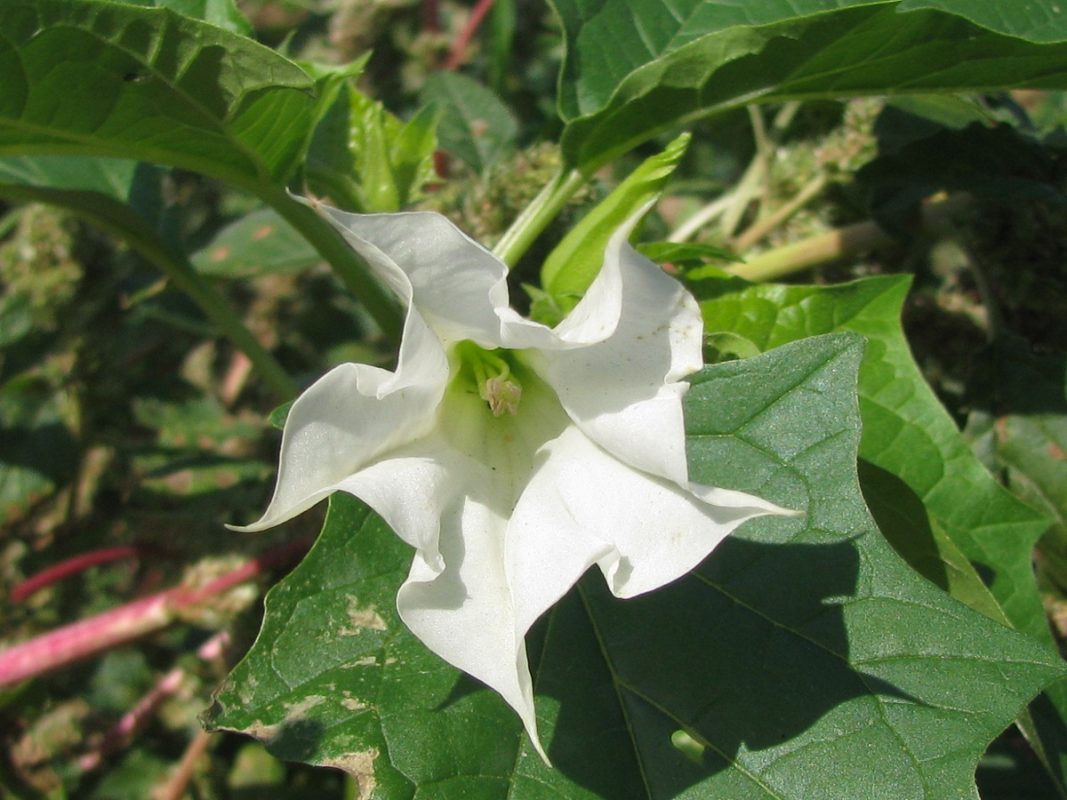 Symptoms of datura poisoning
After ingestion of the herb, symptoms of moderate to severe colic and continuously appear. Your horse may also stomp on the ground and turn its head to the left side of its stomach mainly while standing with its legs wide apart as if trying to urinate.
Poisoning is also manifested by diarrhea, cardiac arrhythmia, breathing problems, refusal to eat, fever, visual disturbances, heavy sweating, disturbances in the sequence of movements, and swallowing difficulties. . Subsequently, by a paralysis of the central nervous system …
Your horse will appear dumbfounded, and if left untreated, death occurs within 6 hours.
A potentially deadly plant
An important note: Datura seeds can also be found in contaminated flax seeds or soybean meal. 0.3% of the seeds in the diet may be enough to cause the first symptoms of poisoning in horses.
This plant is not to be underestimated: Datura can cause death. In terms of proportion, one gram per kilogram of food is sufficient to be fatal for the horse. The plant is also toxic to other mammals such as hares, rabbits, cattle, or birds.
Reading suggestions: 500 Horse Names For Male and Female Horse Names
Diagnosis, treatment, and prevention
Diagnosis of Datura poisoning
As soon as you notice something unusual in your horse's behavior – for example, if its legs are firmly planted on the ground, but the rest of its body oscillates in circular motions (a bit like if your horse is drunk), do not wait and alert your vet. Your horse may have inadvertently eaten datura leaves or seeds.
In this case, take him to the stable and install a very thick litter in his box, to prevent him from injuring himself, if he were to go to the ground. The toxin acts quickly.
Your veterinarian will be able to make a diagnosis based on the table of clinical signs (gastrointestinal pain, eye changes, muscle spasms, etc.), and provide appropriate care for your suffering animal. Show him the spot where your horse has grazed, especially if you are unfamiliar with poisonous plants, as well as pieces of plants that you may have picked up in his mouth.
It is much less risky to contact the vet and consult rather than wait to see how your horse reacts, and if he is going to recover well. He will also be able to take blood and urine samples, and will then make his therapeutic decision.
Treatment of Datura poisoning in horses
The first thing to do is to remove any plant material that may still be present and to rinse his mouth with plenty of water. Your veterinarian may suggest gastric lavage, prescribe activated charcoal which helps decrease absorption of the toxin. He can also prescribe oxygen for respiratory problems. If necessary, your horse will be transported to a veterinary clinic.
How to prevent Datura poisoning
Clear pastures of this noxious plant. Make sure there are no split fruit around, because if the seeds are scattered around the paddock they could be inadvertently eaten by your horse, and are, you now know, very poisonous. As we said before, when mixed with hay, the seeds are a major source of poisoning for your horse.
We remind you that prevention is much less stressful, and also less expensive, from all points of view than suffering from poisoning and its consequences. Maintaining your pastures is essential, as is knowing the poisonous plants in your area, and their symptoms. The best way to remove Datura is to mow your meadow around the end of August, beginning of September.
Then, depending on the region, you will see the Datura bloom in late September or early October. It will then be easy to spot it in the short grass and to pull it out, without forgetting to take the roots. Then all you have to do is destroy (burn) the plants collected, which, let us remember, are toxic for horses, but also for men.
Good to know: Datura is resistant to herbicides used for the preservation of potatoes. Indeed, it is part of the same family, the Solanaceae.