Clicker training has grown in popularity among dog trainers and pet owners alike. This modern, science-based training method employs a small device known as a clicker to communicate effectively with dogs, promoting a positive learning environment. 
We'll explore the intricacies of clicker training, its benefits for both dogs and their human companions, the scientific principles underlying this training method, and a step-by-step guide on how dog owners can embark on this rewarding journey.
Understanding Clicker Training
At its core, clicker training is a marker-based training technique. The clicker, a small hand-held device, produces a distinct, consistent sound. This sound serves as a marker, telling the dog precisely when it has performed the desired behaviour. The click is immediately followed by a reward, usually a tasty treat, to reinforce the behaviour. Over time, dogs learn to associate the click with doing something right and earning a reward, which accelerates the learning process.
Benefits of Clicker Training
Clicker training offers a plethora of benefits for dogs and their owners. It fosters a positive learning environment, where dogs are encouraged to think and learn. This form of training strengthens the bond between dogs and their owners as it is built on positive reinforcement and clear communication rather than punishment. It also offers the advantage of being simple and enjoyable, making training sessions something both dogs and humans look forward to.
The Science Behind Clicker Training
Clicker training is grounded in the scientific principles of operant conditioning, a type of learning where behaviours are modified by their consequences. The clicker acts as a secondary reinforcer, bridging the gap between the desired behaviour and the reward. By providing immediate feedback, the clicker helps the dog understand which behaviour is being rewarded, making learning precise and effective. The timing of the click is crucial as it captures the exact moment the desired behaviour occurs, facilitating faster learning and retention.
Embarking on Clicker Training
Beginning a clicker training routine requires a blend of preparation, patience, and positive outlook. 
Getting Started
Before diving into clicker training, it's important to gather the essential tools. The cornerstone of this training method is, of course, the clicker itself—a small, handheld device capable of producing a distinct, sharp sound. Alongside the clicker, having a stash of treats is vital as these will serve as the primary reinforcement to reward your dog for its correct behaviour.
These treats don't have to be big, which is good news for owners who are trying to maintain their dog's weight. For most dogs, a treat can be anything from a piece of kibble to shredded bits of cooked chicken. Find what works for your dog, as they may not be as food-motivated as other dogs. Many dog breeders in New York tend to prefer praise over treats when training.
Creating the Clicker Association
The foundation of clicker training lies in establishing a positive association with the clicker sound. This initial phase is often referred to as "charging the clicker." In a quiet and comfortable setting, click the device and immediately deliver a treat to your dog. It's crucial to ensure that there's no significant delay between the click and the treat. Repeat this process multiple times—usually over a span of a few short sessions—until your dog begins to exhibit an expectant reaction to the clicker sound, such as perking up its ears or looking towards you.
Identifying Desirable Behaviours
Before commencing with training sessions, identify and outline the behaviours you wish to instil in your dog. Start with simple commands like sit, stay, or come. As your dog progresses, you can gradually introduce more complex behaviours. Clicker training thrives on the clarity of communication; hence it's essential to have a clear vision of the behaviours you aim to train.
The Training Sessions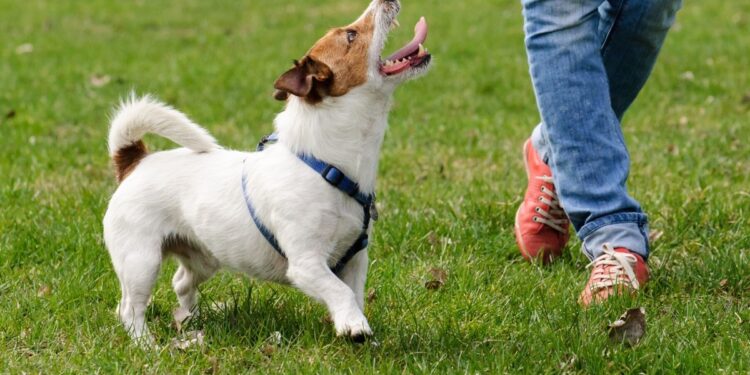 Initiate training sessions in a quiet environment to minimise distractions. Sessions should be short, typically around 5 minutes, to keep your dog's attention and maintain a joyful ambiance. During a session, focus on one behaviour at a time to prevent confusion.
As your dog performs the desired behaviour, click at the precise moment the behaviour occurs, followed swiftly by a treat. The timing of the click is paramount as it captures the exact instance of the desired behaviour, making the learning process more effective.
With each successful attempt, your dog will gradually grasp the connection between the behaviour, the click, and the reward. It's essential to maintain a consistent and patient approach, rewarding each correct behaviour promptly.
Expanding the Learning Horizon
As your dog becomes proficient with basic commands, you can gradually introduce more complex behaviours and even chain behaviours together. For instance, you can train your dog to fetch the newspaper by breaking down the task into smaller steps and training each step separately before putting them all together.
Troubleshooting and Continuous Learning
It's natural to encounter hitches along the way. If your dog is struggling to understand a particular behaviour, it might be beneficial to revisit simpler commands or break down the complex behaviour into simpler steps. Continuous learning and adaptation are crucial for both the dog and the owner. Always end your training sessions on a high note, with commands that you are sure your dog can complete. This gives them more confidence and helps them create positive associations with your training. 
Conclusion
Clicker training is a remarkable training approach that leverages the power of positive reinforcement and the science of behaviour to create a rewarding training experience. By understanding the principles behind clicker training and following a systematic approach, dog owners can enjoy a harmonious and communicative relationship with their furry companions. Through proper clicker training, the possibilities for what dogs can learn and achieve are almost boundless.