Bringing a pet home can be the start of fulfilling animal companionship for your family. Adopted shelter dogs in particular are known to show plenty of love and appreciation for their new owners in gratitude for rescue and for getting a better life with a loving family. 
Having said this, adopting a greyhound is a big responsibility and there's a home living criteria and adoption process to undergo if you want one of these beloved dogs as pets. Fortunately, there are steps you can take to ensure a seamless rehoming and integration procedure. 
Here's the ultimate guide to adopting greyhounds into your home. 
Do Your Research
The first step in your pre-adoption process should be conducting research about the greyhound dog breed. Make sure to find out as much information as you can about the medical conditions, they're susceptible to, the type of housing environment they prefer, their most common social temperament, adaptability, personality traits, and behavior. Also, if you live in an apartment and have children or other pets, research how this will affect your living situation. 
This is necessary to find out whether a greyhound dog is suitable for your living situation and whether you have the resources and time to provide them with a good quality of life as your home pet. More importantly, having prior knowledge and showing how prepared you are can increase your chances of a successful application with Greyhounds As Pets rehoming and other pet adoption programs alike.
Finally, once you've gotten the fundamental details, you can search adoption pet agencies to find the specific greyhound dog you'd be interested in. 
Reading Suggestion: Panther Black Pitbull
Apply For Adoption
Once you've found the greyhound you're interested in adopting, you'll need to fill in an application at the hosting agency for that dog. You must fill out your information as accurately as you can while being honest about your living situation.
If you don't meet the requirements for the greyhound you want, explain in detail how you plan to alter or adjust your lifestyle or home to accommodate your potential new adoptee pet. In this case, the shelter might request a home inspection from you. 
Depending on the agency or shelter you applied with, they might give you a call for an informal consultation to find out about your family and what your expectations and interests are for adopting your chosen greyhound.
You can use this time to also ask any questions you might have, such as advice on taking care of the dog, its medical history, and circumstances that led to its sheltering as well as its age, and individual temperament. From here the shelter will process your application and send you the results. 
The Handover
If your application is successful then you'll be given instructions for a time and place for the handover of your greyhound adoptee. Usually, shelters will allow you to meet and visit your pet before the handover session to help with the emotional bonding process. Try and bring your whole family who will be living with the dog along too. 
On the day of collecting your greyhound, make sure your home environment is prepared before you leave. Have the right food, water, toys, a comfortable bed, and feeding stations set up. This should also include clearing your yard space.
If the handover is taking place in public such as a dog park, bring the necessary equipment such as a leash, named collar, snacks, and a car or vehicle with space for your pet. Try and avoid bringing a cage to transport the dog because many greyhounds have spent their lives in cages as racing dogs so this could distress them.  
Reading Suggestion: Pitbull Corgi Mix – An American Pitbull Terrier and Welsh Corgi Breed
Settling In At Home
When your precious greyhound pooch finally arrives at your home, you can help with adjustment by walking it through the house. Make sure to monitor for signs of stress or hesitancy, especially if your greyhound was previously a racer dog. This is because many haven't been in environments with stairs, glass doors or windows, and floor tiles for instance.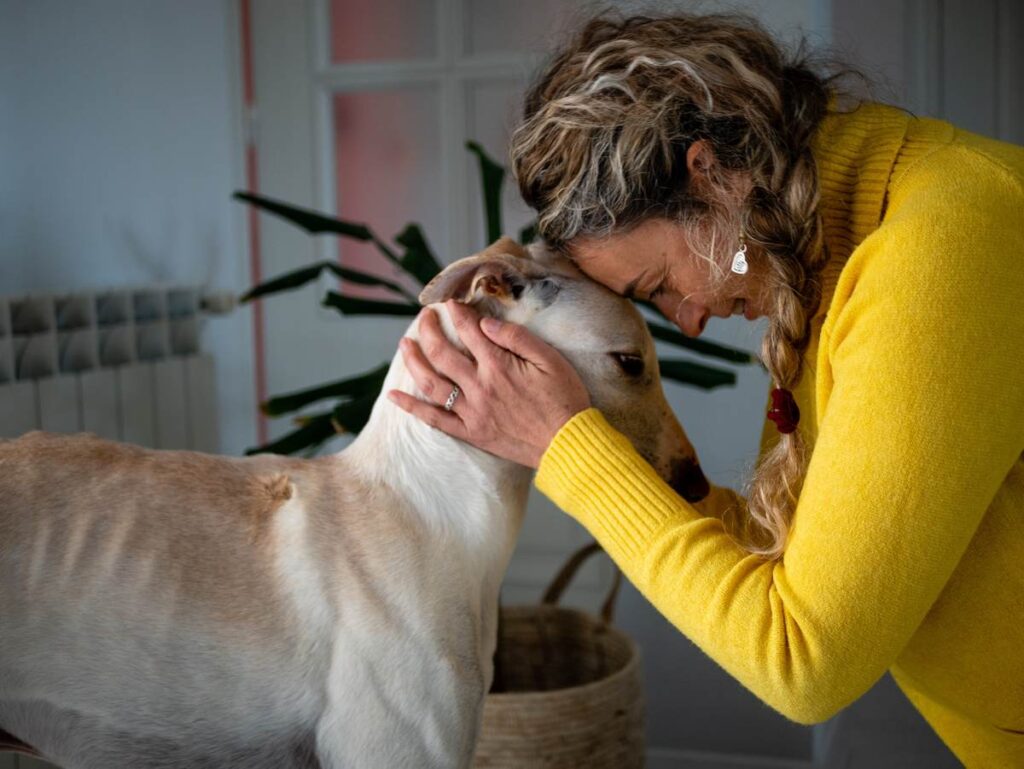 In this case, acclimatize them to it patiently while giving them plenty of encouragement. From here, it's essential to establish a home routine for your pet so they can start to feel comfortable. Choose times of feeding, potty and obedience training, grooming, exercise and playtime, and sleeping, then stick to these same times for a few weeks.
You can take your adoptee dog to a vet for a first-time checkup at this point too. Gradually, you'll notice after some time your greyhound will start to open up and show more of its personality and affection once it's adjusted to your family. 
Conclusion
Adopting a greyhound dog into your home requires you to do research first to check whether your lifestyle and living space can accommodate one. From here, you can apply to adopt your dream family dog, and go through the process of gaining approval. 
Once your beloved greyhound gets to your home, you should start the necessary integration procedure to get it used to your home, family, and daily routine. Doing this will help you provide the best life and plenty of memorable and loving moments for your rescued dog as it becomes part of your family.