Dog diapers are very useful products when your pet does not learn to relieve himself in the toilet, as well as with those who suffer from incontinence and even with females when they are in heat, which will help maintain furniture and spaces of your home free of urine, feces, and secretions.
Therefore, we have prepared some options that could help your pet greatly while providing comfort. The Trixie 23636 comes with 12 ultra-absorbent units that will catch any substance very easily. In addition, they come in various sizes, so you can select the most convenient for your dog.
On the other hand, the Dono 18 Pcs model has elastic edges that provide comfort while preventing urine or feces leaks, its sizes are also varied and have elastic edges that will provide comfort to your pet.
In this space, we will mention the most popular dog diapers on the market, as well as describe their most striking features so that you can select the option that suits your pet's needs.
Reading suggestions: Happy Dog Food Review
Male Dog Diapers
Trixie 23636 Dog Diaper
If what you are looking for is what could be the best dog diaper, we recommend that you evaluate the features offered by this Trixie model. Adult dogs often suffer from incontinence problems due to the bladder becoming more susceptible with advancing age, so using male dog diapers can be a foolproof and comfortable solution, as these products will trap the urine, and thus you will not have to be cleaning every so often, as well as helping to avoid damage to the furniture in your home.
This model presented by Trixie comes with 12 units and with varied sizes so that you can select the one that fits the measurements of your pet. On the other hand, these dog diapers have elastic bands both at the waist and at the thighs, which will allow them to be adjusted comfortably.
So that you know which is the best dog diaper of the moment, the Trixie 23636 model offers striking features that might interest you, so we present its pros and cons.
Practical: They are disposable, so they are very practical for traveling, to be placed on dogs that suffer from incontinence or are in heat.
Absorbents: Its absorption system is capable of retaining secretions, urine and even feces.
Comfortable: They have elastic bands that will help the pet to be comfortable.
Variety: Several sizes are available for you to select according to the build of your pet.
Sizing: If the dog's build is not taken into account when selecting the size, feces or urine may leak through the designated tail comfort hole.
Vet'S Best Dog Diapers
If what you are looking for is one of the best dog diapers of 2022, we invite you to evaluate the characteristics of this Vet's Best product. In the category of diapers for male dogs, the Vet's Best model 3165810451 is another of the most outstanding since these are specially designed for canines that suffer from emotional urinary incontinence or have problems adapting to urinating in a specific space, as well as by excitable urination.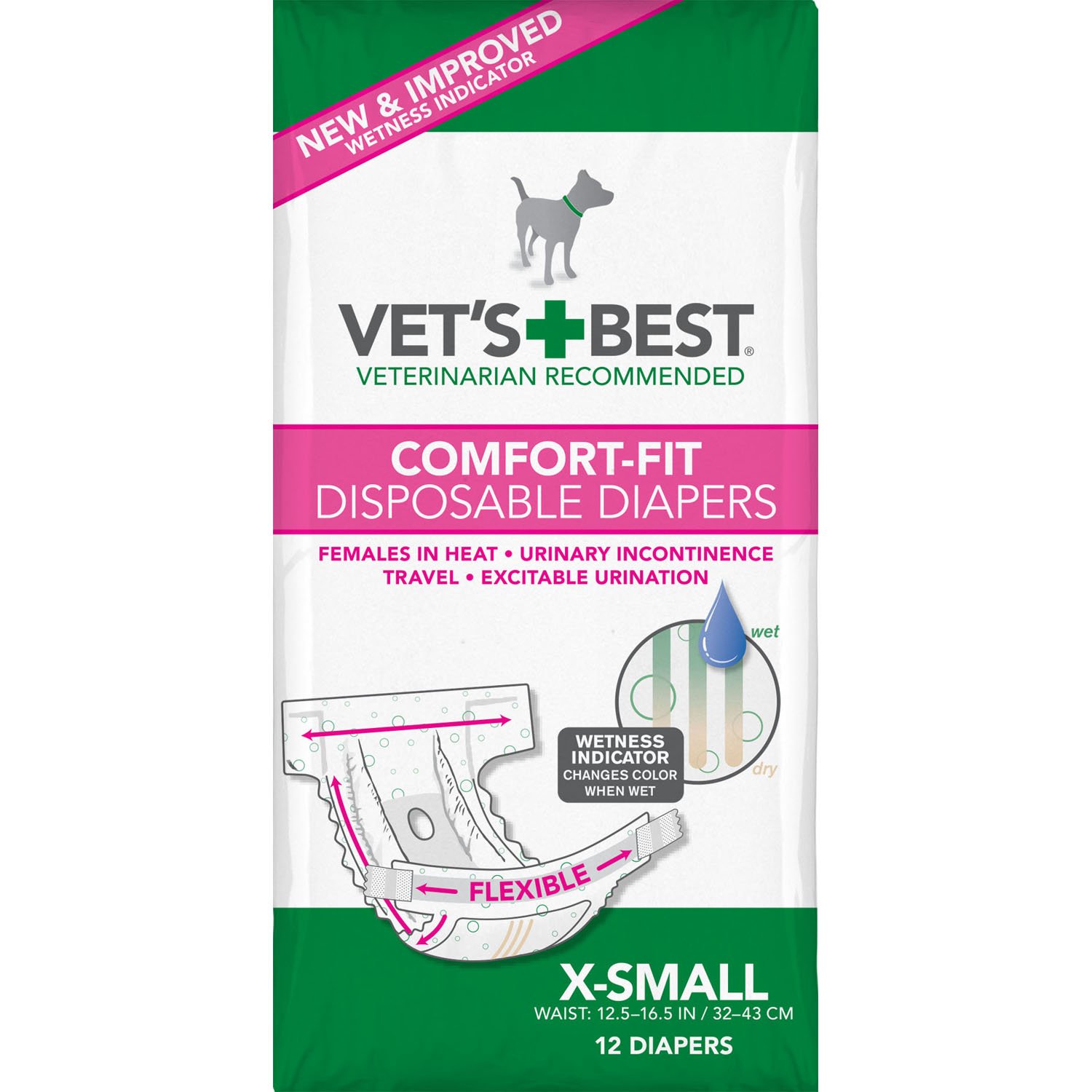 These diapers come in the form of wraps, so you will have to place them on your dog in such a way that his sexual member is covered and thus can absorb urine or secretions, in case he has a health problem.
It also has leak-proof elastic bands that will adapt to the contour of the body and help your dog to be comfortable. Vets Best is a company dedicated to the production of safe products with a good quality standard for dogs and puppies, so it could be the best brand of dog diapers in this comparison.
Sizes: This product is available in various sizes so that you can find the right one according to the size of your dog.
Quantity: 12 units come, so you will have enough for almost 2 weeks of use.
Regulation: In addition to absorbing urine and secretions, they help control excitable urination.
Feces: It is specially designed to retain urinary fluids and not feces.
Related: Best Dog Diaper Suspenders?
Female Dog Diapers
I Donate 18 Pcs
These are diapers for female dogs that come in a disposable presentation, so you can throw them away once used and thus avoid having to wash them when they get dirty.
In addition, they have a highly absorbent core and a leak-proof system that will help you solve secretion problems due to the heating season, urinary incontinence, and even when they are not used to going to the bathroom on their own, since this way You will prevent your pet from leaving their fluids all over the house.
On the other hand, these models are comfortable, since they have elastic bands that can be easily adjusted to the contour of the pet's body. The interior is made of microfiber polymer that can retain more liquid and the adjustable closures provide comfort.
If among the products presented you still don't know which dog diaper to buy, this Dono option is disposable and comes in 18 units, so it will surely be of interest to you.
Comfortable: They have elastic bands that provide comfort since they adjust to the contour of the body.
Absorbent: It has a highly absorbent core that helps prevent spills.
Quantity: 18 units come in the package, so you can not worry for up to a little more than 2 weeks.
Price: They do not have the cheapest price compared to other products on the list.
Sizes: Does not come in large sizes for females with a thick build.
Petting is Caring 3 Pcs Reusable
On this occasion, Petting is Caring brings us a set of 3 units, which are diapers for female dogs that will help retain urine liquid and secretions while at home or during long trips to prevent fluids from damaging the seats of the dog. car or the floor of your home. Also, since they are washable, you can avoid buying diapers at all times.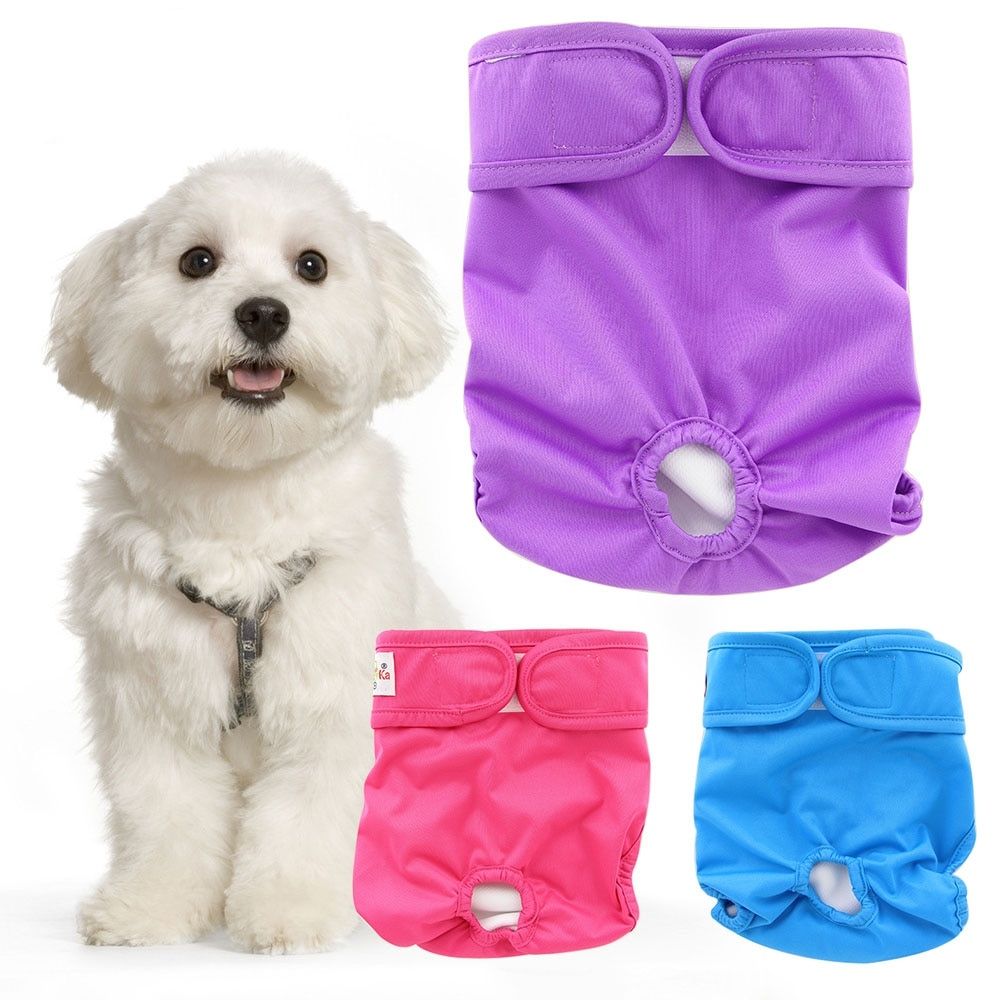 On the other hand, this product has a velcro closure system and rubber adjustments and also includes a hole for the tail for maximum comfort, so your dog will not be uncomfortable wearing it.
In addition to this, its interior is made up of a double layer of mesh that optimizes the absorption system and promotes comfort, and the exterior has a waterproof layer, which will make it impossible for liquids or moisture to pass through.
Reading suggestions; White Dog Names
While not one of the cheapest options on the list, this Petting is Caring product has some eye-catching features that might interest you.
Washable: The interior is made of mesh fabric, so you can wash them every time they get dirty.
Comfortable: They are made with soft products that will not affect the comfort of your pet.
Security: Its velcro and elastic closures adjust to the contour of the dog's body to avoid accidents.
Quantity: Only 3 units come, so you will have to wash them as soon as they get dirty to protect the furniture and floor from fluids.
Price: It has the highest price compared to the other products on the list, but this is because they are not disposable.
Frequently asked questions
Q1: How to use dog diapers?
The process to use dog diapers is very easy, for this you will need to have some wet wipes with which you will have to clean the intimate parts of your pet, since this way you will avoid infections and irritations. In addition, you can also choose to apply moisturizing or diaper cream to avoid irritation due to heat, since during the first uses the dog should feel as comfortable as possible so as not to remove the diaper.
The next step is to place the dog on a soft surface and hold it by the paws so that they are facing you. Layout the diaper and locate the hole designated for the tail and carefully insert it through there. Now, put the diaper on him and fasten it with the security seals.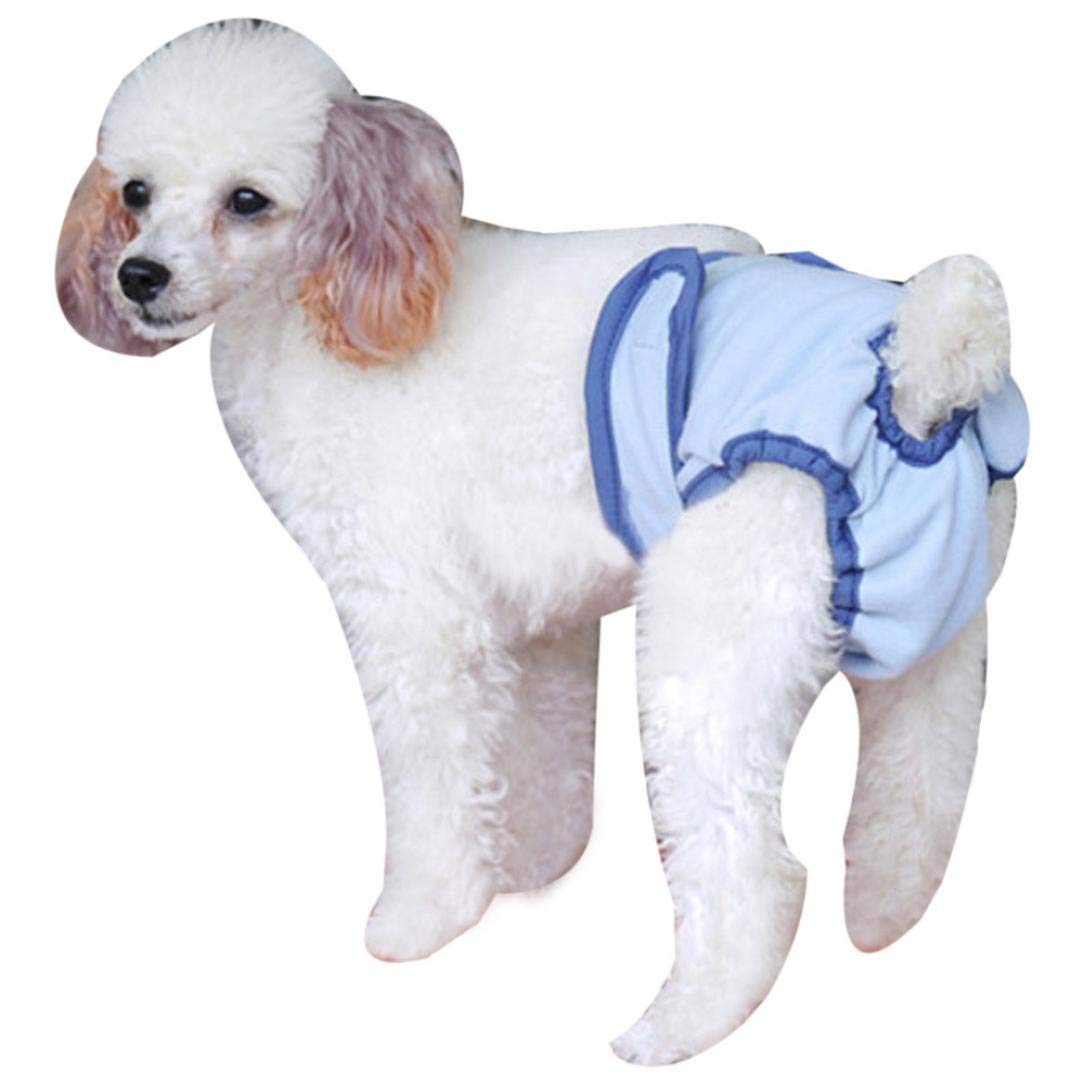 Q9: what are the best dog diapers?
There are a few factors to consider when looking for the best dog diapers:
Fit: It is important to get the right size diaper for your dog. A diaper that is too small will be uncomfortable and may leak, while a diaper that is too large may not provide enough protection.
Absorbency: Choose a diaper with a high absorbency rate to ensure that it can hold a lot of urine and prevent leaks.
Comfort: Look for diapers with soft, breathable materials to keep your dog comfortable.
Ease of use: Consider the ease of putting the diaper on and taking it off. Velcro closures or elastic bands can make the process easier.
Some popular brands of dog diapers include Pawz, PetSafe, and Simple Solution. It is always a good idea to read reviews and consult with your veterinarian before making a purchase.