As a pet parents, we always want to provide the best care for our furry friends. But scheduling an appointment at the vet, groomer, or other pet care facility isn't always the quickest option. For one, you may have to wait a while for the appointment. Also, appointments require you to carve out a larger chunk of your day for traveling and waiting. For some questions, this may not be the best option.
Virtual pet care provides a solution for busy pet parents with quick questions. From the comfort and ease of their home, they can talk with a certified pet care professional, whether that is a dog trainer or veterinarian. This is much simpler and more accessible than going to an appointment at a facility.
What Can I Use Virtual Pet Care For?
Virtual pet care can be used for anything from dog training to asking a professional why your dog is constantly itching. Some companies, like TeleTails, create a one-stop shop for pet care by offering both virtual dog training and virtual pet telehealth.
DodoVet is available 24/7 for pet parents who have questions and aren't sure what to do next. For example, if your dog is constantly getting into things they should not, such as eating food left on the table, you may not need to make an appointment at the vet each time. Instead, a telehealth veterinary professional can answer quick questions on what foods are concerning that your dog ate or how to handle the situation best.
In more serious cases, the veterinary professional can also help you determine if an in-person vet visit is recommended. In addition, they can help you understand why you should go in and what to expect when you get to the veterinary clinic.
Reading Suggestion: Is Rossmore Vet Clinic the Right Choice for Your Pet?
Dog Training
Virtual dog training is an excellent solution for both busy parents and pet parents seeking a more customized training program for their pets. Unlike a facility, dog training at home allows pet parents to encourage desired behavior for their dog in a familiar environment. It also eliminates the distractions of other dogs and people that could come from group lessons. For puppies, it is a great way to start their training early, even before they are vaccinated, from the safety of your home.
Pet Telehealth
Pet telehealth allows pet parents to talk with certified pet professionals, such as veterinarians, without needing an appointment at a local vet office. The best use for virtual pet care is when a full in-person appointment isn't necessary to answer your questions. However, if your dog is exhibiting serious health issues or requires a prescription, your telehealth professional will refer you to an in-person facility in your area if you do not already have one.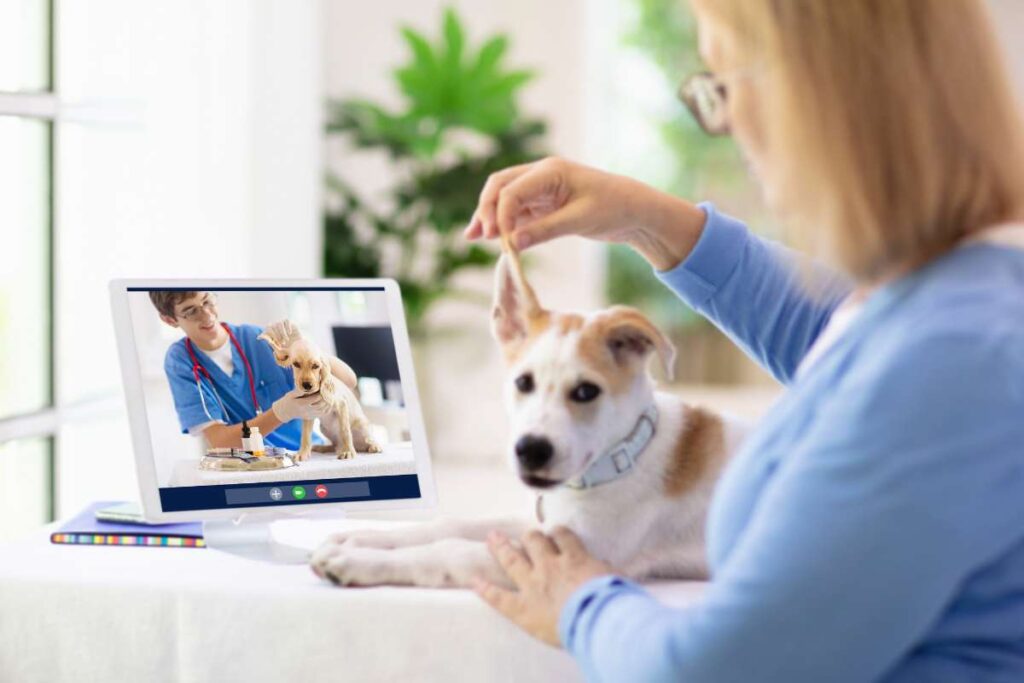 Are There Any Downsides to Virtual Pet Care?
Virtual pet care is easy and accessible no matter where you are. Opting to use virtual pet care is a great way to provide your pet with more well-rounded care while avoiding costly and timely in-person appointments that may not be necessary for every situation.
Online pet care can provide your pet with a happier and healthier life. The easier and more accessible it is to get your pet the care they need, the better their life will be with you at home. For busy pet parents, it is also a great way to stay on top of their health and well-being while still fitting it into your schedule.