At this point in your life, you've probably never seen an owl with legs as long as its own. Owl leg photographs on Google have spawned a slew of pieces that poke fun at the cuteness of it all. Do not be misled by the thick layer of feathers covering the owl's body; they would have you believe that an owl is nothing more than a fluffy ball with little claws poking out, but this is far from the truth.
So, why are owls' legs so long?
The owl's greater strength is mostly needed to kill and carry their prey while hunting.
What's the Mystery about Owl legs?
There are about 200 different types of owls in the globe, each with its own unique behavior. Typical owl features such as spectacular plumage, powerful talons, and large eyes are common knowledge, but what about the bird's legs?
So many people have been attracted by images of owl legs that have gone viral on the internet. The reason for compiling this guide is to answer some of the more common inquiries about owl legs.
When it comes to protecting themselves from the cold, owls have thick down coats that conceal their lengthy legs. Among owls, the Burrowing Owl is the most common, although there are only a few species that have entirely bare legs.
Owl Legs Meme
There are various owl legs memes floating on the internet, here is one of them:
Owl Long Legs Are Freaking People On The Internet
In addition to their large, captivating eyes and the reality that they can spin their heads nearly 360 degrees, eagles have a unique feature that you may have never noticed.
You may be shocked to learn that the thick-feathered animals actually have large legs. Owl long legs are actually a benefit for them.
Reading Suggestion: Pitbull Chihuahua Mix Personality Trait, Puppies and Weight
Owls Have Long Legs And How They Benefit From It
The lengthy legs of owls are a perfectly natural adaptation. The deadly talons of hunting are powered by these legs. Owls have long legs because owls attack and catch prey with their feet first, it would be absurd for them to have such weak claws. To support their razor-sharp talons, they must have long, powerful legs.
Because of their incredible power, owls' talons are the strongest of any raptor's. They can wedge their talons into prey with roughly 30 pounds of pressure. It is normal for owls to have long legs and an inclined pelvis since they hunt largely with their feet. Additionally, their legs and feet have long fibulas that allow them to move their legs and feet in a variety of ways to catch prey.
Are Owl Legs Long Helpful?
Yes, the thin and long legs of owls have various benefits. Owl legs are long because:
Flight
They look to be fragile and thin, but an owl's leg muscles have the ability to hold its prey firmly in place. An owl's large feet and legs make it possible for it to fly.
When it comes to flying, an owl's primary concern has always been how to keep its weight centred and balanced so that it can remain stable in the air.
The big muscles in the upper legs, which are located near to the body, help to evenly distribute the animal's weight.
Walk
Despite the fact that owls can walk, they don't spend much of their time doing so. They prefer to perch in tree limbs, scanning the horizon for tasty morsels.
When it comes to birds of prey, the burrowing owl is an outlier. They usually hunt on the ground, but they do use the air once in a while.
They are able to run and walk at high speeds as a result of this, which helps them catch and consume their prey.
The ability of owls to walk backwards, like humans, surprised me. Three of an owl's talons point forward, while one points backward.
Owls are able to walk in various directions thanks to this structure, which provides them a sense of equilibrium.
Owls also can run, but nothing is known about how fast such birds of prey are capable of doing so.
Owls often hunt from of the air, swooping down on their prey as it flies beneath them. In the case of the burrowing owl, there is no such thing as an exception.
Kill
An owl's strong talons are a formidable weapon.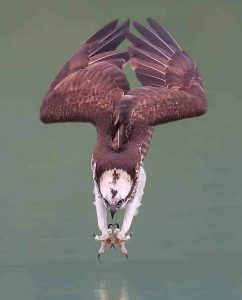 In terms of grip strength, I was surprised to learn that a Great Horned Owl's talons have a force strength at around 200-500 PSI (pounds per square inch), which would be equivalent to the bald eagle's 400+ PSI.
An owl's prey can be crushed with this much force.
Prey animals are subjected to roughly 30 pounds of pressure from the clawed prey when the claws are squeezing them, although this pressure is actually generated by the talons' legs.
The owl's tilted pelvis connects the owl's lengthy legs. A typical trait among animals that hunt primarily with their paws is this (or claws).
Additionally, the owl's lengthy fibula aids the bird in rotating its legs and feet. An owl's prey will be easier to grab if they are able to roam about more.
Leg length is another factor that enables an owl lift four times its own weight. For example, the great horned owl has been known to hunt cats and small dogs as prey.
Picture Of Owl Legs
One of the picture of owl legs exposing how long they are: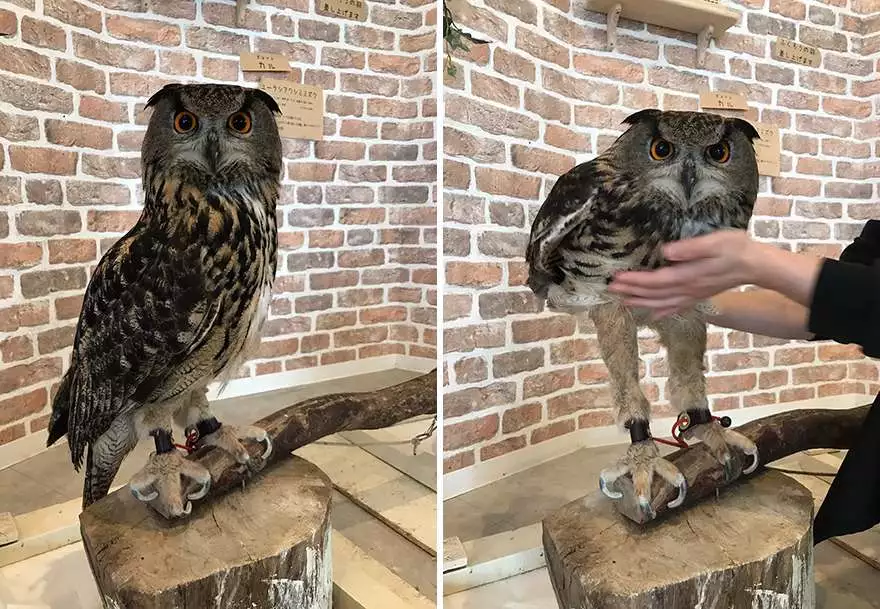 Frequently Asked Question
Do Owls Have Long Legs?
It's hard to believe, but owls have extremely slender legs for their size. The legs of an owl can appear to be quite thin and delicate when compared with the rest of the animal! Short torsos, lengthy limbs, and long feet all serve the same function: flight.
How Long Are Owls Legs?
An owl's legs can measure up to half of its total body length.
As a result, owl leg height varies widely among different species. The main reason for this is that there are a wide variety of sizes and shapes of owls, ranging from the enormous to the minute.
Do Owls Have Long Legs Under Their Feathers?
Many individuals have changed their perception of birds of prey after seeing images of what lies behind an owl's beautiful feathers. It turns out that owls have extraordinarily long and thin legs.
Why Do Burrowing Owls Have Long Legs?
The legs of the majority of owl species are concealed by their feathers, however, the barn owl is one exception.
Leg muscles dictate the power of this nocturnal hunter's grip, therefore it's no surprise that they have long legs to help them catch prey!
How Long Are Barn Owls Legs?
Most owls' legs are hidden by their feathers, but the barn owl's are clearly visible. They have long legs to assist them catch their prey because their grip strength is derived from their leg muscles, therefore it's a no-brainer!
Why Do Owls Have Long Legs?
The legs of an owl are not just for show; they have a functional role as well. Owls are known for their formidable talons, which they employ to catch and kill prey, so it only makes sense that they need muscular legs to take off any prey that they grab. An owl's legs are also employed to extend, allowing them to hit their prey with more accuracy.
Other owl species do not live in holes in the ground like the Burrowing Owl does, and they also hunt on the ground (as well as by air). However, they are able to fly, but they aren't as effective as other owls in this regard.
What Owl Has The Longest Legs?
The Eagle Owl (Bubo bubo) is supposed to have the longest legs among owls, albeit this is a theory that has yet to be proven. This is based on the fact that they are one of the world's tallest owls on average.
If this is the case, their legs could measure anywhere from 20 to 30 centimetres in length.
What Do You Call An Owl'S Legs?
Legs of an owl don't have a specific name, so they are simply called legs.