We'd all love it if our dogs could live forever. Unfortunately, pet owners have to deal with the passing of their pets at some time. Different breeds have different expected life spans but you won't know exactly how long your dog will live. Therefore, you need to be on the lookout for signs  that your pet may not be with you for much longer.
This is when you'll start talking to your veterinarian about what to do next. To provide the best care possible for your pet in their final days, you need to know when it's time to let go. Let's look at some of the indicators that you'll soon have to say goodbye to your canine pal.
Signs Your Dog's Health is Decreasing
The sooner you realize what is happening, the sooner you can provide the necessary comfort and care to your pet.
Reading Suggestion: 900+ Best Bird Names for Budgies, Parrots, Cockatoos and More
Loss of Interest
Dogs tend to lose interest in things around them when they are approaching the end of their life. Your pet may stop greeting you at the door or they may not want to play with their toys anymore. A loss of interest is actually one of the first signs that your pet's quality of life is starting to decline. It can occur for several reasons including:
Pain when moving
Increased tiredness
Challenges with mobility
Depression
A dog who is dying may display symptoms of depression. He may not necessarily know that he's dying but he may simply not feel well. Depression may result in:
Withdrawal
Changes in sleeping patterns
A lack of response to attention
Disinterest in things the dog once loved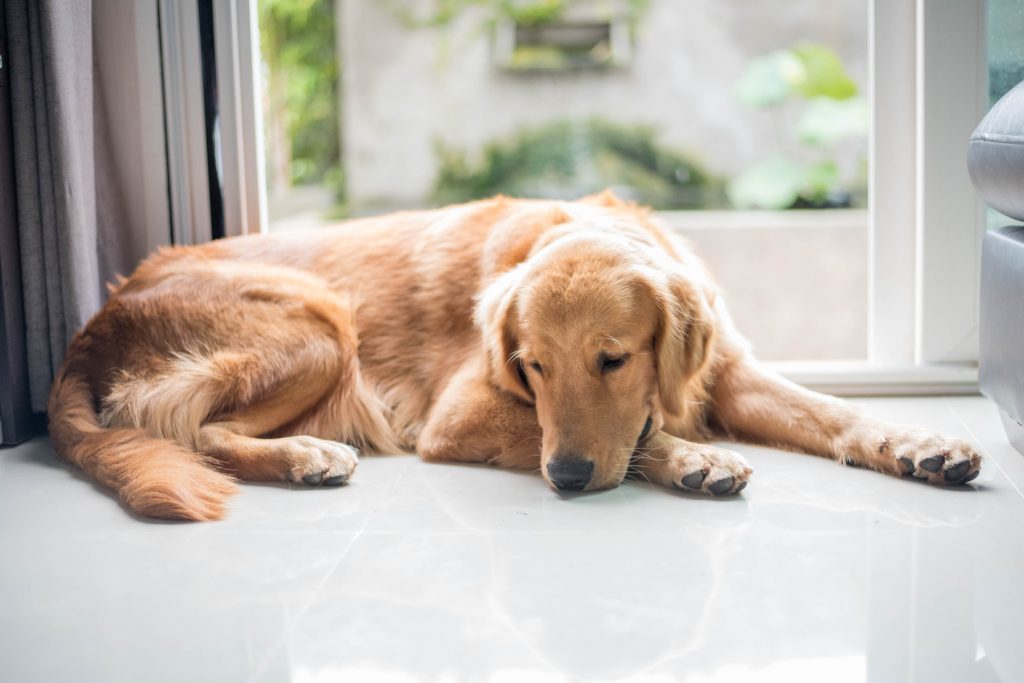 Depression in animals is usually treatable but if your pet is at the end of life, it may not be easy to relieve the symptoms. Dogs who are very old may not respond well to medication. Be sure to talk to your vet about all the options.
Problems with Balance and Movement
Dogs can lose their sense of coordination as they get older so your pet may stumble or trip when walking. They may even need help with moving. The difficulties with balance may be due to a loss of muscle strength. The animal may also be affected by poor eyesight or problems judging distances. Challenges with movement may be the result of joint pain and stiffness.
Reading Suggestion: German Shepherd Poodle Mix: A Family Crossbreed Dog
Irregular Breathing
When animals are very close to death, their bodily functions often become impaired. Therefore, your dog's breathing may become very irregular. It may be slow or fast. It may also alternate between normal and labored. If your dog begins to have trouble breathing, you need to call your vet immediately.
Irregular breathing is often one of the last signs a dog displays when dying but it can go on for some time. You'll want your pet to be as comfortable as possible during their last moments.
Loss of Appetite
A decline in appetite is another sign that your dog is dying especially when it's coupled with chronic illness or advanced age. Loss of appetite can be due to general disinterest or digestive problems. An aging dog's body may no longer digest foods as well and may vomit often.
Incontinence
Bladder and bowel control may also weaken as an animal nears the end of its life. You'll notice if your dog is wetting or soiling themselves frequently. It could be because the dog no longer has muscle control or they lack the energy to get up and go outside.
What to Do When You Notice These Signs
Pets  will have health problems from time to time. However, when they're having more bad days than good ones, you need to talk to your vet about the next steps.
Putting the Animal to Sleep vs. Allowing Them to Pass Naturally
If there are no more treatment options left, you may have to decide between allowing your pet to pass naturally and putting them to sleep gently. Pet owners don't always get a choice since some dogs pass away before they can see a vet.
However, if you have the opportunity to make a decision, you should prepare as much as possible beforehand. You may find it difficult to make up your mind and as circumstances change, you may move from one position to another.
Some people start out wanting the pet to pass naturally but then the animal's suffering drags on for weeks. Others plan to have the animal put down but then wonder if it may be too soon. The main benefit of putting your dog down is that your pet will pass quickly and painlessly. For some people, this is easier to handle. However, it's very much a personal or familial decision.
Reading Suggestion: Top 10 Easiest Dog Breeds to Train and Take Care
Burying Your Pet vs. Cremating Them
Whatever route you decide to go, you'll eventually have to choose between cremation and burial. If you have space and backyard burials are allowed (check with your local burial guidelines and regulations), you may opt to lay your dog to rest right at home. However, you also have the option of cremation. This may be best if your dog is big or you don't have the space to bury them.
Regardless of what you do with your pet's remains, you can create a lasting memorial. Some people get customized headstones while others frame a photo or drawing of the pet. You can also look into dog urns if you opt for cremation.
Pet urns for dogs can be decorative, functional, sentimental, or some combination of these characteristics. If you want to divide the pet's ashes among multiple people, cremation jewelry may be a better option.
Take Your Time to Process Your Grief
It's normal to feel a mix of emotions after a pet dies. It doesn't matter whether they passed away naturally or you had to put them to sleep. Be sure to rest, go for walks, and do whatever you need to do to take care of yourself. You'll always love and remember your canine friend but over time, you'll start to feel better.