Everyone gives their dog a treat now and then. Whether your dog is being a good boy or good girl, obedient during training sessions, or just at random moments where you feel like spoiling them, a dog treat is a way to go.
Although feeding your dog many treats isn't healthy, it is convenient to have them on hand when you want to reward or spoil them. A dog treat jar allows this convenience and the protection it provides against pests—even better if a personalized one.
Personalizing Dog Treat Jars
An added feature with select dog treat jars is the customization. Aside from its aesthetics, the primary purpose is to create labels to identify to whom it belongs quickly. You can indicate your dog's name, your favorite color, or choose a phrase to put in the jar.
Aside from the colors, most personalized dog treat jars also come in different sizes, and some with only a limited number of characters, font styles, or characters to fit the jar's surface.
You can have a colored dog treat jar—baby blue, red, or pink–whatever you like! You may politely ask the store if they can accommodate your request. Also, know that the quality and effectiveness of the jar should not change after being personalized.
Reading Suggestion: Best Happy Dog Food
Types of Dog Treat Jars
Dog treat jars can be made of different materials, namely glass, acrylic or plastic, metal or aluminum, or ceramic. Each type carries its advantages and drawbacks, so to know more about these, here are the types of dog treat jars you can choose from:
Glass Dog Treat Jar
Glass dog treat jars are generally dishwashing safe and can be safely stored in the fridge or freezer. Furthermore, this material is BPA-free, ensuring that your dog treats are safe to consume.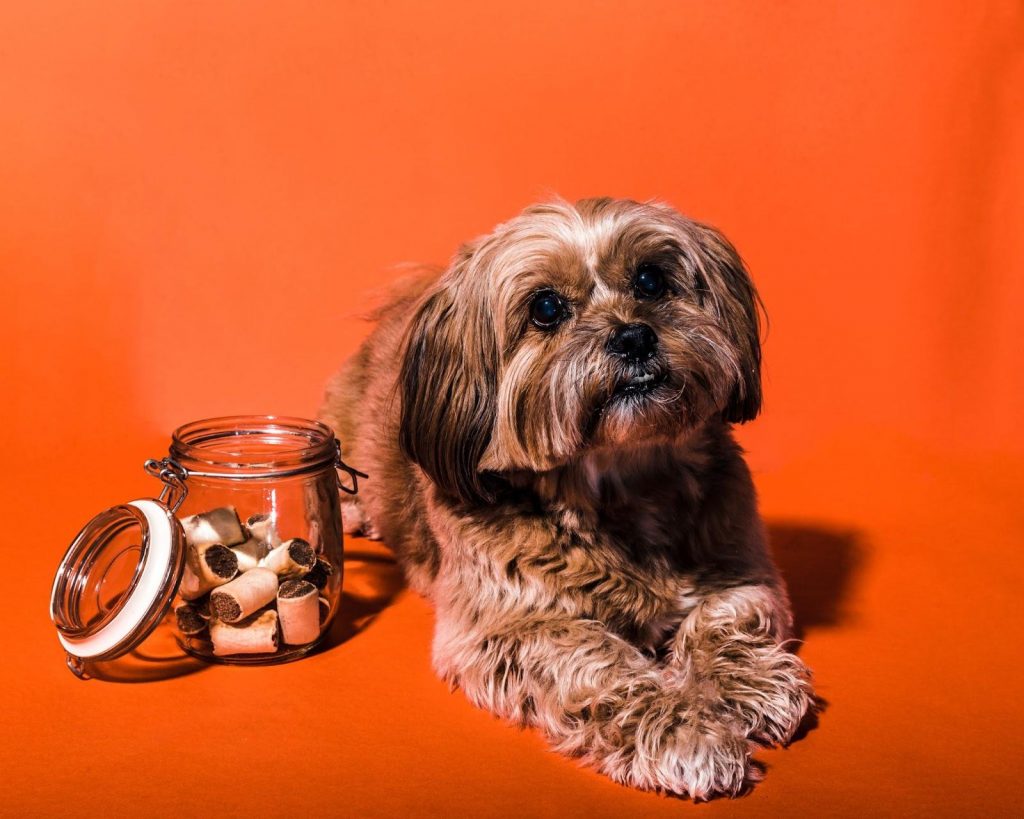 However, the drawback with glass-made jars is their weight, as they can be heavy. Further, it can shatter easily when dropped or bumped into something with a strong impact.
Clear Acrylic Dog Treat Jar
Opposite a glass dog treat jar, storage made from plastic or acrylic is lightweight. It can also be stored in the freezer, is easily decorated, and is highly customizable. You can also easily see what's inside because the material is transparent.
Alternatively called a clear acrylic dog storage bin, the conditional quality of this material is its safety against BPA and other chemicals. Before buying an acrylic dog treat jar, ensure that the particular product is BPA-free to protect your pup's health.
Further, not all acrylic-made jars are not dishwasher safe. It can also be susceptible to breakage when dropped, especially if the quality of acrylic is low.
Metal/Aluminum Dog Treat Jar
Some of the advantages of a metal or aluminum-made dog treat jar are that it's lightweight, free from BPA and other harmful chemicals, and can be kept in the fridge.
On the other hand, some dog treat jars made of this material may not be dishwasher safe, and you cannot see through the jar because it is not transparent.
Ceramic Dog Treat Jar
Ceramic-made dog treat jars share the same characteristics as glass-made ones. They are both BPA-free and highly decorative. Likewise, both can be heavy and shattered quickly.
As to their safety, ceramic dog treat jars are not generally BPA-free and dishwasher safe, but most of them are.
Things to Consider When Buying Personalized Dog Treat Jars
Whether you buy a dog treat jar for a low or more expensive price, you must ensure that your product is practical. And thus, before you buy a dog treat jar and make it customized, here are the factors that you should consider:
Aside from personalized dog treat jars, most of these factors are also applicable when you buy a dog treat bowl or a dog treat holder.
Size and Weight
If you utilize your fridge or freezer to store the dog treats, the jar's size should be enough to fit the space. Although if not, the jar's size still matters depending on the area where you will put it.
Likewise, if you expect to carry the dog treat jar with you most of the time, you may want to pick the one with the ideal weight for you as the carrier.
Budget
Some dog treat jars can be expensive, especially if you have them personalized. Before buying one, make sure that you are aware of your budget so you will not overspend.
Freshness Seal
While dog treats can have a long shelf-life depending on how they were made, your dog would always want a fresh delight. Storing them in the most appropriate dog treat jar will help them last longer. It would help if you used an airtight jar to prevent moisture from spoiling your dog's treats.
Washability
Is your dog treat jar easy to wash? If so, is it dishwasher safe? Ensure your container can handle the probable harsh chemicals that may come with the dishwasher. Easy-to-wash jars are also preferred for the convenience and safety of the jar itself.
Safety against BPA and Other Chemicals
While most dog treats can be unhealthy to dogs if given too much, you wouldn't want to feed your pet anything with harmful chemicals.
Many plastic treat jars contain BPA and other toxic chemicals for dogs, which can leak into the goodies over time. These chemicals are harmful to your dog's overall health and well-being, and thus, choosing a secure container should also be a top priority.
Aesthetics
Aside from the functionality, the aesthetic of the dog treat jars is also a priority for some. If you are not going to store it in the fridge, most likely, you'll place this item on a kitchen counter or a shelf where it will be conveniently accessible.
Because you don't want to put up a cheap eyesore that detracts from the aesthetics of your property, take the jar's design seriously as well.