It is a well-known fact that religious texts and books have mentioned certain animals. The Bible has talked about various animals – from a whale – Jonah's fish – to ant. It also mentions, in quite a few instances, dogs.
Dogs – our adorable little pets – are thousands of years old, and they have had a long journey from specifically guarding dogs to becoming domesticated pets.
But do you know that the Bible talks about a certain dog breed? We know what you're going to ask: what is the only dog breed specifically mentioned in the Bible?
This article is just about that! We will not only give you the name of 'that dog' but also list down certain facts. So, do you have guesses? No? Read on to find out:
The answer is 'Greyhound'.
What Does Bible Say About Dogs?
Many people believe that since the word 'dog' is used in a derogatory manner in the Bible, the religion forbids people from keeping a dog as a house pet. This is wrong. There are so many examples in the religious scripture which tell us that God does ask people to treat all kinds of animals nicely.
Reading Suggestion: Pitbull Corgi Mix – An American Pitbull Terrier and Welsh Corgi Breed
Noah's Ark
Those who have read the Noah's Ark story will know that Noah was asked to call all living creatures on board. There was no discrimination, and it was specifically mentioned that all living beings would be taken care of.
Seven Sleepers
Another important incident that the religion talks about is about the seven people of the cave. It is said that these people had a dog with them. This guard dog was responsible for the people's safety. The story implies that dogs are faithful companions which can be given important responsibilities.
What Does it Mean to See a Dog in Your Dream?
Dogs are ferocious animals. And since they were guard dogs, they are territorial as well. Whenever a person sees an angry dog, they immediately think that this is how a dog would normally behave.
But this isn't true. Dogs act a certain way because they want to protect their or their master's space. If you are a visitor at a house and your host's dog is unfamiliar to you, there are chances that it will not be welcoming of you. This dog's behavior shouldn't be associated with unwanted aggression.
A dog knows people its owner meets, so anyone who is a stranger to it would be unwelcome. But, in reality, dogs are associated with traits like loyalty and faithfulness. Dogs in a dream are a sign of protection and loyalty. They may hint at the fact that a person(s) in your life has these impressive traits.
On the other hand, fighting dogs don't bring a good omen. Any dream that revolves around fighting or angry dogs suggests that you may face some internal conflicts. Better to check what's happening in your surroundings and with whom you can have some sort of disagreements?
Greyhounds' Popularity in the Past
Greyhounds were a popular dog breed. Many people would prefer them because of their speed and hunting instincts. There is a fascinating fact associated with Egyptians regarding this dog breed. In earlier days, Egyptians would place immense importance on Greyhounds.
Their birth was second to the birth of a son – in terms of jubilations and celebrations. In the case of the death of a Greyhound, Egyptians would go in mourning. Such facts just proved how the breed has been popular in the past and how it hasn't lost its importance ever since.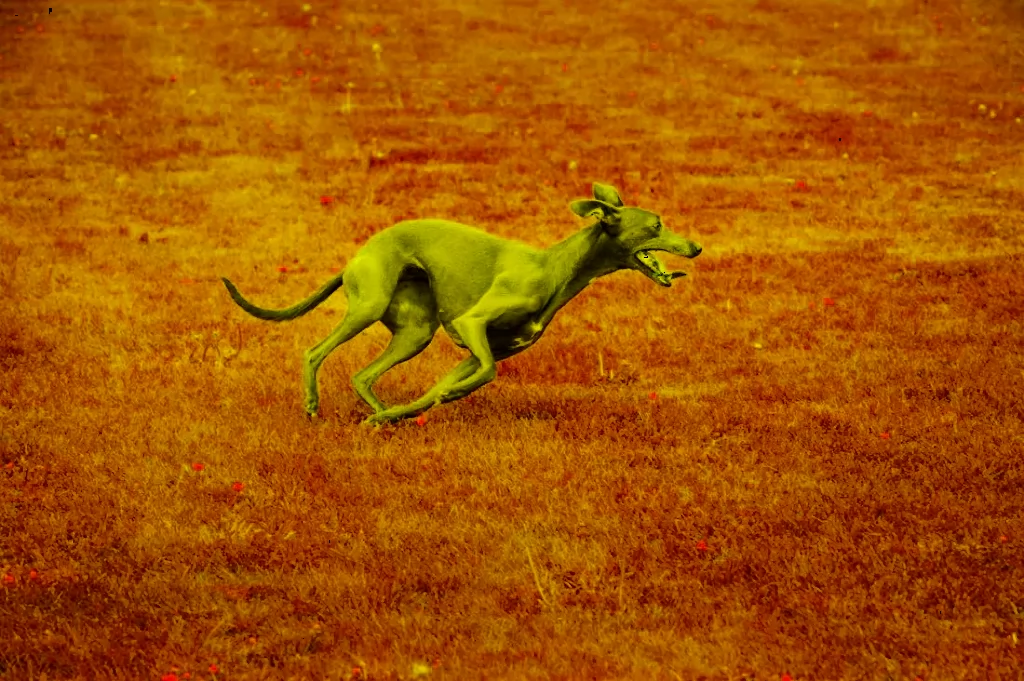 Some Fascinating Facts about Greyhounds
Here are some interesting facts about this dog breed, which will make you want to have one immediately.
Dark Doesn't Bother Them!
Greyhounds can 'see' in the dark. And this is great for them as well as for you. Suppose you're out in the woods with your dog, and you've lost your way. It's getting dark, and you have no idea what to do. Well, let your dog be your guide.
Reading Suggestion: Pitbull Chihuahua Mix Personality Trait, Puppies and Weight
They Are Mostly In the Air
Greyhounds, when they are running, can be in the air for 75 percent of the time, which is quite impressive. They are the second fastest dog breed. They can run between 39 and 43 miles per hour.
Healthy Pooches
Some dogs are prone to developing some genetic disorders. Greyhounds are healthy dogs that are not prone to diseases – this doesn't mean that they don't get sick. So, fewer vet trips, maybe!
Sensitive Dogs
Greyhounds look like fast-speed, no-nonsense creatures, but they are quite sensitive. Any negative change in surroundings or some toxicity at home will greatly affect them. So, keep an eye on them if they show any strange behavior.
Frequently Asked Questions
Q: Is it a sin to keep a dog as a pet?
Ans: No, there is no prohibition on keeping dogs as pets. The rule is a bit different for monks and nuns – all those people who have devoted their lives to God. They are preferred not to keep a dog so that they don't have any distractions.
Q: Can I keep a Greyhound as a family pet?
Ans: We don't see the reason why not. Greyhounds are extremely playful in nature and make a great family dog. They love hanging out with their humans, so they will be great for both small and big families. And while it is true that these dogs love to run – at high speeds – they also don't mind pausing for quite some time. On lazy Sundays, they will lie down beside down and bathe in the sun.
Q: What is the life expectancy of a Greyhound?
Ans: These dogs – like most dogs – can live up to 14 years. It is also important to mention that domesticated pets often have a longer life span. So, your dog may cross the given timeline.
Reading Suggestion: How Much Does It Cost to Dog Taxidermy?
Q: Can I keep a Greyhound as a first-time dog parent?
Ans: All dogs need extensive care and love at their new homes. Greyhounds are a bit independent dogs and like to do things their way. They may show tantrums during their training phase. It doesn't mean that these dogs cannot be trained at all. It is just that they may need someone who knows how to handle dogs.
First-time owners are capable of handling any kind of dog breed. But Greyhounds may be a bit intimidating for them. So, if you are first-time dog parents, you should go with a smaller dog breed, which is easier to handle. It is great for your confidence as well, as your experiences will make you a better dog parent.
Q: Can Greyhounds be trained?
Ans: Yes! With proper technique, you can train all dogs. Greyhounds' physical features do intimidate owners. But this doesn't mean that the dog breed cannot be trained. They are extremely cooperative and will not give you a hard time. Yes, for first-time owners, managing them can be a bit difficult.
The Final Word
Greyhounds are well-mannered dogs that can make a great addition to your family. If you are a dog lover and want to have a playful dog, you should consider adopting one.