Did you know that about 3 million American households have a cat, while almost 70 million households have a dog! Together, those households create demand in the pet food production industry worth more than $27 billion every year!
Of course, that is nothing compared to the joy that pets bring to their owners. Many owners want to take care of their dogs by learning about the ingredients in dog food. That way, they can better provide for the nutrition of their best friend.
So what are the most important things to understand about the ingredients in dog food? Read on to learn all about healthy and unhealthy ingredients in your dog's diet!
Reading Suggestion: Happy Dog Food Review and Recommendations for 2022
Unhealthy Ingredients in Dog Food
Many common dog foods are made of almost nothing but unhealthy ingredients. If you are not careful, your dog will consistently live with poor nutrition.
White Flour
White flour is worse for dogs than it is for people. This is because this simple carbohydrate contains next to no nutrients.
On top of that, white flour acts like sugar in the body. It can rapidly adjust the blood sugar levels of dogs. It can also leave them hungry again very soon.
The result is that your dog experiences shifts in mood and a desire to eat more and more. This can lead to obesity and the health problems that come with it.
Artificial Food Coloring
Artificial food coloring does absolutely nothing for your dog. In fact, your dog cannot even see the color. Artificial food coloring is only added to dog food to convince owners to buy it for their dogs.
On top of that, some of the common food coloring ingredients can provoke allergic reactions. There is no reason to risk that with an ingredient that provides nothing in nutrition.
Corn Syrup
Corn syrup is worse than white flour. It is nothing but pure sugar. Nevertheless, some dog food manufacturers use it to give food an illusion of freshness and substance.
As with white flour, it can provide a ton of calories and very little satiation. Unfortunately, that can also lead to obesity and accompanying health problems. Your dog might even develop diabetes.
Reading Suggestion: Platinum Dog Food Reviews and Recommendations [Updated 2022]
Vegetable Oil
Some people do not realize how unhealthy many common vegetable oils are. In particular, the cheapest vegetable oils can cause inflammation in the body. Unfortunately, those are exactly the kind of oils that often end up in dog food.
Farmed Salmon
Farmed salmon will often carry toxic chemicals in their bodies. These can include pollutants and even things like mercury. They can increase the prevalence of cancer both in dog and human populations.
Healthy Ingredients in Dog Food
It is not that hard to provide healthy nutrition for your dog. Most of the ingredients that provide the best nutrition are obvious when you think about it.
Meat
Meat provides many of the essential nutrients in the diet of a dog. It is a high source of protein that can provide your dog with energy and strength. Sometimes, the meat in dog food is mixed with eggs. This can provide additional benefits. The eggs can help your dog to maintain a lustrous coat!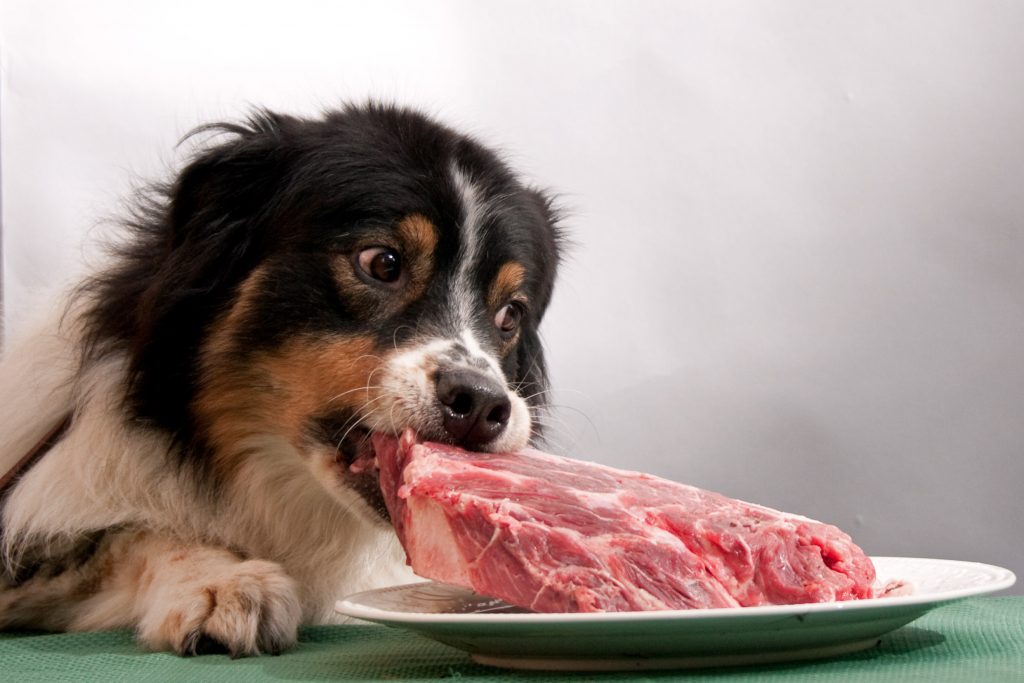 Some people think that meat meal is an inferior version of meat. However, it has certain advantages. For example, it often has a denser quantity of protein than regular meat.
Reading Suggestion: Best Dog Food For Allergies 2022
Vegetables
Dogs can survive entirely on meat. However, the ideal diet will also include some vegetables. Vegetables are a great source of vitamins and minerals that are hard to get in a diet that consists only of meat and other animal products.
In particular, vegetables can provide things like potassium and vitamin C that can help keep your dog in the best shape possible. Many of these vitamins provide the same health benefits to dogs that they provide to people.
Healthy Fats
After protein, the most important thing that dogs need is healthy fats. Unfortunately, some people still think that fats are unhealthy because they have so many calories in them. However, calories are an essential part of every diet. On top of that, healthy fats provide more than just calories. They can help keep your dog's organs working and their coat looking shiny.
Healthy fats are also more satiating than carbohydrates. That means that your dog will not need to eat as much food to feel full. That can help prevent obesity and diabetes.
Vitamins and Minerals
Depending on your dog's protein in its diet, you might need to find a dog food that adds iron. You might also want to look for a dog food containing calcium and vitamin A.
Once you understand the importance of healthy dog food, you might want to set up a system that allows you to provide the best dog food for your best friend.
A dog food subscription can provide dog treats and food to keep your dog healthy.
Understand the Essentials About Ingredients in Dog Food
We hope learning about the ingredients in dog food has been helpful for you. People spend a lot of time learning about their own nutrition, and for good reason! Good nutrition can affect your short-term mood as well as your long-term health and enjoyment of life.
Not everybody spends as much time thinking about the nutrition of their dog. However, doing so is an investment in the health and happiness of your pet. To learn more about the latest information on pets, nutrition, and more, check out our other articles!