We Compare 9 of the best models of cat food dispensers, in order for you to evaluate their characteristics and make the best buying decision. The idea is that you invest in a product that is appropriate for your pet's nutritional needs.
Cat Food Dispenser
Umei 3litre Automatic Pet Feeders for Dogs and Cats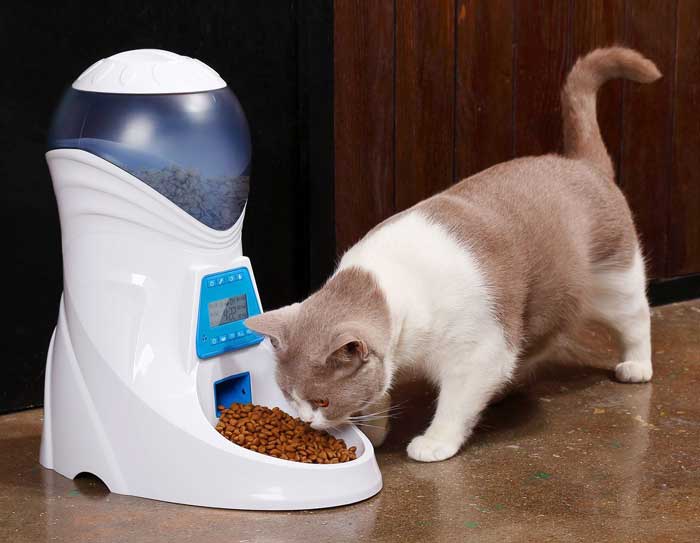 Cats are demanding when it comes to eating, so they require rations of food that are always fresh; That is why a programmable cat food dispenser, like this Umei model, could be a solution to feed your pet with freshly served food.
It is a device that works with a USB connection and in case of power failure, you can use 3 alkaline batteries type D; so your pet will always have the feed it needs. Likewise, it offers a capacity of 3 liters for dry food, and thanks to its automatic programming, it can serve 4 meals with portions ranging from 5 to 195 g.
In addition to this, it has a 10-second voice message function, a plus that only one of the best cat food dispensers of 2021 could offer.
If you are looking for a controlled feeding for your cat when he is home alone, you could consider this dispenser. For more details, know its pros and cons.
Materials: It is a dispenser made of impact-resistant ABS plastic and easy to clean.
Dimensions: Its dimensions are 37 x 29.5 x 21 cm; So it is a device that you can put in any corner without taking up much space.
User manual: Includes a user manual with explanations in Spanish and color illustrations for correct use.
Cable: Some curious cats may nibble on the power cable, so it is advisable to hide it to avoid an accident.
Lacyie Automatic Food Dispenser with Timer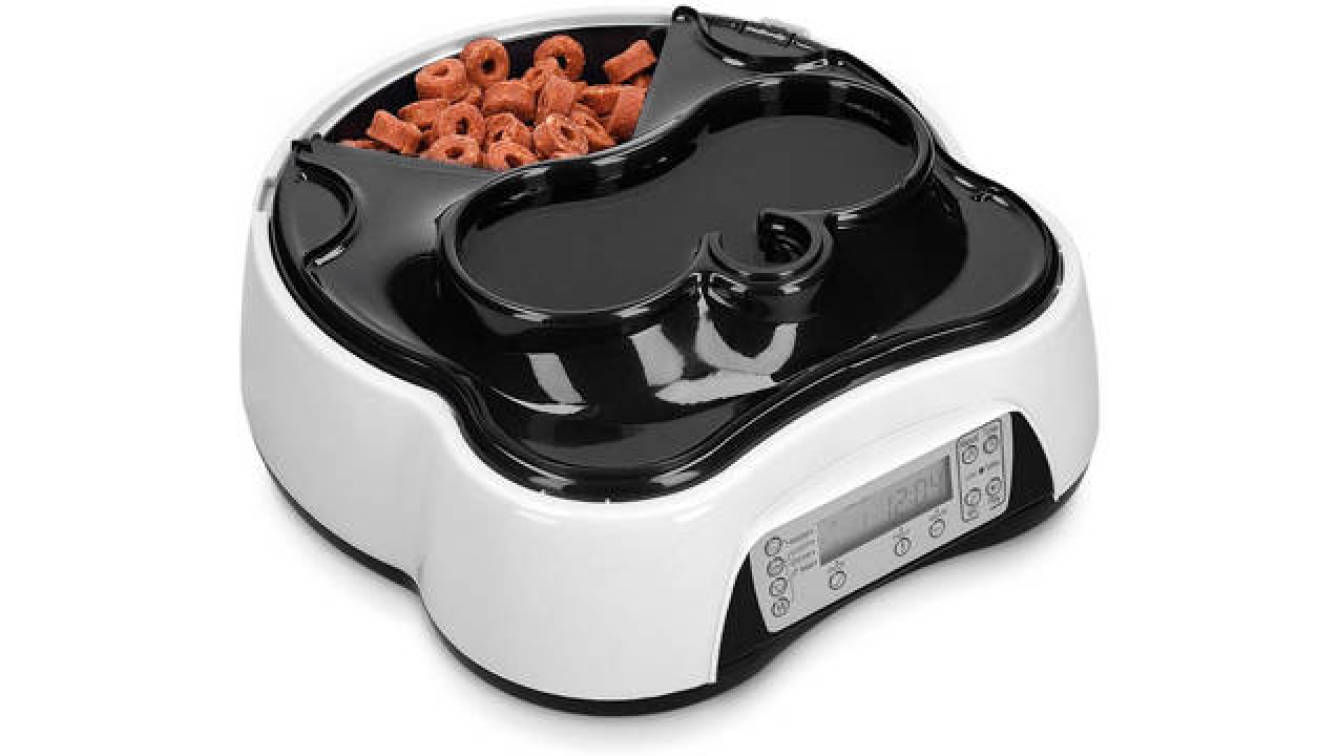 A programmable/automatic cat food dispenser is a tool that helps you monitor your pet's food portions, thus avoiding eating irregularities. In this sense, this model is designed to meet the nutritional needs of animals such as rabbits, ferrets, cats, and small breed dogs.
Its rotating format with 6 grids allows you to store 128 ml of food, either wet or dry feed, and then automatically serves it for 6 continuous days at the chosen time. For this, it has an easily configurable panel with which you can program up to 6 different times for the 6 servings of food.
Its operation is by means of batteries and its control panel indicates the level of charge so that you can take precautions if you are going to leave the house. It also has a musical mechanism that is activated to remind your pet when it is time to eat.
Next, we present a summary of the main aspects of this device; an easy-to-use and very useful model.
Variety: It is a product that can serve dry and wet food, which favors a varied and balanced diet for the animal.
Detachable: Its detachable design allows you to easily fill the necessary amount while facilitating cleaning.
Power: It is a device that works with batteries, so you do not need to have a power outlet nearby.
Programming: Its programming only allows dispensing a daily portion of food; the good thing is that each serving is 128 ml.
Automatic cat food dispenser
HoneyGuaridan Automatic Feeder A36 Stainless Steel Container
The best cat food dispenser is the one that gives you not only efficiency and functionality but also a modern look that harmonizes with the decoration of your home. Such is the case of this model, which offers an elegant design with straight lines and a container made of high-strength stainless steel.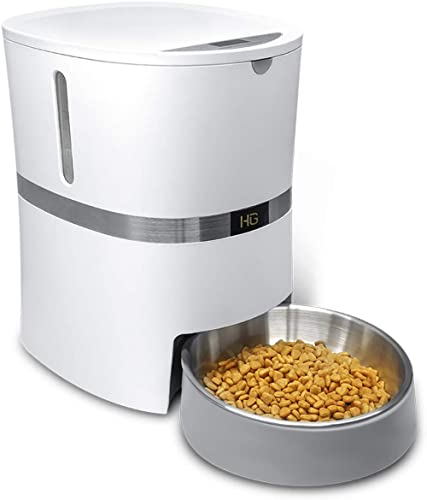 This automatic cat food dispenser is capable of dispensing small portions of feed as often as you indicate in the programming; being able to dispense up to 6 meals per day. Likewise, each serving can contain from 5 to 10 grams.
In turn, it offers you a capacity to store 1.5 kg of dry feed, so it can serve up to 48 servings; enough for several days. In addition, its structure is made of ABS plastic that offers a long service life.
HoneyGuaridan provides quality of life for your pet, which is why it could be the best brand of cat food dispensers. Keep reading more about this model.
Technology: It is equipped with infrared technology that detects the full container, it also has a light alarm that warns of low food levels.
Voice message: You can record a 10-second message and call your pet to eat with its loudspeaker.
Blocking: Thanks to its motor reversal design, you will not have problems with feed jam.
Beep: The control keys emit a beep when pressed which has proven to be annoying for some.
Reading Suggestions: Dry Cat Food: Advantages, Disadvantages?
Balimo 6L Automatic Feeder with Programmable Timer
With this automatic cat food dispenser you will no longer have to leave the feed tray full when leaving; which could cause food spoilage and encourage voracity when eating. For this reason, it distributes the food equitably and keeps it always palatable for the animal; while promoting a controlled intake.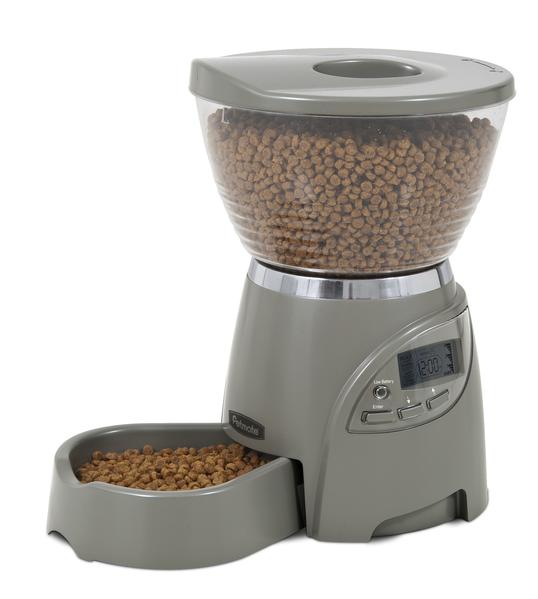 Thanks to its flexible program and timer, during the day it serves up to 4 meals, in which you can choose the number of rations your cat needs; with a maximum of 9 servings of 8 gr each. Likewise, its 6-liter capacity offers you peace of mind if you have to be absent for a few days.
Likewise, its design incorporates an LCD screen and a control panel that is easy to configure. In addition, it is a device made of food-grade plastic, easy to clean and its removable container favors hygiene.
It is a high-quality dispenser, recommended to take care of your pet and keep it healthy. Analyze their strengths and possible disadvantages.
Anti-jamming: It is a device with an anti-trapping design that prevents feed jams at the outlet of the duct.
Desiccant bag: It includes a desiccant bag that keeps the feed stored in an optimal state of conservation.
Capacity: Offers a tank to store up to 6 liters of dry feed, which favors feeding the animal for several days.
Humidity: In order to prevent humidity from deteriorating the food in the tank, you must renew its desiccant bag every mon
Puppy Kitty 7L Automatic Food Dispenser Voice Recording
If you are looking for the best cat food dispenser that avoids voracity, overweight and also provides your cat with the appropriate portion of food according to its nutritional requirements; you could take this model into account.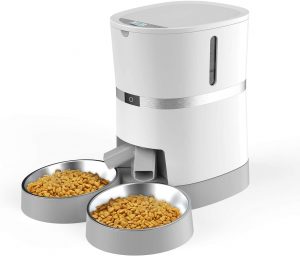 It is a dispenser that works with electricity and with batteries so that in the event of a power failure the device will continue to dose the feed without losing its configuration; so your cat will always receive its food on time.
Its design offers a deposit of up to 3 kg of dry feed and its programming allows you to adjust the food portions in 39 variants: from 10 to 390 grams; according to the diet and size of your pet.
Similarly, thanks to its timer, it can automatically dispense 4 meals a day according to the chosen schedule. Also, you can record an 8-sec voice memo.
This dispenser could be a solution to feed your pet in a healthier way. Pay attention to its positives and potential downsides.
Recording and audio: You can record a voice message for 8 seconds and the device will play the audio 3 times to stimulate your pet to eat.
Dosage: Its programming allows you to regulate the portions of food from 10 to 390 grams so that the animal will receive the appropriate amount for its diet.
LCD screen: Its design includes an LCD screen on its control panel, which allows you to easily configure and view the values.
Wifi: If you need a model with a Wifi connection, you could evaluate other options.
Reading suggestions: 200+ Unique Female Cat Names for Your Cute Companion
Navaris Automatic Pet Food and Water Dispenser
When what you are looking for is a simple but efficient model, this gravity-operated dispenser could be your best alternative to supply food to your pets and without the need to use batteries or electricity. It is also one of the cheap products available, so it could be the best value for money cat food dispenser.
On the other hand, it is a 2-in-1 model that provides fresh food and water to your pet for several days, thanks to its design and capacity. In this context, the dispenser offers you a bottle for water and another for dry food; each one has a 3.8-liter capacity. In addition, it includes a non-slip base for each unit.
Given its efficiency, it is a recommended model for small and medium-sized pets; since it provides enough food for their nutritional needs. It is also easy to clean.
If you have a limited budget and are looking for among the cheapest and most functional models, this gravity dispenser could be the most indicated.
2 in 1: With the purchase, you will receive two bottles with a lid and two bases; one for water and the other for dry feed.
Valve: The water container includes a safety valve that controls the outlet and prevents spillage.
Non-slip base: It has non-slip rubbers that favor stability and prevent the pet from accidentally overturning the dispensers.
Controlled meals: If you are looking to control your pet's meals, this model might not be the most recommended.
Navaris Automatic Pet Food and Water Dispenser
This automatic model from Umei is an especially useful product when you have to leave the house since your pet will have its food served at the indicated time. Due to its design, it is a recommended dispenser for cats and dogs of all breeds; thanks to its mill that admits the passage of small and large dry feed.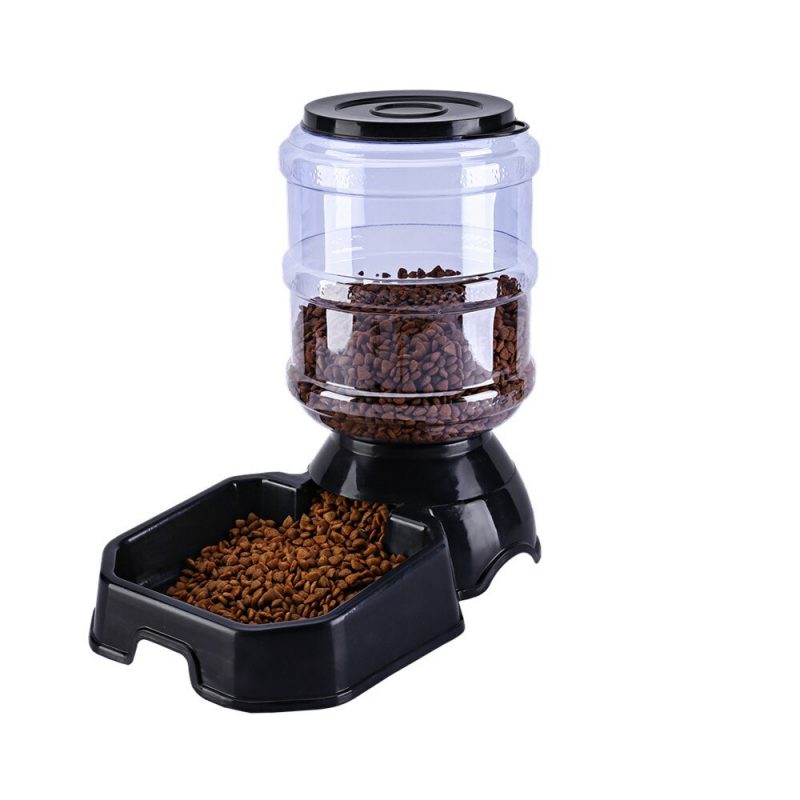 Likewise, it has a tank that offers a capacity of 6 liters; enough to ration several meals. In addition, it has a 10-second voice recording mechanism, which accompanies and encourages your cat or dog to eat.
In the same way, it is effective to effectively program the intake and favor the weight control of your pet, since you can configure up to 4 daily meals; each with different amounts of feed that can range from 5 to 195 grams.
This could be the best cat food dispenser around, thanks to its design and functionality. Evaluate its main aspects.
Portions: You can program up to 39 different portions, from 5 to 195 grams of feed for each meal and according to the needs of the animal.
Screen: Its design has a front screen with large digits, which makes it easier to view each configuration.
Capacity: Its tank admits different sizes of dry feed, up to an approximate quantity of 3 kilos.
Infrared sensor: The inclusion of an infrared sensor that detects the filling of the container is missing.
Reading suggestions: Boy Cat Names ; Find the Perfect Male Kitten Name
Young Automatic Feeder 5.5 L Large Screen Electronic Control
young has designed this food dispenser to give you peace of mind that your pet is well cared for while you are working or on vacation. With a programmable operation, you can configure the time, the portions, and the frequency of each meal per day, offering a minimum amount of 25 grams per portion.
Regarding its design, thanks to its high-clarity LCD screen and its panel with 5 buttons, you will be able to access the functions of this device; such as the time, meal programming, feed size, meals served and also, you will be able to know the status of the battery.
In addition to this, it is a dispenser that provides the capacity to store 5.5 liters of food. Therefore, your cat will have enough food to cover its needs for up to 12 days. Likewise, it has a removable, impact-resistant, and easy-to-clean tray.
This automatic dispenser could be your best ally every time you leave the house, to help you with the feeding of your cat or dog. More information below.
Feed: It is a device compatible with different sizes of dry feed up to 1 cm in diameter.
Dimensions: It has a size that takes up little space since its dimensions are 39 x 38.5 x 21 cm.
Storage: For the storage of the feed it has a transparent tank that favors the visualization of the food.
Shutdown: In the event of a power failure or low battery shutdown, you will need to reset the device settings.
HoneyGuaridan A68 7L Large Capacity Food Dispenser
For most pet owners, one of their main concerns is that the animal will run out of food when it is alone; so having an automatic food dispenser, like this model from HoneyGuaridan, could be the solution.
It is a product equipped with infrared technology, capable of detecting when the container is full of feed; which avoids the excess of food served. Likewise, it has a motor reversal mechanism that prevents the appliance from blocking and stopping the food supply.
Regarding its dosage mechanism, given that cats are animals that eat small portions during the day, this device serves portions between 8 and 10 g; being able to program up to 6 meals a day. In addition, its tank can contain 3 kilos of dry feed; enough to cover a diet of several days.
If you still don't know which cat food dispenser to buy, which gives you confidence and efficiency, you should take this model into account.
Power: It is a device that will serve your pet's food on time since it works with electricity and batteries.
Container: The container holds up to 600 g of food and is made of food-grade, shock-resistant, and hygienic stainless steel.
Frequency: You can program up to 6 hours of daily food, depending on the breed and size of the animal.
Large feed: If you use feed with a diameter greater than 2 cm, the appliance could get stuck.
Frequently Asked Questions
Can a rat get to food in an automatic cat food dispenser?
No, Use any of the above-mentioned automatic cat food dispensers to prevent your pet food from all others like rats.