Opinions on the best dog beds
In the market, there are different special accessories to guarantee comfort, safety, practicality, and functionality to the spoiled pets of the house. In this sense, a dog bed does not leave much to be desired, since depending on the model you decide to purchase, your canine pet could enjoy the comfort it needs to rest every time it needs it.
That being the case, below, we will present you with some beds that could satisfy both your needs and those of your dog each time he uses them.
Large Dog Bed
FEANDREA PGW03Z
Among the best dog beds of 2021 is the PGW03Z model, made with Oxford cloth, a resistant and durable material that gives you a very easy cleaning method to carry out. For its part, the interior of the bed is made of soft plush, while its filling is made of non-allergic or irritating polypropylene.
As for the dimensions of this large dog bed, they are 75 x 58 x 21 centimeters, while the dimensions of the cushion are 57 x 40 centimeters. It is important to mention that the cushion is completely reversible and removable so that your dog feels comfortable both in the winter and in the summer.
Likewise, it is a multipurpose model that you can use both indoors and outdoors. In addition, it is easy and convenient to transport.
If you want to buy the best dog bed of the moment, you should look at each of the details it has to offer.
Construction: The bed is made of Oxford fabric, while its interior contains soft plush and its filling is non-allergic and non-irritating polypropylene.
Dimensions: Its dimensions are 75 x 58 x 21 centimeters, while the cushion is 40 x 57 centimeters.
Cushion: The cushion is totally reversible, ideal to adapt it to the winter or summer season.
Multipurpose: This dog bed is totally multipurpose, so you can use it indoors and outdoors.
Lining: The lining available in the lower part of the bed is very delicate, being the part of the bed that makes contact with the ground.
Wooden Dog Bed
LJ-PET Deluxe
Dog beds have always been an ideal product to offer your pet a special level of comfort during rest hours. In this sense, the LJ-PET brand offers you the Deluxe model, available in different sizes so that you can acquire the one that adapts to the texture of your dog.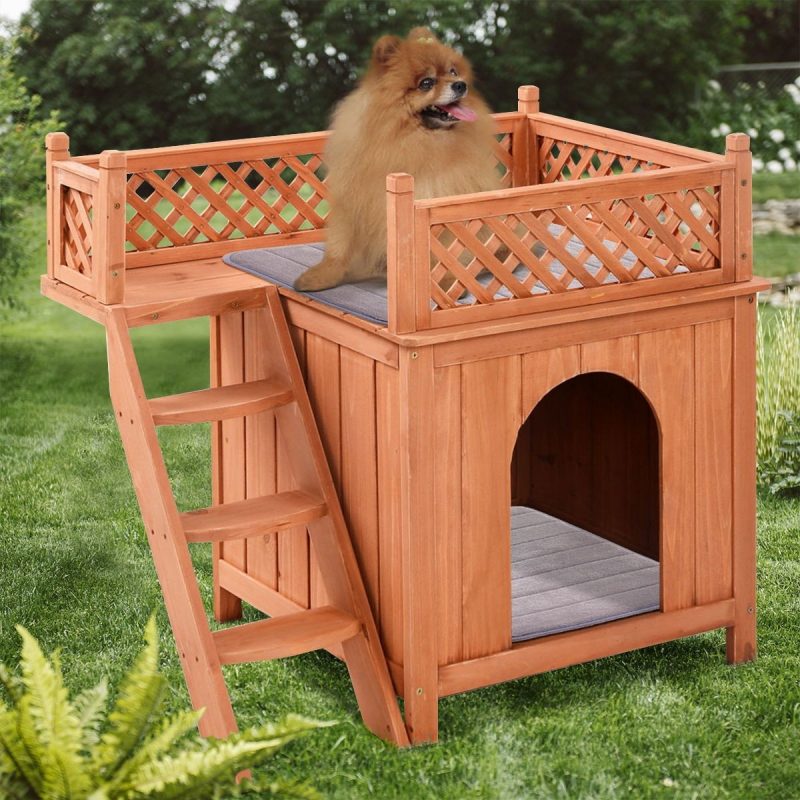 Thus, they are 53 x 38 centimeters, which corresponds to size S, 68 x 48 centimeters, size M, 80 x 60 centimeters, size L, 100 x 65 centimeters, size XL, and 120 x 70 centimeters, size XXL.
As for its manufacture, this product is composed of high-quality and durable wood capable of providing your pet with a considerable useful life.
It should be noted that this wooden dog bed has a special design not only for the use of dogs but also cats, as well as other pets that prefer to enjoy optimal and adequate comfort to rest.
When choosing a comfortable and quality dog ​​bed, you will have to take into account each characteristic present in its design to determine its level of functionality.
Sizes: It is important to note that this bed is available in different sizes, being the same S, M, L, XL, and XXL.
Manufacturing: The product is made of highly resistant and durable wood.
Design: Thanks to the design available in this model, it is not only special for dogs, but also for cats and other pets in general.
Mattress: It should be noted that this bed does not include a mattress, so you must purchase it separately.
Memory Foam Dog Bed
PetFusion PF-IBL1
When buying a dog bed, you should take into account what your pet's needs are, especially when it comes to rest time. Thus, this time we have for you a quality memory foam dog bed, ideal to guarantee your dog the comfort it deserves every time it wants to lie down and sleep.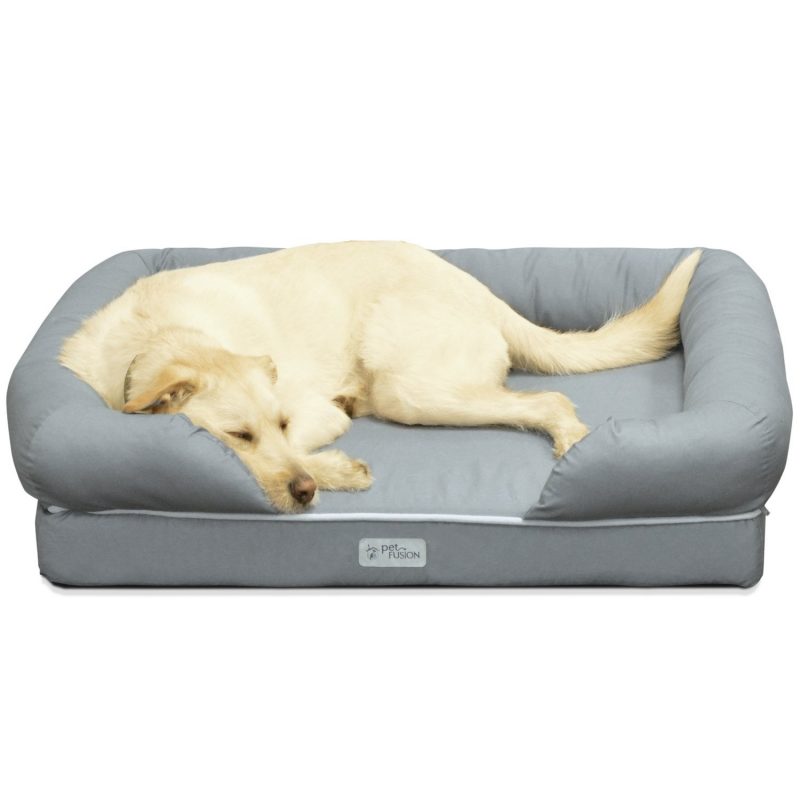 It is composed of a 10.1-centimeter viscoelastic base, which guarantees an appropriate level of cushioning. Likewise, the cushion is made with recycled ecological filling, so we are talking about an environmentally friendly product.
For its part, the twill that it has in its structure is resistant, being 65% polyester and 35% cotton. Best of all, you will have the possibility to keep the bed always clean and in good condition, since its cover is removable and machine washable.
If you want to find the ideal bed among the many models available on the market to guarantee a comforting rest for your dog, take a look at its manufacturing material.
Reading suggestions: Black Dog Names &; 400+ Names for Black Dogs
Cleaning: You can carry out a quick and comfortable cleaning of the bed thanks to the removable and machine washable cover that it includes.
Memory foam base: This dog bed has a special 10.1-centimeter memory foam base for first-class cushioning.
Material: Its structure is covered by a resistant twill made of 35% cotton and 65% polyester.
Surface: Some users comment that the dog's hair tends to adhere easily to the surface of the bed, being difficult to extract.
Bed Dog Yagu
Yagu E-95310
Thanks to the variety of options available in the market in terms of dog beds, you will have the opportunity to acquire the model that best suits both your needs and those of your pet.
The Yagu brand offers you a bed characterized by its striking design and available in red. It is made of resistant and durable materials capable of offering a long service life.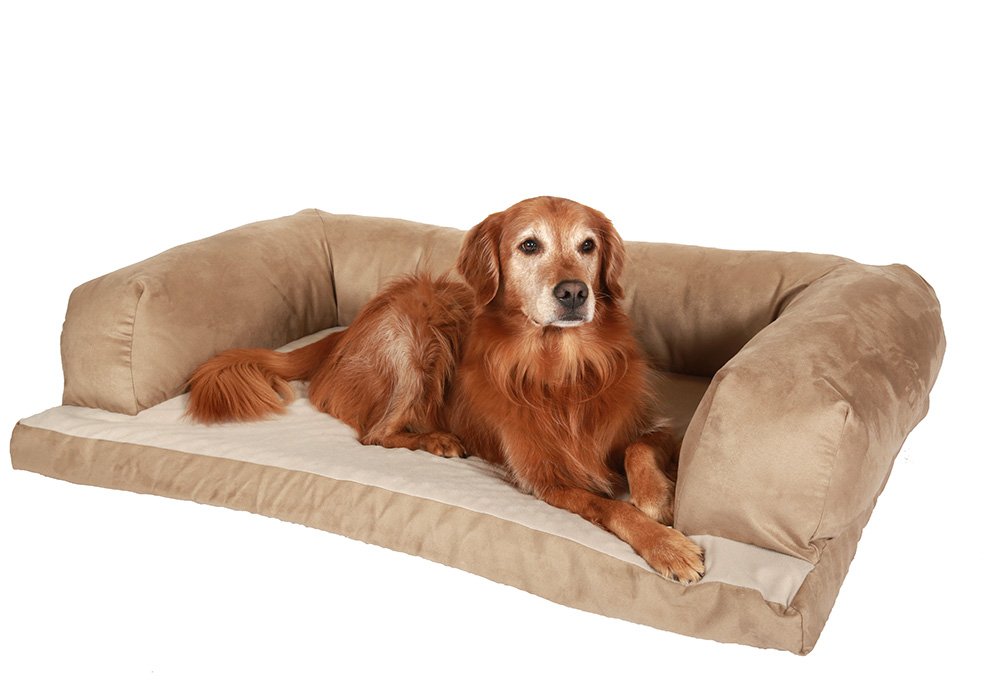 For its part, it has dimensions of 38 x 25 x 50 centimeters and a weight of 1.5 kilograms, which make this model compact and light at the same time, therefore, you can transport it from one place to another comfortably and without having to exert a lot of effort.
Best of all, the padding available inside is designed to guarantee your dog special comfort so that he can feel comfortable while using the Yagu dog bed.
When choosing a good bed for your pet, you should consider the design it has, as well as its dimensions to determine if it is really what you are looking for.
Design: The design available in this bed is attractive thanks to the red color that predominates throughout its structure.
Dimensions: This bed has dimensions of 38 x 25 x 50 centimeters, while its weight is 1.5 kilograms.
Padding: The padding that this bed has is designed to offer your pet moments of tranquility and comfort.
Color: To mention one snag, this bed is only available in red, therefore, you will not be able to choose another shade.
Medium Dog Bed
If your dog is medium in size, we recommend the X1016 model from the Lanchengjieneng brand, characterized by being available in two sizes. In this way, you can choose between sizes S and M with dimensions of 50 x 40 x 15 centimeters and 60 x 50 x 17 centimeters respectively.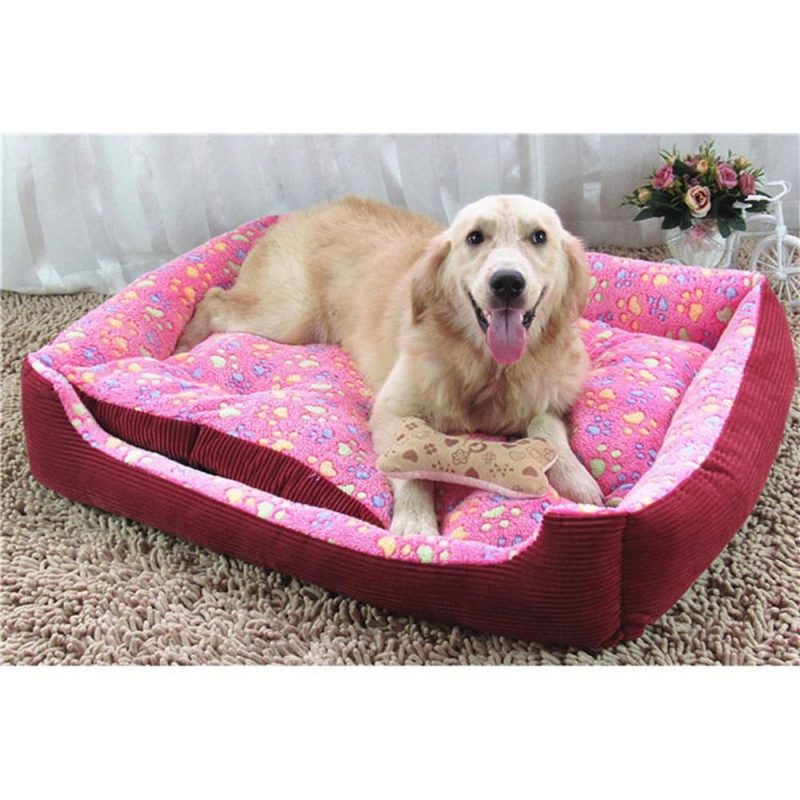 Regarding its design, we are talking about a rectangular medium dog bed with high and comfortable edges so that your pet can rest his head easily. Likewise, you will have the opportunity to choose between several colors of your preference.
It should be noted that the manufacturing material of this model is very resistant and durable, while the padding available inside offers your dog adequate support for each rest. Best of all, it can be machine washed in cold water without a hitch.
Reading suggestions: What Makes A Good Dog Boarding House?
The choice of a quality dog ​​bed will depend on the practicality and functionality that it can offer your pet before each use.
Sizes: It is available in two different sizes, these being 50 x 40 x 15 centimeters and 60 x 50 x 17 centimeters.
Design: The design of this model is completely rectangular with high edges, ideal to provide adequate rest for your dog.
Manufacturing: The manufacturing material available in this model is of quality and the padding stands out for the support it offers.
Fabric: For some users, the fabric on the surface of this bed is very fine and delicate, being a product for dogs.
Dog Cave Bed
Home of Boutique Foldable
The Home of Boutique brand has for you a cave bed for dogs that stands out for its attractive and modern 2-in-1 house-like design, that is, your pet could use it as a kennel or as a bed. All you have to do is press the roof of the house down and that's it.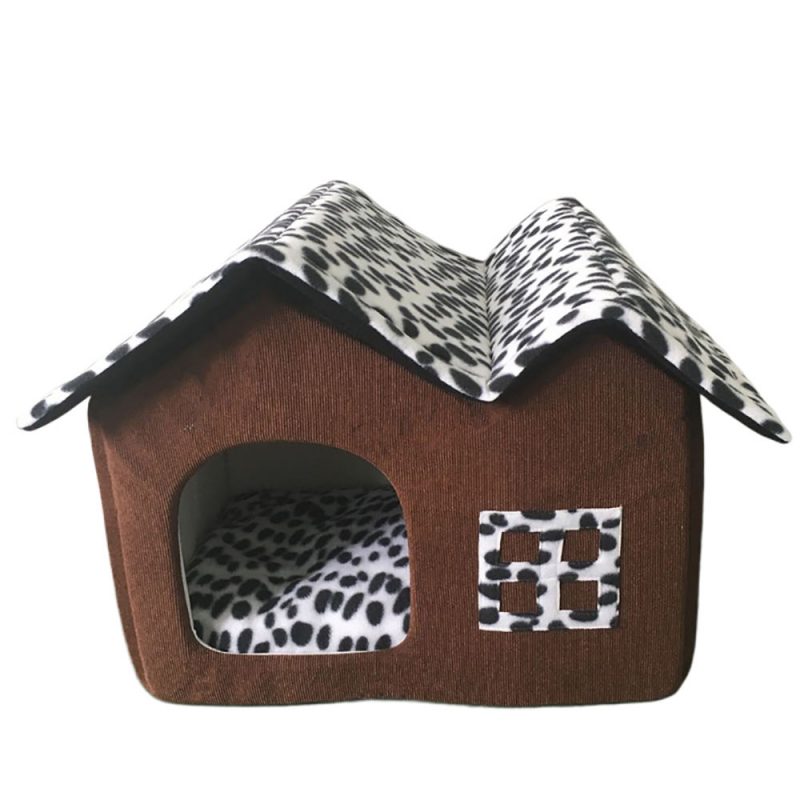 For its part, this model is made with quality materials, including waterproof and breathable gabardine fabric and a soft sponge, and a small combination of flannel. All these components guarantee the comfort and warmth your dog needs to rest comfortably.
As for the dimensions, you can choose between three sizes the one that suits the size of your dog, these being the M of 45 x 35 x 35 centimeters, L of 60 x 45 x 45 centimeters, and XL of 70 x 55 x 55 centimeters.
If you want to give your dog space where you can sleep comfortably and without inconvenience, try to look at the dimensions of the bed you decide to buy.
2 in 1: This dog bed offers you a 2 in 1 design that your pet can easily use as a kennel or as a bed.
Dimensions: The model is available in three sizes, these being M, L, and XL.
Construction: The dog bed is made of waterproof and breathable gabardine fabric, plus a soft and warm filling.
Packaging: Its vacuum packaging does not allow it to take its original shape easily, which is annoying for some users.
Copper Clothing Copper Pet Bed
No more smelly pet beds and your dog can enjoy copper health benefits too!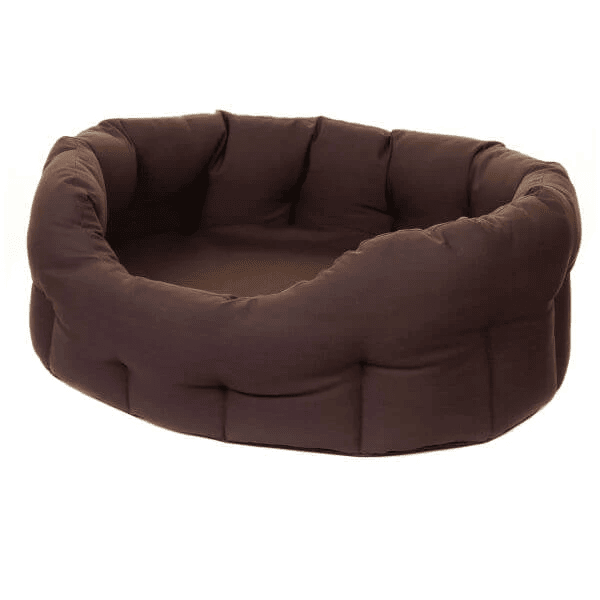 This completely non-toxic copper dog bed is the ideal choice for your beloved pet. Practical and robust, this high-quality pet bed provides luxurious comfort with all the benefits of copper infusion.
The copper-infused fabric also promotes healthy skin by creating an environment hostile to fungal and bacterial infections. When it comes to the sizing, you get three options to choose from, which are: 
| | | | |
| --- | --- | --- | --- |
| Size | Length(cm) | Width(cm) | Height(cm) |
| Small: | 61 | 51 | 22 |
| Medium: | 76 | 64 | 24 |
| Large: | 97 | 74 | 25 |
Features
100% Natural Copper-Infused: A completely safe, chemical-free, natural, non-drug and non-invasive solution to support a healthier and happier pet.
Handmade: This is an affordable, luxury, hand-made pet bed with an incredibly comforting orthopedic memory foam mattress, which comes in three sizes in a stylish matt finish.
Anti-Odour: Copper is able to destroy the bacteria and fungi that typically cause foul smells and bad odors.
Durable and Easy to Clean: 100% waterproof, hard-wearing copper-infused fabric covers a removable foam base cushion, ensuring that it is easy to clean while providing warmth and comfort.
Anti-Microbial: Provides the ultimate first layer of protective care for you and your pet. Copper is known to destroy bacteria, fungi and viruses on contact and has also been used throughout history to deter.
Anti-Inflammatory: Copper bangles have been used throughout history to reduce swelling. Our copper-infused thermo-regulating fabric provides extra warmth and comfort, making it fantastic for older or arthritic dogs. 
Best Bed For Pitbulls
Best Dog Beds For Mini Schnauzers