Dog breeds are fascinating to many people and a well-known one is the Boxer. Boxer dog breed, which was created by crossing, generated a remarkable specimen in various categories, which can perform exceptionally as a guard dog, hunting dog, or simply as a companion animal.
Dogs are considered man's best friend since they have been inseparable companions for millennia. With the passing of time, dog breeds evolved, changed, and adapted.
Today more than 300 breeds of domestic dogs are known, among which the boxer stands out: a mixture of extinct breeds that generated a specimen like no other, with a lot of character, strength, energy, and unwavering loyalty.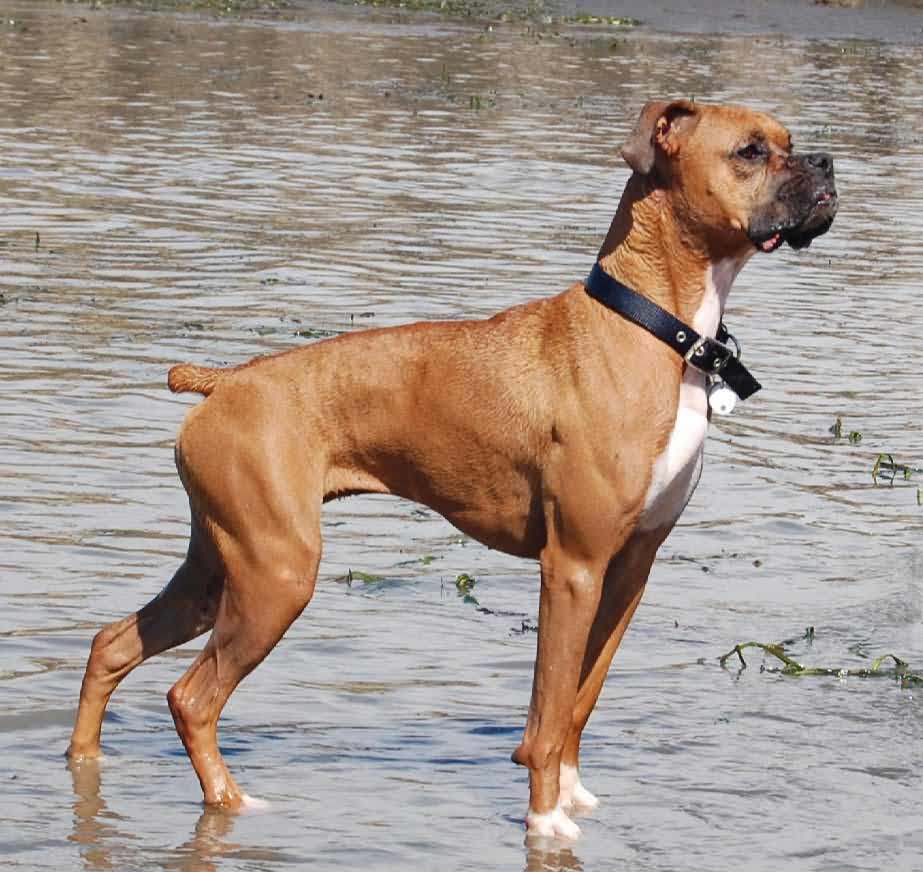 One of the first mentions and appearances of the boxer breed occurred in the year 1895 when breeders Philip Stockman and his wife Miriam crossed a Brabant Bullenbeisser with a bulldog of yesteryear. These breeds no longer exist today, but they were the generators of what is now known as the boxer dog.
Types of Boxer
Boxer dogs as such do not have different types, but rather "styles", which have small variations in posture or physical details. They can be categorized into 3 styles and the breeder, who you buy the puppy from, should be able to indicate which one you are carrying.
American boxer
The style of the American boxer stands out for having one of the best coats among those indicated. It has a broader and larger muzzle, in addition to not presenting wrinkles in the skin.
Reading suggestions: Happy Dog Food Review and Recommendations for 2021
European boxer
It is a dog with elegant and graceful movements which stands on small legs with high knuckles that make it look a bit different from the other 2 styles.
German boxer
German boxers have a thicker skeleton than British boxers. Its muzzle is smaller and its thighs are larger compared to other styles, creating an alternate posture.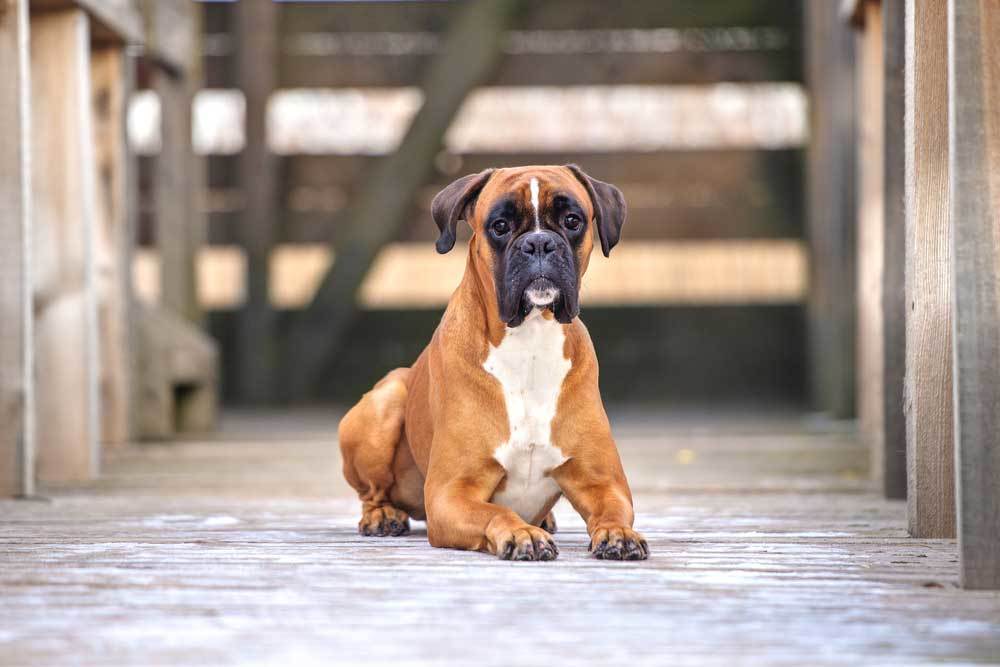 Characteristics of the Boxer Dog breed
So that you can learn more about the characteristics of a Boxer dog, in the following space, we invite you to review the general details that an adult dog presents:
Reading Suggestion: The Best Dog Breeders in Italy
Size
The Boxer breed belongs to the group of large dogs since males can measure between 57 to 63 centimeters and females between 53 and 60 centimeters.
Weight
Weight also varies according to the sex of the animal. But it is worth clarifying that there is no small boxer as such, since when reaching adulthood a specimen can weigh between 27 to 32 kilograms, in the case of males, and remain between 25 and 29 kilograms in the case of the females.
Fur
A fawn boxer or with brindle effects on the color of its coat is the norm. Besides, this one is short and smooth. It may have white patches, but when this happens on more than 30% of the body, it is considered a white boxer.
 Energy
The Boxer is a breed with great energy, as it was bred as a working dog. However, he doesn't tend to bark a lot, but he does require regular socializing, playing, and exercise.
Life expectancy
The life expectancy of a boxer dog is between 10 and 12 years of life, generally, and although it is a breed exposed to genetic diseases, a good diet and exercise can keep the animal healthy.
Animal personality
As for the Boxer breed, its temperament stands out for being very playful, energetic, sociable, and friendly. Despite being bred for hunting, this species of dog can easily become a family pet.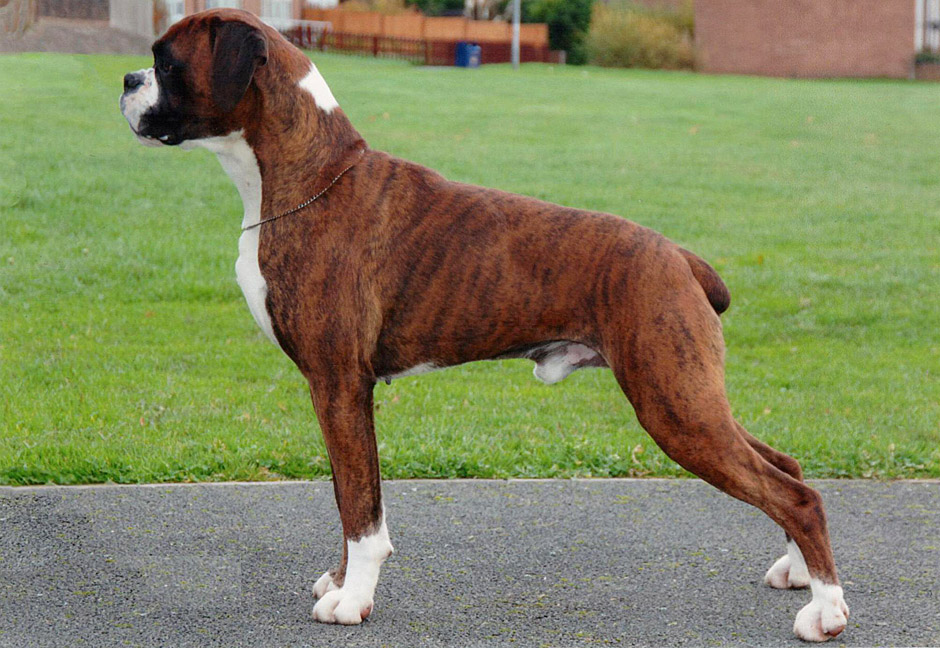 He gets along very well with children if he gets used to them from an early age and his ability to do outdoor activities can make him a great playmate. At the same time, this also makes it an excellent companion animal for exercising, hiking, among other activities.
On the other hand, the boxer dog is usually very intelligent, being able to train without problems to follow all kinds of orders. This quality makes it an excellent watchdog, as it will protect its owner against any danger and will be able to respond to simple commands.
Reading suggestions: Black Dog Names – 400+ Names for Black Dogs
Boxer Dog Care required for their upbringing
Considering that Boxer dogs are hardworking, energetic, and intelligent specimens, it is not surprising that more than one person is interested in owning one. However, as with any other pet, the Boxer needs basic care.
Feeding
After Boxer puppies reach 6 months of age, you will need to upgrade the base diet to one specially formulated to meet the breed's requirements. In general, it is recommended to provide a good quality dry feed that contains 50% vegetables and vegetables, 40% meat, and 10% carbohydrates.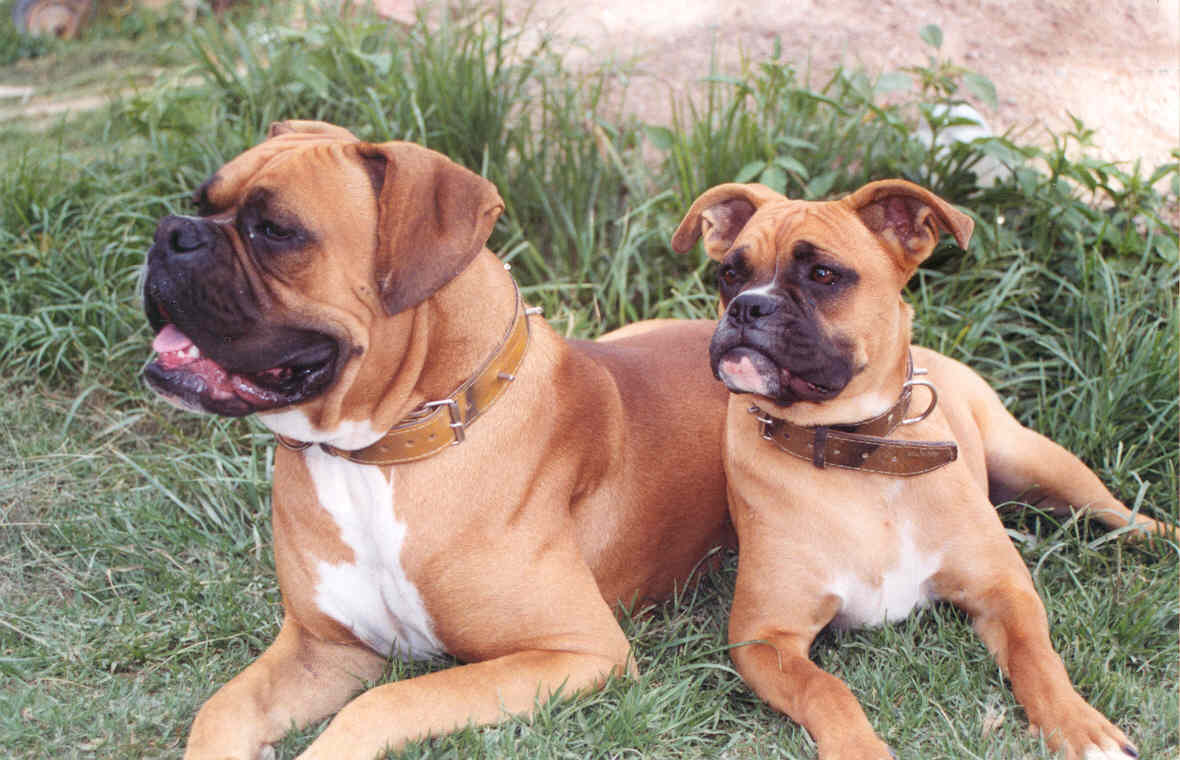 Exercise
Considering that boxers are dogs with a lot of energy, it is important that you can provide them with the necessary exercise. If you choose one, you should take it out for a walk daily, even several times a day. In addition, playing with him will help drain all his energy and allow him to rest better at night. At the same time, the social aspect of the breed cannot be neglected.
Bath
Because a boxer's coat is short and smooth, you will only need to bathe it once a month. Of course, with a shampoo specially formulated for the care of its coat.
 Barber Shop
The grooming requirements of a boxer are not too demanding, mainly due to the length of his coat. Brushing should be done at least 2 times a week, to prevent hair loss and keep it healthy.
Weather
If you plan to allow your pet to sleep in the garden, you will need to set up a doghouse, as the Boxer breed does not tolerate excessively hot climates and they could even suffer from heatstroke. Due to this, it is advisable to pay attention outdoors to avoid inconveniences.