The models of dog carts can be varied, so when choosing a design, the benefits offered must be verified and contrasted with the needs of the pet. Below, you'll find a selection of dog carts that could be this year's best.
1. Wooce Pet Four Wheel Dog Cart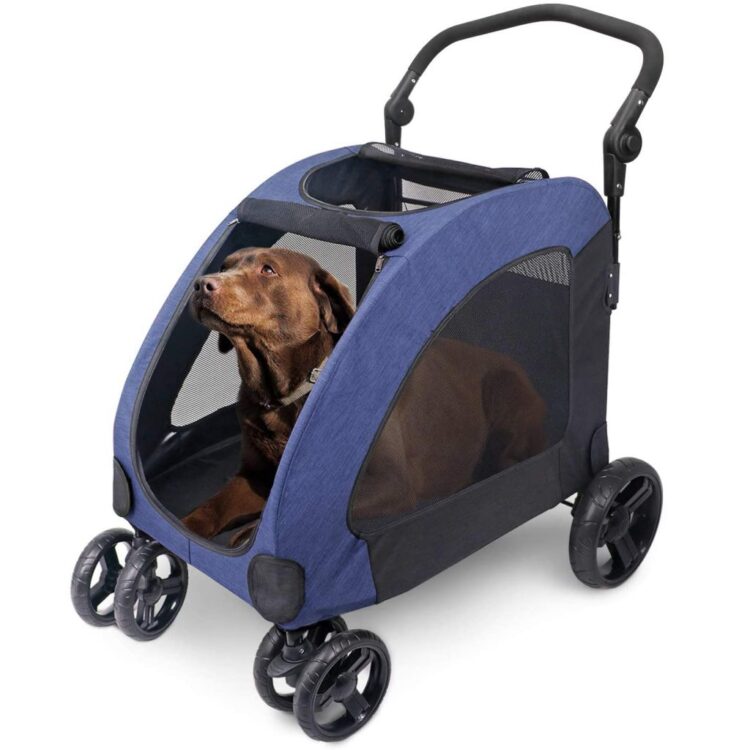 Considered the best cart for dogs, this model stands out with padded handlebars and a position adjustment system, so that the person achieves a better posture when driving. Likewise, the four plastic tires integrated into the base have a convenient manual locking system.
The structure incorporates stainless steel tubes, which have a light body and great resistance, while the walls of the cart have been made with nylon mesh, to preserve perspiration and prevent the dog from suffocating. Likewise, 600D textile is attached to the edges, which serves as reinforcement.
This cart for large dogs has a format corresponding to 113 x 92 x 79 centimeters and supports a maximum load of up to 60 kilograms. In addition, it incorporates an easy folding mechanism, which will allow you to save space by placing the equipment in the trunk of the car or in the closet when storing it.
This could be the best dog cart of the moment, whose details of interest we present below.
Safety: The tires have been provided with small locking pieces, which prevent unexpected slipping.
Cleaning: You can easily remove the pads, in order to speed up the cleaning process.
Belt: An internal safety belt is attached, to prevent the pet from rolling over.
Handlebar: The built-in handlebar has an adjustment mechanism for its position, providing greater comfort when driving the car.
Folding: Despite incorporating a convenient folding system, it requires the disassembly of some parts.
2. Papilioshop Agro Bike Trailer And Cart
By acquiring this transport equipment from Papilioshop, you will be betting on a functional product for your pet. In this way, you can use the equipment as a cart for large dogs, which you must drive by pushing it from its ergonomic handlebar.
Likewise, it is possible to fold said grip handle and then rotate the front bearing, to fix the structure to the rear area of ​​the bicycle. Thus, the stroller will become a small trailer, with which you can travel the city safely.
In addition, the equipment stands out for its resistance, as it is made of stainless steel tubes, which is a non-deformable alloy and, therefore, capable of providing good stability.
Reading Suggestions: Pro Star Dog Food Review
On the other hand, the construction of the trolley walls stands out, for which robust synthetic fabric was used, accompanied by some mesh transparencies, in order to achieve proper ventilation. Likewise, this last material allows the dog to visualize the environment.
Next, know what is good and what can be improved in this dog cart.
Use: The equipment can be used as a cart or trailer, by fixing it to the rear wheel of the bicycle.
Handlebar: You will have a movable handlebar, so you can use it whenever you consider it necessary.
Assembly: You will not have problems carrying out the assembly, since all the material for a said task is incorporated.
Folding: Thanks to its folding mechanism, it is possible to store the structure in small spaces.
Movement: If you plan to use the cart on the sand, you may not get a smooth movement.
3.Teabelle Auxiliary Adjustable Wheelchair For Dog Car
If you have a puppy with a disability in its hind legs at home, you may be interested in this wheelchair with the Teabelle quality seal, positioned among the best dog carts of 2022.
It is a product whose structure has been made with chromed aluminum tubes, which is a convenient material for the dog because it is light and resistant. In addition, the harness includes synthetic ropes with a soft touch, as well as a small pad for the puppy's upper body area, made of breathable mesh.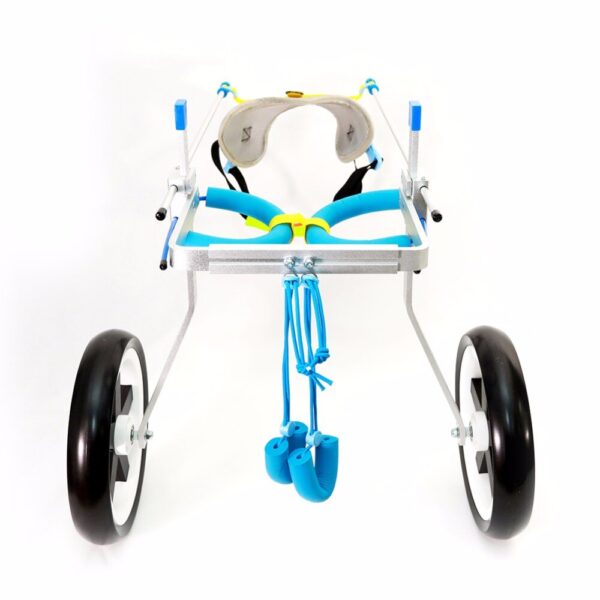 This wheelchair for invalid dogs has a capacity of five kilograms, making it suitable for puppies or breeds with small anatomy. In this sense, you have a rear area with a height of 16 to 24 centimeters, while the back of the equipment has an opening of 9 to 15 centimeters.
Recommended as the best brand of dog carts, you will find Teabelle, whose designs stand out for their quality. Proof of this is this model whose pros and cons we summarize below.
Assembly: All the necessary material is incorporated for a quick and intuitive assembly.
Structure: Its aluminum frame is light, but at the same time offers great resistance.
Wheels: The pair of rear wheels provide a correct displacement on any type of ground.
Efficacy: This equipment is aimed at puppies with disabilities in the hind legs, in order to improve their mobility.
Leash: The leash provided for the puppy's chest area may be a bit small.
4. Anmas Sport Adjustable Wheelchair Small Dogs
With this cart for disabled dogs from the Anmas house, you can provide your pet with a comfortable and safe means of transportation, with which it can move easily, regardless of the type of injury it has on its hind legs.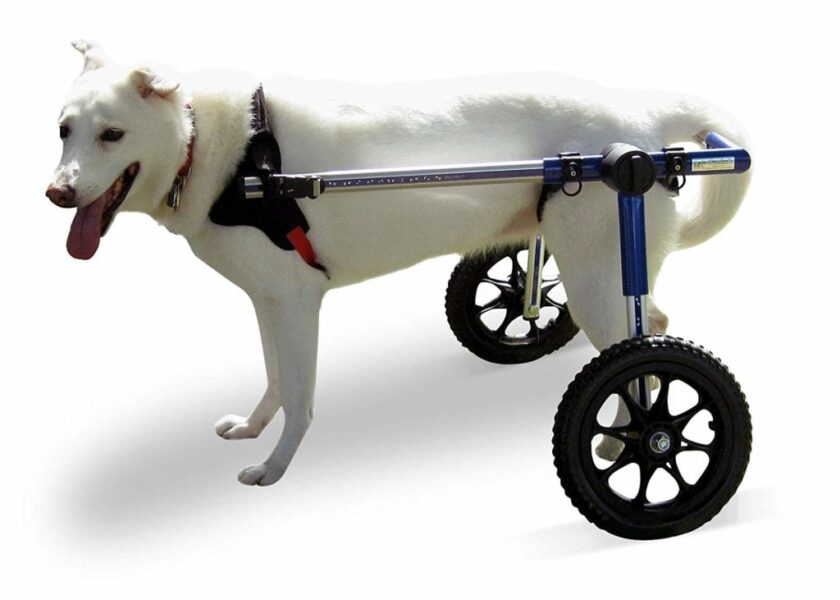 The high-end alloy was used for the construction of the frame, whose resistant and light body offers adequate support for small dogs, with a weight range of 2.2 to 9 kilograms. In addition, a harness is incorporated for the front part of the dog and another padded one for the rear area. Both pieces have been provided with an adjustable adjustment system, capable of anatomically adapting to the animal's body.
It is also worth commenting on the bearing system used, made up of two tires with a diameter of 20 centimeters, made of soft rubber, for correct traction on any type of surface, whether at home or in the park.
Next, know the advantages and disadvantages of purchasing this dog cart.
Tires: The tires are used to provide a good grip on smooth floors, pavement, or grass.
Harness: Thanks to the pair of built-in harnesses, you will get the correct adjustment of the stroller.
Use: This cart is suitable for dogs with permanent disabilities in their hind legs, or for dogs in the recovery period.
Comfort: A padded support is attached, to prevent chafing that bothers pets.
Capacity: It is important to keep in mind that if the recommended load weight is exceeded, the structure could be damaged.