If you're looking for a new athletic cat to liven up your home, consider one of these cat breeds. Cats are such amazing animals and come in all shapes and sizes. There is a cat out there with the perfect personality for every family.
10 Most Athletic cat Breeds
Following active felines may not always catch their toys as dogs do, but they are sure to provide hours of entertainment for any household. Remember to provide these cats with plenty of open space, so they have enough room to roam.
Abyssinian Cat Breed
The Abyssinian cat is one of the oldest breeds, with records dating back to biblical times. They are originally from Ethiopia from almost 4000 years ago. Their primary purpose in the past was as a royal symbol for high nobility. Their previous role shows the Abyssinian pedigree of excellent quality.
You might be wondering what makes the Abyssinian the perfect athletic cat breed? Easy, their long legs make them agile and fast. Their slim body and structure add benefit to their athletic nature. Abyssinian is primarily known for being playful and having moderate levels of attachment to people.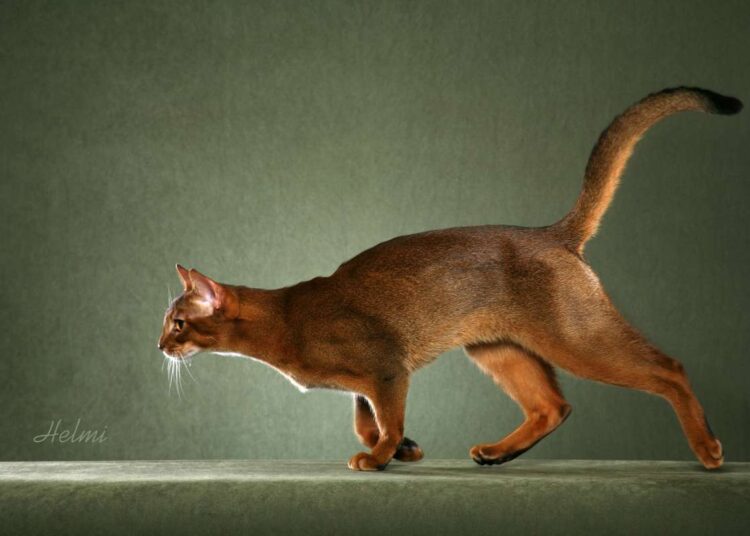 They have angular faces and short hair on their bodies. Abyssinians have large, alert ears with a pointed tip at the end. Depending on the color of the cat, the almond-shaped eyes could be gold, green, hazel, or copper.
Abyssinian cats are medium-sized, having a muscular body type. They have sleek and slender bodies and like to indulge in different activities throughout the day. They have short hair on their body and angular faces. Abyssinians have alert ears that are huge in size and a pointed tip at the end. The almond-shaped eyes could be gold, green, hazel, or copper in color, depending on the cat's color.
Just a small FYI, Aby's get a bit lonely so that an optimal home might have more than one cat.
Reading Suggestion: Abyssinian Cat Breed Biography 
Somali Cat Breed
Somali cats are a one-of-a-kind domesticated feline breed. The Cat Fanciers' Association recognized this breed, known as the "fox cat," in 1979. The Somali Cat has similar genes to Abyssinian, where the Abyssinian Cat originates from Ethiopia, and the Somali cat arises from Somali.
Note that both Ethiopia and Somalia are very close to each other.
As seen in the photo above, deep orange coats can grow up to be almost all black or brown, depending on what genes they carry from their parents. Somali cats come in 28 different colors, including silver, sorrel, red chocolate, and many others. Cats from this breed have bushy tails and pointed ears. In addition, they have long, soft hair that is adorable and ideal for their appearance.
These furballs are always on the lookout for their next toy to play with. They enjoy human interaction, so spend some time with them. The Somali cat's inquisitive nature encourages exploration time both indoors and outdoors. Because of their curiosity, this breed makes walks a breeze and enjoyable.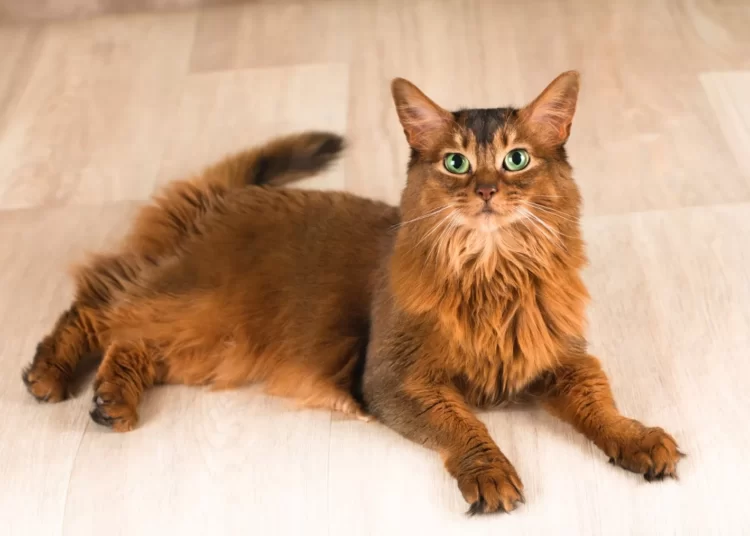 Reading Suggestion: 10 Best Cats for Apartment Living
Bengal Cat Breed
The Egyptian Mau and the Asian Leopard Cat are two distinct breeds bred together to form a new hybrid. What was the result? Cats with wild-like patterns and coloration. Bengals' ancestors first originated from Bangladesh and India.
These felines called Bengals have unique markings in the outside world (for example, leopards), so this variety of cats has become so popular.
The markings can be described as stripes and patterns with a thick, dense coat all over the body. In addition, Bengal cats can have different colors, i.e., brown spotted, silver, and mink.
The Bengals are one of the most intelligent and active cat breeds, so you must give them plenty of playtime with toys. Playing an interactive game or two during free time can help keep your pet content all day long.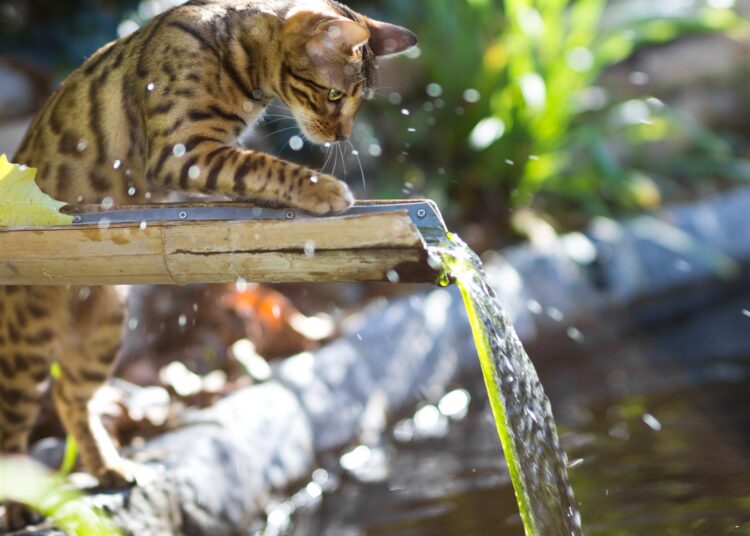 Reading Suggestions: Best Cat Breeds for Beginners: a Comprehensive Guide to Choose
Cornish Rex Cat Breed
One of the most unusual cat breeds is the Cornish Rex. When they walk into a room, you can't help but notice them and trust me. It's challenging not to stare in wonder what kind of breed this furball is.
The Cornish Rex breed is the perfect pet for those who are allergic to cat hair. They have short, sleek fur, making them less likely than other breeds of cats to shed all over your house and furniture. In addition, this breed enjoys being around people, which makes them very appealing to cat lovers.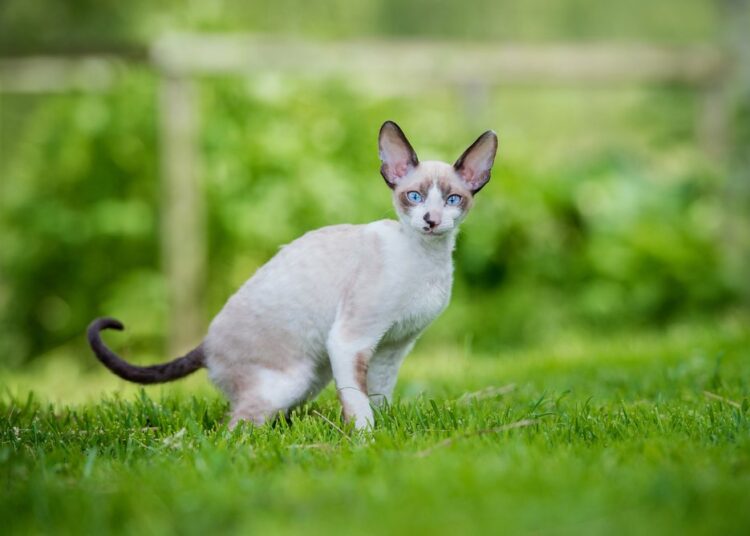 Cornish Rex is small to a medium-sized cat that likes to stand on its toes. Their posture curve is noticeable when they sit; sometimes, they look like a large cat. Its weight is around 8 lbs. It is available in colors like white, black, cream, red, platinum, and chestnut.
These breeds are sleek and have short hair. Due to less hair, this breed would be mainly a good fit for allergic to cat hair. In addition, these cats will never be exhausted while playing or doing some exercise.
The cat will never grow tired while playing around like other cat breeds. As well, don't worry about leaving it home alone all day long, worrying whether or not someone is coming over.
They love being with their parents and would do anything to be with them.
Reading Suggestion: 5 Most Aggressive Cat Breeds
Siamese Cat Breed
The Siamese cat is a mischievous feline with large ears, blue eyes, and a sleek body. They originate from Thailand, where it has been reported that these cats lived in temples before being introduced to America.
Siamese cats are among the most vocal and friendly of all breeds. They enjoy long spending times with their human friends, making them excellent family pets that crave attention from everyone in the home. Even so, Siamese can be trained to use cat doors when they want some alone time.
The only downside is their desire for companionship can make them very lonely when left on their own, so these friendly felines might not be best suited towards homes where there aren't any other furry friends present.
In addition, they need stability and predictability to feel safe from changes within the home environment.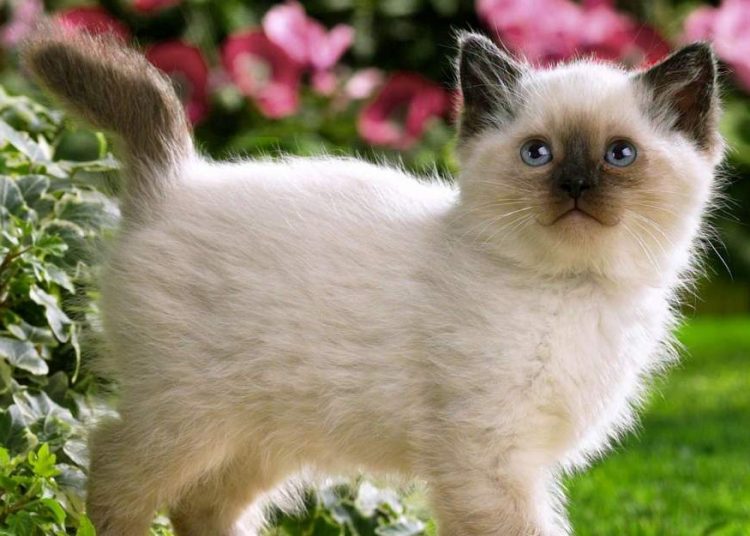 Egyptian Mau Cat Breed
The Egyptian Mau Cat breed is one of the oldest cat breeds in history. Also known as the Arabian Street Cat, this species is found in hot and humid climates.
They are known for their striking green eyes and long hair, which can be any color except white. In addition, Egyptian Mau is known for their m-shaped mark on their forehead and two black lines across the cheeks. These are available in a variety of colors, including silver, bronze, black, and camel. These cats are the ideal combination of loyalty and energy.
Egyptian Mau Cats are intelligent, agile cats who can jump 6 feet high and run up to 30 miles per hour. They love playing with toys that move or that they chase around the house. It's important to remember that these cats thrive on human interaction, so it's best not to leave them alone for extended periods.
The Egyptian Mau has many unique traits, but most importantly, they have a special connection with humans because of their intelligence and agility.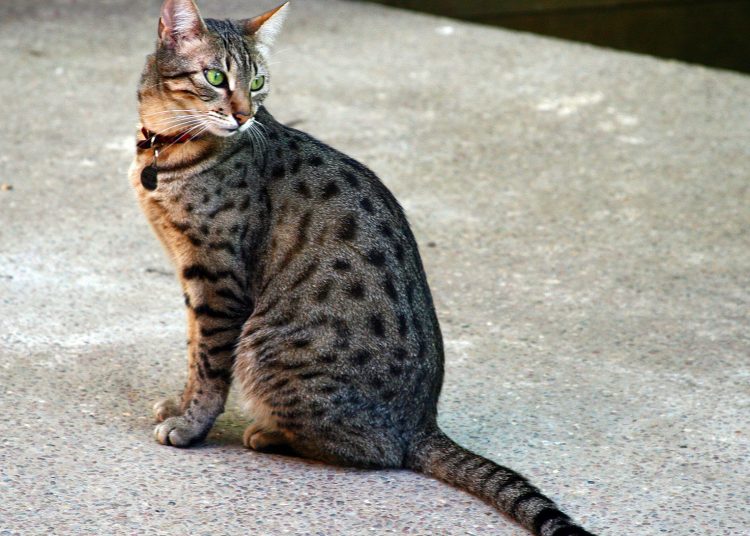 Reading Suggestion: Low-Maintenance Cat Breeds for Busy Owners
Japanese Bobtail Cat Breed
Japanese Bobtail cats are adorable, but what makes them so different from other types of cats?  They have a tail with a kink at the end.
It's not just their tails that make these little guys stand out; they're also known for having short fur and big ears. Don't be fooled by their cute appearance, though. These felines are full of energy and can even be taught tricks like jumping through hoops or playing fetch.
Japanese Bobtail Cat Breed was first imported from Japan to the west in 1968. It is a standard breed.
Other notable features of the Japanese Bobtail cat are that they have large straight ears, have a medium-sized body type, and weigh 6-9 pounds. This breed has a loving nature, and these cats are well suited to live as pets at home with children. In addition, they are pretty social and communicate well with people.
These are medium-sized cats with thin athletic bodies. They are social and intelligent as well. These cats like to interact with people and play with other fellow cats. They get along with people and children well.
Singapura Cat Breed
The Singapura, the smallest of all cat breeds, retains its kitten-like look and appeal throughout its life. Singapura cats are a lively, friendly breed that can be trusted and devoted to anybody.
It is a purebred cat. Its ancestors are the "drain cats" exported from the United States to Singapore and renamed Singapura.
You might be wondering, what makes the Singapura an athletic cat breed? The simple answer is tiny in size and muscular physique, allowing them to be more agile and active. This flexibility enables them to reach higher elevations and have a better perspective of the surroundings.
Singapura Cat Breed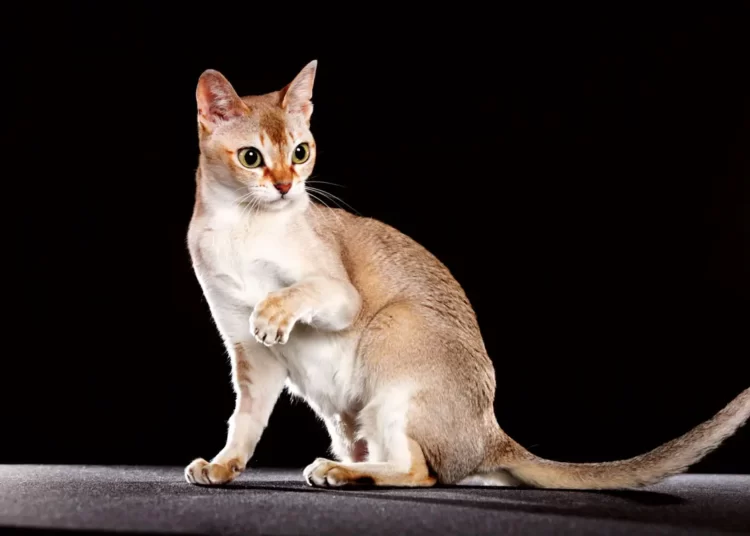 Final Thoughts
If you're looking for a new cat to liven up your home, consider one of these athletic cats. Cats are such amazing creatures and come in all shapes and sizes. There is a cat out there with the perfect personality for every family.
We hope that this list gives you some insight into what type of feline might be best suited for your active lifestyle. From climbing trees to running around outside, we've got plenty of breeds in mind that will keep any house entertained (and their accompanying pet owners).
When it comes to deciding what kind of cat you want, we recommend consulting with your veterinarian and thinking about the personality types that match up best for you.
From lazy indoor cats to athletic outdoor cats, your new feline friend will be sure to provide hours of entertainment. Check out this article on other Cat Breeds that you might enjoy.
Frequently Asked Questions about Athletic Cat Breeds
Q: What Are Some Common Athletic Cat Breeds?
A: Some common athletic cat breeds include the Siamese, Abyssinian, and Bengal. These breeds are known for their lean and muscular bodies, high energy levels, and love of physical activity.
Q: How Can I Tell If My Cat is Athletic?
A: An athletic cat will have a lean and muscular body, be active and energetic, and enjoy playing and engaging in physical activities. If your cat is always eager to play and loves to run and jump, it's likely that they are athletic.
Q: Can Indoor Cats Be Athletic?
A: Yes, indoor cats can be athletic. Regular exercise, such as playing with interactive toys and climbing structures, can help maintain their physical fitness. However, it's important to provide them with opportunities to engage in natural hunting and climbing behaviors to keep them mentally and physically stimulated. A balanced diet also play an important role in maintaining their fitness.
Q: Is There Any Specific Diet Required For Athletic Cats?
A: Athletic cats require a balanced diet that provides them with the necessary nutrients to support their active lifestyle. They need enough protein and fat to fuel their muscles and enough carbohydrates to provide them with energy. Consult with your vet to find the best diet for your cat's specific needs.