The Tibetan Mastiff, or Tibetan Mastiff, or Tibetan Lion Dog is a giant, long-haired dog. It's a very assertive character does not make it an easy dog ​​to train. With his imposing build, loyal and protective, he is an efficient watchdog who has no difficulty in obtaining the respect of possible intruders.
Physical Characteristics
The Tibetan Mastiff is a giant and tallest dog breed. its size can reach up to 71 cm in height at the withers and its weight can go up to 82 kg. Imposing and excellent keeper, he combines the following physical characteristics
Body
The body of the Tibetan Mastiff is characterized by its power. The bone structure is massive, the limbs are straight and strong, upright. His back is straight and muscular, his chest is high and his rump is broad and flat.
Reading Suggestion: Black Dog Names – 400+ Names for Black Dogs
Coat
The coat is long and straight. The Tibetan Mastiff has a thick and profuse undercoat, especially in the cold season.
The dress is black but black and tan, blue and tan, tan or blue dresses are also accepted.
Head
The head is broad and square in shape. The muzzle is of the mastiff type, square and dark. The stop is well marked.
The Eyes
The eyes are oval, medium in size, brown in color, and set wide apart.
The Ears
The ears are heart-shaped, smooth, and drooping. Medium in length and placed on the sides of the skull, they are worn forward when the Tibetan Mastiff is awake.
The tail is of medium size, imposing, very provided with hair. It is carried quite high, rolled up on the back when the dog is in action.
Character
The Tibetan Mastiff has a rather difficult character, which does not facilitate communication. Indeed, it is, among others:
independent
unpredictable
little affectionate
distrustful of strangers
The Tibetan Mastiff is therefore difficult to pinpoint and is therefore not recommended if children live nearby. However, it, fortunately, combines certain qualities. Indeed, he is a natural guardian, because he has a strong protective instinct and he is territorial. Besides, he is faithful and loyal and has a fairly calm temperament.
Read More: White Swiss Shepherd Dog – A Robust And Intelligent Sheepdog
Training, Living Conditions, and Activities
How to Train a Tibetan Mastiff?
Because it has extraordinary dimensions and an independent and assertive character, the Tibetan Mastiff is not suitable for people who have never had a dog. Likewise, it is not recommended for fragile people (children, the elderly), because its strength and personality do not make it an easy dog ​​to control.
To ensure that the Tibetan Mastiff is properly trained, it is therefore important to have sufficient experience and knowledge in dog training.
The Tibetan Mastiff should be trained from an early age and socialized early enough to get used to the presence of other people and animals. He should also be accustomed to walking on a leash or tether very early on, otherwise, he would become a very difficult companion to deal with once he reaches adulthood.
When educating the Tibetan Mastiff, it is important to be firm, without violence or injustice, so that the Tibetan Mastiff can assimilate the rules and respect the boundaries that must not be crossed.
As the Tibetan Mastiff does not reach maturity until around 3-4 years of age, one must be prepared to be patient throughout his education.
Living Conditions
The Tibetan Mastiff is a dog that appreciates the great outdoors. He will therefore feel fully at ease in the countryside or in the mountains, where he can spend his great energy. By its imposing stature and its thick coat, the Tibetan mastiff is very resistant to the cold and prefers to sleep outside, even in winter.
Apartment life is not recommended for this giant dog, for obvious reasons of lack of space. However, city life, although it is not ideal, can be envisaged, for example, in a house with a garden.
Reading Suggestion: 15 Popular Pet Dog Breeds For Family
The Tibetan Mastiff is an unpredictable, sometimes impulsive dog. It is therefore not recommended in the presence of children. Likewise, if he has been socialized early enough and effectively, he knows how to get along with other animals but can quickly change his mind if he perceives any danger whatsoever.
Finally, the Tibetan Mastiff is a dog classified in category 2, which means that a license of detention is obligatory, that it must be kept on a leash and wear a muzzle in public transport and public spaces.
Recommended Activities for the Tibetan Mastiff
The Tibetan Mastiff is a relatively calm dog. However, his size requires him to be able to exercise regularly: ideally, he can walk outdoors once or twice a day.
Due to its large size, the Tibetan Mastiff cannot engage in strenuous physical activity, which could also weaken its joints.
What Does a Tibetan Mastiff Eat?
The growth phase of the Tibetan Mastiff lasts a long time. Its food must be of superior quality. If you have to choose kibble for Tibetan mastiff, it is advisable to opt for premium kibbles with a moderate fat content, as they are sensitive to being overweight.
Despite its appearance, the Tibetan Mastiff is not a particularly gluttonous dog. It will even happen to skip meals: its origins as a nomadic dog have not conditioned it to eat every day.
Read More: Top 10 Strongest and Largest Dog Breeds in the World
Caring for a Tibetan Mastiff
The Tibetan Mastiff is not a dog that requires very special care. However, in order to preserve the beauty of its coat and ensure its hygiene, it is important to brush the Tibetan mastiff vigorously every week. In addition, it performs two molts per year. During these, it is recommended to brush it daily.
Common Diseases
The Tibetan Mastiff has strong and robust health, but can face health problems characteristic of its breed or its large size: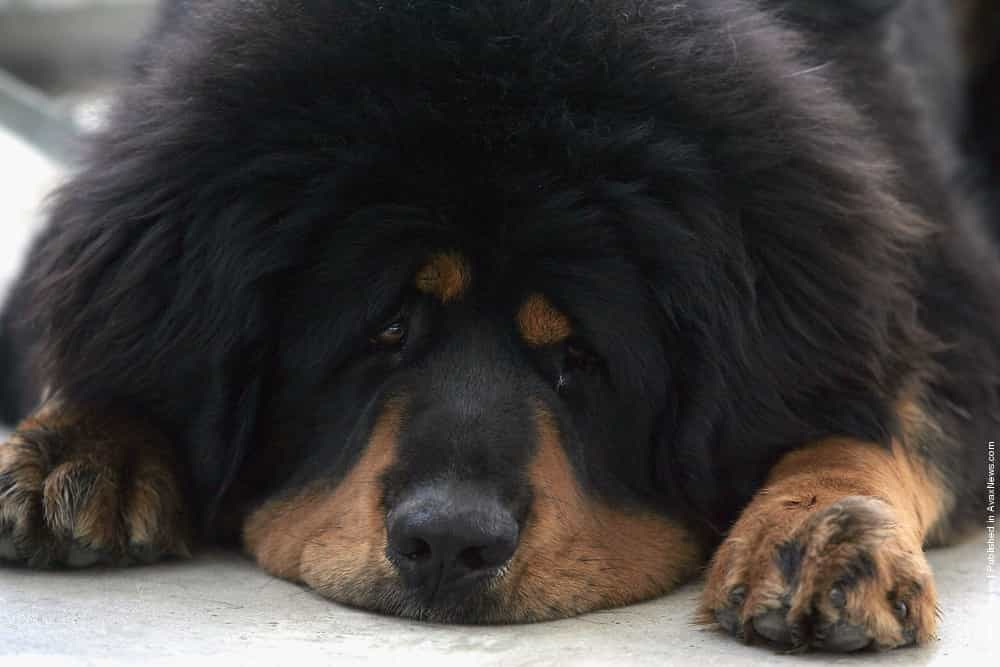 Epilepsy: the Tibetan mastiff is predisposed to this brain disease characterized by convulsive seizures.
Demodicosis: also known as follicular mange, a skin disease caused by a mite.
Eye diseases: to prevent these, you should clean your dog's eyes regularly.
Hip dysplasia: the Tibetan mastiff is predisposed to it, but no more than other breeds of large dogs.
Hypertrophic neuropathy: this disease is characterized by difficulty for the dog to stand on its paws for which there is no medical treatment.
Interesting Facts About Tibetan Mastiff
The annual maintenance price of a Tibetan mastiff is generally around $1000.
The most expensive dog in the world is a Tibetan mastiff, bought by a Chinese for 10,000,000 yuan!
The Tibetan Mastiff has been recognized by the Federation Cynologique Internationale (FCI) since 1961.
The Tibetan Mastiff is considered by some to be the ancestor of all breeds of mastiffs and mountain dogs.
The Tibetan Mastiff was not only used by herdsmen in the Himalayan highlands but also by Tibetan monks.
Only appearing in Europe in the 1830s, a specimen was offered to Queen Victoria in 1847 by Lord Harding, then Vice President of India.