Off-leash walking provides dogs with many benefits, but it requires diligent preparation on the part of dog owners. Explore some ways that you can start that preparation and ensure that your dog can safely experience life off-leash!
The Importance of Being Off-Leash
Being off-leash has many benefits for dogs, including:
The freedom to move at a comfortable pace.
Increased confidence because of the ability to explore.
The ability to burn off more energy.
Increased mental stimulation.
Dogs that are given the freedom to explore are more physically and cognitively stimulated, making them happier, healthier, and more self-assured!
7 Tips for Preparing Your Dog for Off-Leash Freedom
1. Know What Distracts Your Dog
Know what causes your dog to become distracted when off-leash so you can avoid tricky situations. For example, if you know that your dog is easily distracted by squirrels, the local park is probably not the best place to start your off-leash training journey!
You'll also need to be observant and present in order to regain your dog's attention quickly if need be. Your dog will need the occasional reminder to focus on you and ignore other people and animals while unleashed, especially at the beginning of your off-leash preparation.
For example, if you see a small animal approaching while your dog is off-leash, you should recall them immediately and take their focus away from the distraction.
Reading Suggestion: Easiest Dog Breeds To Train
2. Practice Being Off-Leash in a Safe Space
Before letting your dog off-leash in more public spaces, test your dog's ability to follow commands and walk off-leash in a safe, enclosed space. A great way to practice off-leash skills before allowing your dog off-leash is to set up a wireless containment area using a GPS dog fence.
Setting up a GPS boundary gives your dog the sense of being off-leash without any physical barriers while ensuring that they are safe and accounted for–even if they do decide to chase a squirrel during your training session. This method lets you gauge how well your dog has progressed in their off-leash preparation without risking a great escape.
3. Practice Long-Leash Walking
Another safe and effective way to test your dog's off-leash walking skills is to use progressively longer leashes as you work through training. For example, once your dog has mastered walking on a traditional six-foot leash, move to a ten-foot leash. The longer leash allows your dog more freedom while giving you complete control.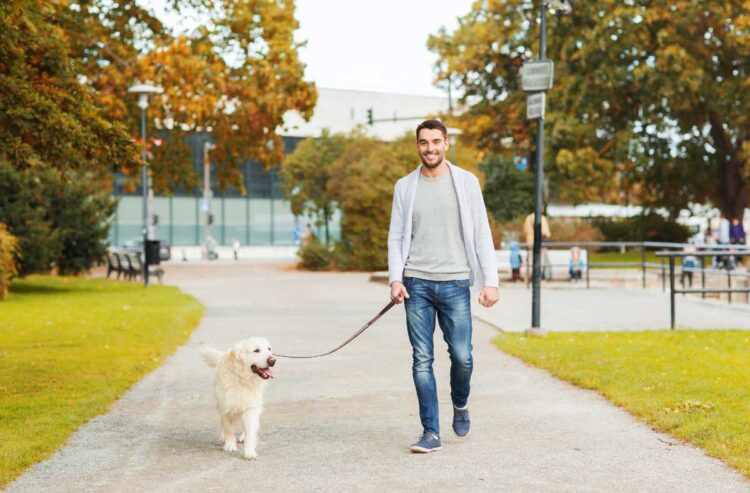 As your dog masters walking on the long leash, once again, move to a longer leash. Eventually, you'll be able to phase the leash out completely once your dog masters recall and no longer needs the lead as a cue.
4. Practice Distracted Walking
Mastering long-leash walking allows you to gauge how well your dog will respond to off-leash walking, but you must also know how your dog will react to distractions. As you work on long-leash walking, ensure that you expose your dog to an increasing number of various stimuli and test their reactions.
Continue to practice commands and recall while your dog experiences these distractions so that your dog learns to focus on you.
Consistency and repetition are key here, as it will take practice for your pup to resist! The more distractions you expose your dog to while working together, the easier it becomes for them to ignore those distractions while actually walking off-leash.
Reading Suggestion: Finnish Lapphund Puppies
5. Always Reinforce Recall
Before walking your dog off-leash, you must ensure that they have mastered recall. Even when your dog begins walking off leash, you must continue to reinforce that recall to remind your dog of how important it is to return to you when called.
The best way to reinforce off-leash recall is to practice often and reward your dog with EVERY successful recall command.
6. Always Ensure A Safe Environment
Whether you are letting your dog off-leash to walk for the first time or the hundred and first time, always survey the area to ensure a safe environment. While you can train your dog to follow your commands flawlessly, a dangerous environment can introduce many unpredictable factors that can cause injury or trigger instinctive fight-or-flight behaviors.
7. Create a Safe Space For Off-Leash Fun
Not all dogs can master off-leash walking and recall, especially those with an exceptionally high prey drive, but that doesn't mean they have to miss out on the benefits walking off-leash offers. All dogs can enjoy off-leash exploration through a wireless fence system!
Wireless fences allow owners to draw a contained space anywhere they go using a smartphone app, and the "fenced" area can cover acres, allowing plenty of room to roam! With the ability to create such a vast safe space without needing to bury wires or install traditional fencing, this containment option provides any dog with the freedom to explore.
Training your dog for off-leash walking is challenging, but with the right preparation and proper tools, your dog can enjoy the freedom of living leash-free safely anywhere that you go!