There is a sea of apps that technology has provided us, with several million in each industry. Out of those millions are incredibly useful pet apps for dog lovers and owners – to make their parenting job easier.
From teaching you what to do when your dog swallows a chemical to showing you tricks for obedience training. There is almost nothing you want to teach or give your dog for which there is no app.
The issue, however, is that not all of those apps are as useful as they claim. In this article, we have rounded up some of the popular and best pet apps every dog lover will appreciate. Some of the apps are free while some offer subscriptions to get more advanced access as well as in-app purchases. Obtaining access is not difficult – even if you are a crypto enthusiast; just buy Ethereum or any coin you want and you're all set.
Here are some popular apps for dog lovers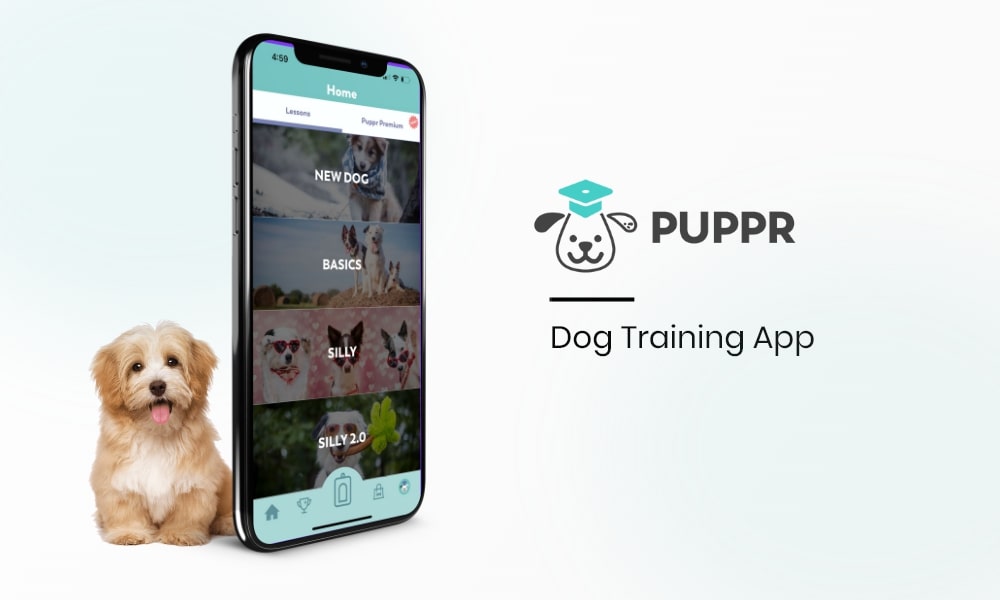 Puppr
Puppr is a cool dog app to download if you need assistance in training your dog. It is one of the most popular and best dog-training software applications out there. The app comes with many instructional videos on how to train your canine companion for basic as well as advanced tricks.
You must have seen, whether in the movies or in real life, how dogs respond to commands like "sit;" Puppr shows you how this trick works. Puppr is especially perfect for you if you are a new dog owner and want to devote time to training your dog. The app features more than fifty tricks taught by Sara Carson and a gamified experience to make the training fun.
Plus, the instructions are pretty easy to follow because they are taught in the simplest way possible and with images. The app is free on Android and iOS, but it offers a subscription package from $1.9 to $99.
Reading Suggestion: Top 10 Easiest Dog Breeds to Train and Take Care
Pet First Aid
Pet First Aid has the backing of the world-recognized organization on health-related matters, the American Red Cross Society. This fact makes the instructions available on the app credible and rich – and it is completely free.
It is designed to give dog lovers tips and guidance on what to do in emergencies, with daily pet advice and emergency services. Pet First Aid comes in handy when your dog suddenly falls ill and you need medical advice from professionals.
This software application features information-rich videos and quizzes for the dog and its owner, teaching you about medical pet care. Furthermore, it takes the teaching slowly and one step at a time so that it doesn't get overwhelming for you and your canine.
What makes the app stand out is the fact that it provides emergency services at the press of a button. Other features include interactive puzzles, preventive care techniques and tips, pet medication, and lots more.
Reading Suggestion: 7 Puppy Training Mistakes You Must Steer Clear Of
Dog Scanner
Dog Scanner is a ridiculously addictive dog app that attempts to identify a dog's breed just by its appearance. It does this using existing photos or a live active dog, but the problem is the results aren't always accurate. Nevertheless, the results are always on point for obvious dog breeds like Rottweilers, and the app features a fascinating variety of dogs.
Dog Scanner is free for the basic features; if you want access to more premium features, you will pay a token.
The cost of a subscription on the app is as low as $2.99 per month or $13.99 for a lifetime.
When you pay the lifetime subscription, you get access to advanced features and you get to skip the ads.
GoodPup
GoodPup is another amazing and popular dog training app, which is one of the biggest challenges of having a dog. It offers a solution to those challenges, offering training and guidance for the first twelve months of your dog's life.
However, this premium opportunity comes at a cost as the app charges up to $29 per week, but the first week is free.
GoodPup is specifically designed for dogs in their first year, offering personalized guidance based on the information you provide. The app requests basic information about you and your dog – like how long you have been together. The app offers things like potty training, preventing jumping, and basic to advanced commands for your dog.
Dog Whistler
Dog Whistler is a free, iPhone-compatible dog app that functions as a dog whistle, which you can use in your training sessions. The app is effective because it produces a very high sound frequency that highly sensitive canines can hear.
What is great about the app-cum-whistle is that it is very effective even on dogs that have not been trained. Meanwhile, the app comes with settings to adjust the sound length and frequency and pattern options to help you pinpoint what attracts your dog.
Conclusion
So, there you have it; some of the most popular and best pet apps for dog lovers. Regardless of what you need help with regarding your dog, there is an application for you. From pet-sitting app to pet healthcare apps, there is something for everyone. The best part is that you don't have to break the bank to access the best features in these applications.