As a human being, I'm sure that you hate to be in weather conditions that do not make you feel comfortable. The same way you feel when you come across harsh weather conditions with your skin is the same way your pugs feel in their fur coat.
In warm summers, the conditions might be enjoyable, but with these enjoyable moments come summer nights that may be very hot and cause your pugs to have a very high temperature. Before you can even know how to make them comfortable and get them to be cool at night, you need to know some facts about pugs.
Pugs are animals that hate harsh weather conditions such as extreme heat (scorching temperature) and extreme cold (freezing temperature). They prefer warm weather conditions, i.e. they love to be warm. They are animals that snuggle (love to be in a friendly environment and be comforted).
Suppose you have been worried over time or just bought a pug. In that case, you should not get yourself all worked up because, in this article, you will learn a few ways about cooling your pugs and getting them to enjoy the life that you desire for them.
Ways On How To Cool Your Pugs
Mary And Her Brindle Pug
Mary is a mother of three grown-up children who no longer stay with her. In 2019, out of yearnings for companionship due to the death of her husband in 2014, she decided to get a beautiful brindle pug to keep her company.
She was enjoying the companionship of the pug. She had developed a close relationship with the brindle pug until the summer.
Then she discovered that her pug couldn't sleep well the summer night and would either roll over to her side on the bed most times or snore loudly when it also rested. The pug's body was hotter than the average temperature, and even when she sleeps with the pug on the bed, she sweats so much.
Therefore, she began to panic and started looking and searching out ways to cool the pug down.
Your reasons for looking for ways to cool your pug might differ from Mary's. It may be due to your room's hot temperature and maybe because your pug is unhappy and not brightly active.
You don't need to disturb yourself very much on how to cool your pugs; the next section in this article will show you exactly how you can keep your pugs at an average temperature.
Provide Your Pug With Freshwater
One of the most potent ways of cooling down your pug's temperature is by providing it with fresh and cool water. By doing this, it will be able to drink out of the water and also get its body temperature regulated.
When your pug drinks the water, the water cools its stomach and subsequently cools its internal organs. Ensure you train your pugs to drink cool water frequently in a few amounts during the day and at night.
For example, if you're attending a dog park, you might want to locate parks that provide fresh water for dogs. Canadian readers can refer to Spot Dog Walkers' directories of top dog parks in the northern country.
By drinking cool water, your pug would be able to control its body temperature by making moisture available to use its natural cooling system, which is panting.
Give Your Pugs A Cool Surface To Lay On
One of the reasons your pugs do get their temperature hotter than usual is where they lay in the night.
If you lay your pug on a bed or a crate, their temperature will increase. They become hotter, but laying them on cool surfaces such as a wooden floor or even the tiles in your home can make their body temperature warm.
You can also get cooling mats for your pugs as this will help them stretch out, and their body heat absorbed when they lay on them.
By allowing them lay on cooler surfaces during the night, they would be able to stretch out, and their body temperatures would be well regulated.
Wrapping Your Pugs In A Wet Towel
Another fantastic way to make your pugs have a cooler temperature is to get them wrapped in a wet towel.
Ensure you get freshwater, dip the towel and rinse inside it. Then you can get the towel wrapped around the pug and be sure that the fur and skin of your pug get wet. After doing this, let your pug lay comfortably somewhere there is a cool breeze.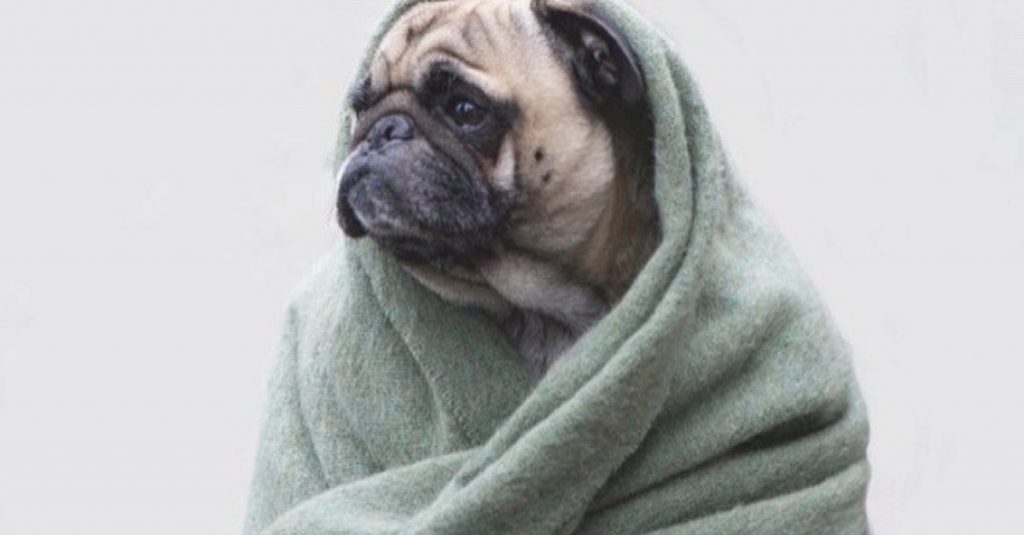 Doing this will ensure that the cool breeze accelerates the evaporation of water from the dog, allowing the dog to cool faster.
Prevent Rays Of Sunlight From Entering Your Pugs Room
Another way to cool your pug is to ensure that during the day, particularly in the summer period, you do not allow sunlight to penetrate your room or wherever space you keep your pug. Make sure your curtains, blinds, or windows are closed during the daytime.
This will help the pug settle well in the room, and there will be little or no heat in the room, thereby prompting a more relaxed atmosphere that will make your pug comfortable.
Using Air Conditioner To Cool Your Pug
During the summer period, your house can be sweltering for your pug, so you may want to look at AC installation in Banning, CA, or at installing AC wherever you are located. Having AC installed will allow you to put on your Air Conditioner to ensure your pug's body temperature does not get too high.
How to make use of this step is by setting your air conditioner's thermostat to 26 degrees Celsius. You can also use your fan to spread the cool temperature around the space of the pug for faster radiation around the room.
Then ensure that your pug gets used to this temperature and don't make the error of reducing or putting off the air conditioner. This is because pugs adapt to temperatures over time. If there is a slight change in the temperature, their body temperature may get affected.
Conclusion
Pugs are animals that like to depend on human beings for everything, so you should know that you are equally responsible for their well-being.
Cooling your pug at night makes them very comfortable equally as during the day when they have fresh air to blow on them.
When they sleep very well at night because of their regulated body temperature, I am sure you will also be able to sleep well. So you need to ensure they are kept warm.