Best Barrier for Dogs
With a good barrier for dogs, you can prevent them from accessing certain rooms or areas of the house, either because you are cleaning, receiving visitors, or simply because it is prohibited. If you need one of these, we invite you to review the following selection of barriers for dogs.
1. Scobuty Magic Gate for Pets or Babies
In the dog gate category, a recommended option is the Scobuty HJDCJ-6585; a model made with mesh and portable features.
It is easily installed since the structure is made up of retractable bars that you only have to unfold, to introduce them through the channel located on the edge of the fabric. This will give the barrier its shape, as well as make it robust for installation.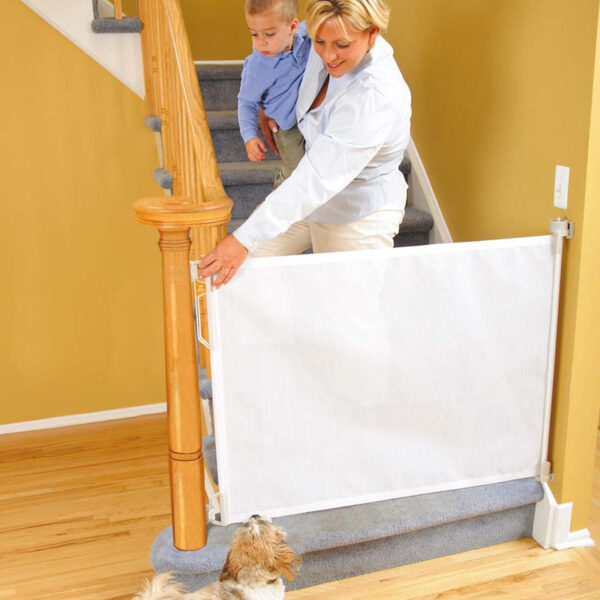 It has a size of 180 x 72 centimeters, allowing you to install it in various places in the house. Likewise, it stands out that you can do it easily since it uses hooks to tighten the mesh and thus close the passage.
In addition to this, you cannot forget that it is one of the cheapest products on the list, in case your intention is to spend as little as possible on a barrier for dogs.
Being able to be the best barrier for dogs at the moment, it is convenient to take into account the most influential pros and cons:
Utility: The utility of this barrier applies to both pets and small children, being practical at home.
Mesh: The mesh of the barrier is resistant and specially designed to withstand scratches.
Transparent: It can be easily seen through the mesh, so you do not lose sight of your pet or your baby.
Installation: It is very easy to install and allows the mesh to be sufficiently tightened without problems.
Adhesive: The hooks are installed with adhesives, so the glue won't be as strong if you move it around.
2. Munchkin Maxi Secure Lockable Safety Barrier
An option that also competes to be the best barrier for dogs is the Munchkin Maxi-Secure model since it is practical and could be classified as multifunctional.
This safety barrier for dogs is rigid since it is made of metal and is supported by pressure to the surface or frame of the door. To do this, it makes use of 4 feet located in the corners, which you can rotate to adjust to the space.
As for its size, it is suitable for entrances between 76 and 82 centimeters, since it can be extended up to 117 centimeters, in order to ensure that the entire passage through the frame or staircase is blocked.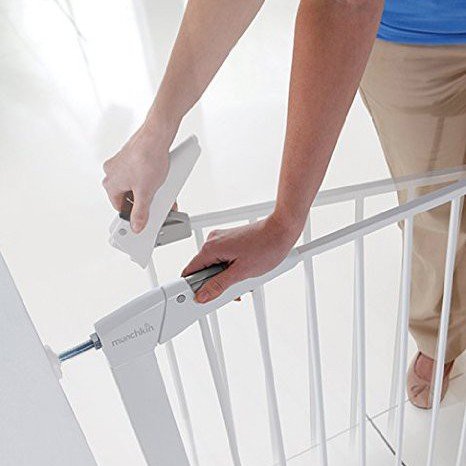 On the other hand, the fact that its design and utility is also effective as a safety barrier for babies is striking, since it offers the necessary robustness.
To know which barrier for dogs to buy, you must first take into account the advantages and disadvantages of each available option
Door: This dog barrier has a door that will allow you to cross without having to remove it.
Installation: Installation is quick and easy, and it can also be adapted to door frames and stairs.
Adjustable: Being able to adjust the width increases the practicality of the barrier for various spaces.
Tools: The purchase includes the necessary tools at the time of installation.
Handle The handle to open the door can be a bit hard to press and requires the use of both hands.
3. Nordlinger Pro 742000 Stop Fix Animal Barrier
Among what may be the best dog barriers, we find the Nordlinger Pro 742000, a folding, attractive and reliable model.
It has an extendable structure, which can go from 60 centimeters to 1.1 meters, so you can easily use and mount it, wherever you need it. It is made of solid wood and its diamond design has nails in each overlapping joint, for greater robustness.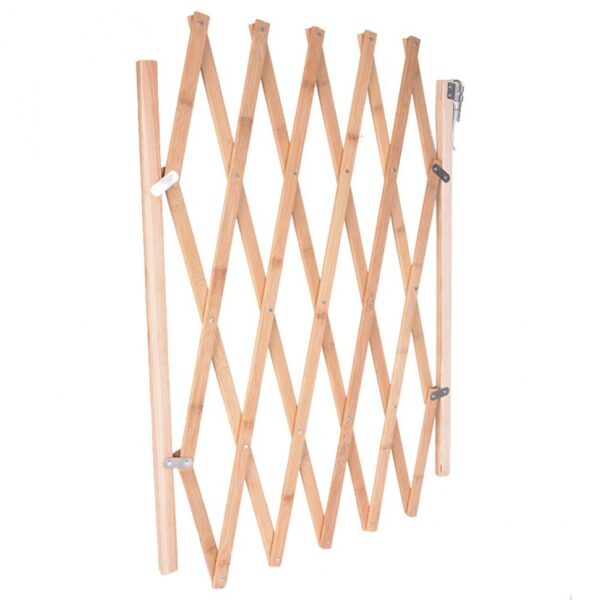 In addition, the Nordlinger extendable dog barrier can also be folded, so that you have a freeway whenever you want, without having to remove it. This will make it easier to use and allow you to keep it in a fixed place without getting in the way. Similarly, it is equipped with a simple but reliable safety, capable of keeping the barrier in place, in case it wants to be pushed by the dog.
Reading Suggestions: 7 Ways to Keep Your House Clean with a Dog
This Nordlinger maca option could offer confidence and security at all times, which is why you should study it further:
Extensible: The quality of being extensible will help you to adjust it properly, according to the width of the entrance.
Opening: If you need to cross, you can easily fold it so you don't have to remove it and it doesn't take up space.
Materials: Its manufacturing materials are resistant, reliable, and durable.
Location: The design of the barrier will allow you to install it in corridors, entrances, stairs, frames, and more.
Holes: Keep in mind that the diamond design of the boards leaves holes where small pets could cross.
4. Pawhut Expandable Safety Barrier Doors and Stairs
Pawhut ESD06-0580731 is, possibly, a good answer to the question of what is the best barrier for dogs, considering the robustness of its structure and the utility that can be given to it at home.
This model has a simple but practical structure, given that it has elements that make it extensible, allowing it to be adapted to the size of the door or staircase, to avoid leaving free spaces.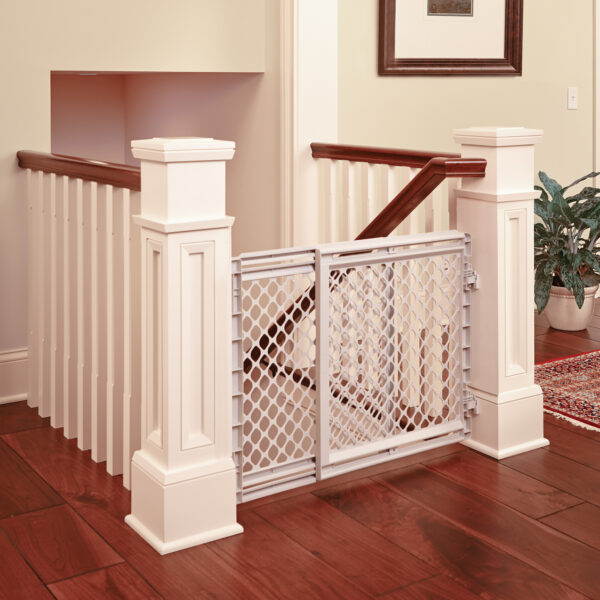 It has a height of 76 centimeters and its width can range from 72 to 107 centimeters, depending on your convenience. In addition, it has a door with a lock, so you can cross through the barrier, without having to disassemble it or go over it.
On the other hand, this extensible barrier for dogs is made of metal, guaranteeing long durability, so you can use it for as long as you need. This is especially useful considering that it is suitable as a barrier for children, due to the structural design.
Pawhut could be the best brand of barriers for dogs and here we invite you to evaluate some of its characteristics in detail:
Materials: It has a structure made with materials known for their resistance, allowing the barrier to be used for a long time.
Opening: It offers an opening that you can open at your convenience when you need to cross.
Adjustable: You can adjust the width of the barrier, according to the dimensions of the installation space.
Installation: Its assembly does not require structural modifications that may affect the aesthetics of your home.
Railing: If you want to install it on a stair railing, you will need to purchase the appropriate adapter separately.