Volunteers are always needed to lend a hand to animal shelter staff who tend to get overwhelmed with the work that goes into taking care of all the animals. And if you're looking for ways of doing community service in a field that aligns with animals, then it would be great to volunteer your time to animal-related organizations or shelters.
By volunteering, you'll be doing a worthwhile cause that helps people in need. And contrary to belief, offering your services to help animals won't consist of just cleaning but will include a range of different services, including cooking, building, repairing pieces of equipment, etc.
You'll Help Cure Kennel Stress
Kennel stress in pets happens when new people and surroundings surround animals. Some signs of kennel stress may include pacing, lethargy, tail chasing, shaking, refusal to eat, excessive jumping, and many more.
This stress may affect the dog's physical health, eating behaviors, and activeness. Luckily, kennel stress can be cured by playing soft music, grooming, and going for individual walks, all things that a volunteer can do as a stress reliever.
For instance, kennel stress in the life of a Palestinian dog can be cured by getting a clean, comfortable and safe environment provided by most animal shelters helped by volunteers.
You'll Be Making A Difference
Lack of staff in animal rescue shelters contributes to the skyrocketing number of animals being put down every year due to the lack of adoption. By volunteering, you'll be contributing to keeping the shelter running and helping find forever homes for these animals.
In addition, you'll start to notice the change in personality in these animals since most of them have had limited interactions with humans. Most animals crave love, and by doing normal tasks such as walking them, grooming, or petting them as a way of showing love, they'll start changing their behavior for the better.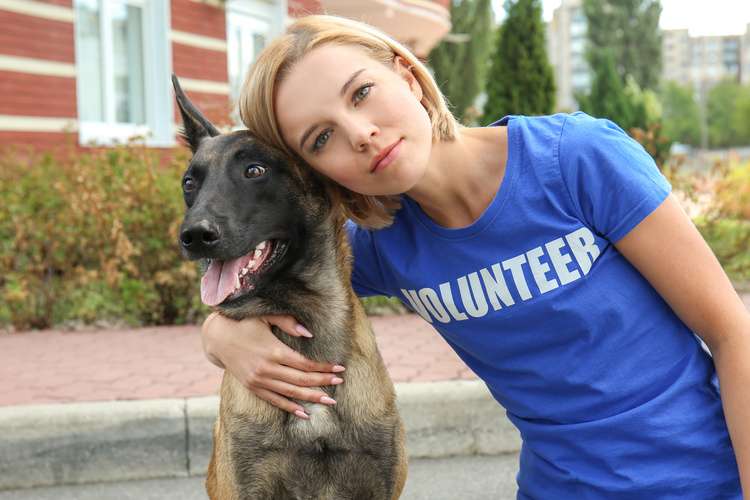 It's A Way Of Learning Practical Skills
Volunteering is an easy way of gaining practical skills due to the hands-on experience. And if volunteering with animals falls in your career field, you can get off with skills that'll give you an idea of what to expect.
In this course, you can volunteer your time to do community service and assist as a kennel staff or assist on the grounds. You can make a huge step in learning practical skills if you're passionate about creating real change.
A great example is if you're planning to get into the veterinary field, you'll be able to learn basic first aid and veterinary skills. In addition, you'll learn how to maintain your time as most shelters expect you to show up on time for scheduled shifts.
It's Good For Your General Health
Animals are great for your physical, mental, and emotional health as they play a significant role in reducing stress and anxiety. By walking the animals, petting, and grooming them, you'll spend quality time that helps lower stress levels and blood pressure.
And for your physical health, walking dogs will keep both you and the dog active. In addition, caring for animals gives you a chance to create a unique bond that prevents depression, anxiety, and stress uplifting your emotional health.
Networking
Networking involves a lot of interactions and getting to meet and talk to new people. Once you volunteer, you'll get to make lots of friends who share a similar love for animals; some of these newfound friends may be professionals in fields that may interest you.
You'll be able to make it easier to find job references, new openings, and an introduction to a wider group of professionals. Thus, working as a volunteer will give you a chance to develop a good reputation with your new friends that can be reflected on your resume.
Makes You Feel Good
By being around people who share in your cause, you'll get a chance to do something you find fulfilling and fun. In addition, it's a feel-good thing that puts you closer in terms of contributing to the solution.
When working with animals, you'll have high serotonin levels that'll keep you happy, as the more you give, the happier you'll feel. Volunteering also provides a sense of purpose and makes you forget your worries by keeping you stimulated, leading to a happier life.
Bottom Line
In conclusion, you'll be contributing to your civic duty while still feeling like a part of a community that's working towards the same cause. It'll also be a way of giving back to your community and the helpless animals.
First, find an animal shelter that aligns with your beliefs and choose between working behind the scenes or upfront with the animals. You'll also need to find out if you are comfortable working alone or as part of a team.
Once you get a place to volunteer, ask questions, know what to expect and make changes where necessary.