Your pets are more than just some animals. They're the furry members of your family. So it's only natural to feel grief and sadness when they pass away.
Because they've become an essential part of your life, you'd want to honor them in death, just like you would for a friend or family member. But because pet funerals are not so common, you might be wondering how to memorialize your furry angel. Here are some pet memorial ideas you can try to help you cope with the loss of your beloved pet.
Hold A Funeral Service
Just like any death of a member of your family, you may want to properly say goodbye following the loss of your pet. This can be done by holding a memorial or funeral service. Some communities have pet funeral homes that hold services for a deceased pet and provide grief support.
If you have a large enough property, you can choose to bury your faithful friend there. There are also communities with a pet cemetery.
Another option is to cremate your deceased furry friend. Pet cremation centers such as Lawnswood and similar service providers offer traditional pre-cremation and burial services with their guaranteed private cremation. The ashes are returned to you in your choice of standard cremation vessel for you to keep, bury, or scatter in a place most suitable to memorialize your pet.
Whatever service you choose, you can gather your family and close friends to say their last goodbyes. This could help comfort everyone and give them the needed acceptance and closure.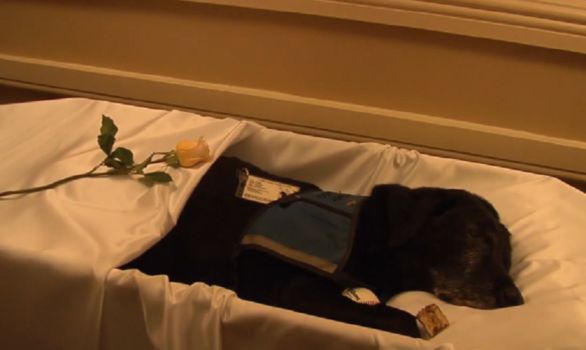 Create A Memory Album
You want to cherish all those beautiful moments you have with your pet, but with time, the memories would become hazy. This is why visual reminders are so meaningful—to help you recall what you should never forget.
To create a visual reminder of your pet, you can consider gathering photos of your furry buddy and making a scrapbook. You can do this with the entire family so they can likewise participate in its creation. You can also include your pet's belonging, such as a collar, name tag, and other special keepsakes.
In some ways, this could give you and your family something tangible to look at or hold. It's a good way to remember your pet by, even several years after, and perhaps help you during your grieving process.
Light A Candle
For many people, a candle represents light in the time of darkness in their life. When you light a candle for your deceased loved one, you're honoring their life. You can honor your furry pal's life in the same way.
You can do this during the funeral service or every death anniversary of your pet. If there are others participating in the ceremony, you can ask each person to share their memory of your deceased pet before lighting the candle. To make this memorial activity even more special, you can use a personalized candle just for your pet.
Do Something Special With The Ashes
If you choose to cremate your pet, there are other options you can do with your pet's ash than keeping it with you or scattering it. For one, ashes can be made into jewelry. It's a very loving and touching tribute to the pet you lost and a chance to honor them. There are jewelers who can create personalized rings, necklaces, and bracelets from your pet's ash, complete with their image, name, or paw print.
If you know an artist, you can also have a cremation portrait ordered. The artist could mix the ash with the paint in order to create a remarkable portrait of your loving pet, which you can always look at whenever you're missing them.
A more unconventional way to memorialize your pet's ash is to use it in fireworks. This is a great way to send your beloved pet off in style. There are companies that can incorporate your pet's ash into fireworks, which you can also use as part of the memorial celebration.
Donate Money Or Time To Animal Charity And Shelters
Volunteering at your local animal shelter and society can be a great way to deal with grief. Being surrounded by other animals, you can remind yourself why you chose to adopt your deceased pet in the first place.
You can also consider making a monetary contribution to the shelter in your pet's name. If your pet died from a disease that's currently being researched, you could also donate to that cause in your pet's name. Tying their name to the contribution could be an act of love while also helping animals in need.
Reading Suggestion: How Much Does It Cost To Taxidermy A Dog
Conclusion
Losing a pet is difficult. They've become an integral part of your life that it may be hard to imagine life without them. But when it's time to finally say your goodbyes to your furry friend, the above tips should make that moment more memorable and special.