Dog parks can be a great addition to a community. They provide a safe space for dogs to run around freely without a leash. Most pet owners are in favor of having a dog park in their community. However, some people argue that these parks are not necessarily good for the community and may even bring down the value of their property.
But the good news is there is no sound reason behind these fears. In fact, the National Association of Realtors claims that dog parks are an emerging trend and they can increase property values.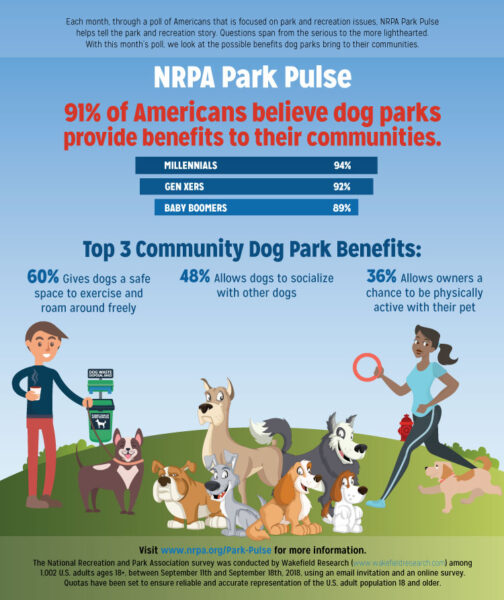 A 2018 survey conducted by the National Recreation and Park Association (N.R.P.A.) has revealed that 91% of Americans believe dog parks provide benefits to their communities. These benefits were overwhelmingly supported by millennials and Gen Xers. The two big reasons responders cited for supporting dog parks were:
60% thought that they gave dogs a safe space to exercise and roam freely, and 

48% thought that dog parks are essential because they allowed dogs to socialize
If you are planning to build a dog park in a high-end community, you need to choose the right equipment and add the proper amenities to your design. For instance, you can include park benches and a pet drinking fountain to make the dog park friendlier. This space should offer a secure environment where pets (and their owners!) can play and socialize.
Look at these five design ideas for a high-end dog park that will leave everyone in awe:
Include Natural Looking Elements
If you want to give an upscale look to your dog park, you should opt for natural-looking dog park furnishings and not brightly colored ones. Such natural themes easily blend in with the environment and provide a more cohesive sightline for those walking past. 
Using natural-looking elements is recommended because they not only create a more enjoyable environment for both dogs and humans but also offer dogs a way to avoid problems. For instance, if a dog feels threatened by a bully or pack, he can move to a location where the bullying dog(s) cannot see him. They will quickly forget about him and move on to other activities.
Related: Cherry Creek Dog Park
Use Sturdy Dog Equipment
A typical dog park has nothing more than a grassy area with a fence. But, if you want to create a fancy look, you will have to add some durable dog park equipment. It will keep pets safe and busy. And the pet owners will get to experience a higher-end look and feel.
Ensure Proper Waste Management
Some people in the community do not approve of pets because the pet owners don't pick up after their pets. So, imagine what they would feel about a dog park without proper waste management. 
You need to make sufficient arrangements when it comes to disposing of dog feces. It is advised that one clean-up station per 1.5 acres is set up along with a waste bag dispenser. Also, there should be a covered disposal bin for every three acres if dog feces are to be bagged and binned. You can also consider installing signs that encourage people to pick up after their pets and keep the park clean.
Use the Right Surface Material
Many low-end dog parks have natural grass surfaces that require a lot of maintenance. You can opt for a synthetic turf if you are setting up a high-end dog park. It is a better option than grass because it offers all the same benefits as natural grass without dirt and grass stains. 
You should also avoid gravel, concrete, and asphalt as they get too hot and may hurt the dogs' feet. You can choose mulched wood and wood chips instead as they are a very good, affordable choice, and sustainable.
Reading Suggestion: Silver Lake Dog Park, CA
Provide Comfortable Amenities
Finally, you can't design a high-end dog park without adding comfortable amenities.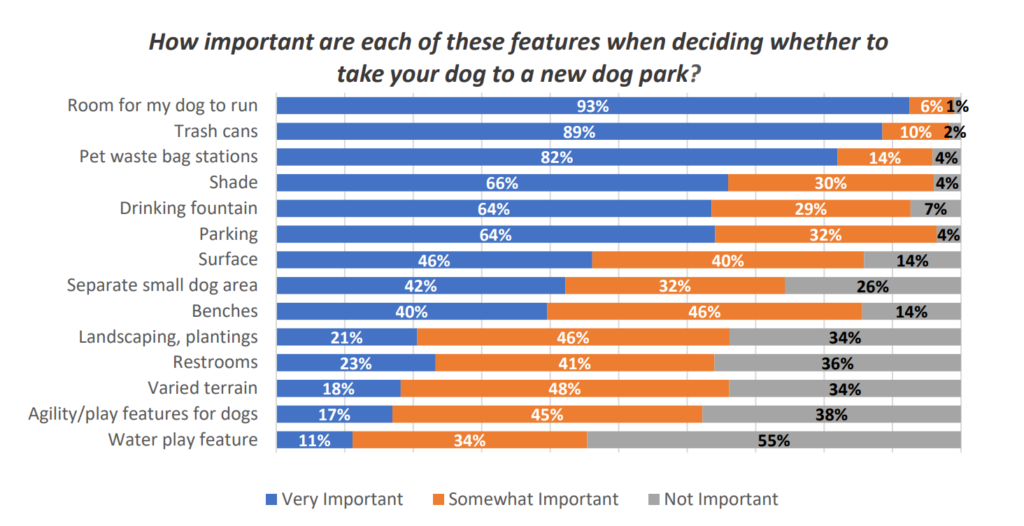 You need to ensure that the dog park has pet waste bag stations, trash receptacles, and sufficient space for dogs to run around. You should also remember to include shade, drinking fountains, and the availability of parking in design elements.
Dog parks are proving to be a wonderful addition to most communities. But, if you want to create a high-end dog park, you will have to go the extra mile and include the best design elements.