If you're a proud dog owner, you understand the importance of keeping your furry friend's goods clean and well-maintained. One of the items that might need regular cleaning is your dog's collar.
You can clean your pet collar with a soft brush after immersing it in warm soapy water and doing proper scrubbing. Then you need to rinse the collar thoroughly with clean water to remove all traces of soap or shampoo.
In this comprehensive guide, we'll discuss the step-by-step process of cleaning your furry friend's collar to make it look astonishing and fresh.
Materials You Need Before Cleaning
Before starting the cleaning process, you need to gather the following supplies:
Dog Shampoo: Opt for a gentle and non-irritating dog shampoo to prevent skin sensitivities.
Soft Brush: A soft-bristle brush or toothbrush can help remove dirt and grime from the collar.
Warm Water: You'll need warm water for effective cleaning and the killing of bacteria and grime.
Bowl or Sink: A bowl is required to create a cleaning solution
Clean Towel: A towel is needed to dry the collar
Patience: Cleaning a heavily soiled collar might take a bit of time, so you have to wait and act patiently.
Step-by-Step Cleaning Process
Follow these steps to clean your dog's collar properly:
Remove the Collar
First of all, carefully remove the collar from your dog's neck. This ensures that the cleaning process is safe for both your pet and the collar.
Check the Label
Check the care label on the collar for any specific cleaning instructions provided by the manufacturer. Some collars may have special cleaning recommendations that you should follow to maintain their quality.
Pre-Treatment
If the collar is particularly soiled or stained, consider pre-treating the affected areas. Use a small amount of mild soap or dog shampoo and gently rub it onto the stained areas with your fingers. Let it sit for a few minutes to break down the dirt.
Create a Cleaning Solution
Fill a bowl or sink with warm water and add a small amount of mild soap or dog shampoo. Mix the solution until it creates a gentle lather.
Immerse and Gently Scrub
Immerse the collar in soapy water and use a soft brush or toothbrush to gently scrub your dog's collar. Pay extra attention to areas with stains or dirt buildup. Avoid using harsh brushes that could damage the collar.
Rinse Thoroughly
After scrubbing, rinse the collar thoroughly with clean water to remove all traces of soap or shampoo. Ensure that no soap residue remains, as it could cause skin irritation for your dog.
Drying
Gently pat the collar with a clean towel to remove excess water. Avoid wringing or twisting the collar, as this could distort its shape. Allow the collar to air dry completely before putting it back on your dog.
Reattach the Collar
Once the collar is completely dry, reattach it to your dog's neck. Admire the fresh, clean look of the collar and enjoy how it enhances your furry friend's appearance.
Tips for Maintenance
To keep your dog's collar looking fresh and pleasant, consider these maintenance tips:
Regular Cleaning: Make cleaning the collar a part of your daily routine, especially after outdoor activities.
Rotation: If you have multiple collars, rotate them to prevent excessive wear on one.
Stain Promptness: Address stains as soon as possible to prevent them from setting in.
Air Drying: Avoid exposing the collar to direct sunlight, as it can fade colors and damage the collar's quality.
Benefits of Cleaning Dog's Collar Regularly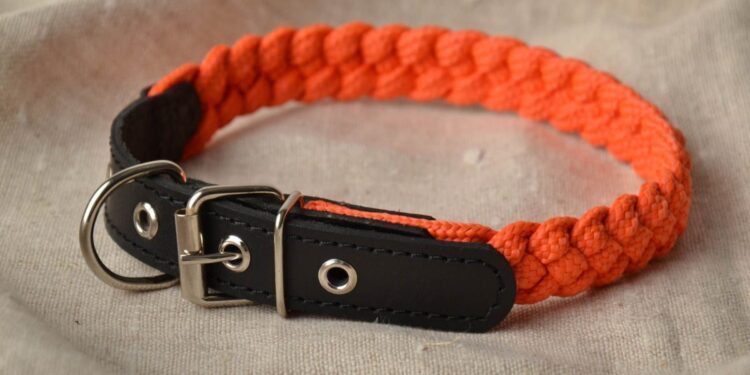 Here are the benefits of regularly cleaning a dog collar in bullet points:
Hygiene and Health: 
Reduces the buildup of dirt, bacteria, and germs that can cause skin infections or irritations in your dog.

Minimizes the risk of skin allergies or rashes from prolonged contact with a dirty collar.
Odor Control
Helps eliminate unpleasant odors that can accumulate on the collar over time.

Keep your dog smelling fresher and more pleasant.
Durability
Extends the lifespan of the collar by preventing the degradation of materials due to dirt and grime.

Saves you money in the long run by reducing the frequency of collar replacements.
Appearance
  Maintain a clean and attractive look for your dog's collar.

  Reflects positively on your dog's overall appearance and grooming.
Safety
Ensures that the collar's visibility and reflective elements are not obstructed by dirt or debris, enhancing safety during walks at night.
Comfort
Prevents the collar from becoming stiff or uncomfortable for your dog.

Promotes a more enjoyable wearing experience for your furry friend.
Identification Tags
Keeps your dog's identification tags readable and accessible, improving their safety if they ever get lost.
Ease of Use
Makes it easier to handle and fasten the collar, especially if it has buckles or clasps that can become clogged with dirt.
Allergen Control
Reduces the risk of allergens, such as pollen or dust, accumulating on the collar and causing discomfort to your dog.
Bonding and Trust
Regular cleaning can be a bonding activity with your dog, reinforcing trust and positive interactions.
Overall Well-Being
Contribute to your dog's overall well-being by ensuring they have a clean, comfortable, and safe accessory.
Conclusion
Cleaning your dog's collar is a must to do activity for responsible pet owners. By following the step-by-step guide discussed above, you can maintain the cleanliness, look, and quality of your dog's collar. Regular cleaning not only increases the collar's lifespan but also ensures that your beloved pet stays happy, healthy, and stylish. Remember, a clean collar reflects the care and love you have for your furry companion.