People love cats — that's a fact. Cats are considered to be sweet, mild-mannered, cute, and simply a joy to have around. However, some cats have aggressive tendencies, and there are pet owners who can't deal with their pets' behavior, regardless of the reason why they act a certain way.
If this situation sounds too familiar to you, don't worry. You can help your feline friend in many ways, as it definitely needs your love and support. For example, you can work on building trust with your cat, play with it, or identify and reduce aggression triggers. Additionally, as CBD oil can help relieve aggressive behavior in cats, you may even consider looking into alternative medicine options. Keep on reading to find out how you can deal with your cat's aggressive behavior.
Why Does My Cat Fight?
While numerous factors may trigger aggression in cats, we can group them into two main categories: genetic and environmental.
Genetic traits
Some cats are naturally aggressive, especially when they feel threatened or uncomfortable. If your cat has a history of fighting with other cats, you should probably expect the same behavior when you bring another feline friend into your home.
Additionally, cats who have a fearful nature may have an aggressive reaction if you touch them abruptly, approach them from behind, try to pick them up, or remove them from their favorite resting area. Meanwhile, some cats are territorial and may get upset during a visit to the vet or groomer.
Environmental factors
If your cat was abused or treated incorrectly by humans in the past, then it's likely that it will react aggressively in certain situations. For example, if you grab your cat roughly or yell at it, you may trigger its fight-or-flight response, causing it to fight back. However, if you show it affection and respect from the beginning, it will learn to love and trust you.
A new pet family member (e.g., a dog or another cat) can also contribute to your cat's aggressive behavior. Cats don't like change and may not accept the newcomer very well. Additionally, if your cat is not used to other animals, it may perceive them as threats.
Reading Suggestion: 5 Most Aggressive Cat Breeds
Ways to Deal With Your Cat's Aggressive Behavior
Identify the triggers
Every cat has a unique personality, meaning that there is no universal formula when it comes to dealing with your feline friend's aggressive behavior. Nevertheless, by keeping track of the situations that lead to an aggressive outburst, you can better understand your cat's behavior and address the problem accordingly.
It's important to note, however, that your cat may not always respond in a direct way to the triggers. For example, if it feels insecure, it may lash out at you even though you're doing nothing to upset him. In this case, you should concentrate on the moments before the actual situation occurred and try to figure out what made your cat act aggressively.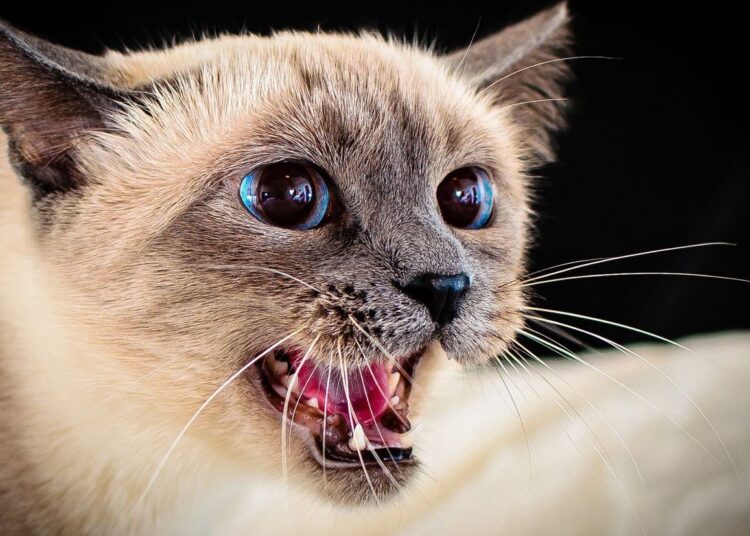 Reduce stress
Stress is another common trigger of aggression in cats, so you must find ways to minimize it. Any change in your routine — including moving furniture around in your house or taking your cat to a new location — can make your cat stressed.
You should also keep in mind that stress can be caused by various factors, such as the presence of other animals, loud noises, food changes, and so on. If you notice that your cat becomes aggressive after eating or playing, the food or toys may be making it stressed. To avoid this from happening, you should monitor your cat's behavior and try to spot its triggers so you can avoid them.
The best way to reduce your cat's stress is to create a comfortable environment for it. You can quickly do it by removing all the stress triggers from your home.
Provide affection
While many people believe that cats don't like being petted or held, this is not exactly true. Cats may react negatively to certain types of interaction and don't like being held if they're not used to it, but they do enjoy being petted. In fact, many cats really enjoy being stroked or scratched on their head or neck areas.
Moreover, petting may actually help reduce the adverse effects of stress for cats. So if you want to deal with your cat's aggressive behavior, you should consider cuddling with it more often and interacting with it in a gentle manner. Doing this will help it relax and give it a sense of security.
Play with your cat
Playing with your cat can also be an effective way to reduce stress and make it feel loved. While some cats don't like playing with toys, most felines love playing with their owners and receiving attention from them.
With this in mind, you should consider getting a few toys made specifically for cats and enjoying some playtime together. However, it would be best if you avoided large and noisy toys because they can scare your cat and make it feel threatened.
Reading Suggestion: Canadian Marble Fox: The Mesmerizing Creature of the North
Build trust with your cat
Building trust between you and your cat is another essential strategy for dealing with aggression issues. This strategy usually works best if you do it gradually, as sudden changes might trigger a fight-or-flight response in your feline friend.
For example, if your cat becomes aggressive when you try to pick it up or clean it, you should start by trying to pet it ever so gently before moving on to touching its body parts one by one. If it reacts negatively at first, stay calm and continue rubbing it. If you do things gradually enough and stay patient, your kitty will soon learn that there is nothing to fear from you anymore and will become calmer overall.
Conclusion
Aggressive behavior is not something that you should ignore, as it can quickly turn into serious issues. If you notice that your cat has developed aggressive tendencies, you should do your best to identify the causes of such behavior and find ways to deal with it.
Fortunately, there are many things you can do to help your feline friend. For example, you can play with it more often, spend some quality time together, pet it, or take it for a walk. You can also learn how to address its triggers and reduce stress in general.
However, if you still don't see any improvements in your cat's behavior after trying everything in your power, consult a vet for more advice and guidance.