Catnip is considered irresistible to cats, as it contains different elements that activate certain sensitive areas of the nervous system through aroma. For this reason, they are one of the favorites for both owners and pets, and here you will find some striking alternatives to pamper your pussycat:
1. Kong Naturals Premium Catnip
A good option if you are looking to purchase a can of dry catnip could be the Kong brand. The Premium Naturals product comes in a bottle that can be 28 grams or 57 grams depending on your needs or how much space you want to cover with catnip. The largest quantity has dimensions of 14 x 9.7 x 9.7 centimeters and its weight is just 59 grams, so you can easily store it in any drawer or place it on a table.
In addition to this, it should be noted that the container is metallic, so the content will be protected and, in addition, also fresh thanks to the hermetic lid that will prevent moisture from damaging the catnip.
On the other hand, a small transparent window located in the lower part of the bottle is quite practical, so you can know how much catnip is left and thus acquire another bottle before it is completely gone.
Kong might just have the best catnip right now, which is why it's important to consider its pros and cons:
pros
Presentation: This catnip comes in a compact metal pot with a transparent window.
Lid: Its lid is airtight, preventing the catnip from losing its aroma or getting moist.
Quantity: Depending on its availability, you can purchase the 28-gram or 57-gram pot.
Cultivation: This catnip is from North American cultivation, offering an irresistible aroma, as well as a pleasant taste.
Cons
Closing: You must make sure to close the bottle correctly since the aroma also attracts insects.
2. Yeowww! Catnip Tub 2 Ounce Premium Flower
If you are looking for a catnip composed of various flowers, in order to be more successful in attracting your pet's attention, you may be interested in the option of Yeowww! since it contains a mixture of them that has been achieved good results in those who have tried it.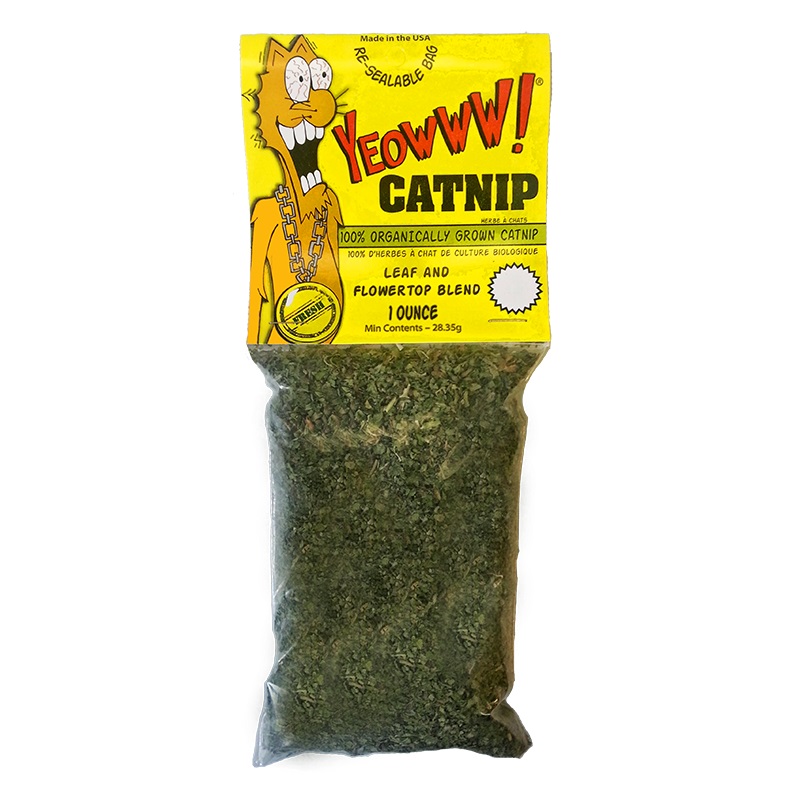 It has been manufactured in the United States using first quality flowers and an extraction method that maintains the natural aromas, being a much more intense incentive for the cat's interest.
On the other hand, dried catnip from Yeowww! It comes in a small 57-gram pot, which you can use in various ways, such as spreading it on the cat's toys, putting a little on its bed or scratching post, among others.
This jar is made of clear plastic so you can easily see the contents and comes with its own airtight lid, designed both to keep the catnip from spilling and to keep it fresh.
Reading suggestions; Salmonella in dogs and cats in relation to a raw meat diet
Yeowww! could become the best brand of catnip and now you will know the advantages and disadvantages of its product:
pros
Mix: The catnip contained in this option contains a mixture of different flowers with striking aromas for cats.
Organic: The flowers used are of organic origin, so it does not contain preservatives or additives.
Bottle: The bottle is comfortable and easy to handle, as well as transparent to see the amount.
Lid: Its lid hermetically closes the content to keep it safe from moisture.
Cons
Reception: Some cats may not be attracted to its aroma, but this will depend on the taste of each animal.
3. Casimir Cat Catnip 
Gato Casimir offers you a bottle of catnip with which you can satisfy your pet's needs for a long time since it is the XXL model that contains a total of 60 grams of catnip.
The boat is compact in size and made of rigid plastic, so it is robust and will be able to withstand an accidental drop. It has its respective lid, but, unlike others, it is threaded, being safer when closing the bottle.
In addition, it should be noted that the bottle is transparent, so knowing how much catnip is left is easy and prevents you from running out of grass for your cat and being able to acquire more before it runs out.
On the other hand, Casimir Cat's dried catnip has a recipe that includes flowers and leaves of the original plant, which has been cultivated in Canada complying with the standards of that country.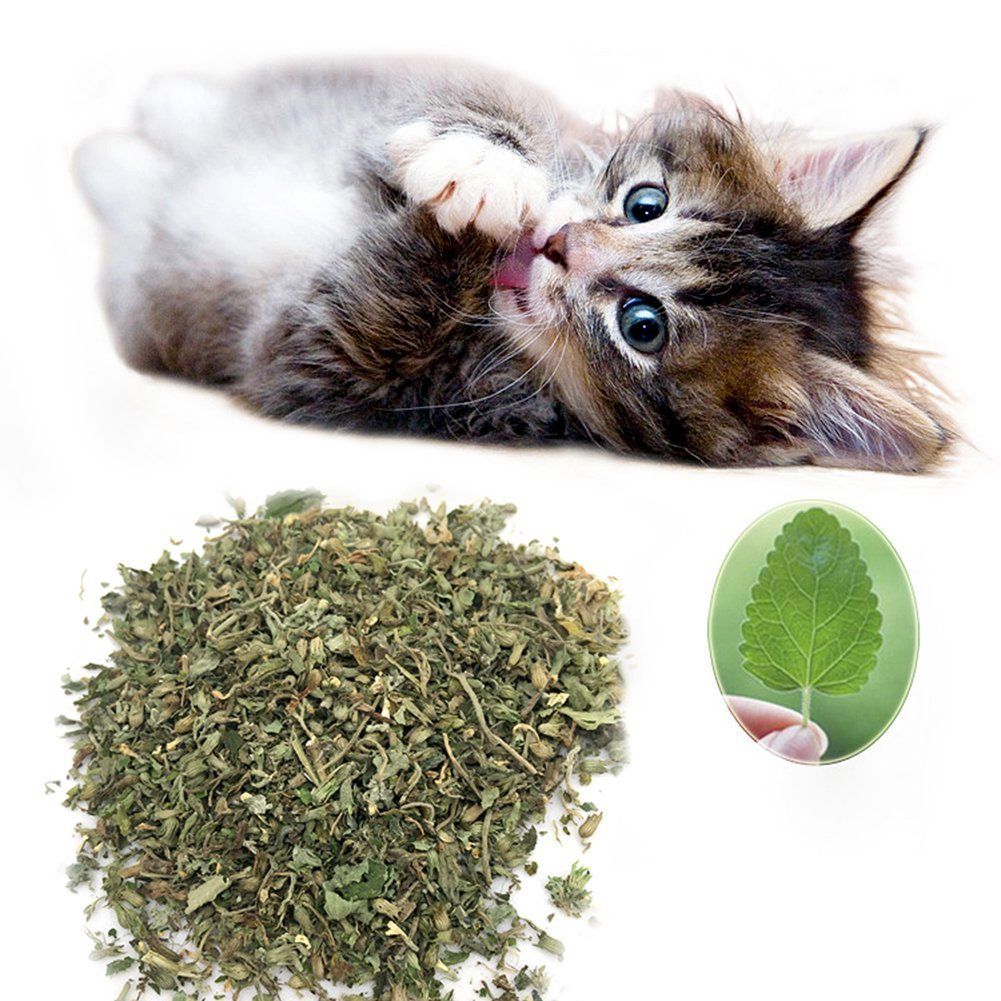 In case you have doubts about which catnip to buy, we invite you to consider this Casimir Cat product:
pros
Bottle: It stands out that the presentation bottle of this catnip is practical, safe, and comfortable to use.
Mix: The product is based on a mixture of catnip leaves and flowers to guarantee a good aroma and attract the cat.
Quantity: Contains 60 grams of catnip to pamper your pet for several weeks.
Uses: You can use this catnip in toys, cloth bags, scratchers, and many other spaces.
Cons
Stems: A detail that you should take into account is that the mixture also contains stems that can vary in size.
4. Organic Herb Catnip Nepeta Cataria L
From the Herba Orgánica brand, we present an option that could be the best catnip, since it is 100% natural and does not contain any type of additives to be safe to use with your pets.
The product has been packaged by hand and is composed of a series of herbs from the Nepeta cataria flower family, which is responsible for the production of the molecule that makes catnip so attractive to cats.
It is presented in a brown bag with a plasticized interior, to maintain the good condition of the catnip thanks to the blocking of humidity and other external agents. You will be able to open the package at the top and then seal it again because it has a zip closure, being very easy to use when spreading or pouring the catnip somewhere.
In case you have been interested in this option in catnip, here are its pros and cons:
pros
Natural: It is a product of natural origin that does not have conservation elements or chemical additives in its composition.
Selection: The herbs and flowers that make up this catnip have been specially chosen and packaged by hand to provide higher quality.
Quantity: You can choose the presentation of 50 grams or 100 grams, depending on the requirements of your pet.
Presentation: The brown bag is ecological and practical at the same time thanks to its zip closure.
Cons
Review: To find out how much catnip is left, you'll need to open the packaging, as it's windowless and transparent.
5. Rosewood Mini Catnip
An option that is considered by some to be the best value for money catnip is that of Rosewood, as it is affordable and in sufficient quantity so that you can test whether or not your cat is attracted to catnip.
It is a bag of catnip that has a size of 5.1 x 2.5 x 12.7 centimeters, keeping it compact so that you can use it comfortably, as well as store it without taking up much space. However, it is recommended to pour the catnip into another container that has a lid to better preserve freshness.
On the other hand, the Rosewood bag contains approximately 50 grams of catnip, composed of high-quality flowers that were selected and cultivated in the United States. This guarantees that they maintain attractive properties for animals, as well as a noticeable and attractive aroma.
Reading suggestions; The Cat a Very Special and Intelligent Animal
Since the Rosewood alternative is one of the cheapest, here are more details about it:
pros
Composition: The mixture of this catnip is composed of wildflowers carefully cultivated to maintain its benefits.
Aroma: It has a striking aroma for the cat, and it can even be perceived without opening the package.
Quantity: This option provides you with 50 grams of catnip that you can use in different applications.
Usage: Rosewood catnip can be used in toys, bedrooms, play areas, fabrics, and more.
Cons
Presentation: Since it comes in a bag, it is advisable to remove the product and store it separately in an airtight container.


Frequently asked questions

 Q1: Where to get catnip?

Catnip or catnip comes from the Nepeta cataria plant, which is native to Europe but can also grow wild in Asia and North America.

However, today its use is so ingrained in the breeding and care of cats that it is possible to buy catnip at practically any veterinarian. In addition, there are also online stores where you can buy the product in different types, presentations, concentrations, quantities, etc.

One of the most recommended online stores is Amazon.es since it offers catnip in all its presentations, as well as a wide variety of brands to choose from.

Q2: When to plant catnip?

Keeping in mind that catnip needs heat and light to grow properly, we advise you to take the seasons into consideration if you want to grow it outdoors.

However, you can also opt for a pot, which you can place inside your home since at the beginning of its growth it is advisable to keep it in a dark, but warm space so that it can grow as well as in any garden.

 Q3: Why do cats go crazy eating catnip?

Most felines have a rather curious response to a catnip plant. This, in addition to offering a citrus aroma that we can perceive, also emanates a molecule called nepetalactone, which is related to the activation of areas in the central nervous system of the animal that is responsible for sexual activity.

Therefore, your response to catnip may be similar to your sexual reaction to a female or a male, in that it influences both sexes, although more strongly in females. Cats themselves may start by smelling the grass, rubbing against it, licking it, or eating it.

Q4: How to sow catnip?

Planting your own catnip for your pet is a simple task that will bear fruit in just a couple of days. To do this you will need the catnip seeds, a medium pot, soil and organic fertilizer, plastic wrap, and water.

Take the pot and fill it ¾ full with soil, then sprinkle a handful of catnip seeds over it. Proceed to cover them with another bit of soil and water everything with water until it is moist. To finish, place plastic wrap over the pot without covering it completely and place it in a warm place.

After 3 or 4 days, you should start to see the seeds germinate and the catnip grows, but you will have to wait for the catnip to reach a height of at least 5 centimeters before removing the plastic wrap and placing the pot in the sun. When it reaches 10 centimeters, it will be ready for you to offer to your kittens.

Q5: How to care for catnip?

Catnip is quite easy to keep in good condition, you just have to respect its growth cycles before allowing your pets to get close to it, as they would probably nibble on it and frustrate its normal development.

After having the catnip seeds plants, you must remember to water them regularly, always being careful not to overload the pot with water. In addition to this, the use of plastic wrap is recommended to maintain moisture for longer and thus promote its growth.

Q6: What side effects does catnip have?

Catnip itself does not represent a danger to the cat, only that, when entering the state of excitement produced by catnip, you should be aware of access to the outside, since it can cause it to go out to play or mate.

In addition, it is also important to mention that the ecstasy to which the animals are submerged can lead them to behave out of their normal state and, in some cases, could become aggressive, although this is not usually common.